The number of options in the market when it comes to playhouses is rather mind-boggling. When we started shopping for one, I immediately knew that I wanted something that could be done up. We wanted to take on the task together with the boys and customize the house to make it personal. It seemed like a fun project and it was. Aside from the regular mishaps, things progressed at a decent pace if you take into account that we had two excited toddlers underfoot at all times.
One thing that I realized is that choosing the right kind of playhouse goes a long way when it comes to a makeover. Here are our top picks when it comes to a DIY playhouse makeover. I actually remodeled two playhouses, because when we moved we didn't take the first one with us so can tell you about wooden vs plastic.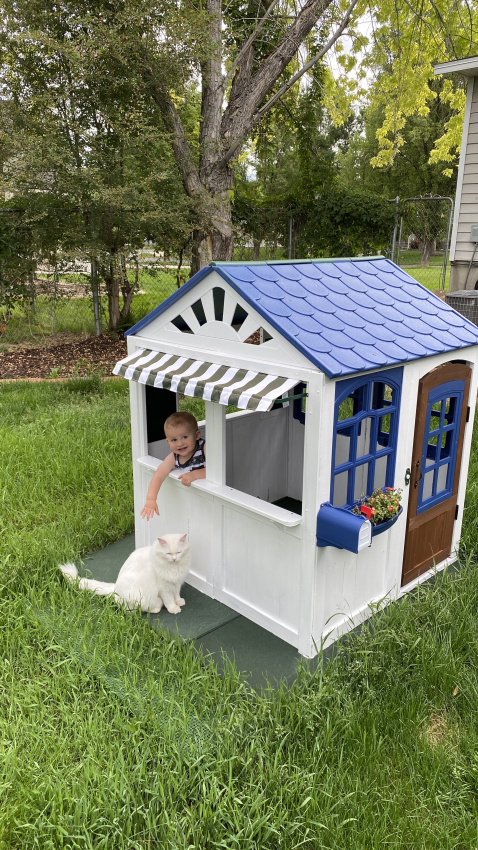 Best Playhouses for a Makeover
Highly recommended by many parents, the KidKraft brand has various really cool wooden playhouses. This one is one of the cheapest budget-friendly ones, which is one of the reasons why it' so popular. I particularly like the design which allows for a lot of creativity and is open which is great for ventilation. 
Made of wood and plastic, it allows for a either lots of barely any customizations, depending on preferences.
This model will work well for 1 or 2 smaller kids. My son used it between 1 and 2 years and it was just perfect. If you have a tall toddler I would say you get used to it for up to 4 years.
Due to its affordable price it can also be converted into an outdoor rabbit hutch with just some extra wiring, which… I'm currently making it myself.
---
Kidkraft Greystone Manor is usually the most popular option for a remodel, as it's spacious and luxurious. It's way taller than the competitors so lasts the kids longer.
This playhouse is made entirely out of wood (minus windows) which makes the makeover way easier than with a plastic house. It comes with a bunch of accessories you can either use or not, but it's a nice option.
It can be fine for up to 4 kids at the same time, and even a 6-year-old would play in it just fine. We love this one.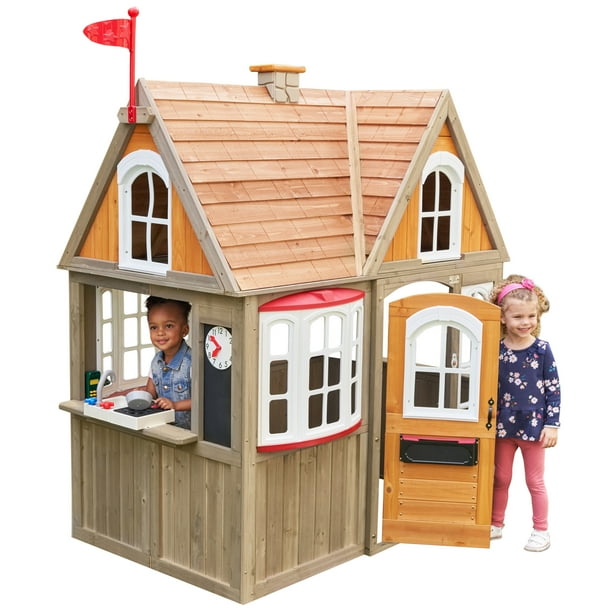 Highly recommended by many parents, the KidKraft brand has a really cool wooden playhouse. It is a budget one too which is one of the reasons why it is so popular. I particularly like the design which allows for a lot of creativity and is open which is great for ventilation. 
Made of wood entirely, it allows for a lot of customizations. The structure has a cool picnic table and an outdoor grill which my kids loved because they could imitate our garden parties!
Friends have this model and it's always fun to play in it.
---
If you are in the market for a large airy playhouse that gives you a lot of room for creativity then check out the Backyard Discovery Cedar Wooden Playhouse. With large, easy-to-install panels, this playhouse is highly customizable. 
The design makes your backyard price, as it looks like a vintage house on the prairie and with a makeover, it can look even cuter.
Made of cedar wood, it is designed to tackle the elements and not show much wear and tear. It also makes it easy to modify.
---
An all-time favorite on Amazon is without a doubt the Little Tykes playhouse. This is ultimately the one that I settled on and bought. The playhouse is large and spacious.
It has functioning windows and doors that won't get little fingers stuck. The movable parts are designed such that there are no pinch points, which is a big bonus! It meant that my younger child could also join in the fun without too much supervision.
Note that this model does not come with any accessories or shelves inside and since it's plastic it's not really possible to add them.
It's best for kids up to max. 3 years in my opinion, but best for very little kids. The one advantage is that it can be moved indoors during the winter.
---
Wood vs Plastic – Which It Easier to Paint?
One thing that you need to understand is that both wood and plastic playhouses can be painted, but you need to use a different type of paint. For plastic, you must use spray paint as otherwise, the paint will peel, and for wood, you can use either.
In plastic houses, the paint coat fades when they are exposed to the sun. That is why it is important to give it a new coat every other year which is naturally time-consuming. Wood houses don't look quite as dull when time passes. They do however need a coat every once in a while. Unlike plastic houses, you need to use a primer for the wood before painting them which is a job in itself. 
That being said, if you factor in everything (and it is a one-time job), I would say that wood playhouses are easier to remodel and will last longer.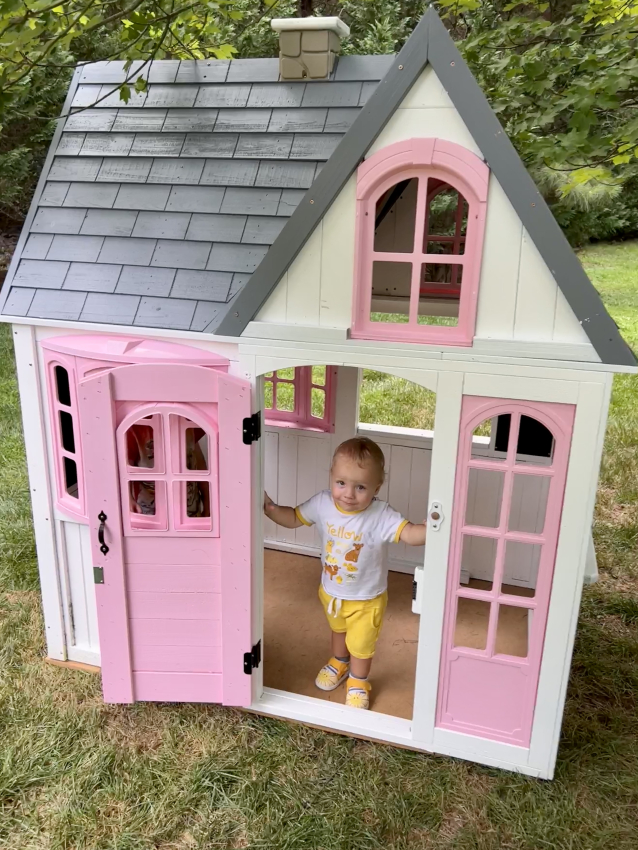 ---
How do you paint a wooden playhouse?
Wooden houses are a lot of fun to work with. If you have a blank slate on your hands you are lucky (hence why I recommend specific models above!). Playhouses that are already painted need to be slightly sanded down before you start.
Some people recommend painting before assembly and others after. I tried both and doing it after assembly is much easier because you don't need to look for pieces numbers covered in paint later. The paint also won't get dents
I usually apply paper tape around windows and places where I don't want the paint to splash. It helps in the clean-up at a later stage. One great tip is to brush down the playhouse after you have sanded it. It removes all the dust particles and the paint sticks to the wood better!
Make sure to use a soft wide brush. Strokes should be applied in the direction of the grain for the best finish. Keep in mind that applying a second coat (after the first coat has dried nicely!) makes the colors really pop.
What kind of paint do you use on a wooden playhouse?
I like to think about the end results before applying the first coat. Do you want something that shows the grain of the wood or would you prefer a neat even coat?
The paint gives you a gloss or a shiny finish. To insure that the playhouse will last a few seasons use a primer, then 2 coats of the outdoor paint of choice. If the paint is weatherproof with a primer you don't need a sealer.
How Much Paint Do You Need? Get a gallon, as it's cheaper to buy a gallon than having to buy another quart. I didn't use the entire gallon, but ran out of quart once and overpayed after all.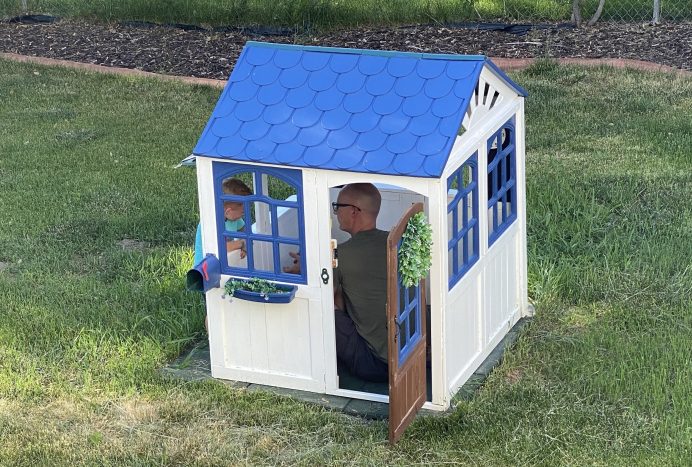 What kind of paint do you use on a plastic playhouse?
My recommencdation is Rust Oleum spray paint. They have a variety of colors and make the Painter's Touch 2X Ultra Cover spray paint, which is designed to cover make types of surfaces including plastic. We painted our plastic roof with this and recently a plastic slide – all sticks just fine.
How Many Cans of Spray Paint Do You Need? Don't underestimate, especially considering the layers! For example, the slide needed two layers plus another half layer of corrections. Every side and layer was one can. For a Greystone Manor's windows and door I used 4 cans.
Can a playhouse go on grass?
A playhouse can definitely be put on grass, but…
One thing that you need to understand is the grass tends to be wet and remain wet for longer and with a playhouse on top of it it's hard to move around. I recommend getting a medium-thick plywood platform that you put your playhouse on. Home Depot or Lowes can pre-cut it for you at the store, so no need for any extra tools.
Another issue is moving. You can't really moving inside the playhouse and the grass directly next to it gets tricky as well.
Mind you, this is in reference to the wooden playhouses. Plastic houses don't have that much of an issue with moisture, but I still recommend a platform unless you plan on moving it for moving.
---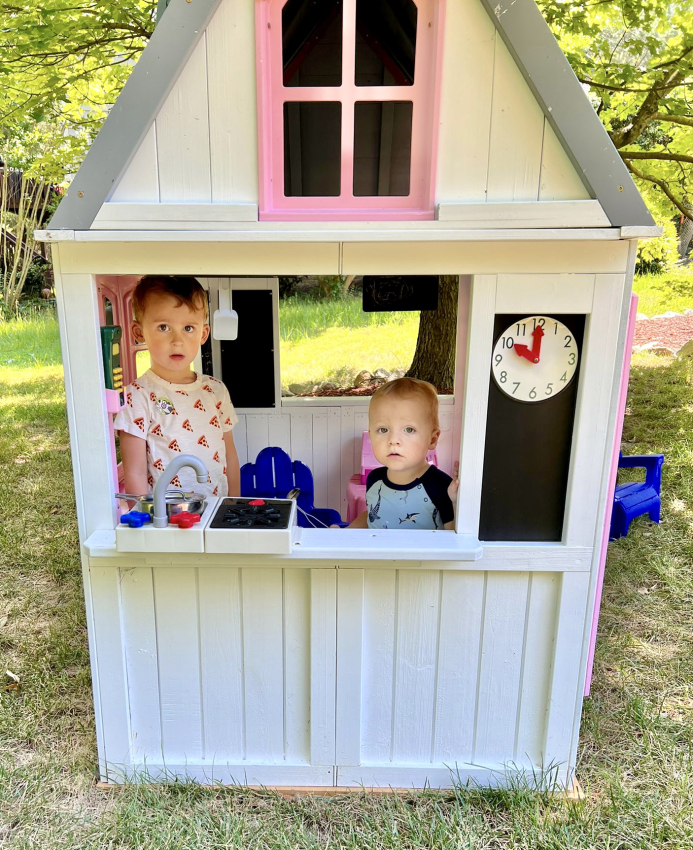 Decorating a Playhouse:
Decorating a playhouse is where all the fun is at both for the kids as well as for the parents. The moment the playhouse was set up in our house, everyone started tossing around ideas, including the grandparents who were invited to join the melee over video call! There are so many ways in which you can make the playhouse a little extra special.
What I did was ask my kids what they had in mind. It gave me a basic understanding of what to work with. The easiest is to install pre-built structures like kitchens. We turned our playhouse into a cute mini house with a kitchen (got a pizza and knives), an outdoor rug for the inside, some fairy lights, bell and a cash register.
I have friends whose kids have used their toy carpentry tools to turn it into a workshop and others who decided that a restaurant is a way they want to go.