Some of the most versatile and engaging toys that I have found in the market are in the form of wooden blocks. I honestly had not given much thought to it and would usually skim past them before. I mean what can you do with blocks?
Building blocks for toddlers are a simple, yet very powerful toy that has proven to engage and encourage brain and physical development in young kids for generations. Parents will love these wood blocks as eco-friendly alternatives to classic plastic block sets out there for little ones to enjoy!
How To Choose Wooden Blocks For Toddlers
Here are a few criteria that you should consider when buying wooden blocks for toddlers.
Size: The size of the blocks is determined largely by the age of the child. Make sure that you always check the manufacturer's recommendations when it comes to age.
Colors: Younger children prefer visually stimulating blocks with a larger number of vibrant colors. Older children are interested in a variety of shapes. Montessori philosophy encourages eco-friendly wooden blocks in just one color.
Number of pieces: I tend to prefer a set with more pieces because I have two kids. A larger collection of pieces may however be difficult if you have space constraints.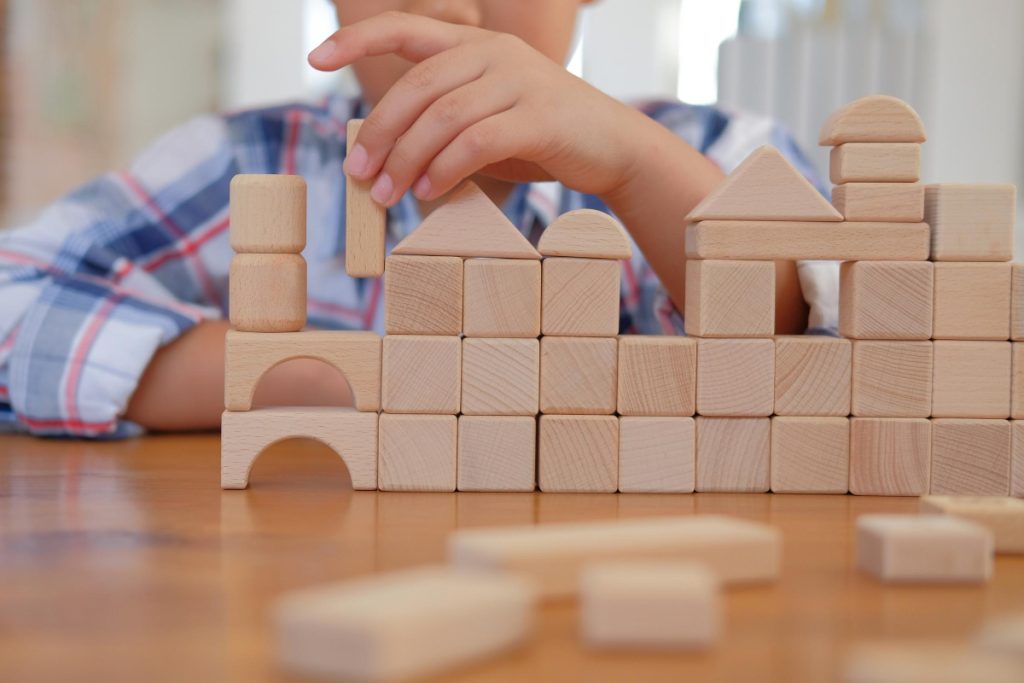 Bright and colorful, the Lovevery blocks are designed to stimulate a child both visually and intellectually. The beauty of these blocks is that they come in a multitude of different shapes. I find that these challenge my kids to think outside the box.
My youngest was initially happy just stacking them on top of each other or destroying structures. As time progressed, he began to imitate his older sibling.
The 70-piece set poses a couple of challenges that the child needs to learn to solve. Placing the right shape in the right hole, stacking irregular shapes, designing buildings, etc. The beauty of the packaging however is that they fit in a nice wooden box which makes it easy to store!
Melissa & Doug block set approaches wooden block toys from a different angle. Here the blocks are unicolor natural. With smooth edges, these blocks are really well designed.
The single color helps the child focus on the shape of the wooden block.
One big difference that you will notice with these blocks is that there are many pieces that have curved edges. This is aimed to help the child develop their fine motor and gross motor skills. It also helps them with spatial reasoning.
My husband particularly loves this set because it encourages children to build different kinds of buildings and architectural structures.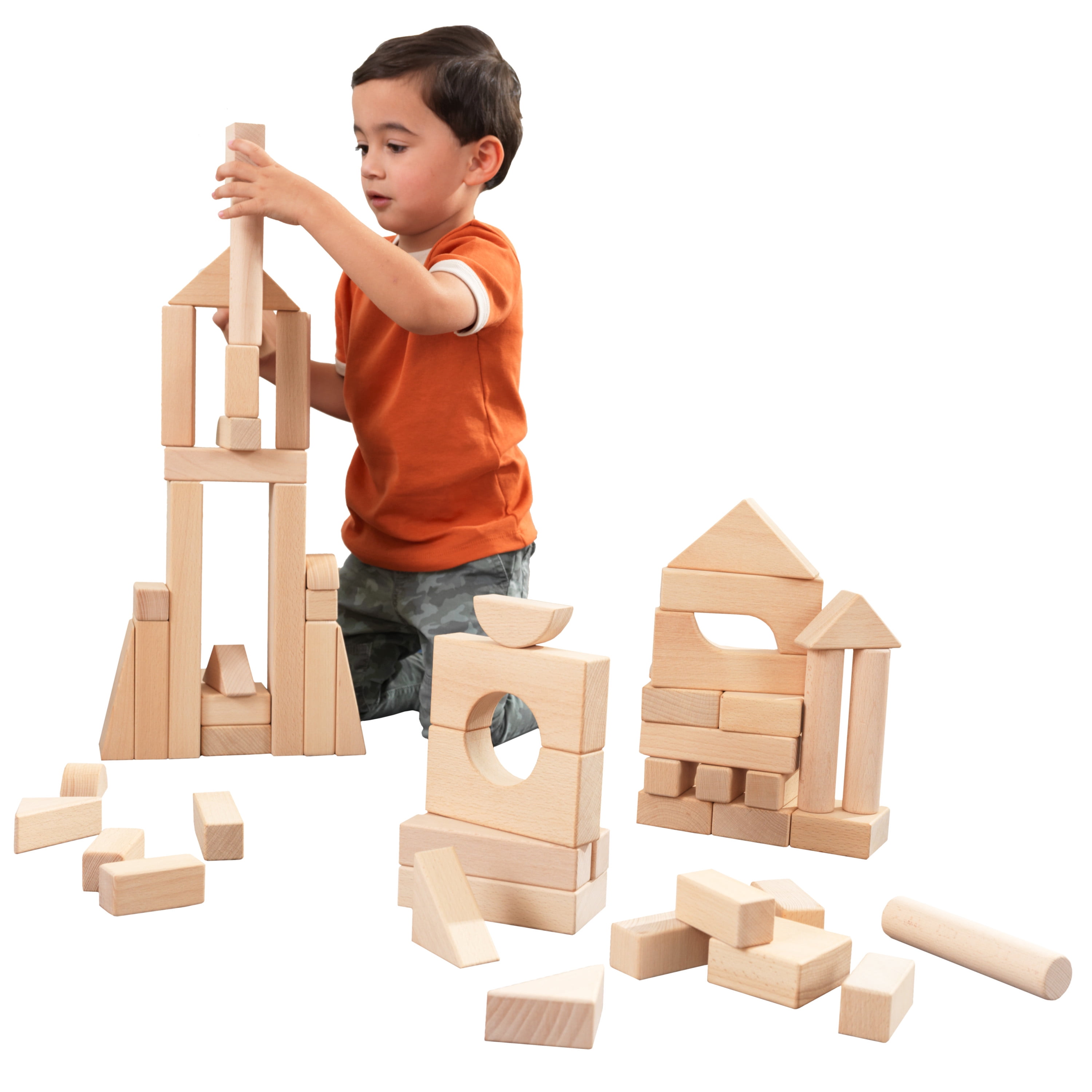 Brain Box is the absolute king when it comes to building cities and architectural constructions with wooden blocks. The whopping 100-block set gives the child a chance to build larger structures and it includes a few fun shapes that can be used for roofs, fences, towers with windows etc.
These blocks help develop problem-solving & reasoning abilities, support logical thinking and awareness. It comes with a little booklet to help beginners with designs.
We've noticed that while it's aimed at older kids around 5 years, even my 1-year-old could enjoy stacking the planks or lining them up in a row.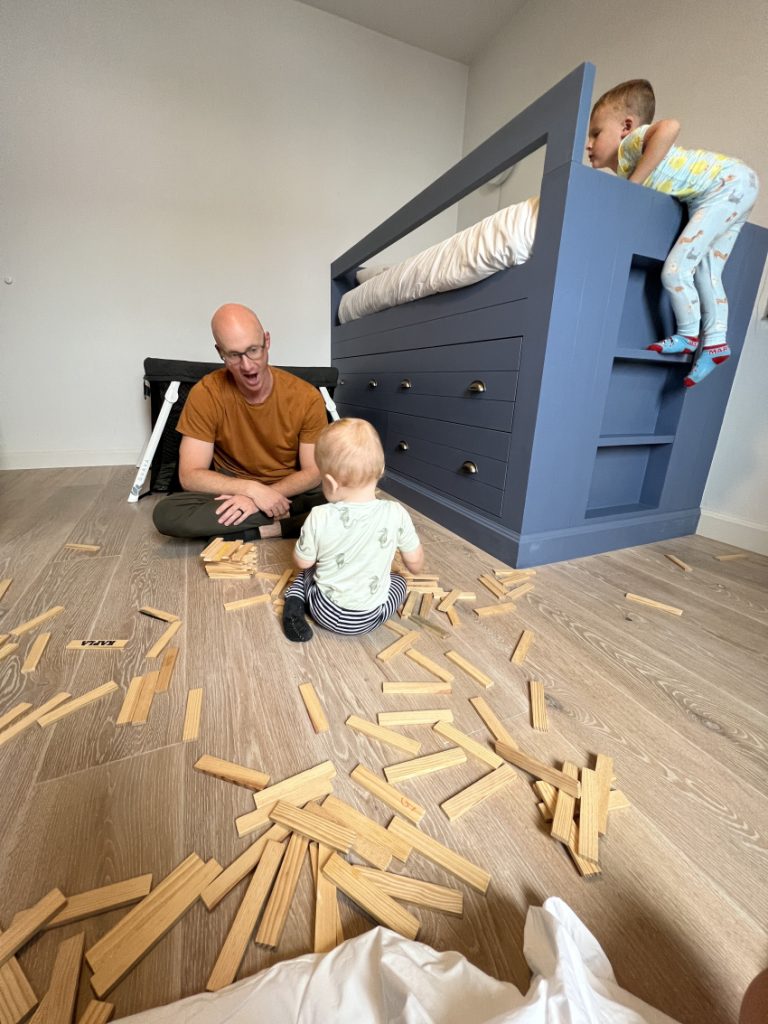 Tumi Ishi stones have a little different design compared to the rest of the brands. Think of them as rocks as they're meant to resemble rocks with flattened sides to stack them.
I find that this particular model is the best if you are looking for wooden blocks to travel with. It has enough diversity to keep kids occupied and at the same time isn't too large to occupy too much luggage space. Very calming to just stack & pile and mess around with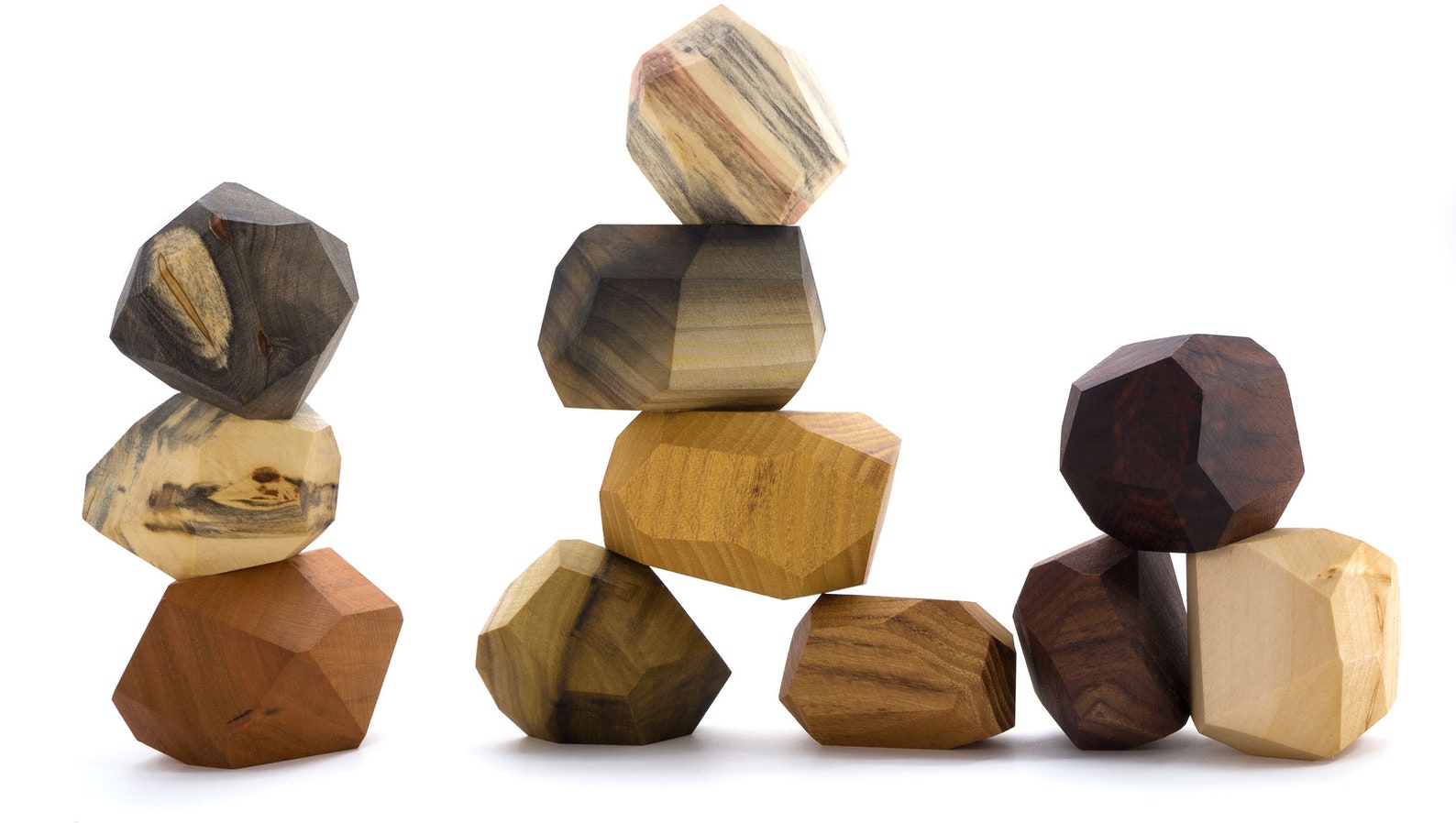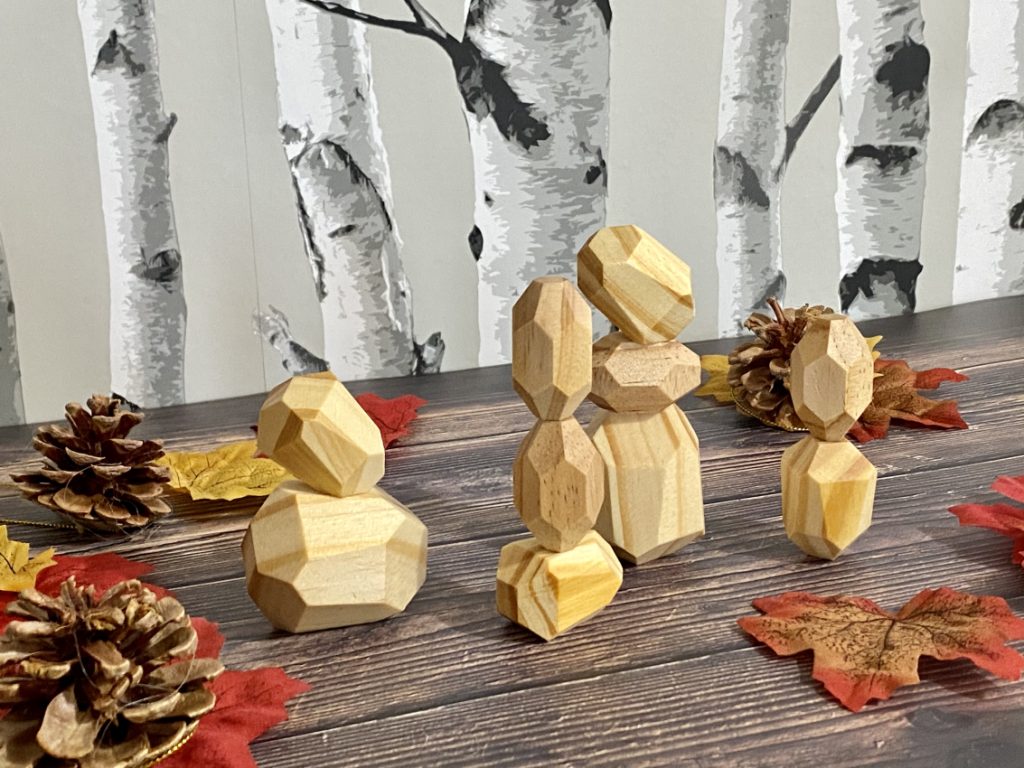 The Lewo large wooden blocks are ideal for younger children since they pose no choking hazard.
They come in attractive colors and are incredibly easy to stack due to their large size. This is rather important because small kids are working on their gross motor skills. 
Small pieces not only pose a choking hazard but are incredibly difficult for them to stack. I found that my kids got disheartened over a period of time and stopped using the smaller blocks at that age. Lewo however was great for my younger child.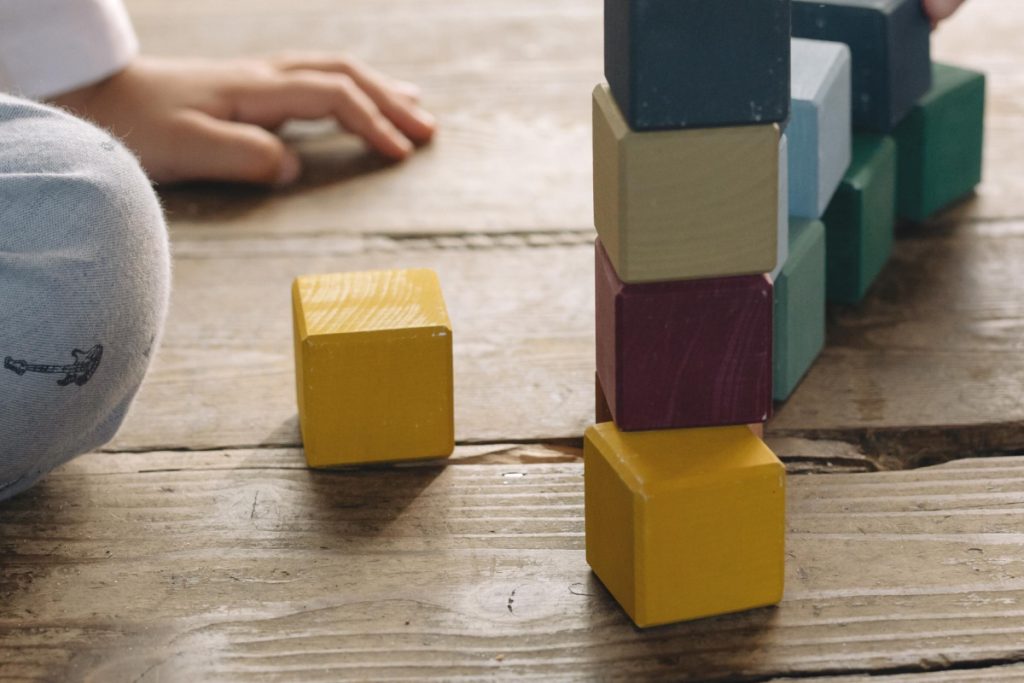 ---
---
Frequently Asked Question about Wooden Blocks
What age are wooden blocks good for?
One of the biggest concerns when it comes to wooden blocks is finding the right set of blocks for the right age. I usually advise larger blocks for smaller kids. Lewo is a great example. Kids can use these as young as 8-9 months old. Now they may not be able to stack them at this age but the colors are highly entertaining and they seem to have their own way of playing which they find highly engaging.
Why are wooden blocks good for toddlers?
Blocks help a child think critically and stimulate their imagination. From building interesting structures to designing their own car, the blocks are highly versatile. The child also works on their fine and gross motor skills. Plus they need to learn to balance the blocks well. It is literally a different take to Jenga where they are concerned. 
Can I combine different brands of wooden blocks?
Not all blocks work well together but combining sets gives the child a chance to expand their play area and works well if you have more than one kid. In fact, I had the kids combine both smaller and bigger blocks so that they could work on building a city together which they found highly entertaining.
Just note that the blocks that get combined should be compatible with the age group of the children playing with them. A good idea is to remove the choking hazards from the sets in case you have younger children coming over.