After owning two ride on suitcases that we stopped bringing on once the kids turned 3.5 and 2 for numerous reasons (that I talked about in my reviews) and we ditched the stroller on shorter trips, they basically started riding through the airport on top of our carry on suitcases. While I wasn't worried about my older son, with the little one I had concerns such as, is he going to forget to hold on?
One day I saw on social media a suitcase with an in-built seat. It felt like it was too good to be true because Mountain Buggy Skyrider required extra attachment and it felt like it wasn't giving me enough space with all the in-built mechanisms. After debating it for a few weeks I finally pulled the plug and ordered one…
A few trips later I can honestly say that the whole family is converted and we're getting another MiaMily suitcase for our upcoming adventures for the second child.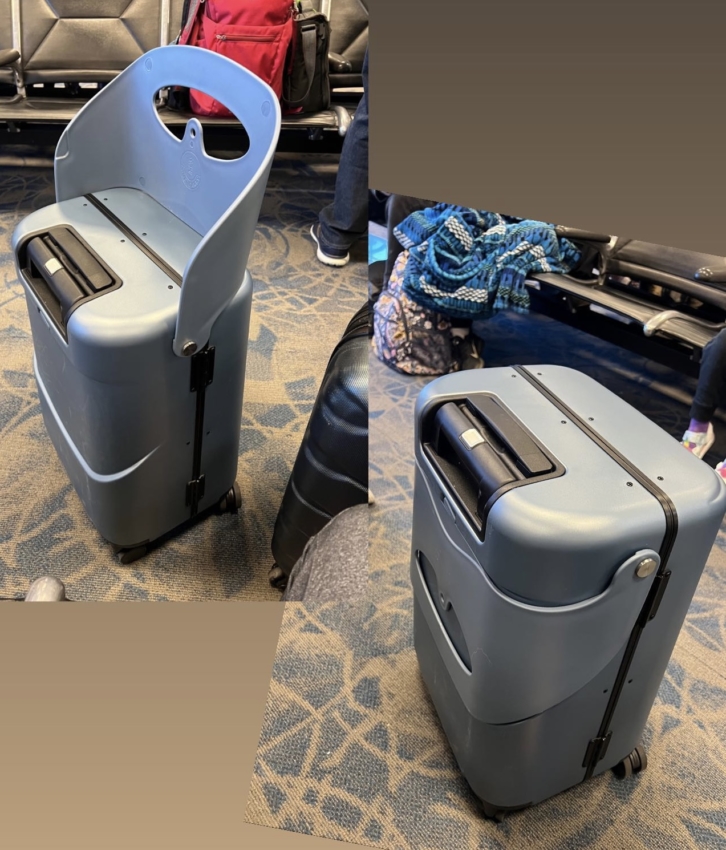 What is MiaMily Suitcase?
MiaMily luggage configures into a ride-on suitcase for children or a portable seat for adults. It allows your child to quickly and conveniently travel with you on top of the travel suitcase or provides a resting place for adults when standing for long periods of time.
Unlike other kids ride-on suitcases, MiaMily is a full-size standard 20″ carry on luggage. It has all the functions of a luxury carry-on bag, such as a Universal TSA approved lock or 360-degree wheels.
The company also makes portable baby carriers, which are very highly rated among parents.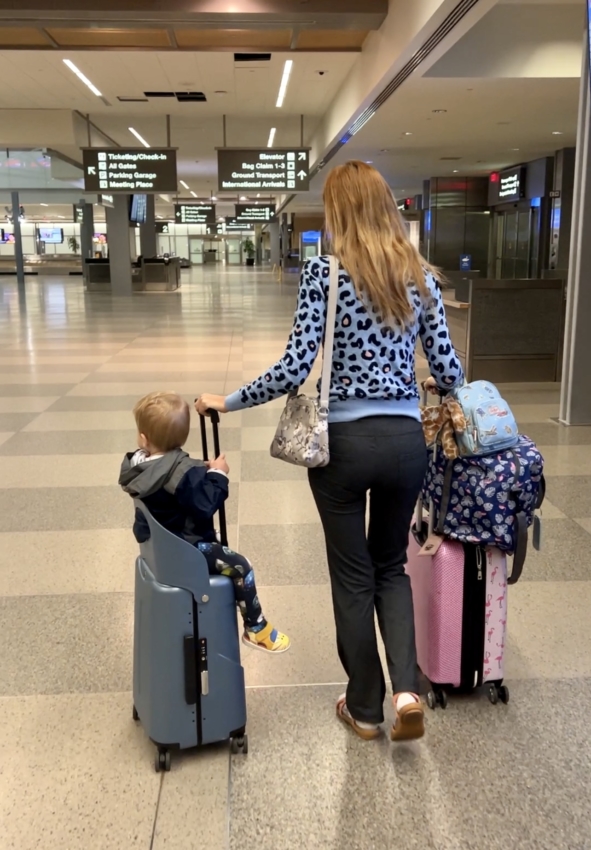 How does it work?
If you've ever had a child riding on top of the suitcase you know that it's often difficult to drag it along without tilting it. MiaMily isn't entirely rectangular, it's slightly wider at the bottom providing more stable riding experience. I can literally spin my child with one hand effortlessly without having to worry about it falling. My barely 2 year old was able to push it by himself.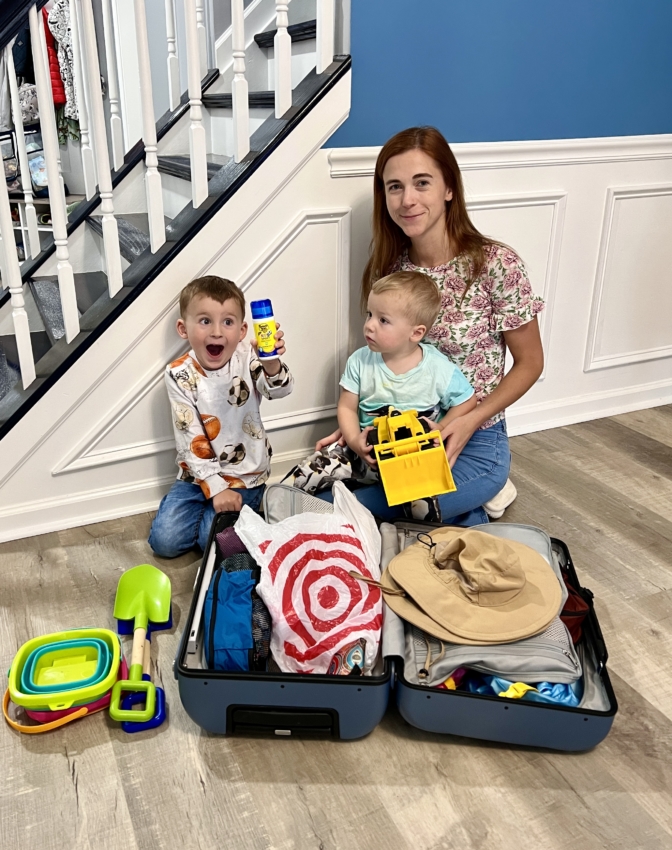 I was slightly worried about the suitcase fitting into an overhead bin as it's wider on the bottom, but we had no issues so far. On smaller airplanes on American Airlines, we couldn't fully get it in, but the flight attendant showed us that we had to push the bin down and it fit just fine.
Inside, there's plenty of space with an additional pocket for smaller items and individual compartments. Even when dropped out of the airport bus, the suitcase didn't open.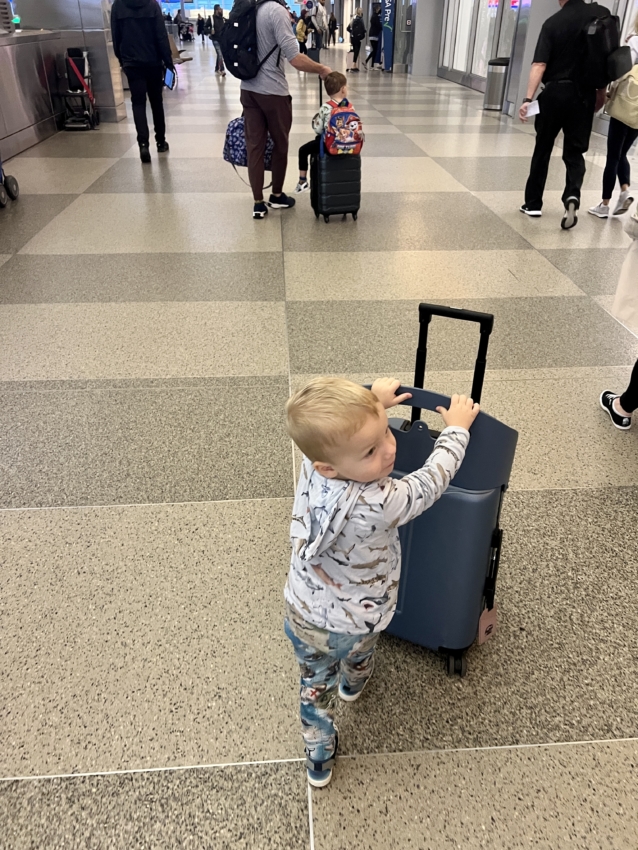 Is it safe?
This is a ride on suitcase with a built-in seat belt for children! The seat makes it perfectly safe and you can extend it to airport dining if you hold it with a foot – no need for a high chair anymore.
The suitcase shell is zipperless on the outside (it locks differently) which makes it more comfortable for riding when the zippers would bend down.
We ran with it, because of missed connections. We rolled through elevators without an issue. It is definitely easier to roll is sideways, so I recommend it that way.
Now, let's be real for a second: if your child starts wiggling on purpose or leaning sideways can they fall out of it? Probably, but that's something you need to teach your child not to do and you shouldn't leave your kids unattended on it – the same way you wouldn't in a stroller. There are obviously no brakes on this suitcase, so that adds to it.
Size wise it fits both of my kids just fine with some room to grow – and my older son is 43″ tall.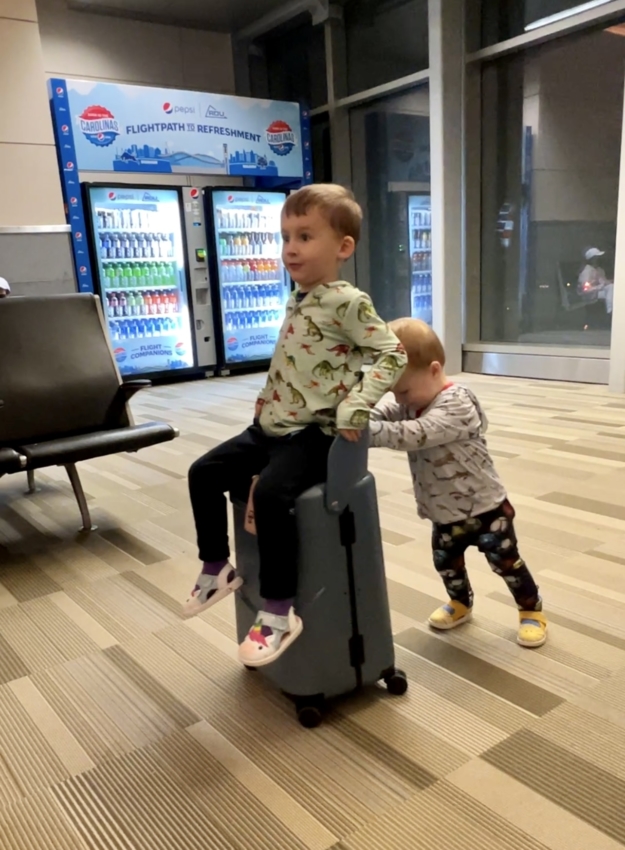 ---
Cons of MiaMily Suitcase
I'll be very real: if you're an introvert don't get it. I can't walk for 5 minutes without having a hoard of people asking us where did we get it from, commenting on how cool is that, or getting surprised that an adult can sit on it too. I gotta say that it often gets annoying because we have to spell out the name of the brand and explain that we love it.
Another con would be the price, because it's on the pricier side. However, if you look at it from a suitcase perspective and not kids luggage perspective you'll realize that it's price normally as many quality carry on suitcases actually cost twice as much.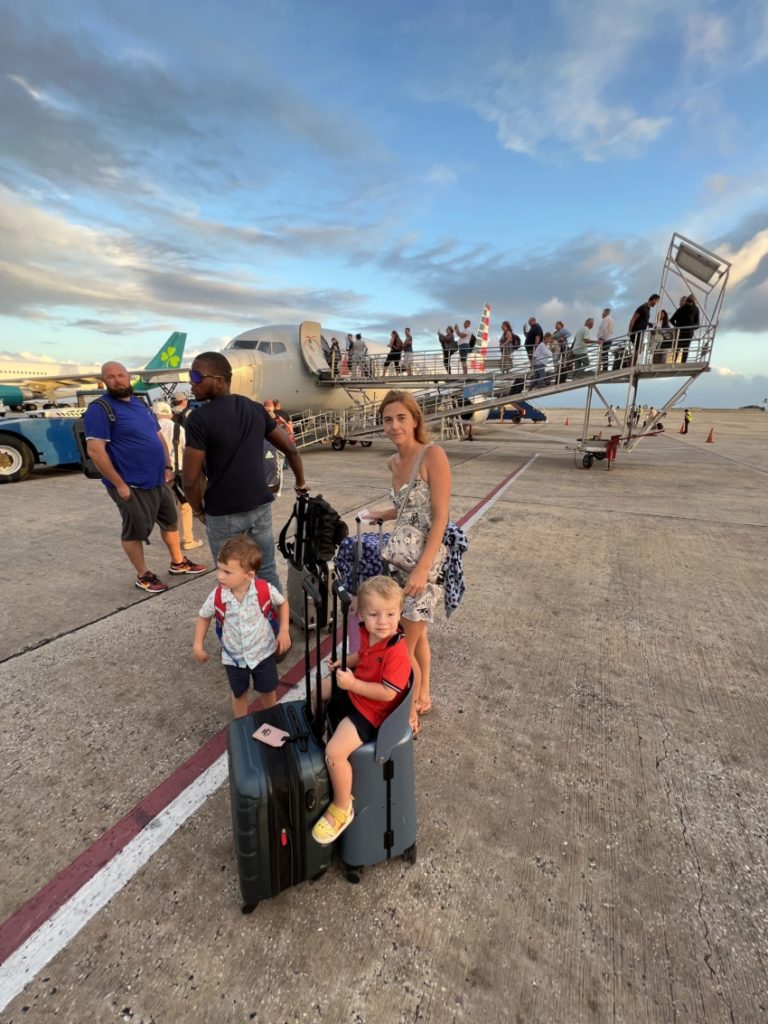 ---
Final Verdict
We all love it and will be getting a second one soon! It totally replaced our need for JetKids by Stokke. It makes traveling easier and quite honestly I might take it with me on my next kids-free trip as well, because the seat is pretty tempting, especially during immigration so either me or my child doesn't have to stand in a long queue to wait.