JetKids by Stokke BedBox is a premium ride-on suitcase for kids with an in-flight bed feature. Who wouldn't want that?
As tempting as it sounds, we purchased one after seeing how easily it maneuvers at airports and after we've already been using Trunki for a while. We liked it and I feel like depending on the way you travel it could be an amazing product.
The JetKids felt like a natural improvement from Trunki (although twice as expensive), but I will say that we stopped using it after a few trips for numerous reasons. I'll be explaining the reasons why in the post and what we replaced it with as well, but nevertheless it's the best kids-size ride on suitcase on the market.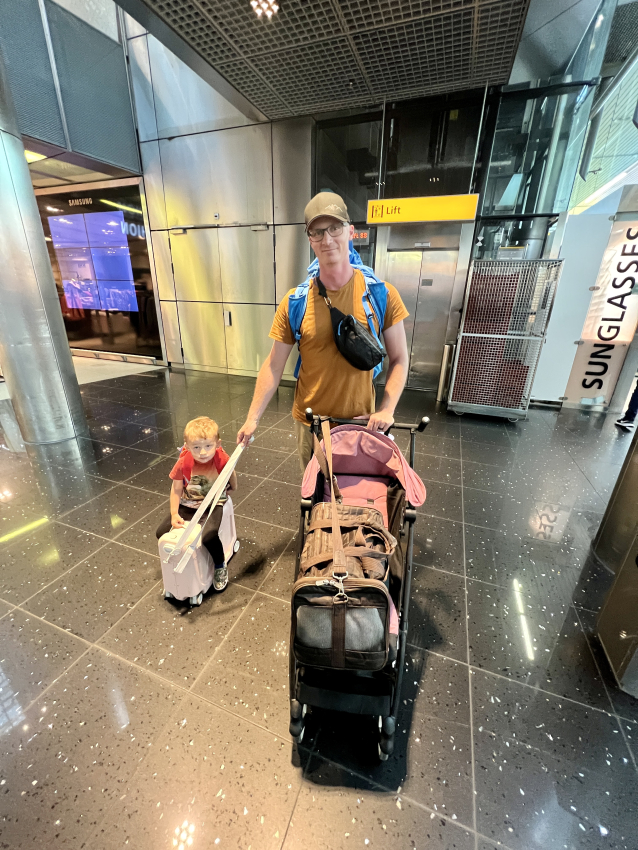 ---
Quality
The product is naturally of a good quality. Everything is well thought ot and works – wheels, case, nothing got a single scratch after using it and abusing it constantly. JetKids Bedbox comes with two sheets of stickers which made it fun for my son to put a name on a suitcase when he got it.
The Stokke JetKids Bedbox bed feature is recommended for ages 2 and up and the ride-on feature is recommended for children ages 3-7 with a weight limit of 77 lbs. More realistically, kids will use it between 2 and 5 years, but even a tall 5-year-old might find it too small to ride on it comfortably.
I did see that many Amazon reviewers complain about the suitcase breaking after a few short months. I don't share this experience as ours lasted despite being frequently used, but the number of people mentioning the issue was concerning.
Ride-on Feature
Ride on feature is a lifesaver when it comes to conquering airports. One can ask why would anyone need it if you have a travel stroller? If you have a travel stroller and only one child, then I agree – you might not need it. However, if you've passed the stroller stage or have an older child riding on a buggy board that we always checked with a car seat for space saving a ride-on suitcase was a necessity.
There is a top handle for them to hold onto plus shock-absorbing front swivel wheels that move 360 degrees, so we never had issues with it turning or falling – and can't say the same about Trunki!
If you're not rolling it on the ground you can carry it. It includes an adjustable strap making it easy to carry over your shoulder or pull regardless of height, so a child could do it too.
Turns into a Bed
It's not just a suitcase for a child, Stokke JetKids is also named a BedBox for a reason: it can turn into a legrest in-flight or on trains. When the bed can be used it was a wonderful function for a child to put their feet somewhere.
All you have to do is unclip the lid and turn it upside down to create a platform. There is a little extendable tray that's meant to close the gap and overlap with the seat. It works on some airlines, but on some, we still had a gap and without the cushioning, that was included but not practical for space-saving, it wasn't really working 100% but the 90% it was giving us was enough.
My son, however, would never use any leg rest on a stroller ever since he wasa baby so he would only use the bed box to lie down when he was actually sleeping. Otherwise, the leg rest function was lost and basically a space taker – but that might just be my footrest-hating son.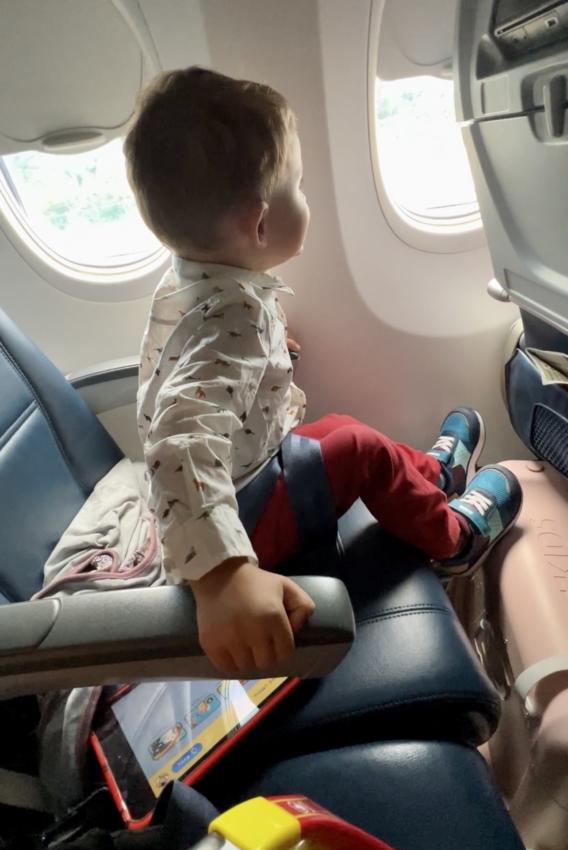 Cons of JetKids by Stokke
Not approved on all airlines
The biggest con is the fact that the bed and leg rest function isn't approved on all airlines. If we flew between the US and Europe most airlines were allowing us to set it up, but these flights weren't the worst as they were "only" 7-9 hours long. The problems were arising if we wanted to fly anywhere else and these flights were naturally longer, about 12-17 hours and you'd think this is when you need the bed function the most.
JetKids is banned on various airlines, including top ones like Emirates, British Airways, Air Canada, Air France, Qantas and Qatar, or Lufthansa being a hit or miss. Sadly, in our case, we were mostly flying Emirates Air France or Qatar, not by choice but by route availability, so it was a no-go for us on numerous flights. These airlines also ban other baby travel beds, including inflatable footrests, so it's not really Stokke's fault.
Also, keep in mind that if you're flying with 2 kids it's not allowed to put 2 bed boxes next to each other. BedBox (or car seat actually) is only allowed at a window seat or middle seat of a middle row. Basically, if you're flying with two kids you would need to sit them in different rows.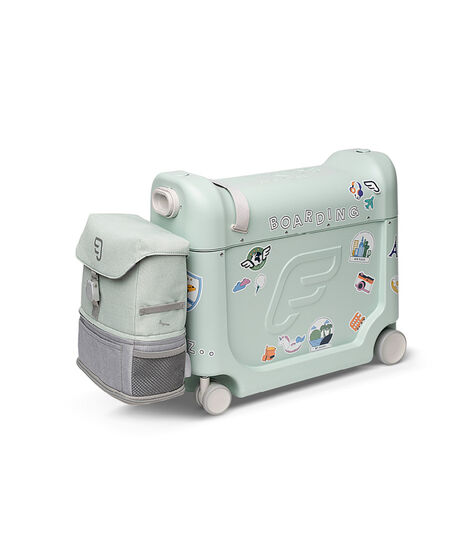 Are there any alternatives to Stokke JetKids?
If JetKids is banned by your airline they won't allow any inflatable footrests or hammocks either.
If you just want something more portable and don't care for ride-on function then a generic footrest might do the job. Alternatively, you can invest in Flyaway Kids Bed.
Opening isn't ideal
If you store your suitcase flat for take off and landing it will take you a bit of juggling to get it out from under your kids feet. Using it is something I practiced setting it up once or twice at home, but it really was quite easy and only got stuck once but quickly got unstuck.
However, you need to use both hands at once to open each side at the same time to pop off the top, which can be challenging on a plane.
All the things had to be pulled out of it so quite often we couldn't fully see what was at the bottom of the suitcase.
---
Small Storage
I must say that when we got it I was spoiled by the Trunki and amazed at how little storage there was inside it. Because of this we instantly removed the cushion pad because it was taking up so much space all we could fit in there was a book and maybe two packages of goldfish crackers.
For the amount of space, it gives it's pretty heavy (7 lbs), which is an issue on airlines that limit hand luggage weight.
On top of that, once you set up the bed function it leaves a gap between the suitcase top and the part – the suitcase remains partially open. My son once kicked it and some things fell out of it, and while it didn't happen to us it one of my kids spilled their juice it would go straight into the suitcase.
One thing I did remember when writing this post was when we had JetKids on a cart and the suitcase fell out of it, it opened and our things got everywhere. It never happened with a Trunki because the opening/closing mechanism was more solid, so just something to keep in mind.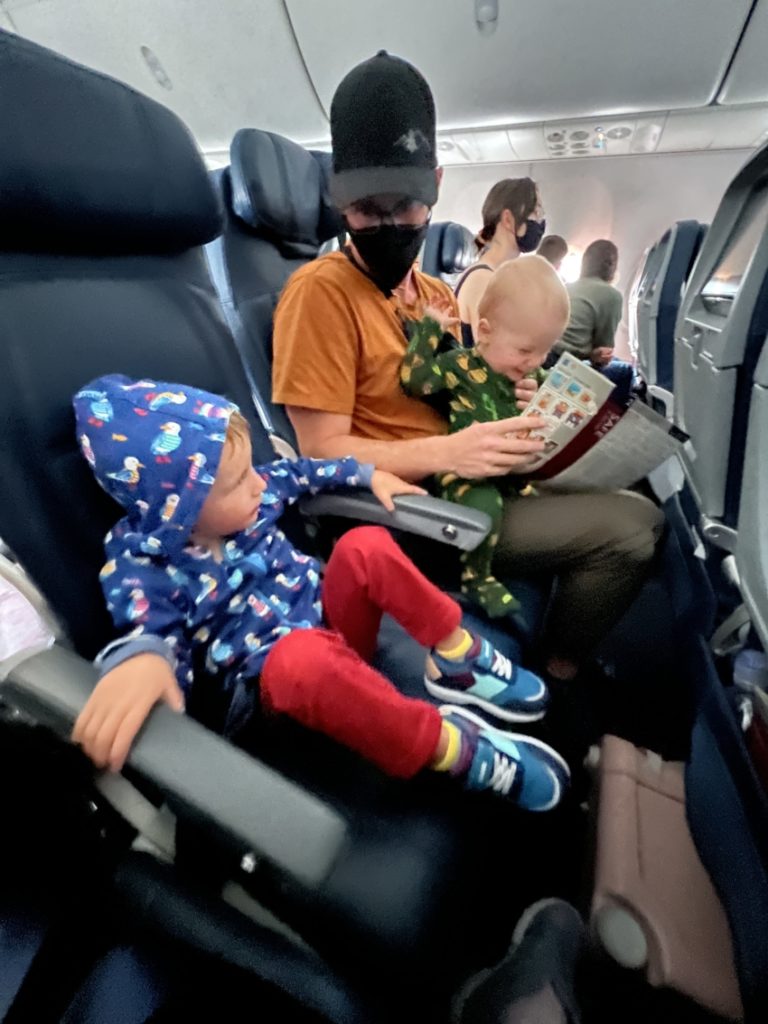 ---
Final Verdict
JetKids by Stokke is a solid good quality product. We honestly loved it in some circumstances and it surpassed Trunki in terms of functionality, but the leg rest part was basically useless on some airlines due to their policies.
Would I recommend it then? Yes, if you're flying in economy class on airlines that allow it. It's a great option for your kid to rest their legs and ride comfortably through the airport.
We ended up switching to a MiaMily suitcase with a seat because it seemed more convenient as a full-size carry-on luggage that's easy to push and isn't just another thing to carry, but actual luggage container.