If you travel you probably have seen Trunki suitcases rolling around airports, even before you had kids. I know I did, so unsurprisingly Trunki suitcase was the first Trunki as soon as my son turned 2 years old.
We used Trunki for almost a year and quite frankly while I loved it I realize that some things could be improved and we eventually swapped out of Trunki (I'll be explaining the reasons why and what we got instead). However, I still think that if you aren't traveling all the time like us who travel every month with two kids, a Trunki ride on suitcase can be a great product that's actually affordable.
P.S. Trunki is such a popular product, but did you know that it was rejected by the famous show Dragon's Den? It proves that if you believe in your product and its functionality it can still be a successful business.
What is a Trunki? What Makes it Special?
The Trunki is a kids' travel suitcase with a child seat built in. It's designed for toddlers and young kids to be able to 'pack it, sit on and ride it'. Basically, it's the first luggage you can get for your traveling toddler.
They come in multiple designs – animals, space shift, fire truck. We got a tiger one.
What age is Trunki good for?
The suggested Trunki suitcase age range is 3+ years. My son rode it at 2 years and I was confident that he can hold on and not fall off it, so this will depend on your child. If your child is tall I'd say 5 years will be the maximum (despite it being promoted as up 110 lbs (50 kg). My son was 2.5 years in the photo below.
Keep in mind that if you're buying Trunki for a younger kid you will be the one carrying it. Trunki is designed to have kids pull along their suitcases so they can get excited about the holiday, but don't expect it out of a 2 year old all the time.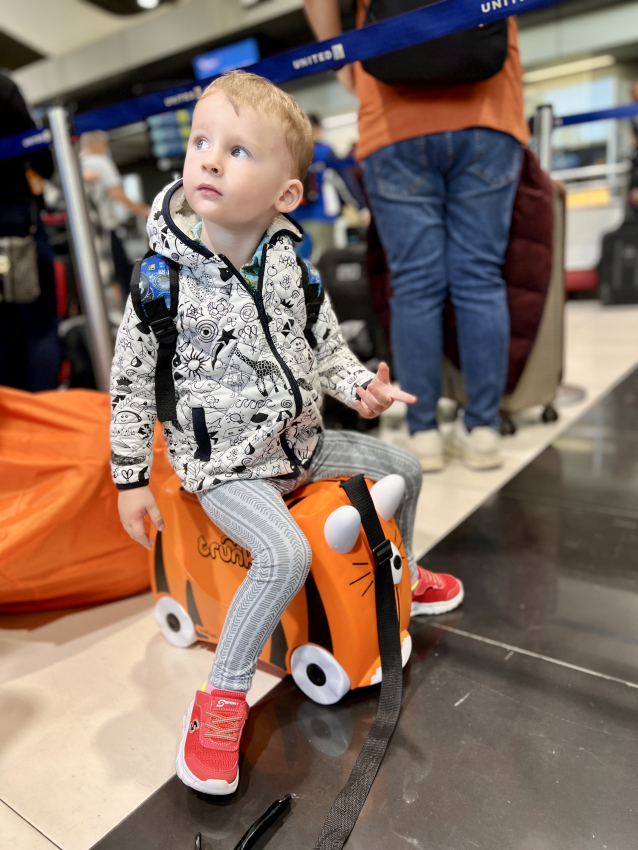 Are Trunkis allowed as hand luggage? Does Trunki fit under the seat?
One big advantage of Trunki is that it's extra light. It only weighs 3.8 lbs (1.7kg), so on airlines that limit the weight of hand luggage, it's super useful.
The suitcase measures 46 x 21 x 31cm which makes it allowed as hand luggage. It can go in the overhead compartment or even under the seat in front of you.
Speaking of having it on board, one thing we liked at first and disliked later was the fact that Trunki opens up like a book. It seemed like a good idea so you can easily see what you are looking for when you are on the plane, but it requires space to open it up. Wish there was an option of just pulling things out of it when it was standing – something JetKids offers.
How much can you fit in a Trunki?
Surprisingly, quite a lot! Trunki has a depth capacity of 18 liters. It's perfect for fitting in all your kids toys, change of clothes, blanket, books, and even a small ball.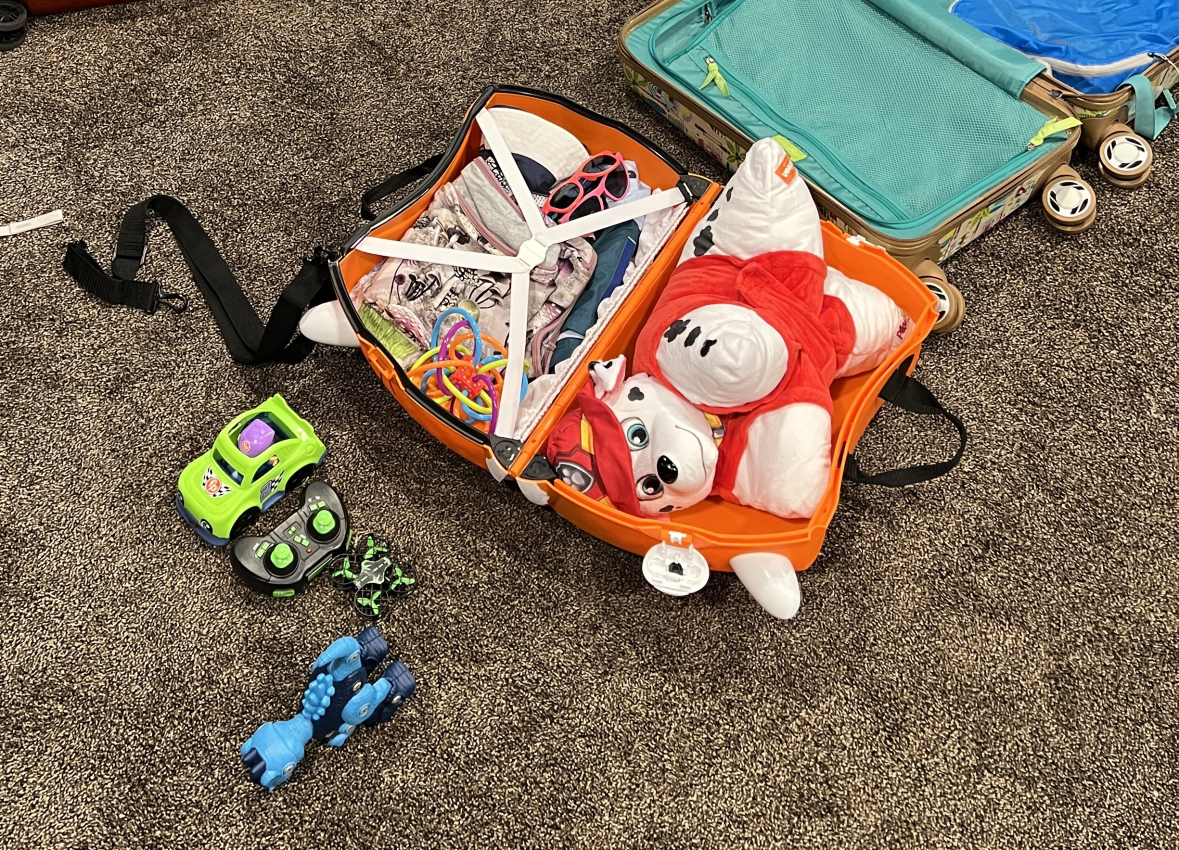 Is the Trunki easy to pull around?
Yes and no. At first, I thought it was super easy to pull around without the kid on it. The wheels worked just fine and the strap was enough.
The carry strap can be detached and becomes a pull strap, which is handy. Technically, the kids cany push themselves along on it holding onto the 'horns' and pushing with their feet, but mine were moving so slow that we weren't going anywhere.
When the kid was riding on it, it seemed easy to pull it around but only on long corridors and when you didn't have to turn. This was eventually the reason why my husband decided will invest in JetKids by Stokke instead (and a year later to MiaMilly) – after seeing other kids using it and not encountering our issues.
The wheels on Trunki are in-built and they can't turn 360 degrees, which means you can go straight without issues, but sharp turns are a problem. One time a woman almost took us out because you know how it is at airports – people don't look where they're going and she walked straight into our strap. Another time we were getting into an elevator and had to pull my son quickly and the suitcase fell sideways, along with my son.
Later we found out that the manufacturers of Trunki do not recommend pulling your kids along on a children's ride-on suitcase which pretty much defeats the purpose of it, but in terms of safety, it makes sense.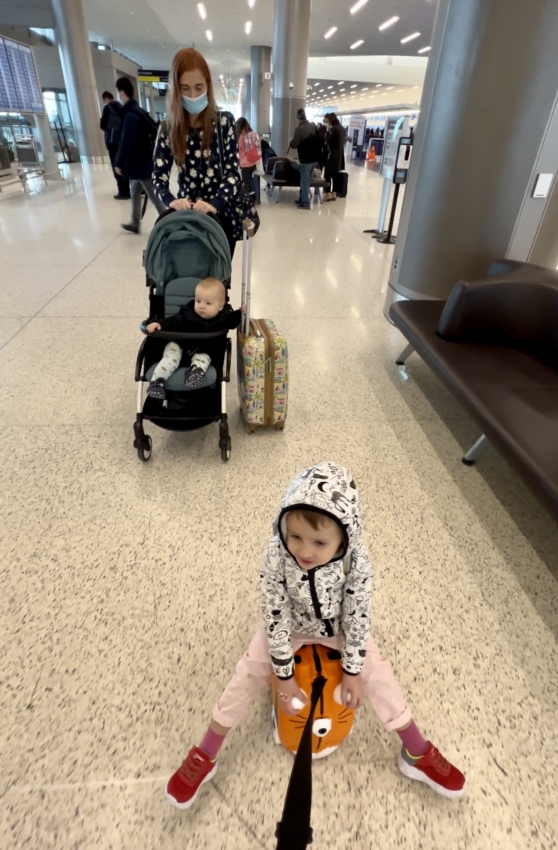 Final Verdict
The Trunki is super cute and the kids will likely love it no matter what. It packs well and the shell is durable and well made so you shouldn't have issues with it. However, the wheels could be improved for turning so honestly I believe that if you travel a lot you'll be better off with a different kids suitcase.
If you're a minimalist and want to travel with carry-on then a Trunki will be just another thing to carry. In the end it became annoying and we started confidently use MiaMilly instead.