Traditionally, a lot of us tend to swaddle a baby with a swaddle cloth for the first few weeks, but as the baby gets more wiggly a question of what to do next occurs. Sleep sacks are game-changers when it comes to helping your child sleep better.
I'm here to answer all your questions about sleep sacks for babies and show how we tested a lot of the best sleep sacks on the market, because quite often – there's no one fits all.
What's a Sleep Sack? Are baby sleep sacks recommended?
In the past making a "baby burrito" and learning how to swaddle a newborn have been presented by nurses, and while many hospitals still do that, medical reports are coming out recently that swaddling a newborn isn't good for them after all. I wrote more about different medical opinions in this article.
Every parent of a newborn agonizes over the incidence of SIDS (Sudden Infant Death Syndrome) and ways to prevent its occurrence. The Sleep sack replaces a blanket. It's secured with zippers or snaps on top and usually zipper at the bottom for easy diaper changes.
Sleep sacks work around the same concept as swaddle blankets, but are meant for slightly bigger children – usually over 3 months old. In a sleep bag, their legs and arms can wiggle, because it's like a sleeping bag in a tiny size.
Sleep sacks are an acceptable and preferred alternative to swaddle blankets, because they can reduce babies' risk of suffocation and entrapment.
They're all made of warm materials like fleece, wool or bamboo, and keep your baby warm without the worry of the child suffocating itself with a blanket.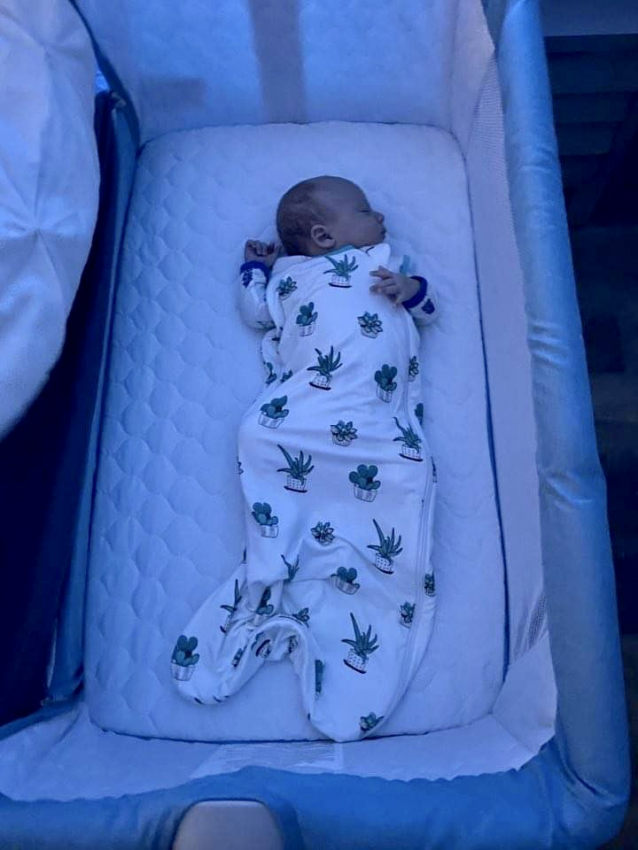 How Long Can Babies Use a Sleep Sack? Are sleep sacks safe for babies who can walk?
Sleep sacks can take your little one from the newborn all the way up to the toddler stage. American Academy of Pediatrics (AAP) advises parents to avoid blankets for the first year of their children's lives, so a sleep sack is a perfect solution.
Once your baby starts rolling, about 3 months at the most, it's time to let the arms free so they can push and roll back.
Some claim that researchers found that sleep sacks help babies snooze better, but it's not always the case with all children.
Although sleep sacks can be used until your child is well into the toddler stage, there will come a point when you'll have to stop using the sleep sack. Some love to claim that sleep bags are helpful in deterring little ones from climbing out of the crib, but this is absolutely not true.
If your baby climbs out of the crib it's time to move them out of the crib, not to stuff them into a sleep bag. Determined babies can climb out of the crib whether in a sleep sack or not, but a sleep sack creates an extra hazard for climbers.
If they have no intention of climbing out of a crib, at a certain point they may decide they're done with it themselves by removing it, or just acting out when you put it on. You can then try a walker sleep bag (with open feet) or transition to a toddler blanket once they transition out of the crib to a floor bed or toddler bed.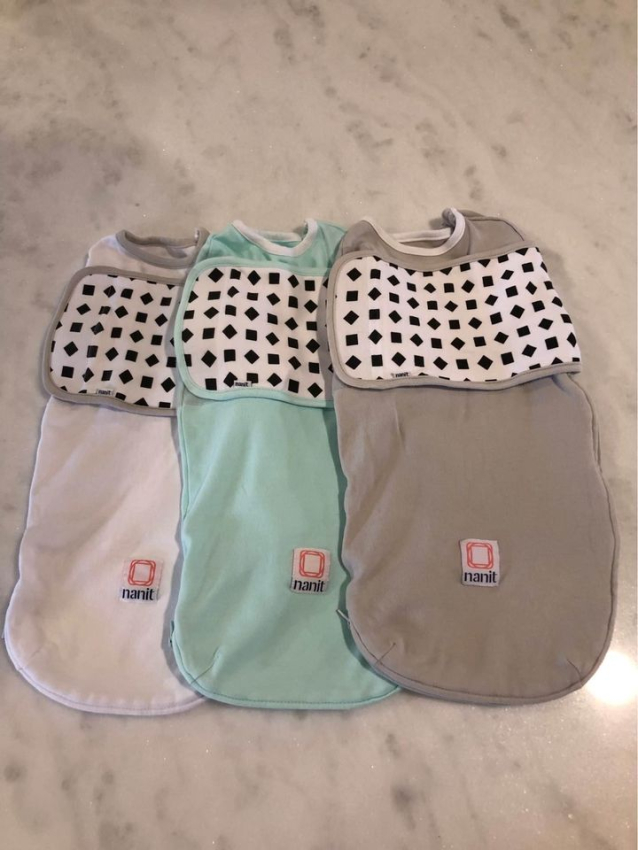 Why are weighted sleep sacks unsafe?
While there isn't clear evidence that weighted swaddles and blankets are unsafe, there also isn't proof that they're definitely safe for babies, who are still vulnerable and developing.
Many pediatricians believe that infant chests are softer so a weighted blanket or swaddle may restrict their ability to breathe effectively. There's absolutely no data whatsoever, zero, to support the use of weighted sleep sacks, according to updated APP guidelines. Yet, the weighted blankets and sleep sacks are still being sold.
Not all products marketed or sold in stores or on the internet are safe for babies to sleep in. Parents or caregivers should be especially skeptical of any product such as mattresses or sleepwear that claim to prevent sudden infant death syndrome (SIDS)
Do babies wear pajamas under sleep sacks?
One thing to be mindful of is the TOG (Thermal Overall Grade) rating, which can tell you the warmth that the sleep sack offers. Based on the tog and temperatures in the baby's nursery you will decide what to put underneath a sleep sack.
Some people put a bodysuit and footies under a sleep sack, others only put a bodysuit or only put footies. My personal recommendation would be to go with a sleep sack that's sleeveless with zippers. I'm a firm believer in common sense: put more clothes on a baby when it's colder and less when it's warmer.
When choosing the TOG take this into consideration, but keep in mind that some kids get colder or warmer than others (just like adults). My own kids would be freezing cold if I put them in 0.5 TOG in 74 F because they get cold easily… In fact, we tried many times and had to redress them. 1 TOG is the optimal standard for most people.
---
Best Sleep Sacks for Babies
Let's take a look at some of the most highly recommended sleep sacks in the market and evaluate what makes them special.
1. HALO SleepSack – Best Sleep Sack for Warmth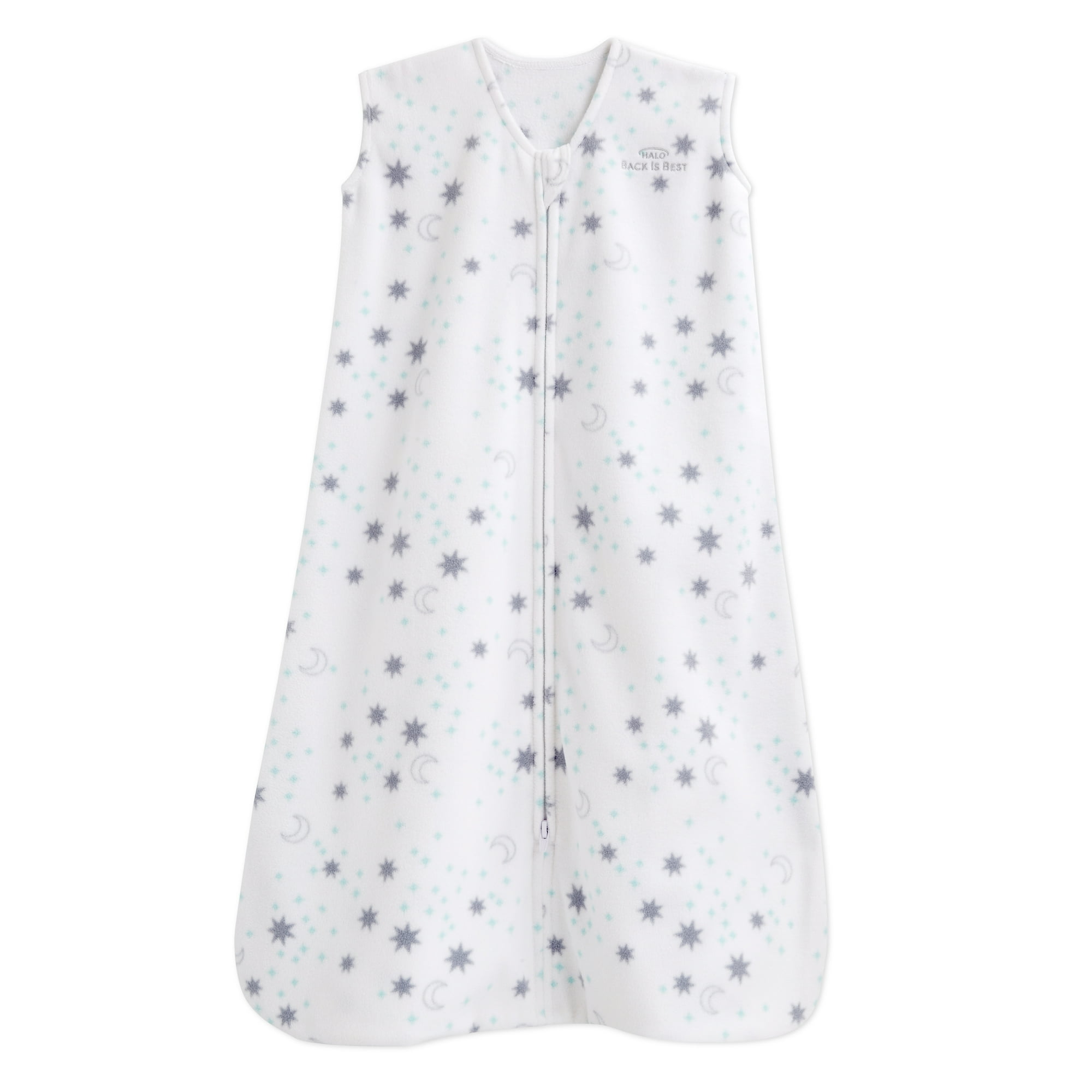 Sizes: Premie, Small, Medium, Large, Extra large (up to 36 lbs & 40″)
Made of 100% polyester micro-fleece, the HALO sleepsack is lightweight but warm at the same time. It replaces loose blankets and is designed to keep your baby warm. The fastening is done with a zipper at the bottom. This design is really convenient because it allows you to change the baby's diaper without removing the whole sleep sack. 
You will find that the HALO sleep sack has plenty of room at the bottom to allow free range of movement of the baby's feet. The baby can kick freely but it cannot kick the sleep sack off. Another great design is the sleeveless design. This is to prevent the baby from overheating. A reminder for the caregivers to place the baby on the back is provided in the form of an embroidered 'Back is Best'.
✓ Pros: Affordable
✗ Cons: only 1 TOG available
Sizes: 0-6 months, 6-18 months, 18-36 months
The KYTE Baby Unisex sleeping bag is a little different. For one thing, it is made from rayon that is produced from bamboo. Contrary to belief, the fabric is silky smooth, extremely comfortable and breathable. It's also recommended for babies suffering from eczema or rashes.
It even comes in a variety of colors and prints and togs. Limited edition patterns make it easily resellable, often for more than 50% of the original price.
0.5 Tog – This is light and airy and designed for extreme summers and hot climates.
1.0 Tog – Think spring or summer weather. Depending on where you live, this could be your go-to option for the entire year round. 
2.5 Tog – This is meant for cold climates. It's more for fall or winter.
The KYTE Baby fastens with the help of a zipper that spans the length of the sleeping bag. The zipper can be moved from top to bottom or bottom to top which makes diaper changes easier.
I love Kyte Baby because it feels like sleeping in the cloud. I never got to use 2.5 TOG because it felt heavy, but 0.5 and 1 TOG were perfect for us.
✓ Pros: Comes in a variety of sizes, togs, and patterns, breathable
✗ Cons: On the pricier side, material stains easily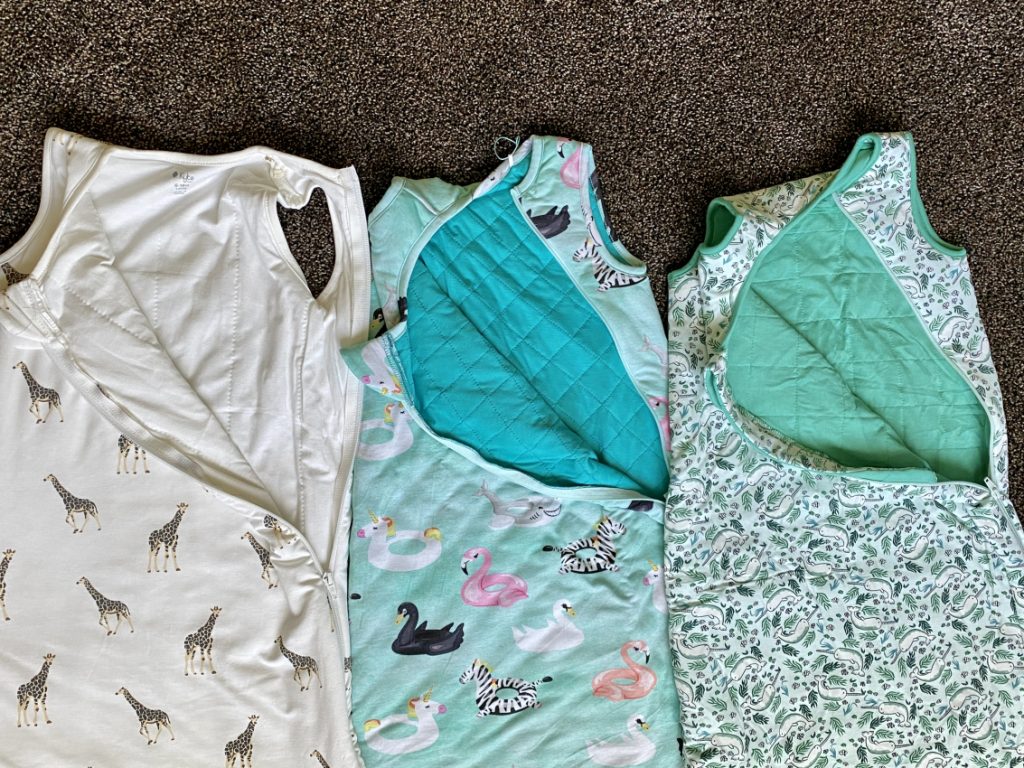 Sizes: small, medium, large
The Burt's Bees Baby sack is made out of 100% organic cotton. The two-way zipper helps in easier diaper changes. It only comes in 0.5 TOG so perfect for summer days, but it can be used on colder nights when paired with Burt's Bees pajamas, also organic.
The sleep sack is a fan favorite because of its soft material and durability after many trips through the wash. It was the first sleep sack we ever owned for the firstborn.
✓ Pros: Organic, soft, durable, affordable
✗ Cons: Baby has to wear pajamas underneath
Sizes: Newborn (NB) : 5-8.5 lbs, Small (S) : 8-13 lbs, Medium (M) : 13-19 lbs
The Love To Dream swaddle looks different from the other sleep sacks we've been looking at. This is because of the unique design that is geared to keep the baby's arms up. This arms-up design was incorporated because the natural position for babies to sleep while on their back is with their arms raised above the head.
Medically speaking, newborns like their arms closer to their faces to self-soothe. Traditional swaddling keeps their arms bound at their side and restricts this reflex. This results in a cranky baby who wakes up frequently.
The Love to Dream swaddle is made of 93% cotton and 7% elastane which makes it a stretchy blend. It fits the baby snuggly and doesn't involve any difficult techniques to put on. Its single-layer fabric prevents overheating and there are no loose layers that can unravel while the baby is sleeping. The twin zippers help make diaper change easy.
✓ Pros: Fluffy and warm but not weighted
✗ Cons: Only 1 TOG available
Sizes: 3-6 months, 6-9 months
The Baby Merlin Magic Sleepsuit is a swaddle transition product. If your baby is struggling to sleep when unswaddled, but it's too old to be swaddled Merlin might help.
Unlike the previous sleepsuits that we have seen, this product has legs. The sleep suit is made of two layers of cotton with a layer of polyfill in between. The polyfill helps to increase comfort, but not warmth. That is why the directions for use emphasize that it can be used only at the temperature recommended for babies.
✓ Pros: Fluffy and warm but not weighted
✗ Cons: Only for the period of transitioning out of the swaddle or Snoo to crib sleeping, expensive, only 4 designs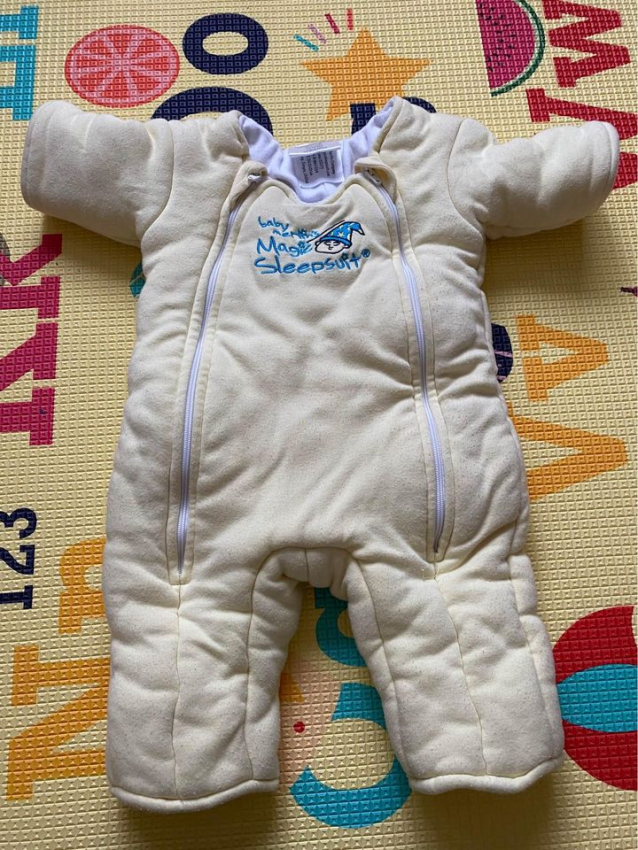 Sizes: Universal size – from 2 months to 2 years.
If you are looking for luxury then take a look at the Woolino 4 Season Baby sleep bag. The shell of the sleep sack is made of 100% natural organic cotton and the liner is made of merino wool. This is designed to regulate the baby's temperature all year round. Another interesting feature of this luxury sleep sack is its universal size. The sleep sack literally grows with the baby which means you won't need a replacement.
The price of this sleep sack is much higher than the others that we have gone through. The fact that you don't have to buy multiple sizes or one for each season makes this brand highly attractive (you still need at least 2 because of spits and blowups).
A couple of other noteworthy things about the Woolino 4 Seasons baby sleep bag has the two-way zipper for an easy diaper change and the seat belt slot which makes using a stroller, crib or car seat extremely easy.
✓ Pros: Various patterns to choose from, fits all year round and many months
✗ Cons: Bottom part is a bit long for infants, expensive
Sizes: 0-6 months, 6-18 months, 18-36 months
The Posh Peanut wearable blanket is another highly recommended bamboo sleep sack. Designed for babies and toddlers, it comes in three sizes which can be used right up to 3 years. They come in a ton of togs and designs, so be careful – you might fall into a rabbit hole of getting new ones.
It's lightweight, breathable, soft, and great for babies with skin issues. They're available on Amazon or directly on retailer's website.
How's this one different from Kyte or other bamboo sleep sacks you may ask? I tested all bamboo sleep sacks (I mean it!) and PP bags are slightly less fluffy than Kyte, but it's the same exact concept and style. They're the same exact length and width, while Free Birdees sleep bag is slightly shorter.
Personally, we used all three brands interchangeably depending on the patterns I liked and the baby didn't notice.
✓ Pros: Beautiful patterns, unique ruffles, breathable
✗ Cons: On the pricier side, might peel after many washes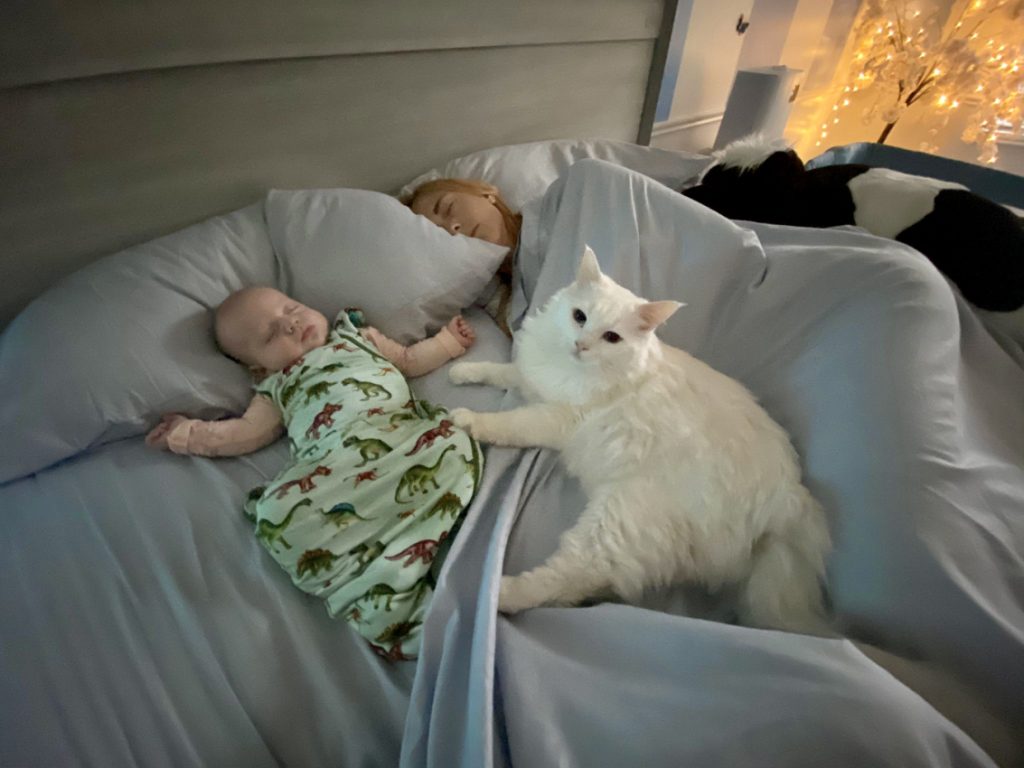 Sizes: 12m- 2T, 2T-3T, 3T-4T
The Tealbee Dreamsuit replaces loose blankets and cannot be kicked off, but still lets a child move around due to holes for feet. It's made of Rayon which is made from bamboo. It comprises a unique blend of 70% rayon from bamboo and 30% cotton that keeps the sleepsack light. It is also quilted with polyester padding. This is perfect for nursery temperatures.
This sleepsack has legs that offer the baby a great range of motion. The zipper is one way from the neck to the groin but it has a covering for added safety.
Which sleep sack should you pick for your baby? It depends on your baby's age, sleeping tendencies, and needs. All of the sleep sacks mentioned in this list are perfect for children, but only you will be able to pick the best one for your child.