Are you having trouble finding great toddler puzzles that your child will love?
If the answer is yes, then you've come to the right place! From floor puzzles to amazing wooden puzzles, I've put together a list that's sure to find the perfect match for your toddler's favorite toys.
Puzzles are an important brain-building activity that helps kids to develop cognitive and essential motor skills but they are also highly enjoyable. You can start with simple puzzles even when they're babies.
Critical thinking, problem-solving, and fun are a great combination for any toy! With that said, let's look at some great toddler puzzles and explain how parents should go about making this important choice.
Keep These Factors in Mind when Choosing Great Toddler Puzzles
Before we review the best puzzles for your toddler, it's best to look at some of the factors that you should take into consideration when making your final choice.
Durability: All toddler toys must be able to take a beating and puzzles are no exception. Wood is often your best bet for durability.
Theme: You have to choose a puzzle that is based on a theme that your child enjoys so they have fun with it.
Difficulty: The puzzle must be easy enough for your child to complete. Otherwise, the child will be frustrated.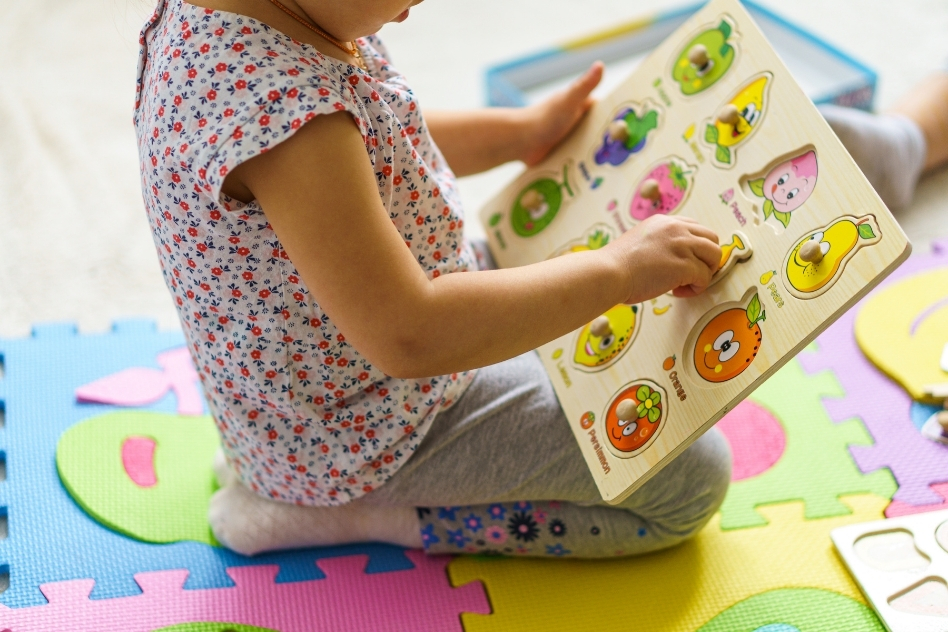 The Best Wooden Toddler Puzzles
What are the best toddler puzzles on the market?
Note: Most puzzles will be marked 3+ because of safety regulations imposed on companies because of choking hazards. Even some infant toys, ironically, need to be marked 3+ if they have an inaccessible for the child rattle inside. However, many parents (including myself) choose to introduce puzzles earlier during supervised play.
I arranged them from the easiest wooden puzzles ones to more difficult pieces for older children.
Recommended Age: 0 to 3 years
Difficulty Level: Easy
This puzzle set is designed for very little ones.
Colorful Fish are used to provide a fun way for your baby to play with and toddler to develop their motor-control skills while learning colors.
This puzzle is unique in that the pieces are fun to solve but they can also be used as individual toys.
Melissa and Doug Wooden Fish
Check Other Reviews On Current Prices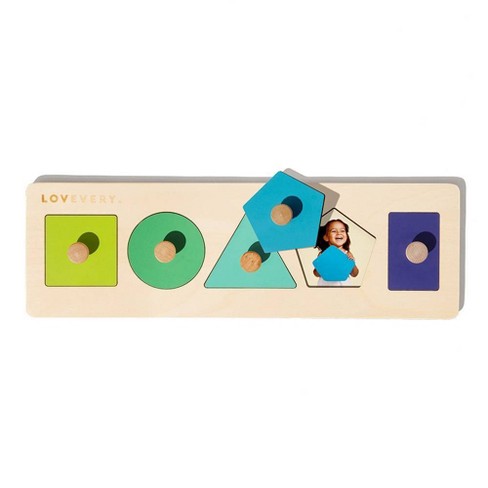 Recommended Age: 12 months to 2 years
Difficulty Level: Easy
This is quite the adorable puzzle set. It contains five brightly colored wooden pieces that are sure to bring a smile to your toddler's face when they discover smiling kids underneath.
They are designed so that toddlers can pick them up easily. The Lovevery Puzzle combines fun and training pincher grip at the same time.
They can be bought separately, not included in a subscription Lovevery play kits.
Lovevery Puzzles
Check Other Reviews On Current Prices
Recommended Age: 18 months to 4 years
Difficulty Level: Easy
Most Montessori aligned puzzles for this age gap. These wooden pegs combine a lot of different possible teaching elements: reasoning, fine motor, shape sorting, and color shades.
The vertical jigsaw puzzles help toddlers to learn fine motor skill struggles.
Made of non-toxic child-safe materials, your child will enjoy countless hours of play!
Hape Creative Wooden Pegs
Check Other Reviews On Current Prices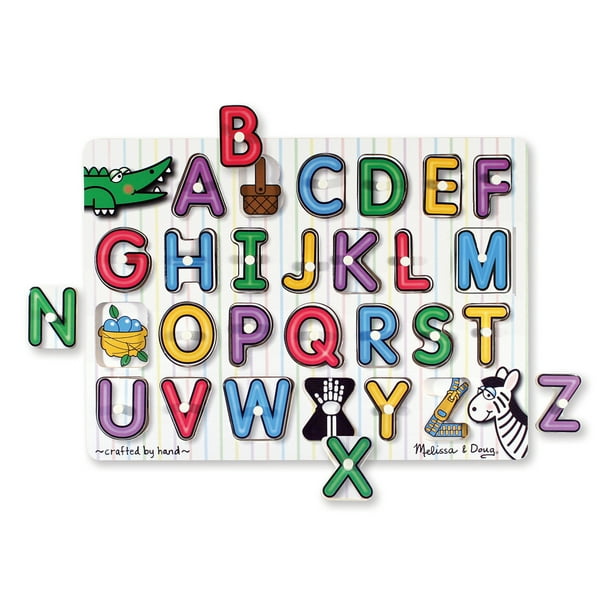 Recommended Age: 3 to 5 years
Difficulty Level: Medium
This puzzle is designed for toddlers at least 2 year olds and it teaches the alphabet. Plus, the toddlers will have a lot of fun with this fun set!
Each letter has its own place on the wooden board, depicted by a colorful animal or fruit.
Toddlers will learn the alphabet by piecing through matching. Overall, this is a well-built and fun puzzle set!
Melissa and Doug Alphabet Puzzle
Check Other Reviews On Current Prices
Recommended Age: 3 years and above
Difficulty Level: Medium
This highly affordable puzzle set is perfect for kids with imagination.
Made of eco-friendly wood with rounded corners, these puzzles are chunky enough for toddlers to hold. They fit nicely into the puzzle boards to reveal 6 different types of dinosaurs.
Your kids aged 3 to 5 will love spending time putting together the dinosaurs! Perfect for imaginative play and hand-eye coordination!
World's Best Dinosaur Puzzle
Check Other Reviews On Current Prices
Pattern Play – Good alternative to Grimms toys
Recommended Age: 3 years and above
Difficulty Level: Depends on child's imagination
This puzzle set is the perfect starter for any age and a perfect alternative to Montessori-inspired Grimms' toys (that are usually impossible to buy).
They will have fun recognizing shapes and colors to put this set together. From sorting to symmetry and traction, everything can be learned there.
Pattern Play
Check Other Reviews On Current Prices
Recommended Age: 3 years and above
Difficulty Level: Harder
Some toddlers will start counting when they are less than two years old (like mine), so this is a great puzzle set for helping them develop this essential skill.
This fun puzzle set will provide hours of entertainment for your child while also ensuring they get the training they require. My own child got it for last Christmas and loved it.
Once they're ready to read consider this spelling set (usually for kids ages 4+).
Counting Numbers Puzzle
Check Other Reviews On Current Prices
Recommended Age: 3 to 6 years
Difficulty Level: Hard
Although the box says ages 4+, some 3-year-olds can also start working on this 48-piece dinosaur floor puzzle.
Large cardstock pieces are easy to clean and durable.
Promoting problem-solving skills and hand-eye coordination, this 2 by 3 feet puzzle will keep your child playfully occupied for hours on end.
The Underwater puzzle and the Solar system puzzle are equally fun!
Melissa and Doug Dinosaur Floor Puzzles
Check Other Reviews On Current Prices
Recommended Age: 3 to 5 years
Difficulty Level: Hard
Kids love piecing these colorful shapes together and are rewarded with some amazing designs, from dogs and caterpillars to planes and trains.
It's printed with soy-based non-toxic inks that are safe for youngsters.
Plus, the Mudpuppy Puzzle set comes with a drawstring travel bag to carry around when traveling.
Mudpuppy Travel Puzzle
Check Other Reviews On Current Prices
Recommended Age: 3 years and above
Difficulty Level: Hard
This 5-layer puzzle features the skeletal, respiratory, digestive, and muscular systems.
Your child will learn the different parts of the anatomy and what organ fits wherein the human body. They're perfect Montessori wooden puzzles and often present in classrooms.
Kids are inquisitive, and this puzzle shows them the difference between male and female genitals, without actually showing the specific structures.
The sturdy construction and child-friendly design are also perfect for home-schooling anatomy lessons!
Kidzlane Body Puzzles
Check Other Reviews On Current Prices
---
Best Puzzles for a 2 Year Old:

---
Best Puzzles for a 3 Year Old:

---
Frequently Asked Questions about Great Toddler Puzzles
What is the Best Puzzle for My Toddler?
There are a number of factors that determine what puzzle is right for your child. It requires finding a puzzle that isn't too difficult but still provides a challenge. If your child is too frustrated, then they will not have fun. If it's too easy, they won't develop important skills.
Younger toddlers under two-years-old should use sets where they insert puzzle pieces into puzzle boards. These sets should also consist of chunkier pieces so they can easily handle them. Once they are older than two, you can start introducing them to numbers and letters.
As a child develops their motor skills, then you can get a few peg puzzles for your child. These are designed for children three and older but it really depends on the motor skills of the individual child.
When it comes to choosing the best puzzles for toddlers consider:
– Skill it works on (is it fine motor skill, spelling, math, problem solving, shapes, colors, etc.)
– Size of pieces and toddler's age: no choking hazards if mouthing is still an issue (same goes for material – extended periods of chewing on unsealed wood are not good either)
– Difficulty: how hard and long does it take for your child to finish before getting frustrated
– Longevity: Is this something your baby or toddler will use for just a few months or something they can do later as well
– Durability: Chances are, you'll want to wipe your toddlers puzzles clean or he'll step on the pieces. Look for puzzles that are durable and can hold up.
What Benefits do Toddlers Get from Puzzles?
Puzzles are one of the greatest tools in the world when it comes to cognitive development. In fact, the CDC places puzzles on its milestone list. Children who are able to complete puzzles are more likely to show cognitive skills at a younger age.
The main benefit of puzzles is that they allow your child to explore their imagination by building. At the same time, they are able to have fun while developing essential skills.
What Are the Exact Skills that Puzzles Teach?
The main skill that's taught is fine motor practice. These are small, precise movements that children learn when they play with physical objects and include grasping, pointing, and squeezing.
Puzzles also teach hand-eye coordination because they require toddlers to use their eyes and hands together for problem-solving.
But one of the best skills is spatial awareness. Toddler minds need to practice to develop this essential skill. Puzzles provide the perfect mix of orientation, rotation, and prediction to develop spatial awareness.
***
At the end of the day, finding the perfect puzzle is dependent on the individual child and their stage of development. While recommended age might be plastered on every puzzle, this might be different for your unique child.
Use this list to help you find great toddler puzzles and don't be afraid to explore other options.