If you are looking for some great Montessori bookshelf options, I researched all the best models available these days, along with some DIY Montessori bookshelf options.
I think having a separate Montessori bookshelf is crucial, even if you already have Montessori shelves for toys. Kids can grasp the difference between playtime and reading, which is often associated with learning, by having two different shelves.
What Makes a Montessori bookshelf?
Montessori furniture are child-sized furniture pieces that are designed to help children become more independent by taking ownership of their space. Most Montessori furniture pieces are height adjustable to be accessible to grow with your child and designed with your child's unique needs and requirements in mind.
Montessori bookshelves have become extremely popular in households across the globe. The question that I found myself asking initially was, what is it that sets these shelves apart from the traditional shelves? It's the accessibility! That's the concept upon which these shelves are designed. The Montessori shelves are low which makes it easy for a toddler to access all points on it. There are no doors in order to avoid pinch points and helps in ease of access.
Another essential feature of Montessori bookshelves is visibility. The books should not be crowded or placed on top of the other. Unlike adults who tend to look at the title on the spine of a book, you will find that children differentiate based on the book cover. A well-spaced layout helps cater to this need (which also means that while these reading nooks are cute, aren't Montessori).
Front-facing bookshelves provide children with the benefits of:
Helps children choose books by giving them a peek at the contents or/and cover.
Makes books more enticing to children.
Helps parents keep track of what books are out, so they can rotate them easily.
---
Best Montessori Book Shelves:
At the first sight, you might think that Contender book display case which comes with 5 tiered forward-facing shelves to display books and four flat shelves in the back for storage, is the best option. But, while I was also excited at first I realized that it's not unless you place it in the playroom vs bedroom (and naturally, if you even have space for a playroom).
Why? With the storage in the back, you won't be able to anchor it to the wall to secure it. Especially with kids under 2, but even under 3, you need to provide them with a childproof bedroom so they can roam freely (my 15-month-old loves to get out of bed and read in the morning).
Best Budget Montessori Bookshelf: KidKraft
If you are looking for ease of use then I highly recommend checking out the Kid Kraft bookshelves. It's a combination of wood and canvas which makes it really easy for kids to slide the books in place.
What I love about this model is that the gross motor skills don't have to be really well developed. My one-year-old uses the shelves with ease.
The con of fully wooden varieties of Montessori bookshelves is that the books can get damaged since young children do not have the best hand-eye coordination. That isn't the case when it comes to the KidKraft version. The soft canvas protects the cover of the book.
Since it is made of flexible canvas, you don't have to worry about the size of the books that you put in either.
Best White Montessori Book Shelf: Utex
Another similar highly rated Montessori bookshelf comes to you from Utex. While Kid Kraft uses canvas, Utex uses fabric. The thing that I like about Utex is the choices that the company provides. They have three color schemes (Espresso, white and white with gray pockets) which fit with almost any decor.
Another great advantage that Utex brings to the table is that it is light. On the flip side, you could find your toddlers trying to rearrange the room. My kids do it frequently and in a way, it helps them organize their space in the way that suits them best. 
This is a great option for parents that are looking for a Montessori bookshelf that can be used for multiple age groups.
Best Personalized Montessori Book Shelf: Wooden Balance
Another really intriguing Montessori bookshelf that I came across was from a popular brand on Etsy making a beautiful custom.
The Wooden Balance bookshelf may at first glance seem small, but if you check the measurements, you will notice that it can work for a small or older child.
Instead of using cloth or canvas, it uses a wooden divider sections which some kids might find harder to use when they're very small. On the other hand, I like this model because of how well it displays books. Almost 90 percent of the cover is seen which makes it a very visual storage system.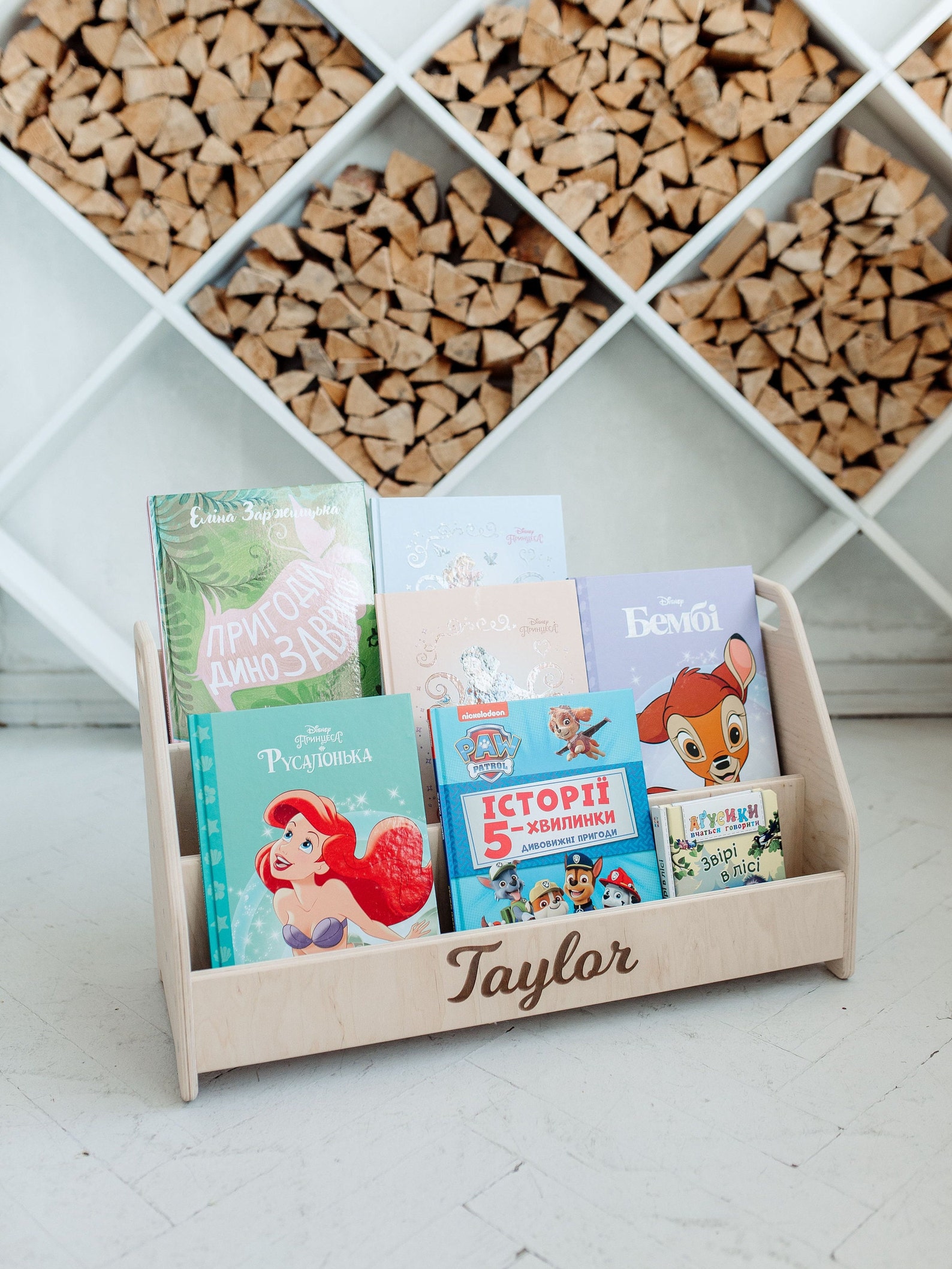 Most Customizable Montessori Bookshelf: Sklejkove
If you're feeling creative and might want to paint the bookshelf yourself, Sklejove offers quality handmade items that you can order for DIY.
Because each item is made to order you can choose a size and whether you want a specific color, sealer, or just a bookcase to decorate yourself.
Almost 90 percent of the cover is seen which makes it a very visual storage system.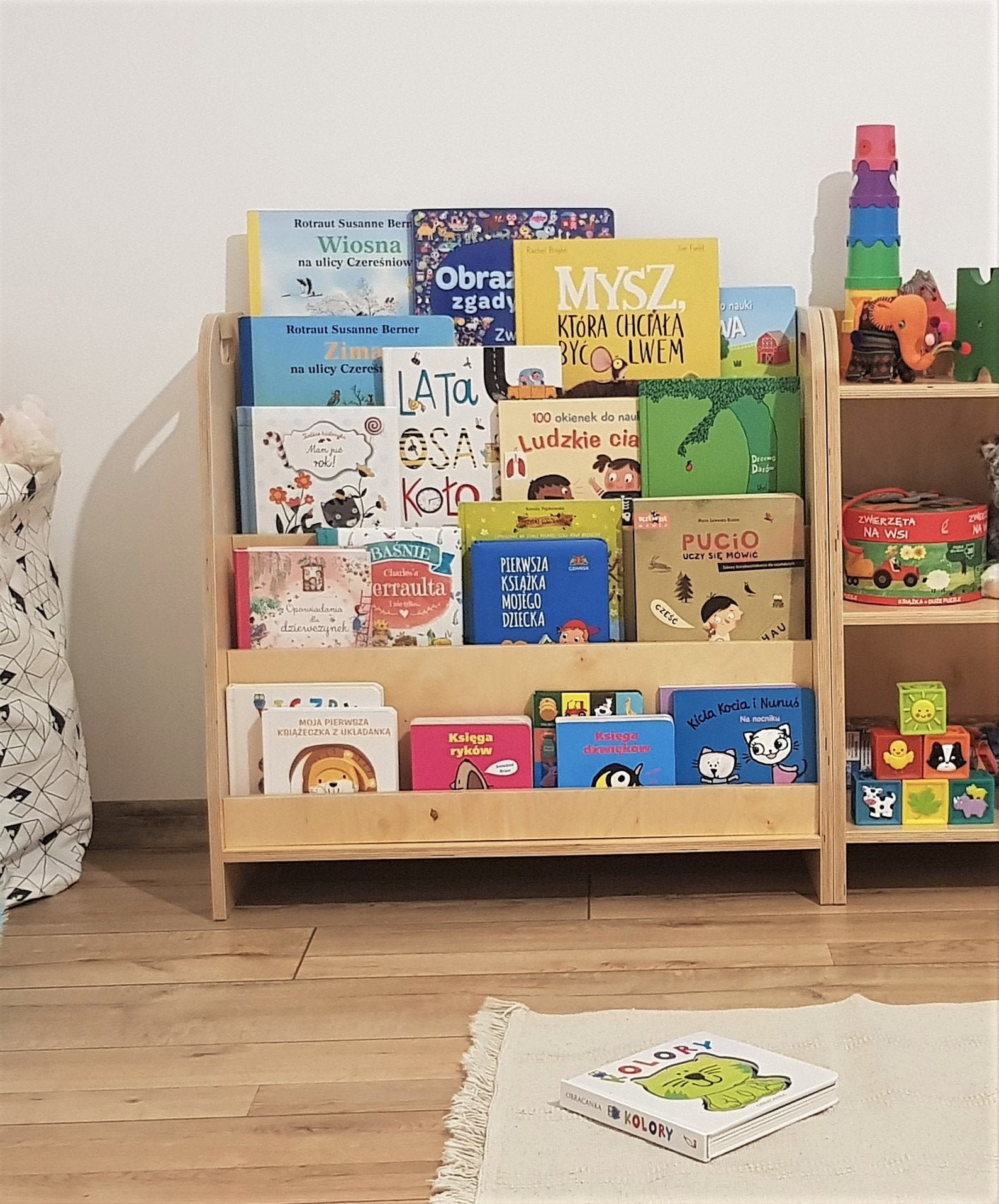 ---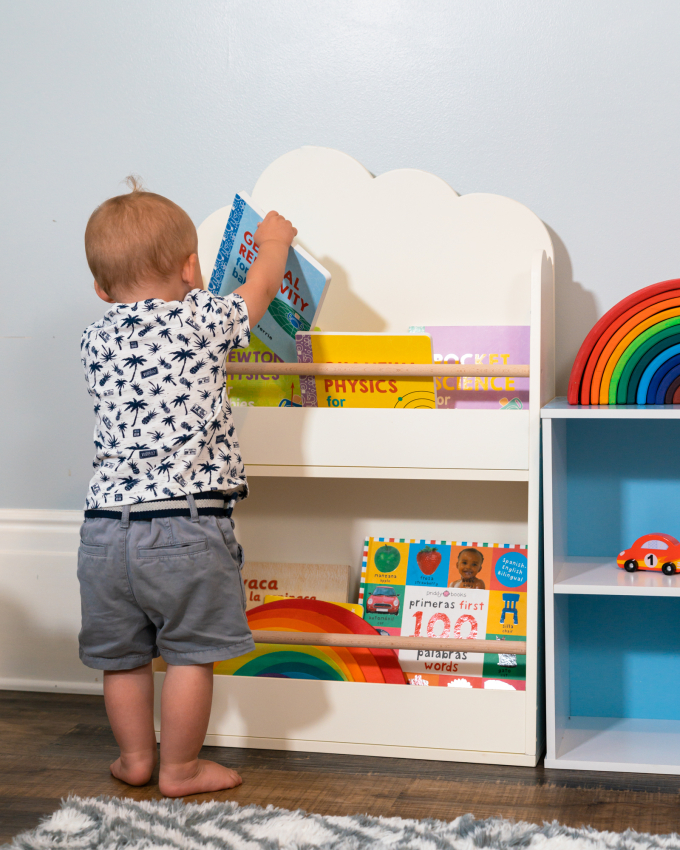 Frequently Asked Questions
How tall should a Montessori bookshelf be?
Montessori bookshelves shouldn't be very tall. The idea is that your child should find every corner of the shelf accessible. The gold standard when it comes to picking the right height is infants: 16 inches, preschool/toddlers: 24-32 inches and elementary: 32-40 inches. As you can notice, the higher shelves are aimed at older (and hence taller) children.
How do you display books on a Montessori shelf?
The idea behind using a Montessori shelf is to keep it as uncrowded and visually appealing as possible. Use a few books at a time with the cover facing forward. Remember children are not interested in the spine of a book.
Rotating the books every couple of days keeps things interesting. Children tend to pick up things that they haven't seen in a while and it also helps not overwhelm them.