Learning to play guitar is a great way to introduce children to music and rhythm while helping to develop fine motor skills and brain development. It's not surprising that it's one of the best toy for a 2 or 3-year-old! While kids of all ages can have fun strumming a guitar, there are many different options when it comes to types and sizes to choose from (we went through way too many of them!).
Buying the best toy guitars for your child's age, size and interests can go a long way in enhancing their experience and encouraging them to find joy in music. 
Types of Guitars For Kids:
1. Toy Guitars
While not an actual musical instrument, toy guitars are a great way to introduce toddlers and very young children to music.
Toy guitars can help children develop hand-eye coordination, motor skills and support brain development. Not to mention, toy guitars may pique the interest of your little ones and encourage them to pursue a real guitar when they are a little older.
2. Electric Guitars
Electric guitars have a solid body and need to be plugged into an amplifier to hear the sounds.
Because of the design, electric guitars are the heaviest type on this list which is something to consider if you are looking for a guitar for younger children.
3. Acoustic Guitars
Acoustic guitars are the most common choice for beginners as their body is hollow meaning the weight is minimal when compared to electric.
Also, acoustic guitars do not need to be plugged in, therefor there is less equipment to learn and invest in.
Acoustic guitars come in a range of different sizes so you can easily pick one to suit your child's needs.
---
Best Age for a Kid Guitar: Can a 2-Year-Old Play Guitar?
Most 2-year-olds don't have the fine motor skills which are required to play guitar properly, therefore, the best age for a kid to actually learn the guitar is around 5 years old (or older). 
That being said, younger children can still have fun strumming along with music on a guitar… As long as the parents are happy to listen to it!
Guitar vs Guitalele vs Ukulele
Above I went through the different types of guitars for children however there are a few more categories to consider.
The biggest difference between a guitar and a ukulele (aside from the size), is the number of strings and the tuning.
A guitar has 6 strings which are generally tuned E-A-D-G-B-E, whereas a ukulele has 4 strings tuned to G-C-E-A.
Ukuleles are also very small when compared to even children's guitars, and their strings are often made from softer nylon. This combined with fewer strings and frets makes the uke easier to learn than the guitar.
A guitalele falls somewhere between the two. Being the size of a ukulele but with 6 strings, similar to a guitar. The strings are often tuned to A-D-G-C-E-A which means the top 4 strings are the same as a standard ukulele, while the tuning as a whole is equivalent to having a capo on the 5th fret of a regular guitar
---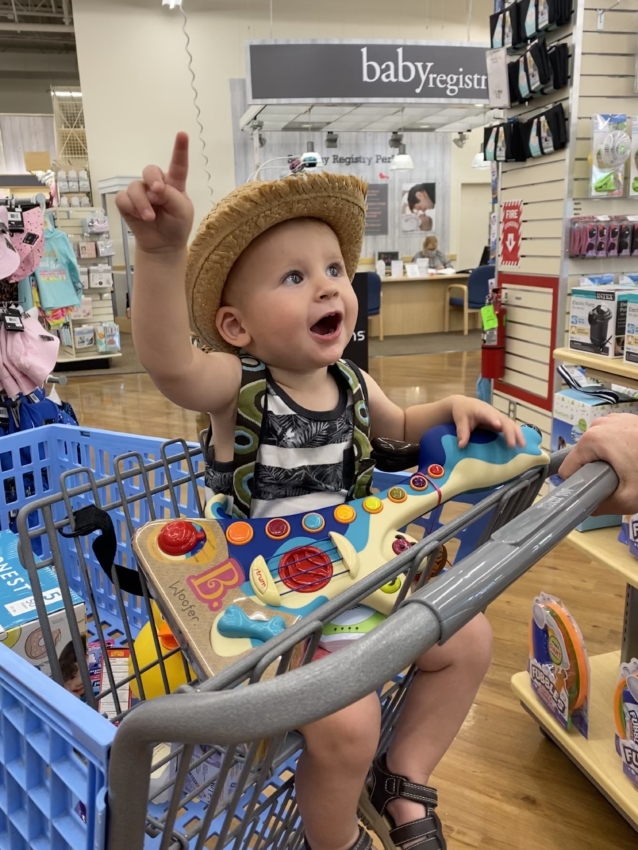 ---
Best Toy Guitars for Kids
The B. Woofer is an adorable toy guitar shaped like a howling blue dog. This toy guitar has 20 sing-along songs, fun buttons, and can be strummed like a real guitar. Plus for the parents, the B.Woofer has volume control and a stop button!
Alternatively, the Baby Einstein Together in Tune Guitar is another great choice. Each of the buttons which act as chords have a different animal on them, making it easier for little children to remember which ones to press if they want to create their own song.
The Baby Einstein also has 10 different songs plus 4 modes for plenty of fun!
For kids who are a little older and are ready to start learning and remembering tunes on their guitar, the Hape Lean Electronic Ukulele is a great choice.
While still a toy guitar, the frets have lights that guide your child where to hold the strings in order to play a song. The guitar also comes with a book and stickers if your child wishes to take it to the next level and actually learn the notes they are playing!
This ukulele is a great size for learning and with only 4 strings it's not too confusing, it also simply uses AA batteries so you don't need to worry about remembering to charge it.
If your child is a rock and roll star, the KidKraft Little Symphony will be their new favorite toy.
Not only do the frets light up but there are two modes in which you can use the buttons. The first plays different riffs whereas the second used the buttons so you can play actual notes as you strum along.
While it doesn't have stings (instead there is a bar you press down to strum), it does have a whammy bar which is essential for rock and roll!
Best Ukulele for Older Kids: Donner Soprano
The Donner Soprano is a real ukulele which is a great choice if your child is a little older and ready to start playing a regular instrument all on their own.
It comes with everything you need to get started including a strap, tuner, pics, spare strings, and even an app with music lessons.
Note that in the first few days of playing it, this ukulele will most likely become untuned quick quickly however this is normal for a new instrument as the strings need to stretch and settle.
This is a great hybrid if you are looking for something between a toy and a real instrument.
The KidKraft Lil' Symphony has all 6 strings and regular frets but is much smaller and lighter than a regular guitar.
Made from wood and plastic, it's also quite durable which is perfect if you don't quite trust your kids to look after their belongings just yet.
When your child is ready to learn to play a real guitar, the Pyle Beginner Acoustic is the perfect choice.
It's made and tunned like a regular adult guitar however the size is much smaller (scaled down 50%) at just 34", making it manageable to play for 5-year-olds and up.
The kit includes everything a first-time guitar player will need including a tuner, straps, and 2 months of free lessons!