Curiosity about different modes of transport comes almost naturally for kids of all ages. At some point in time, the child will begin to want to be in control and tricycles are one of the most common toys that make their way into a household. It's an easy add-on to the fun aspect of it and believe me, there is a lot of it!
A tricycle has three wheels as compared to the traditional bi(two)-cycle. Incredibly well-balanced and placed lower to the ground (which means a better center of gravity), these tricycles are the perfect way to teach babies and toddlers how to drive themselves around.
Are Balance Bikes Better than Tricycles?
The best bike for a toddler depends on their age and level of physical development. Tricycles with a parental handle are particularly useful for kids who hate sitting in a stroller, so that way a parent can go on a peaceful walk when the toddler is only 12 months old.
Obviously, younger toddlers under 2.5 years won't reach or need pedals and won't be able to balance so think of it as a different form of a stroller.
The problem I see with many tricycles on the market (and we tried about 10+ tricycles!) is that even if the reviews say it's the best tricycle, kids can't reach the pedals until they're closer to 3 years, and that's based on my experience with a toddler in 99th percentile for height. Once they finally can reach the pedals the entire toddler bike often becomes too small making them pedal in a strange position.
We used a push tricycle at first, then switched to a balance bike and thought that once he gets the hang of it he'll just start pedaling a normal bike. We were naive. While his friend managed to do such a transition, our son had perfect balance but couldn't understand the motion of pedaling so we had to go back to a tricycle to teach him pedaling without having to focus on everything at once, before moving on a regular 2-wheeled bicycle.
That said, I believe both options are suitable depending on the child.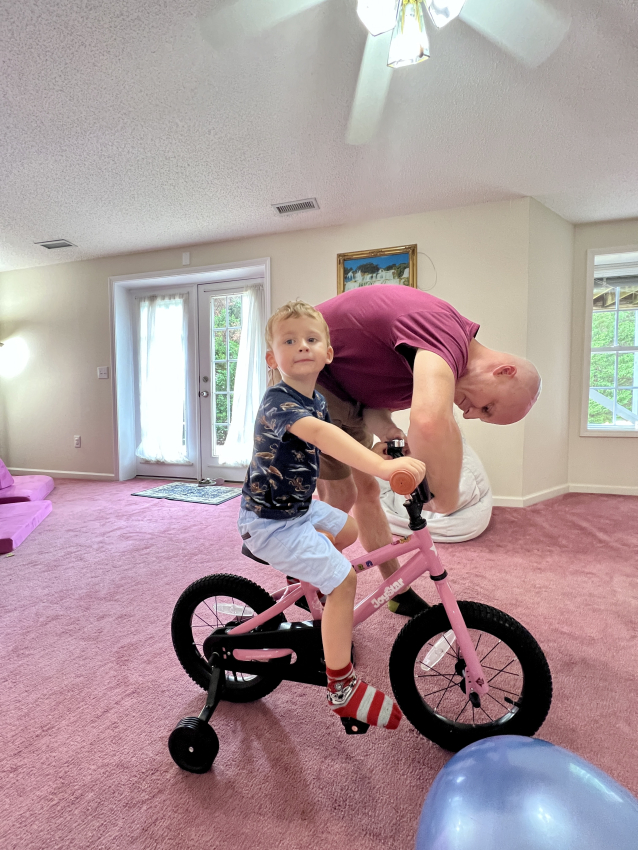 ---
Should a 2 Year Old be Able to Pedal a Tricycle?
At 2 years toddlers have no coordination to push the pedals. Pushing pedals happens closer to 3 years, but even at 3 various kids aren't able to grasp the motion properly.
Most tricycles are sized for an average toddler, so while they grow at a different range the most important thing you want to make sure of is that their feet can reach the pedals. Some models include an adjustable seat so they can still ride as they grow.
---
---
Best Push Tricycles for Younger Toddlers
Let's take a look at the push trikes first. These tricycles usually have a greater comfort index to ensure that the young child is comfortable. Note that most of the baby tricycles can be adjusted so they'll eventually convert into toddler trikes with pedals – they will grow with your child!
Age: 10 months
The Joovy Tricycoo is built for children as young as 10 months. I find this model absolutely cool and a great alternative to a stroller.
The extra large front wheels of the Joovy Tricycoo are built to traverse several terrains and help in easy mobility. Like other tricycles built for babies and young children, it comes with a parental push bar which is removable and height adjustable.
Pads are removable and washable and UVF 50 canopy is big enough to shade the child.
Having tried Joovy and Radio Flyer which is very similar, Joovy is slightly better.
Age: 6 months +
The first thing that goes through your head when you take a look at the Bentley 6-in-1 Triker is wow. The first look itself is enough to grab your attention because it's the perfect mix of luxury and practicality.
It's one of a few bikes that's small enough for younger toddlers and big enough to fit an older child comfortably.
The only downside is the hefty price tag and the fact that the trike doesn't fold in any way, so cannot be transported easily.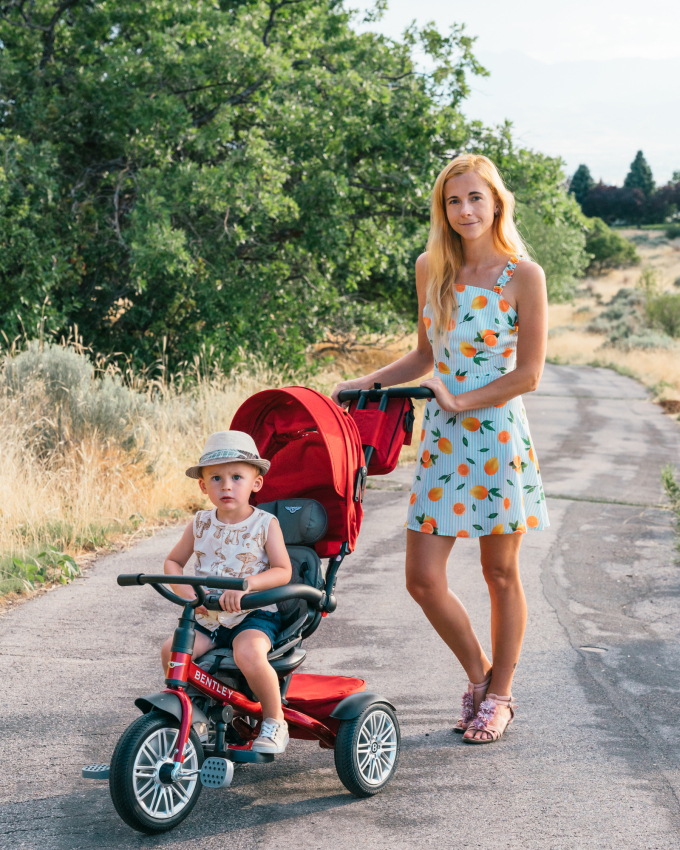 Age: 10 months to 3 years
The Doona Liki Trike S3 is another really cool tricycle as it folds small, unlike most push tricycles. Its hefty price tag is well worth it if you are looking for something portable that you can travel with or something that is easy to store.
It's comfortable and comes with soft, durable shoulder pads, a padded armrest, pedal straps, and a 5-point harness.
However, it is small so similar to Doona Carseat Stroller, this trike won't last your baby for a long time. While they officially say until 3 years if you have a tall toddler 2.5 years would be an absolute max.
Best Toddler Tricycles (18 months +)
Toddler tricycles tend to have less padding and cushioning. They are geared towards encouraging the child to learn to cycle while simultaneously making it a safe process. Let's take a look at a few that are highly recommended.
Max weight: 49 lbs
I really love this tricycle, because it grows with the child. The Radio Flyer 3-in-1 Stroll 'N Trike' has three different modes depending on the age and developmental milestone the child has reached. Babies aka kids around the age of 1.5 years use the first mode of the bike. Here the adult will steer and push the bike using the adjustable push handle.
The second mode is where the child learns to ride the bike. Here the adult will use the handle to push and guide when required but the child has the freedom to learn. The last mode is when the child has learnt to ride the tricycle and goes on its own.
Made of a solid steel frame, the Radio Flyer Stroll N Trike is durable, easy to use and even comes with an adjustable seat. It's equipped with quiet ride tires and has a storage basket at the back.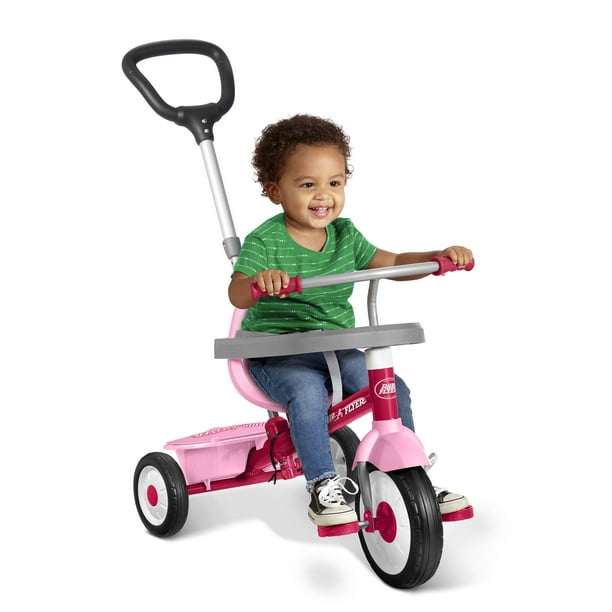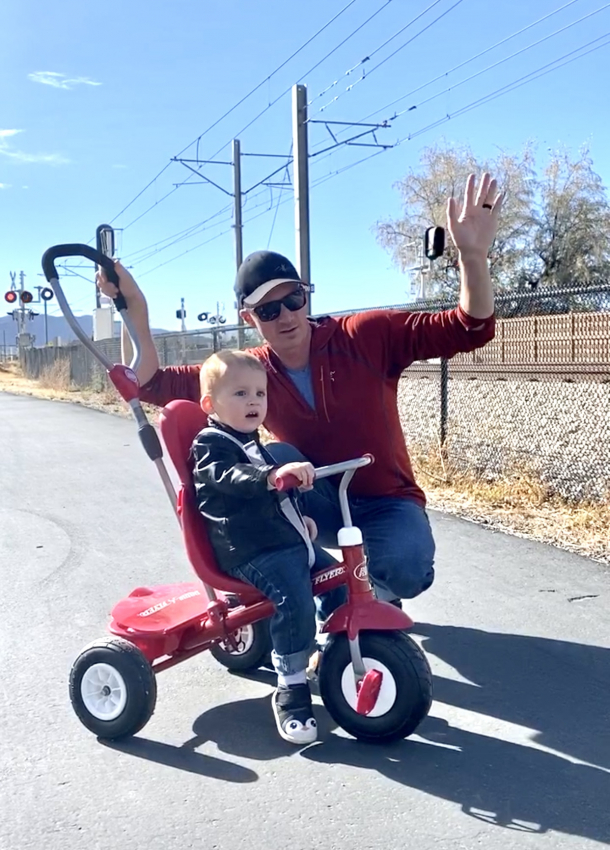 Age: 2-4 years
The Schwinn Roadster tricycle has a retro look. It has a low center of gravity which makes it easy for a child to climb on and ride it.
The steel trike frame, the rear deck with the Schwinn logo and the scalloped chrome fenders gives it a rather classy look. The seat is adjustable to move either forwards or backward to help accommodate the child's growth spurts.
The handlebars have tassels and kids love making them dance in the wind and hence the added motivation to learn to cycle!
3. Besrey 3-in-1 – Best Tricycle & Balance Bike
Age: 10 months to 4 years
The besrey 3-in-1 e is a little different from the other models that we have explored. Designed to provide maximum comfort, the tricycle has a foldable design that is very convenient when it comes to travel, storage or outdoor play.
The grip on the handlebars is non-slip, the pedals are detachable and the seat is adjustable. This is aimed at helping the child transition through all stages – ride of, balance bike and tricycle.
Things to Consider When Buying a Tricycle for a Toddler:
There is so much to think about when buying a tricycle. Initially, I thought that I had all my ducks in a row but there is always something that comes up. Remember that there is no perfect tricycle but there are some that come very very close! Let's take a look at some of the things that you definitely should check when looking at the specs of the tricycle.
Age/height of the child: Most tricycles specify the age of the child it is intended for. What many of us fail to take into account is the height difference between child to child. So don't take the age limit at its word. I took my toddler out to check and test which ones worked for her. Another way is to test run a tricycle that one of the child's friends owns.
Distance cycling: Now this is one of the crucial factors when it comes to choosing a tricycle. Are you going to take your baby/toddler out on the tricycle when you go for a walk? Young kids can't cycle for long distances so you should consider a tricycle that has a parental push bar.
Color: Every parent knows that to a toddler color matters most.
Duration of use: How long do you see your child using a tricycle? Do you intend to move up to a bicycle soon? The duration of use will tell you just how much you will be willing to pay for that added durability that comes with certain well-known brands.
Location where the child will be cycling: If your child will be cycling indoors or in your garden then the parental push may be an option that you can avoid. Though it definitely makes it easier on your back since you don't have to keep bending when the child asks you for a push.
Safety features: Look for a tricycle with seat belts. Babies and toddlers tend to be unbalanced. The seat belt helps keep them secure in their seats and prevent mishaps.