Once you discover bamboo clothes you won't go back to anything else. It's true. Before I got into the "bamboo clothing world" I thought it was absolutely ridiculous to spend $35+ for a baby footie. I couldn't believe why so many people would do it.
When I friend finally convinced me to give it a try I was hooked. I saw exactly why these clothes are so popular and totally worth it.
Are Bamboo Clothes Worth the Price?
Bamboo clothes are not something it's typically sold in stores. You won't find it at Target.
I'm not going to lie – the first time I saw a price of bamboo clothes I was shocked. Why would so many people want to pay so much for clothes their babies and kids would grow out of so quickly.
I was wrong. Bamboo clothes are not only breathable, babies don't get sweaty in them, it's better for baby eczema, but also last longer due to stretch. Bamboo is 3 degrees cooler than cotton, while also being hypoallergenic.
1. Softness
You really cannot find softer clothes than bamboo. While you do need to take care of the clothes a bit more than you would with cotton (dryer can ruin them ladies and gentlemen), it's totally worth it.
If your baby has eczema bamboo is a way to go. Even for older kids, bamboo underwear will make their little butts free of rashes.
My husband who's totally NOT into clothes and kept wearing the same shirts for years switched almost his entire wardrobe to bamboo after I bought him a set.
Not to mention we have bamboo blankets for everybody now and my toddler often refuses his old blanket once he discovered bamboo.
2. It grows with your child
Bamboo is stretchy is an understatement. Most babies grow our of their clothes every few weeks, right? I remember having giant piles of clothes when my firstborn was a baby and nothing ever fit him right.
When parents were telling me that their one-year-old was still wearing 3-6m in the bamboo I thought they were making stuff up, because how can this be.
With my second child we switched to bamboo almost entirely and I seriously didn't realize he's growing at all because he's been in the same 0-3m clothes for months now. Until I tried to put two cotton footies on him and realized that his 3-6m in cotton is pretty tight already. At this rate we would definitely be still wearing the same rompers at 6 months.
Needless to say, you actually end up spending less on baby clothes even though the cost per item is more expensive.
3. Resell value insanity
On top of that, no one will buy your old washed-off clothes from Carter's your kid grew out of after a few weeks. In fact, I can't even get rid of them for free.
But, bamboo clothes can look just as good as new and due to its limited edition prints you can pretty much resell them for easily.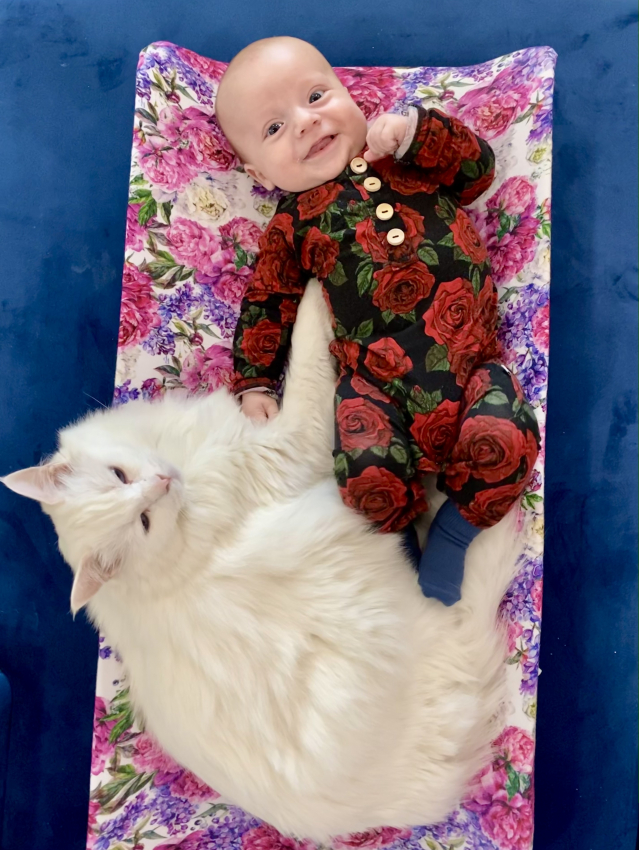 ---
Common Problems with Most Bamboo Clothing Brands
Let's be real for a second. Have you ever joined any mom groups on Facebook? If you didn't, you might be surprised what you discover. If yes, you know that bamboo groups are absolutely insanely at times.
The drama that goes on in those groups is just beyond my comprehension. Some moms would jump at each other throats and call others ugly names if they can't score the desired romper in the print they want, or if someone gets to claim something in BST (buy sell trade) groups faster than them.
I thought it was bad in Montessori groups, but bamboo groups are just another level of craziness. People dropping everything they're doing to watch weekly Instagram Live with sneak peeks of new prints is a norm.
Unfortunately, many bamboo companies encourage that drama by banning people from saying something that might not be their favorite print and get mad at customers for being ridiculous instead of apologizing. It's really unnecessary and I definitely won't be recommending these brands, because it's very discouraging.
Inventory & Resell Value Causes Frustration
It's not easy to buy nice bamboo clothes these days. In fact, months before I bought my first Posh Peanut item I was looking at the website and feeling meh about the prints simply because I had no clue that what's on the website pass Thursday it's simply leftovers.
Most companies, small or large, drop new limited-edition prints every week and sell out instantly. You really need to be "on it" and keep refreshing the website at the given time to score what you want (most companies have exclusive Facebook groups to inform everyone about new prints and some even give early access).
Blankets sell out in less than 19 seconds – I'm not even kidding. Back when you had to score a Nugget really quickly seems like a relaxed shopping experience in comparison, LOL.
Is it frustrating? Yep, very frustrating. Especially in toddler sizing buying bamboo from bigger companies is mission impossible.
The thing is… if you join any BST groups you'll see why it sells so quickly. Simply because many moms want it all because blankets are being treated as a collector item. Then they do a purge of their clothes by selling them, most unopened or used once, and ironically… if a print is sold out and in high demand you can sell it for crazy money.
Just search for Posh Peanut Sophia or Gemma on Mercati. Blankets were totally selling for $500-1000 and when the company decided to bring these prints back on pre-orders people buying $1000-4000 worth of merchandise wasn't an unusual occurrence.
Customer Service
If you search for bamboo companies' reviews you'll probably find that most have terrible reviews. Objectively speaking, I think it's a bit harsh in most cases, but it brings me back to Facebook groups' craziness.
People would blast a terrible review that an item was defective and the company dared to ask them to send an item back (not even Amazon will refund you without sending an item back) or that they wouldn't accept a return months later.
I started my own bamboo clothing company and while I naturally recommend my company and can vouch for its quality, I tested every single company on the market to get a feel for what I'm doing and how things can improve.
Also, my company doesn't have every print out there and I love buying other people's prints if I like it – I'm also a customer (which apparently, for some companies is an immediate ban #PettinessCentral). Some materials are slightly thicker, some fade easier, but overall – it's more about the print.
Few things I discovered:
there are really only 4 major factories that cater to all the companies (so the quality doesn't really vary that much)
bamboo clothes in the US are made in China and India
90% of bamboo clothing companies (particularly the big ones) are using Shutterstock patterns and not designing anything themselves
unfortunately, most companies cater only to girls with an occasional very mediocre print for boys. Bows, ruffles and bubble rompers simply sell way better than gender-neutral items
Are Bamboo Clothes Organic? Is Bamboo Sustainable?
Short answer, no. Bamboo clothes are not organic or sustainable. While trendy and pricier than cotton, bamboo material is not organic because of the way it's produced. The only variant of bamboo that can be organic is called lyocell, but that's not used for children's clothes at the moment.
---
Below are my honest objective reviews of the most popular and best bamboo clothing companies, along with some smaller and lesser-known.
I decided to skip companies that only make copies of bigger companies' prints without releasing their own, because I honestly believe there are so many opportunities for everyone out there that there's no need to just release the same prints everywhere.
Best For | Rompers, twirls, mom lounge, blankets
Products | Baby + Toddler + Family Matching
Sizing | Depends on the item
Ships To | US, Canada, Australia
Price Range | $$
Posh Peanut is the most desired and popular bamboo clothing company out there, whether you like it or not. People either love it or hate it, there's no "in-between"/
They release new prints constantly in different places (Amazon, Nordstrom, small retailers, Saks) so people have lots of choices. Well, if you're a girl mom at least.
They do ship everything the same or the next day of your order, but if you want to something super quick they're also on Amazon.
---
My honest Posh Peanut review:
I've never had an issue with their customer service as I'm aware of return policies and doing everything on time. I know some people complained, but never had issues with either quality or how they handled things and I really test things in different ways before I write such reviews.
My issue was that they oversell many things so if you get a defective item (which can happen) you cannot replace it with the same item. It can be frustrating.
Posh definitely caters to an American audience so some prints haven't been my cup of tea, but many I adore (like the chicken or cookies).
I wish their mom lounge didn't run so huge, as S Lux really could fit two people my size, but there's always size 10Y that I can fit into. My husband thinks it's hilarious that I fit into kids' sizes.
My personal pet peeve, however, is that their new collections have their "PP" logos all over the print. While it disappears on some prints, it's really in your face on various prints. I don't buy clothes that scream "Nike" or "Hurley" so I wish they stop doing this for the sake of making their print "original" since it's often a Shutterstock pattern anyway. In fact, I recently accidentally purchased a cheap shirt from Zulily with the same print – just missing the PP.
I do think the drama surrounding the brand and company responses have been strange. Neither customers, not their PR can just handle it right.
However, lots of prints are dropping at different retailers like Nordstrom or Saks without any notice and many moms are stalking those websites 24/7. Not sure how anyone has time for it.
I really like their crib sheets and sleep bags (I'll do a comparison for sleep bags, but PP is my favorite in that department).
Verdict: If you like the print, go for it, but don't get sucked into Facebook groups dramas.
---
---
Best For | Bamboo rompers & sleep bags
Products | Baby + Toddler + Adults
Sizing | Runs big
Ships To | International
Price Range | $$
Kyte is many parents' favorite brand because of its simple, yet stylish prints and availability of simple solid rompers.
On the mid-range side for pricing, but they sell quality items with great resell value. Shipping is super quick as well, pretty much next day.
Their clothes contain 97% of viscose from bamboo, vs 95% for other companies.
---
My honest Kyte Baby review:
Kyte wasn't the first company on the market, but many think it was (Kickee was actually). Their prints are slightly boring most of the time as it's just solids and small things on white background which is quite transparent if a child is wearing a diaper that's not blank white.
I won't lie to you, their things are peeling way faster and more intensively than any other company. When asked, the company said it's due to the fact they have 97% bamboo and not 95%, but not sure if that's an actual reason.
I started using a clothing shaver for that (my mom and I used to have clothing shaving days when I was little) and it can basically make my peeling footies look like new again.
I'm happy with their crib sheets and jumpsuits, not so much with footies. It's much softer than other brands.
Their sizing is completely off and runs huge on baby items, tiny on small toddler pajamas and huge on larger kids sizes. To the extend I have so much space in 10Y pajamas (and I'm 5'7) that it could easily fit me when I was pregnant. Not even kidding.
Verdict: Buy when they do a sale, but take lots of peeling into consideration.
---
Best For | Organic rompers & overalls
Products | Baby + Toddler
Sizing | Runs a bit big
Ships To | US
Price Range | $
Kate Quinn Organics offers boho designs with the best quality on the market if you ask me – it makes things in India and not China. Their products are the cheapest on the market.
They use 100% organic cotton, modal, and bamboo and every single product I got was amazing quality and totally worth the price that's way lower than anywhere else.
Their loyalty program is kick-ass and can save you a lot of money on cashback. Plus, if you spend $250 you get invited to their outlet where you can buy surprise bags (pictured below) for very little money with random things.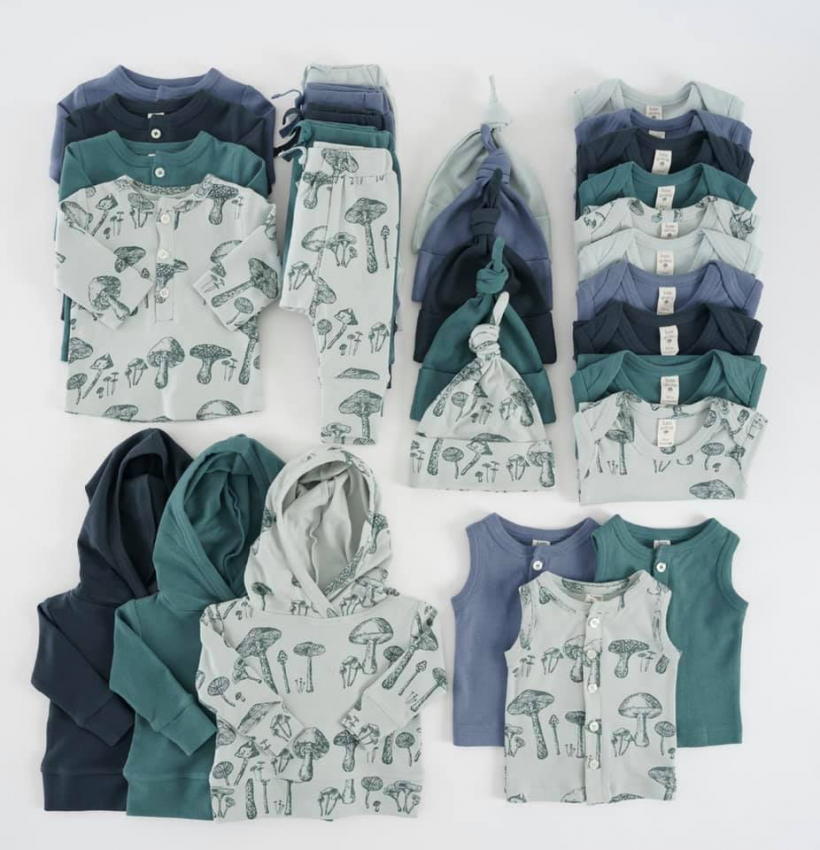 My honest Kate Quinn review:
I love Kate Quinn because they have a variety of clothing styles, not just pajamas and loungewear. Their designs are boho and toned down with lots of solids. A bit like an old-school European style and my personal favorite.
Shopping is frustrating these days, especially for older kids. You need to be in their Facebook VIP group to get early access before each drop (before the general public) and even still this is the only company I've never managed to get a blanket from. In fact, the latest drop I didn't even manage to score a stupid bib.
The quality is great, not much peeling and very long lasting quality.
Sizing runs large about half size. Slightly smaller than Kyte, but still on the bigger side.
---
---
Best For | Footies, rompers, blankets
Products | Baby + Toddler + Mama
Sizing | Runs a bit small
Ships To | US/Canada
Price Range | $$
Little Bum Bums is a retailer that grew fairly quickly. It's all made of bamboo so it's ultra-soft like butter and super gentle on baby's skin.
They do have sales and offer various promos constantly, so don't fear the prices.
I'd also like to mention they have excellent customer service.
My honest Little Bum Bums review:
I ordered from them way before they were even popular and most things were half off. Ironically, now these old discounted prints are highly desirable and BST prices skyrocketed.
If you see similarities between Posh Peanut and Little Bum Bums you're not wrong. They're both made at the same factory (once they factory actually put their logos on Posh by mistake) and LBB is really copying Posh's strategy including social media. Which, it really not a good thing.
I must admit that lots of prints are definitely not my style and they're also using 100% Shutterstock prints for their designs (the danger of that is that you might think you buy a fancy item and then the same pattern can shop up on cheap Walmart shirt – in fact, it happened with sharks).
Customer service is great, returns work just fine. Their blankets are bigger than standard PP blankets which is nice, but not long enough to work as an adult blanket.
Toddler pajamas are tight, even for my very skinny toddler the waistband is way too tight so definitely size up a size or even two.
Verdict: If you like the print, go for it.
---
Best For | regular wear
Products | Babies, Toddlers, Children, Adults
Sizing | True to size
Ships To | International
Price Range | $$
Kickee was the first bamboo clothing company in the US. In fact, another big company started as their retailer.
They have the most variety of clothes, not just pajamas and loungewear. You can buy hoodies, women's dresses, anything you want from them. They even cater to pets.
My honest Kickee review:
I'm mostly happy with what I got from them, apart from pillowcases as they feel a bit like silk and not bamboo.
One thing is their customer service. It's definitely lacking and you need to pay for your own returns (they won't even send you a label), so if something doesn't fit it sucks – unless you order from their Amazon store.
Verdict: Yes, but order from Amazon or one of their retailers instead of directly.
---
---
Best For | Footies, rompers, blankets
Sizing | True to size
Ships To | International
Price Range | $$
Muse Threads is one of my favorites recently due to its bold and colorful, yet not cheesy or too busy designs.
Their prints feature artists from around the world so travelers would definitely appreciate it.
They have a small inventory with only footies, pajamas and twirls, but I love the basics.
My honest Muse Threads review:
I stumbled upon this company by accident as someone shared their penguin print somewhere. As we're hardcore penguin lovers here, I loved it.
The company is run by two diplomats as a side hobby. No groups, no drama, just bold colorful designs. I appreciate it so much. It also peels very little and holds up extremely well.
Their blankets are super thin even though they're two-layered, so I'd say only use them for the summer or as a decoration.
Verdict: Definitely recommended.
---
Best For | Footies, rompers, blankets
Products | Pajamas, blankets, sheets, underwear
Sizing | Small
Ships To | International
Price Range | $$
Free Birdies is a relatively small shop with cute designs, mostly watercolor-type prints.
They release new prints every month, but also do lots of discounted pre-orders.
Their customer service is beyond amazing. I can assure you that you'll be blown away – I was!
My honest Free Birdies review:
Free Birdies is great, the owner seems super sweet in the way she talks to her customers on Facebook and how much she cares. I've never experienced such personal touch and care from an online boutique before.
The clothes tend to run on the smaller side. Footies hold up for a long time with minor peeling, so I'll definitely be buying more. The material is thicker which is great in terms of potential holes and durability, but it does have less stretch and thinner bamboo.
That said, size up. Prints are unique and many have a twist like different romper's sleeves in the narwhal print.
Verdict: Definitely recommended.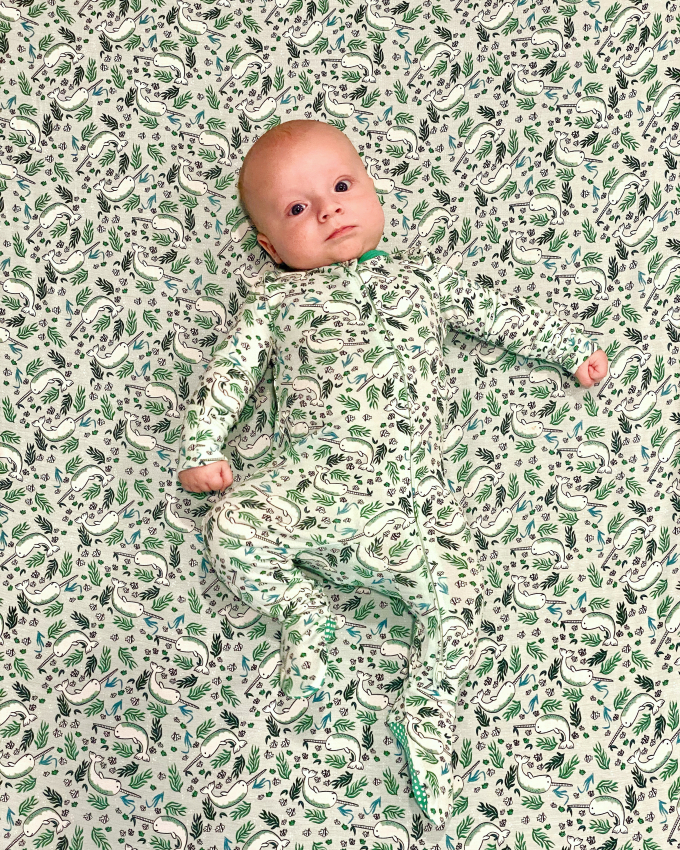 ---
Best For | Footies, rompers, blankets
Sizing | True to size
Ships To | International
Price Range | $$
Angel Dear has super soft pajamas and nursery items in bamboo and muslin.
They've also been seen on Zulily where you can get them very cheap, so remember to sign up for updates there as well.
My honest Angel Dear review:
Quality of Angel Dear is great. Close to no pilling and truly runs true to size. Wish their prints were less cartoonish as many things disappear in the background, but that's just my personal opinion.
Verdict: I'd buy it again for sure because of the quality, even though it's not my favorite design-wise.
---
Best For | Footies, pajamas, blankets
Products | Apparel, swimwear, outerwear & accessories (for babies, toddlers, & children)
Sizing | True to size
Ships To | International
Price Range | $$
My honest review:
The company comes up with fun prints, but it's still very much mostly catered to girls with flowers, ruffles and butt ruffles. For non-ruffled options, there are barely any sizes and definitely not toddler sizes, which is disappointing for boy moms or those who despise ruffles (I'm European, so we don't like ruffle butts at all).
Verdict: While the quality is great, wish bigger sizes were available. If you live in Canada and have girls babies, then definitely go for it.
---
---
Best For | Footies, rompers, blankets
Products | Baby + Toddler + Child
Sizing | True to size
Ships To | International
Price Range | $$
Full disclosure: Laughing Bub is my own store that I started to bring desired prints for boys/gender neutral due to the market being saturated with girly prints and ruffles.
We have very small collections, but listening to customers' feedback so if there's something you're looking for definitely join our group and let us know.
---
If you're a newer company and want to get reviewed, contact me.