Selling on Mercari can be a hit or miss and there are lots of things first-time sellers don't realize. Some people make serious money selling on this platform as this can be whatever you want it to be – a side hustle, decluttering project, or a big business.
Having sold hundreds of items on Mercari, eBay, Poshmark and Facebook Marketplace I feel like I can give most of you some useful tips. Learn from my mistakes!
What to Prepare for Selling on Mercari
If you're just planning on selling some of your items, then you probably don't want to spend much money on preparation. That's fine, but you might need to consider some things.
If you are interested in reselling or flipping things, you should invest in some infrastructure for your business. Typically, this includes a label printer, small shipping scale, mannequin or cute hangers, photo background, and mailers.
Important: Keep in mind that since 2022 you may have to pay taxes if you're selling over $600 worth of items. It's a new change and honestly, it's quite unfair why a small person trying to make some extra money through selling things online should be taxed for it but there's nothing we can do about it.
Before you begin selling things online…
Basic Necessities for Selling on Mercari (or Other App):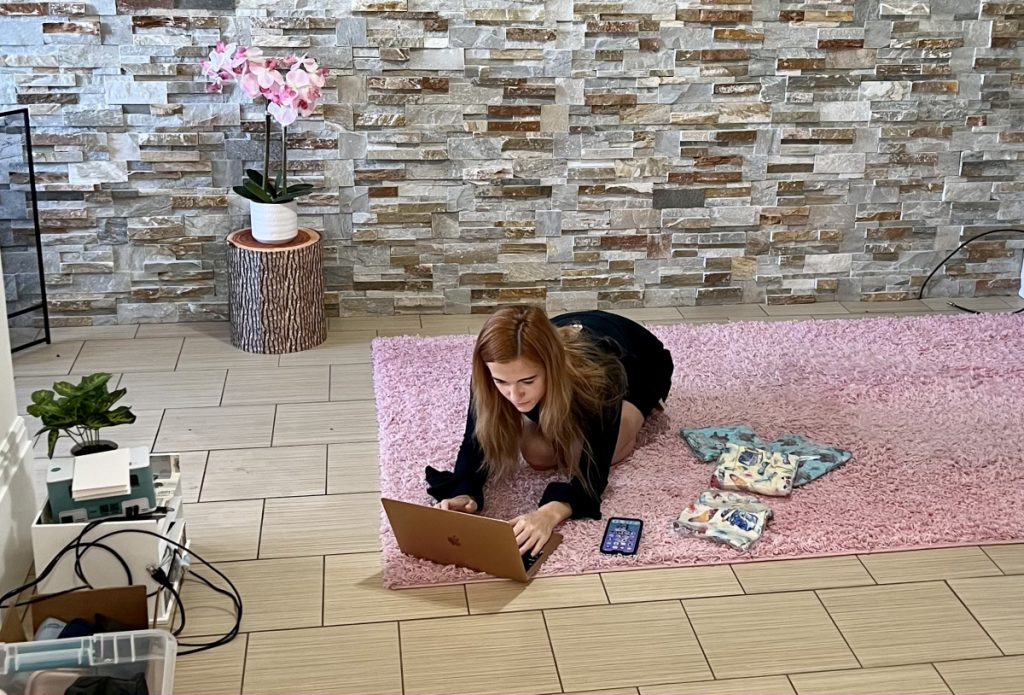 Polymailers
Lots of people will tell you to just get free boxes from USPS. Don't, unless you're planning on packaging super small yet heavy items. You'll pay MUCH less if you stuff everything in the polymailer and ship it with cubic rates (more on that under shipping).
Not all polymailers are the same. I tried to be cheap at first and spent a lot on tape because they kept tearing. These and these are the best and most affordable.
Label Printer
Label printer is a must. Don't treat it like "I'll buy all those things once I start making money". Trust me, not buying a label printer early on was one of the dumbest things I did because I spent a ton on the ink for the printer – which was completely unnecessary!
I have this one, but Rollo is the most popular brand.
Other Packing Supplies
Don't skim money on the packing tape. The cheap tape will be the most annoying and won't hold on so you might expect a lot of damaged packages… that you'll have to pay for out of pocket.
I also own a mannequin and simple yet cute hangers. I do like the mannequin and I'm always selling faster when I use it to model clothes (unless it's baby clothes).
If you're selling used clothes – fabric shaver! I got the idea from my mom who always used to shave my clothes to keep them fresh and I do it with clothes – especially with fabrics like bamboo that peels faster.
---
Awesome Features of Mercari
The saved searches option is a huge win for sellers. This option allows buyers to be alerted when items that they are searching for are posted, so if someone is looking for eg. "Kyte Baby clothes" then they'll get notified of any new items.
Buyers can message sellers directly and privately to ask questions, which is quite convenient. I recently had a chat with someone who was willing to buy my car seat and she had some additional questions.
---
How to List an Item on Mercari
Sign up for Mercari
First, sign up for Mercari. You can list items for free and start making money instantly.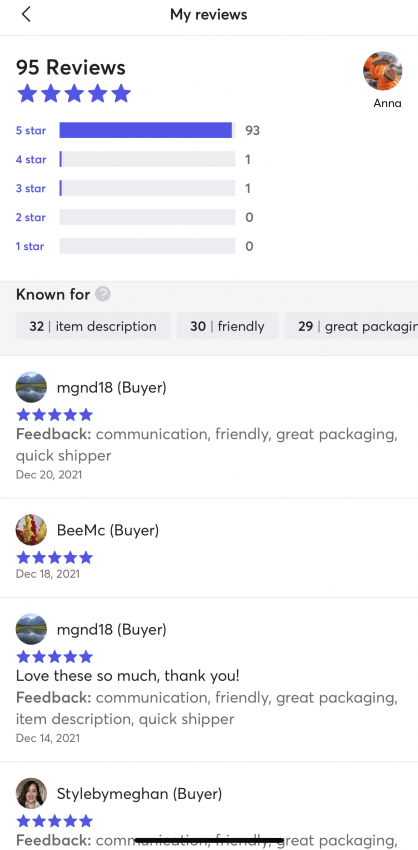 Take photos of the item
See what other sellers are doing and make your photos better 😉
Show every side of the item in good light.
Photos can be taken from inside the Mercari app or camera app and uploaded.
Use natural light to capture the best images of your clothes.
Set a neutral background – fluffy carpet, wall, photo backdrop.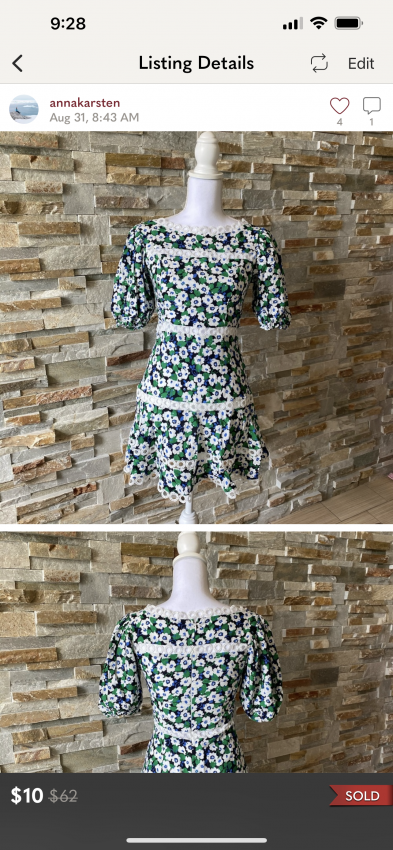 Add a Title
Try to say as much as possible in 40 characters. Name a brand, what is it, color and possibly size.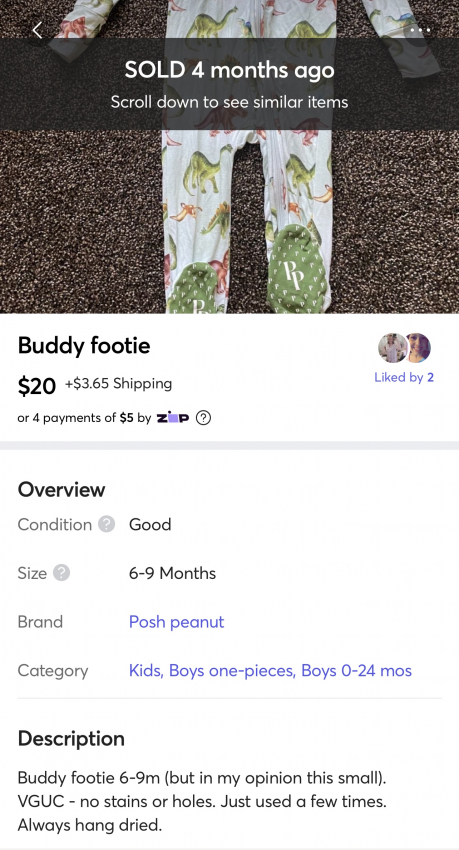 Write your description
In the description, you have to write at least five words, and you have up to 1,000 characters. You can also add up to 3 hashtags.
You will want to include the brand, the style, the model name, the color, the condition, the fabric, the size (consider adding measurements), whether it is used.
Mercari has its own rubric for stating the condition of the item, but make sure to use the most common abbreviations describing the condition of the item in a description as well:
NIB = New in box
NWT = New with tag
NWOT = New without tag
EUC = Excellent used condition
VGUC = Very good used condition
GUC = Good used condition
PLAY = Minor holes and/or stains
Indicate if the item has any flaws or defects. When you bought it, what did you like about it? Feature what you liked. Include anything they need to know about the item.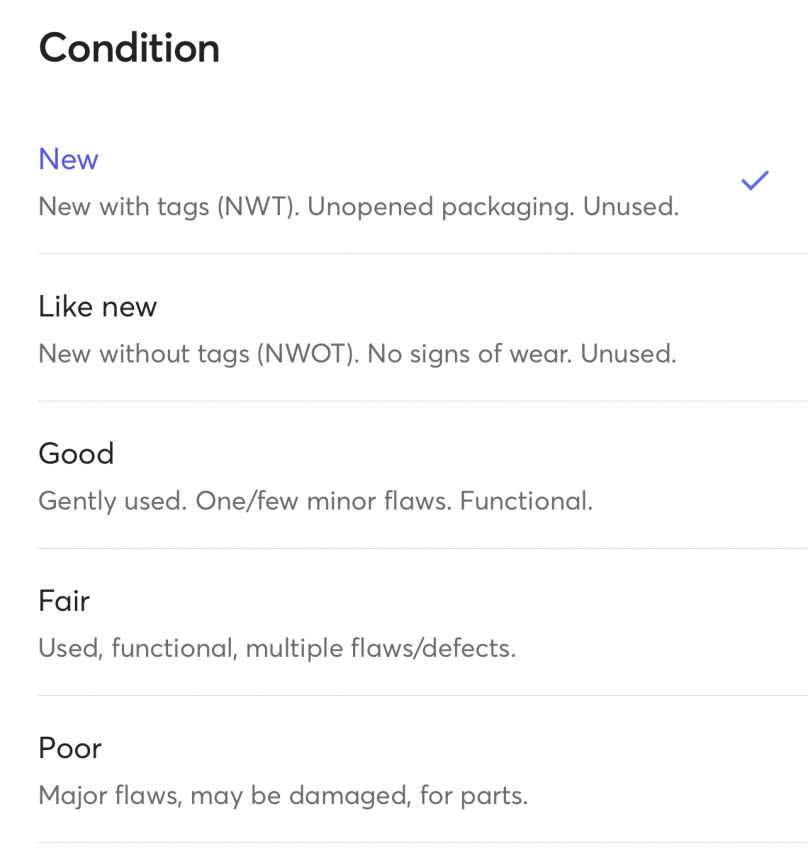 Choose a category
Based on your title, Mercari will recommend which category your item should be listed in. You will need to make sure you agree with Mercari's suggestion, so double-check it.
Sometimes you will not be able to find an appropriate one. In this case, choose "Other" and do a good job with the title and description.
Select brand
Mercari has some brands already in its system. If the brand isn't in the system you will be forced to put it under a different brand – a similar one.
You will have a chance to add a brand name separately, so make sure to do that.
Provide shipping information
Mercari says when you offer free shipping, your item is five times more likely to sell. If you have purchased anything on Amazon Prime, then you know shipping is not really "free" and it's just included in the price. You might try doing that.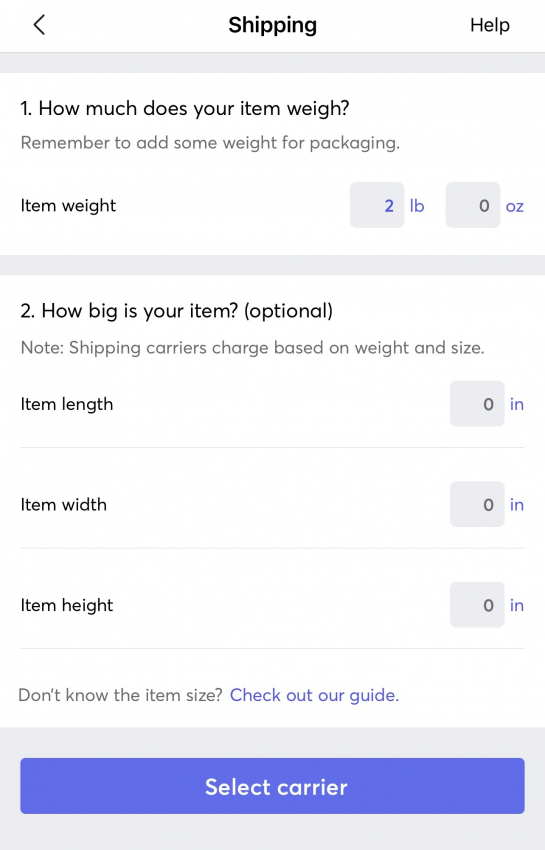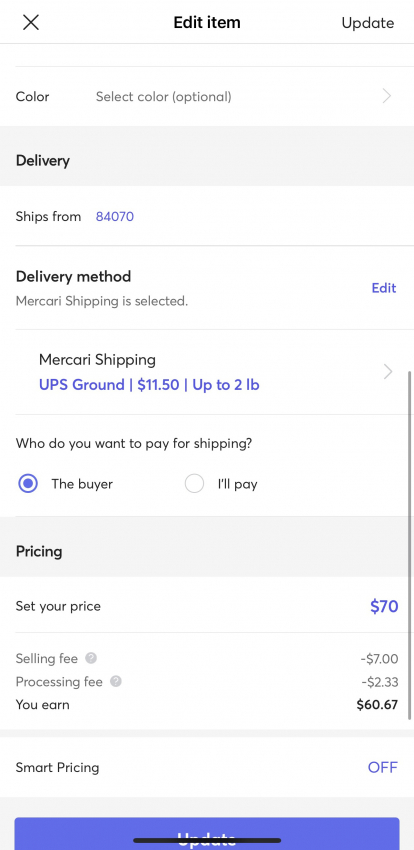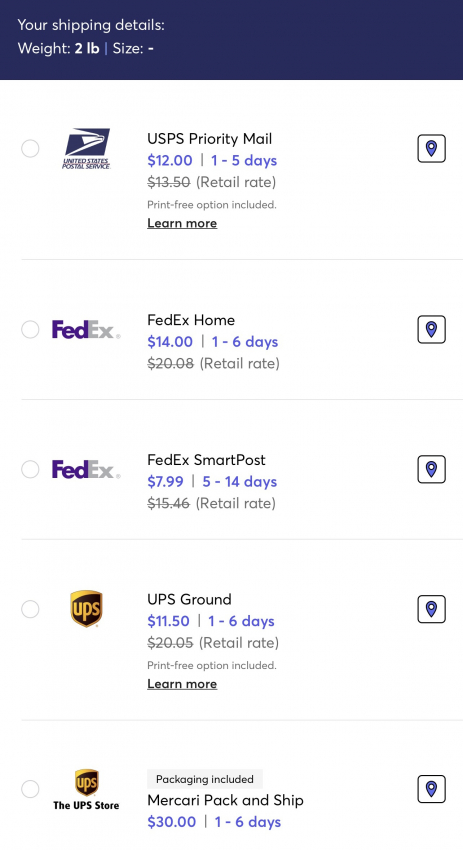 ---
Selling on Mercari vs eBay
Mercari is more beginner-friendly than eBay. The problem with eBay is that if the buyer claims the item is damaged (when it's not actually damaged and the person is a scammer) and sends it back, then you have to pay return shipping plus the eBay fees for selling the item. Quite often, you don't even get the item back so you're out of money and the item.
For this reason alone I'm not the biggest fan of selling on eBay. Mercari is usually more thorough with claims, but I always take photos when I pack the item – just in case.
Unlike eBay, most Mercari buyers aren't willing to pay full price, so have some room to lower the price if you want to sell quickly.
Selling on Mercari vs Poshmark
I highly recommend listing your items on both platforms. On Poshmark, shipping is easier and cheaper. The buyer pays a flat fee and then Poshmark sends you a label to print off – no scale needed as long as it's under 5 lbs it's free for the seller, which is a huge bonus.
Poshmark takes 20% of your earnings for sales over $15 and $2.95 for any sales under $15. On Mercari takes 10% for the seller fee, as well as 2.9%+.30 processing fee versus Poshmark's 20% fee.
My personal opinion is that Poshmark is more of a high fashion app, while Mercari is "sell everything for less" type of app.
Certain brands sell better on certain apps. I noticed that for example, kids luxury brand Molo sells on Poshmark quite well. On Mercari it never sells and there are barely any listings.
---
Mistakes Most Sellers Make
1. Not reposting your items enough
Mercari's algorithm features newer and recently post items at the top of the feed, and older items are pushed lower in the search results. Especially if a brand is popular the less likely it is to be seen by buyers after a day or two.
2. Listing when they feel like it
Mercari's algorithm isn't advanced and shows things right when they were posted. Unless it's a super high demanded item, you can't just post whenever you feel like it.
Think of your buyers – eg. if you're selling baby clothes the chances are that stay-at-home moms are going to be scrolling during the day. If it's furniture you might want to list them at the end of the weekday.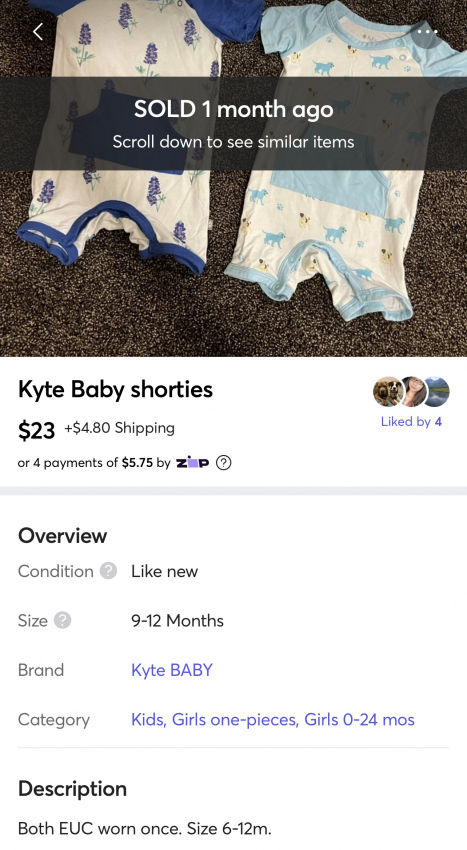 3. Not checking the app very often
Lots of people on the app are impulse buyers. If you take half a day to respond to someone's offer buyer's might change their minds.
4. Not putting enough effort into listing descriptions
Most people put minimal effort into taking pictures and writing descriptions, but these days it counts as SEO. If someone googles an item, it might come up in search when it's listed on Mercari.
You can also bundle items to save your buyer on shipping. Many people also include a statement in all of their descriptions that they're willing to bundle to save the buyer money
5. Not dropping the price
Use Mercari's price-drop feature which will push you back to the top and send out a notification to anyone who has saved your item. Even if it's just a dollar it will boost your post again.
---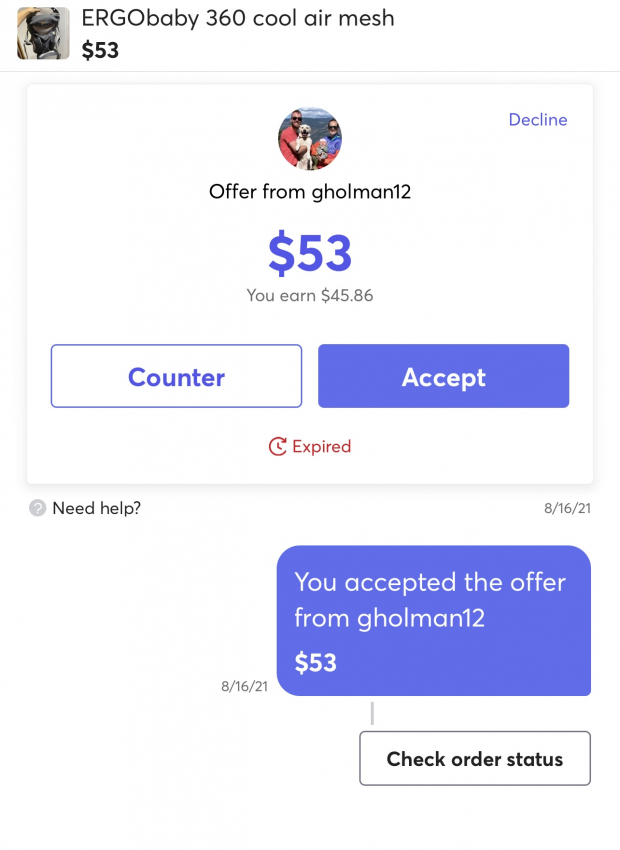 How to Get Paid on Mercari
It typically takes a week or more to have money in your account after you sell something and there is a chance that the person can open a return.
These days many people prefer to take things off the app in order to avoid fees. Mercari is forbidding it (obviously, they wouldn't make money if they did), so people speak in code.
There are Facebook groups created for that and you might get a message like "Kate Quinn is BeST" which could mean that the buyer is suggesting you move it to a BST (buy sell trade) group.
What's the danger of taking things off Mercari? Shipping through Mercari is slightly more expensive than PirateShip or PayPal labels, but it comes with insurance. If you're selling expensive items and it arrives damaged to your buyer, or the items get lost by the carrier then Mercari will compensate you and the buyer for the loss. I actually had it happen to a designer jacket – FedEx lost it and I had my money from Mercari in a few days!
If I shipped it with my own label I would have to claim insurance from the provider which isn't always an easy job. If I shipped through PayPal Iabels I would have to basically eat the cost and refund my buyer.