If you're a traveling parent I'm sure you are probably sick of dragging your toddler by the hand on all those long and boring airport walks. This simple task can be tedious for adults but try being a 4-year-old to whom those long corridors can seem like an endless expedition to nowhere.
I know the struggle all too well but thankfully I found getting a ride-on suitcase for my son was the best solution. Being able to give my kids a rest without having to stop has been a massive godsend for me by making traveling with kids way less chaotic.
But it's much more than simply having an option for the kids to sit down. Because I can pull him along at the same time, ride on suitcases make handling the family's luggage, keeping an eye on your toddler, and pushing his baby brother in the stroller simultaneously look easy!  They are a great choice for kids' travel luggage and make transit that little bit easier for everyone. 
Things to Consider When Choosing a Ride-On Suitcase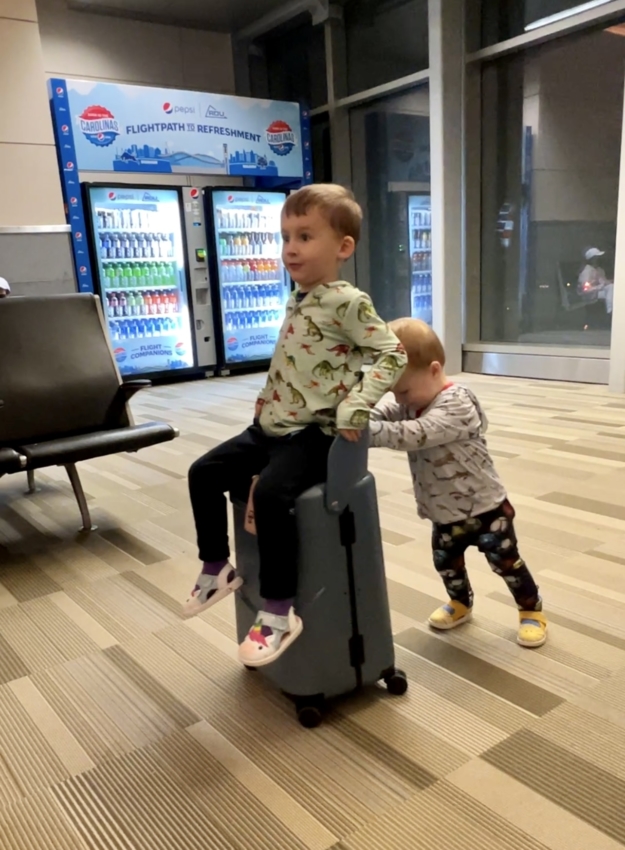 1. Why should your child take care of their own suitcase?
It's never too early to start teaching kids life skills and being responsible for their own luggage is a transferable skill that kids will use forever. Making the suitcase fun and convenient just means that your toddler is more likely to enjoy taking on that little bit of responsibility.
As a parent, it's also super beneficial to have one less thing to carry when your hands are already full!
2. What Age Should My Child Be to Use a Ride-On Suitcase?
Now that you've started looking for ride-on suitcases you will quickly see that there are SO many options to choose from.
The most popular one (Trunki) is made for kids around 3 years with a maximum weight of 50kg. This makes many people think that these are only suitable kid's travel luggage for older children. But in actuality, the age range is a little bit less restrictive since there are so many choices. 
Your child's abilities are a better gauge of whether or not they are ready for a ride on a suitcase rather than their age. Early learners may be capable to balance confidently at just 2 years old whereas others may need a few more years to reach the same point.
3. Which Style of Kids' Luggage Would Suit You?
Yes! There are many different choices when it comes to the types of kid's luggage available today. From basic backpacks and small suitcases to the more advanced ride-on suitcases and scooters that we are talking about today.
Within the ride-on suitcase category, there are even a few different styles which I will explain below.
Ride-On Suitcase – These suitcases with wheels are strong enough for toddlers and other young children to sit on and be pulled along by a strap or push themselves with their feet. The clasp is also kid-friendly, making it easy for them to open and access their belongings without needing to bug Mom.
Scooter Luggage – Made with older children in mind, Scooter luggage is essentially a suitcase attached to the pole under the handlebars of a regular scooter. Kids can scoot around like normal and it can be folded up for boarding.
Over the Suitcase Seat – Perfect for early walkers and toddlers, these are fold-out seats that are designed to fit over adult-size suitcases. Some suitcases also come with a seat already built in.
4. Can you take a ride-on suitcase as a carry-on?
All of the ride-on suitcases I mention can be taken as carry-on, but for others, it can depend on the type and size of the suitcase. Check that the size is small enough for the airline. It's usually 20″.
5. Are children allocated their own carry-on luggage?
Yes, as long as they have a ticket/seat of their own children are also allocated carry-on luggage the same as any other ticketed passenger. This means you can bring your own allowance plus your child's ride-on suitcase.
For an infant in arms, you can usually bring a smaller checked suitcase and a diaper bag on board, but budget airlines have more restrictions.
Best Ride-On Suitcases (in short):
Best Toddler Appropriate Ride-On Suitcase
As I already mentioned, there are tons of options when it comes to looking for the perfect ride-on suitcase for your toddler. This means you can be a bit picky when choosing the best one to suit your needs.
Remember to consider the weight limit, size, and check reviews like the ones below to find the perfect ride-on suitcase for your family!
As I mentioned before, Trunki is the most popular ride-on suitcase out there as it was the first one. It's super cute and super functional so I can see why!
It's a great size for little hands to be able to help with the packing, opening, and pulling, plus it's made to ride, sit, carry, and climb all over.
What's more, the bright exterior is super hard to lose in the airport and its fun patterns make it a favorite accessory for the kids, getting them excited about travel. 
The suitcase itself is great with a good amount of storage and the design was adorable, but the wheels don't turn 360 degrees and we found the strap was too long. This meant that when I was pulling my son along we would almost trip people over because he was drifting! On the bright side though it's pretty indestructible.
Great storage space
Affordable price
5-year warranty
Lots of colorful designs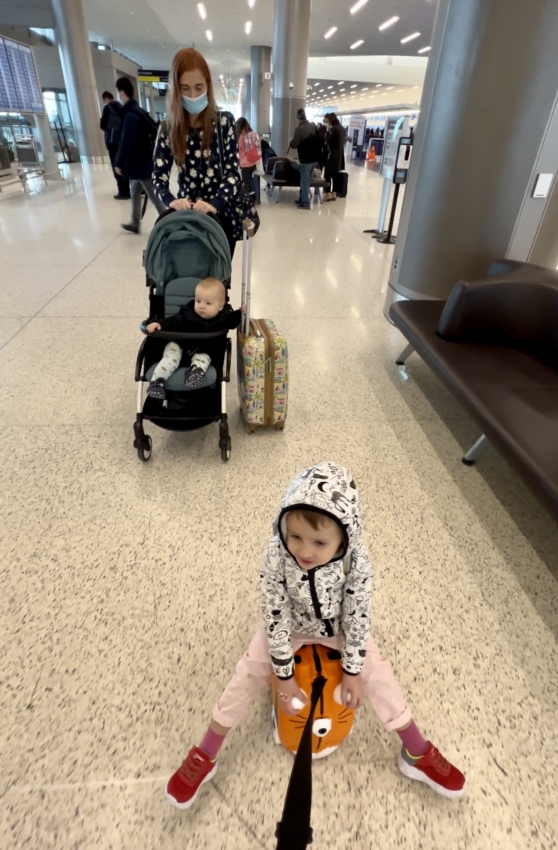 ---
This one not only holds all your toddler's belongings and can be ridden through the airport but also turns into a bed to use on the plane!
Even though it's a decent size, it's also lightweight enough to be pulled easily. The hard outer shell means it can take a bump or two and can be personalized with stickers.

With countless good reviews all over the internet, most parents seem to agree this is a great ride-on suitcase! 
I both love and hate this ride-on suitcase. The 360 degrees turning front wheels have solved all the problems I had before, making a smooth ride with easy turning. But, a lot of the internal space is taken up by the mat which is used to turn it into an airplane bed which means it doesn't have as much storage as the Trunki. 
Turns into an airplane bed
Easy to pack and pull
Rotating front wheels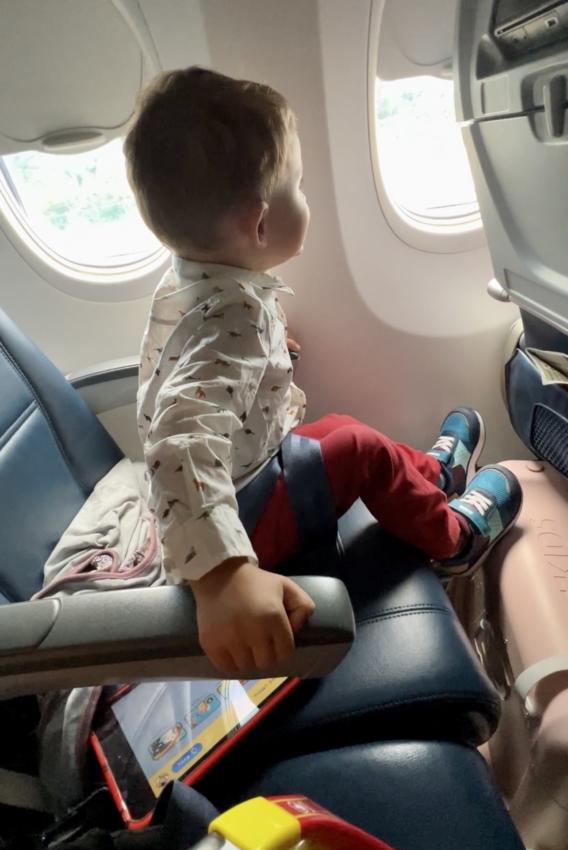 ---
If your toddler can sit up well unassisted and you're looking for something that can be used for a little longer (up to around age 6), the Duffel Profiled Ride-On Suitcase is a good choice.
This one is a little different from the others as you roll it like a normal suitcase rather than pulling it behind you which really eliminates the risk of drifting entirely and allows you to have your toddler within arm's reach at all times.
When it comes to ease of rolling, the wheels on the Duffel are also great and never get stuck, but the stand-out feature is the seating area. It is specially shaped a
The only thing I can say is that I wish it was better known. The leg rest and handles are incredibly useful when rolling it around and a child can feel like racing. The newer models even have paddled seats! 
Great seat space for the kids to sit
Has a safety belt
Stable and durable
Great wheels and handle for rolling
---
Helping kids get rid of some energy whilst at the airport is a big win in my books and this Scooter suitcase is a great option for that.
The luggage case itself is durable and the perfect size to balance capacity and size, fitting perfectly in the overhead locker of most planes.
But riding in style is really the best part of this ride on a suitcase, the smooth wheels even light up with LED lights and the telescopic handle means it can grow with your child. 
Keep in mind that a scooter suitcase is mostly for older kids. My son is 4 years old and still not a proficient scooter user so this suitcase was a bit waste on him. If you have a daredevil child it's a great way to fly through the airport.
Lightweight and easy to pull
Great for older kids
1-year warranty
---
Seating Attachments for a Suitcase
Rather than buying a specific suitcase for your toddler, this option is a slightly different type of ride-on luggage. These are two add-on products that you can attach to the adult luggage you already have, which can reduce the number of bags you are bringing for the family.
The Lulabug seat is super portable and can easily be packed away when not in use, whereas the Mountain Buggy Rider has an additional carry-on suitcase that doubles as a backrest and can hold up to 15kg (2-3 year olds).
If you're traveling alone with your kids this is a great choice as it means you don't have to bring yet another piece of luggage to handle. Most places we go we generally only bring one travel stroller for the two kids, but this allows our oldest to have a seat of his own on top of the suitcase to rest after running all around the airport. 
After some time we decided to replace it with the MiaMily suitcase which we can use for our youngest too.
---