Parents find themselves in a constant struggle to get their kids away from tech and outside. Fortunately, a kids trampoline is a great way to accomplish this goal!
Trampolines promote fun physical activity that gets their little hearts pumping and improves their coordination. Even if you don't have space outside, you can find an indoor trampoline for toddlers who just learned to walk – they'll figure it all out as they go.
The problem is that there are so many different brands and types of trampolines that it's a difficult decision. Don't worry though! I've spent hours researching and trying out the best kids trampolines on the market so you can make an informed decision.
Important Safety Advice for Trampolines
Before we start looking at the best kids trampolines, it's a good idea to go over a few safety tips. Features always take a back seat to safety when it comes to toys like this because trampolines require proper assembly, safe habits, and appropriate maintenance.
Only let one kid jump at a time unless it's meant for multiple kids. Having multiple jumpers greatly increases the risk of injury.
Be strict about the age and weight requirements. Never sway from the restrictions listed in the instructions.
Never let kids play on safety netting.
Always perform scheduled maintenance on time. Never put it off.
The location of your trampoline should be on a level surface.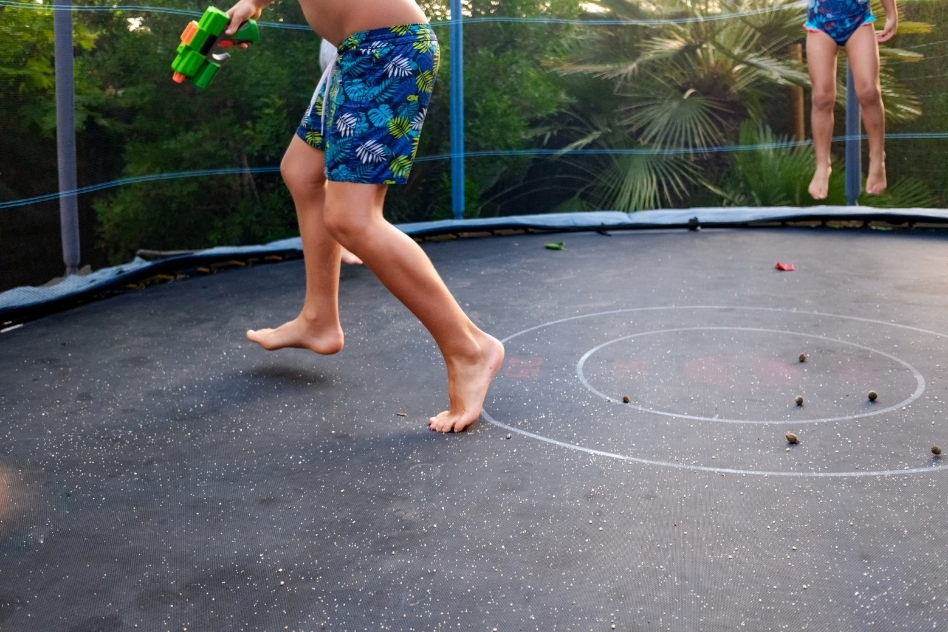 ---
Best Toddler Trampoline with Netting – Bounce Pro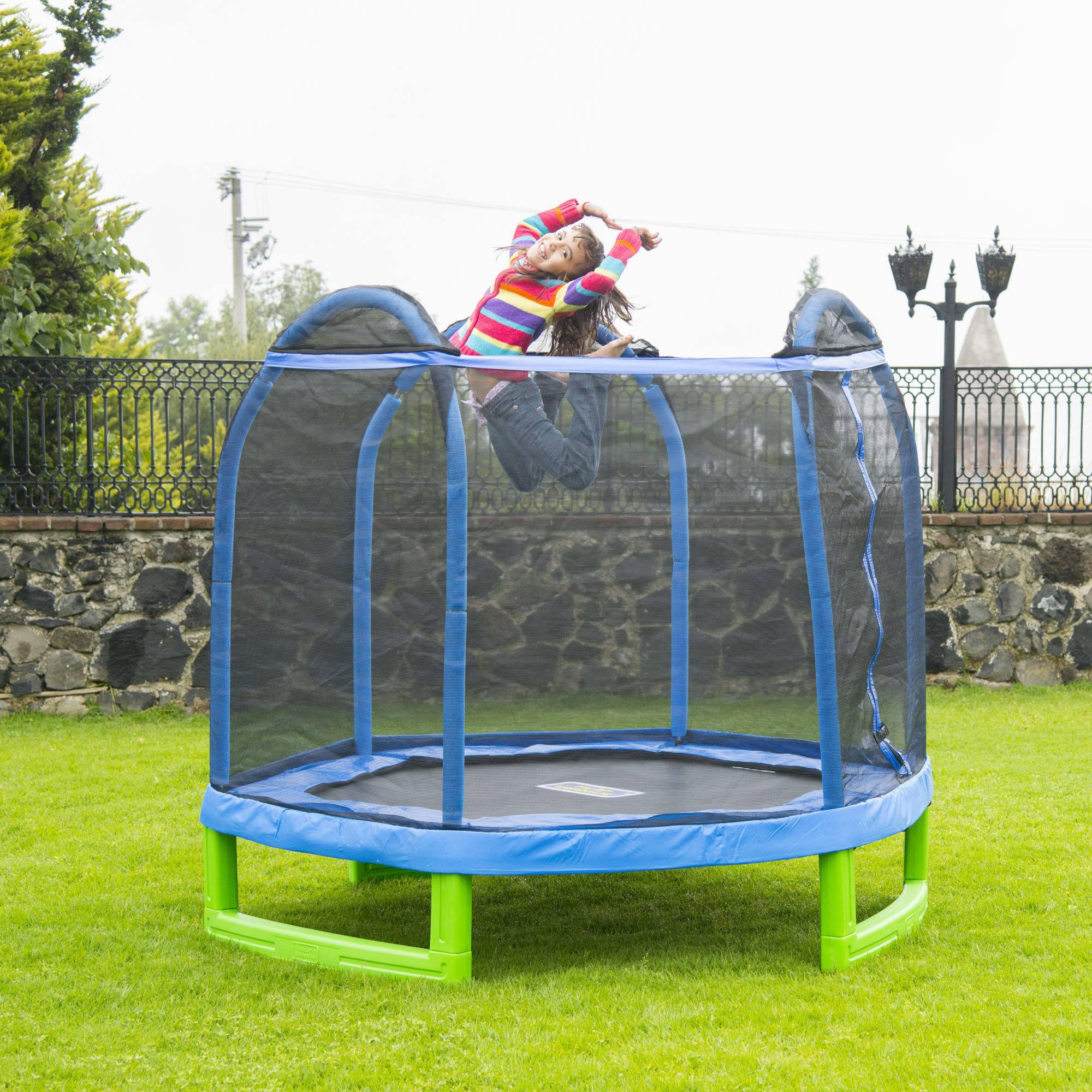 The Bounce Pro Trampoline is a great choice for outdoor and basement use by toddlers.
It's quite sturdy and is built using the highest safety standards. On the other hand, it's lightweight (only 33lbs) so easy to move around.
It's designed specifically for kids under 6 but it's also an outside trampoline, meaning that it's larger and has a higher weight capacity than other popular indoor models.
Adding to its amazing safety features are padded poles and a zippered enclosure. With that in mind, the downside is that the instructions for setting up the trampoline are rough.
I've read complaints about holes not lining up during the installation process, but haven't had that issue.
PROS
Netting preventing falling
High weight limit allowing multiple jumpers
Can be indoors or outdoors
Lightweight to move around

Bounce Pro 7-Foot My First Trampoline
Check other reviews and current prices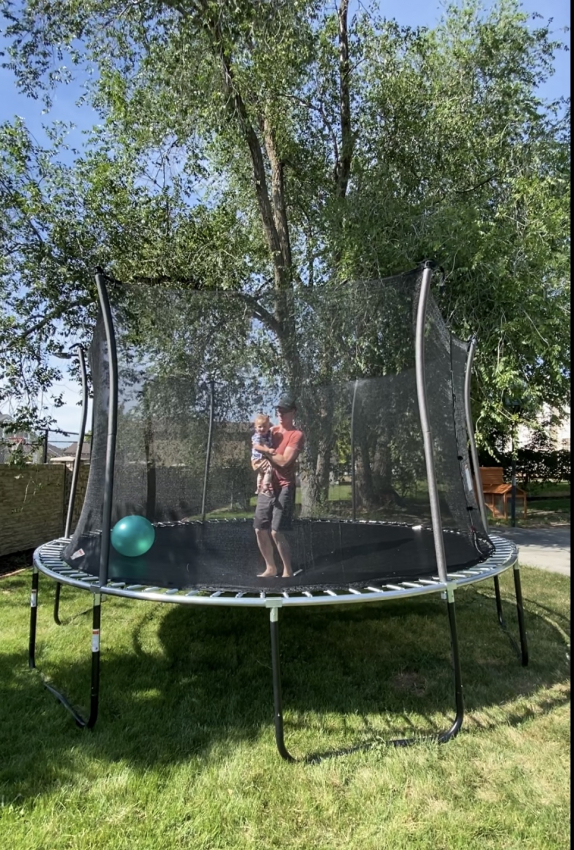 ---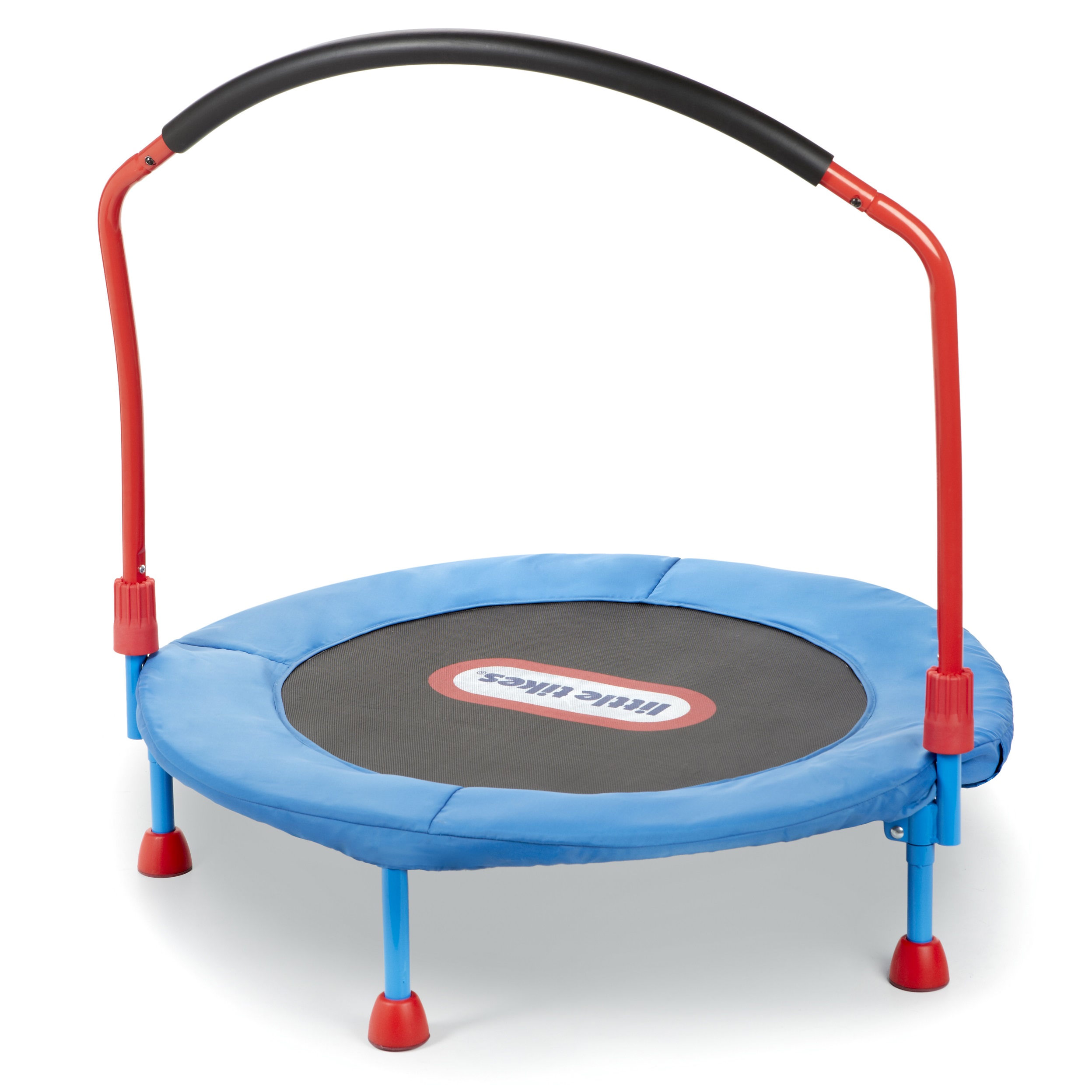 This trampoline is an amazing choice for small kids, that's why it's often called "first trampoline".
Since this trampoline doesn't allow kids to jump too high, it's a great choice for toddlers or even as a gift for their first birthday. It's sturdy enough for them.
The handlebar can fold easily, so it's easy to store as well.
The downside of this model is that once a kid reaches a certain weight, their jumps will push the backend from the ground. Parents solve this by strapping it to the ground.
PROS
Great for toddlers
Budget-friendly
Can fold


CONS
Low weight limit (55 lbs)
Only for indoor use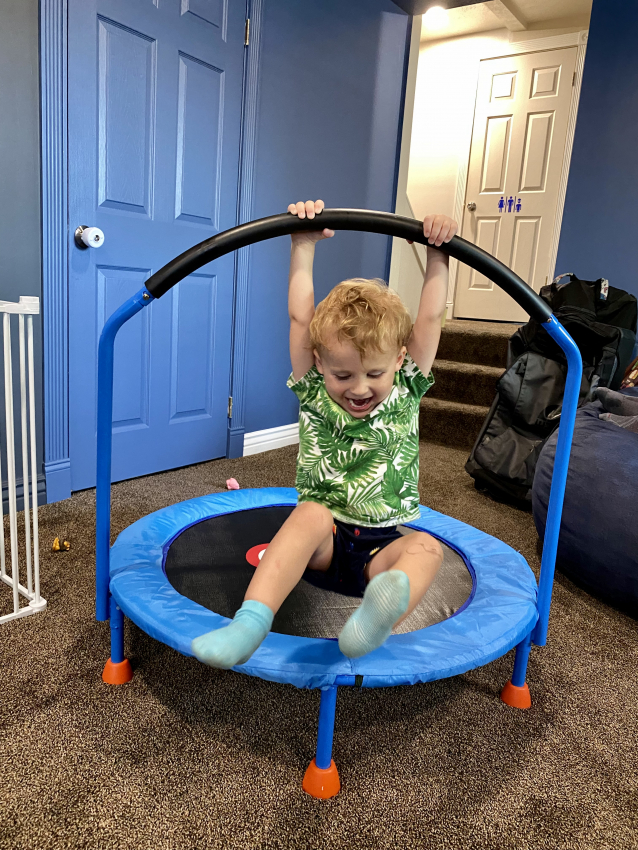 Little Tikes Easy Store
Check other reviews and current prices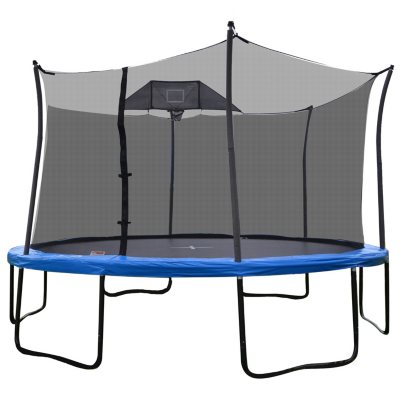 Dimensions: 10.5 x 6.7 x 6.7 inches
Maximum Capacity per Seat: 45 lbs
Propel was the first trampoline I got and it didn't disappoint. A year later it works perfectly.
PROS
Stable and safe
Allows parents to jump with kids
Comes with a basketball hoop
CONS
Long assembly
Takes lots of space
Requires extra staircase
Requires Sam's Club membership to buy
Propel Trampoline
Check other reviews and current prices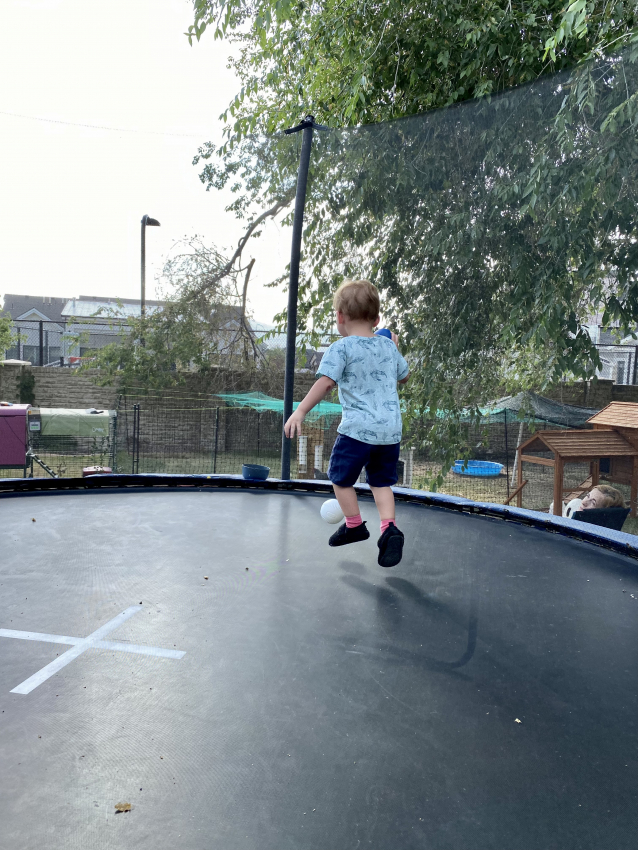 ---
Best Foldable Trampoline – KEWLTAX
This is another trampoline for toddlers that's designed without using metal springs.
It's designed with kids of all ages in mind, making it a great first trampoline. Assembly is a breeze too. The surface is simply folded in half so all that's required is to unfold it, screw on the legs, and then put it on the handlebar. All in all, it takes about 10-20 minutes to set up.
KEWLT Trampoline
Check other reviews and current prices
---
Small Trampoline with a Swing – Jump Power
This trampoline features a mesh enclosure, making it extremely safe/ It's perfect fit for kids ranging from 2 to 5 but can be used by older children as long as they do not weigh over 100 pounds.
Adding even more safety to its incredible design is the fact that this model has a swing that can be detached. Thanks to the UV-resistant mat and net it can be brought and left outside or kept indoors.
We're currently using this trampoline after a friend said it's the best toy they had and all our kids are loving it.
PROS
Mesh panels
Swing included
Cute dinosaur pattern
Indoor and outdoor use
CONS
Assembly takes a while
Has to be disassembled to move it
Jump Power Activplay Mini Trampoline
Check other reviews and current prices
---
Doufit double trampoline can fit even an adult up to 220 lbs! The design distributes weight in a way that makes it safe for two kids to jump simultaneously and the grip bar adds an even higher level of safety.
Even though this model uses metal springs, they are covered by a durable, padded mat. However, you'll have to make sure that the mat is secured and installed properly.
Double trampolines are a great choice for parents who are looking to appeal to multiple kids since they will get the most bang for their money.
PROS
Two kids can jump at once (even adults can!)
Very sturdy
Adjustable rail

CONS
Confusing assembly instructions
Big item that doesn't fold
Doufit Kids Trampoline
Check other reviews and current prices on Amazon
Trampoline Alternative – Monkey Jump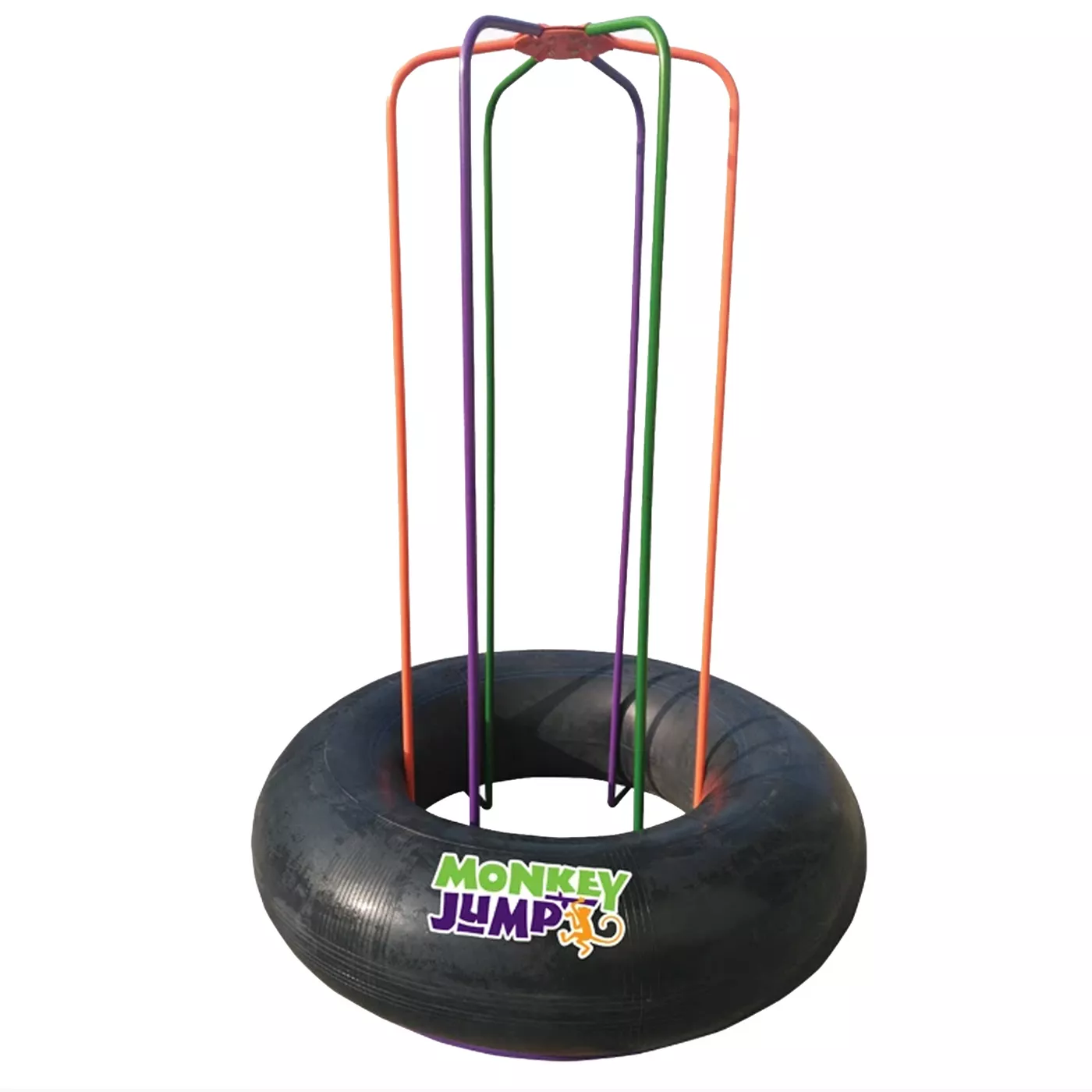 If you have multiple kids, I highly recommend Jungle Money Jump. It has a durable and compact design that's suitable for the backyard, basement, or playroom.
Curved steel poles provide a place to hold on as your kids rock, bounce, and climb, powder-coated in bright purple, green, and orange, so it can be used by small toddlers and older kids as well.
PROS
Indoor and outdoor use
Good for multiple children
Fun for all ages
Monkey Jump
Check other reviews and current prices
---
Frequently Asked Questions about Kids Trampolines
What Benefits Come From Buying a Toddler Trampoline?
Trampolines provide fun physical activity for kids. Plus they are a great benefit to families who don't have a lot of space due to their compact size. If you find that a lack of space is forcing your children to stay cooped up, then a trampoline is a great solution.
What is the Age Range for a Trampoline?
This greatly depends on the type of trampoline being used but toddler trampolines are designed for kids who have just learned to walk. Always check the instructions for the exact details though and follow those instructions to the letter. Trampolines require a safety-first mentality, which brings us to our next question.
What kinds of Safety Precautions Do I Need to Take?
First and foremost, always supervise children who are using a trampoline. Also be sure that you follow all instructions to the letter when installing the trampoline. Perform regular inspections and if you notice anything out of place, check it immediately. Replace any damaged components immediately before allowing your child onto the trampoline.
What is the Lifespan of a Toddler Trampoline?
Again, it depends on the model so be sure to check the instructions for guidelines on when to replace parts and how often to perform inspections. When a part is broken or damaged, replace it immediately. Depending on the model and how often the trampoline is used, it could last for years!
Final Thoughts: Supervision is Essential!
I will repeat this one more time – always supervise your child when they are using a trampoline. You must have a safety-first approach with this device. Keep this in mind when buying a trampoline. Read reviews and carefully inspect your new trampoline before allowing your kids to play on it.