Your child's first birthday is a momentous occasion for everyone involved but mostly for you, the parents. You've made it through a year of sleepless nights, countless dirty diapers, and hours of crying, where did the time go?
When choosing a theme for your child's first birthday, make sure to pick a theme for yourself as this birthday is going to be much more memorable for you than your little one. Plus, in a few years, you will be stuck organizing events around your child's favorite cartoon characters.
Planning a birthday around a theme can make the whole event feel a little more special, regardless of whether you're hosting a large event or a small gathering.
While you can choose any theme that piques your fancy, there are many great ideas that work particularly well for a given age. For example, Wild ONE for the 1st birthday, TWO the Moon for a 2nd birthday, and so on. So if you're looking for some great one year old birthday themes for your child's special day, check out my ideas below.
Oh, The Places You'll Go First Birthday Theme
The famous Dr. Seuss book creates the perfect first birthday theme to launch your baby into the toddler years.
Not only are the adorable pastel characters super playful and create a fun environment to celebrate, the theme can encompass all the hopes and dreams you have for your little one's future.
To decorate for the theme, cover your place is pastel pinks, yellows, blues, and greens, and make or buy a hot air balloon for the centerpiece to match the graphics from the story. I also love these easy balloons and wall decoration set.
Wild One First Birthday Party Animal Theme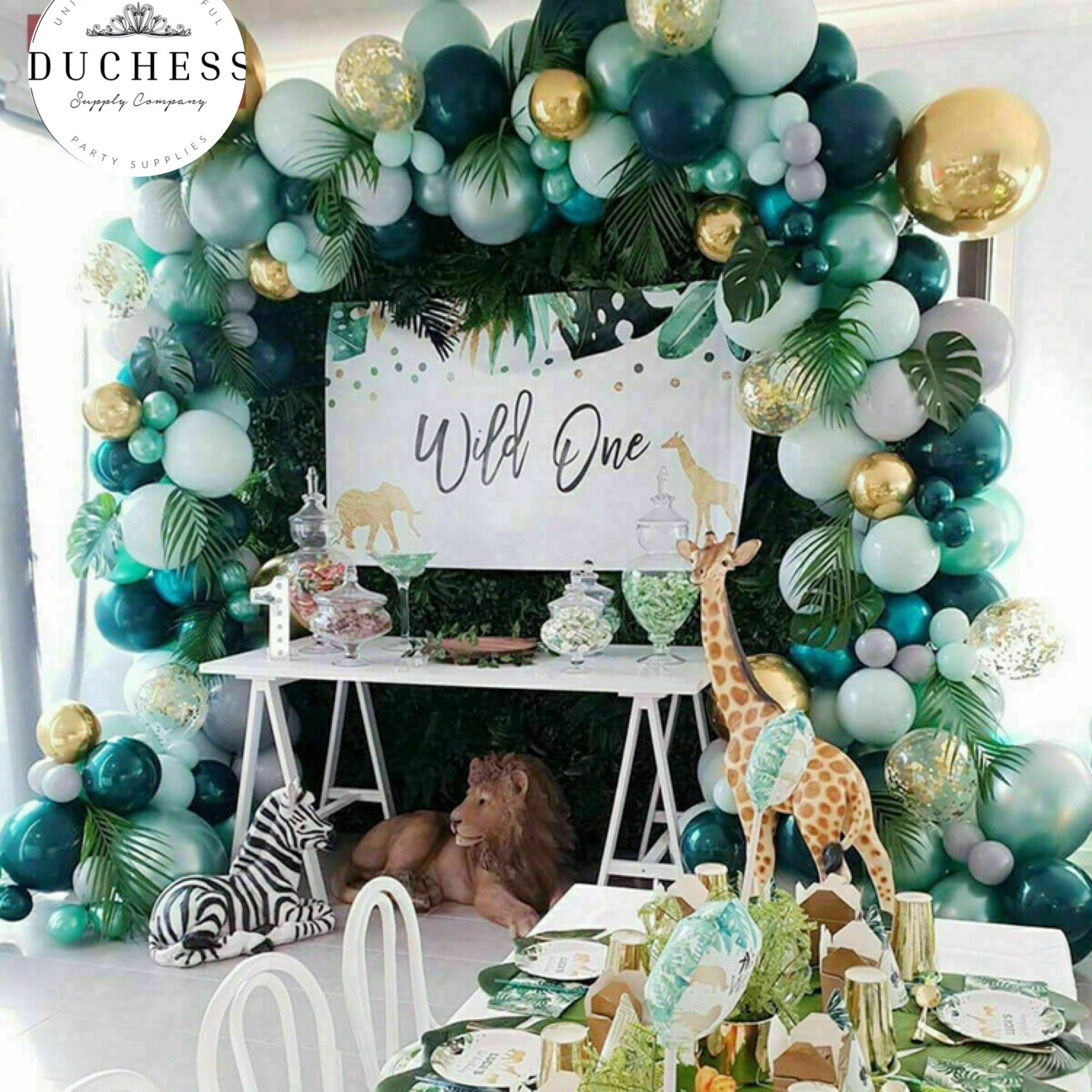 This fun safari theme lets you incorporate your favorite animals amongst earthy tones in a lush jungle setting to celebrate the wild side of your adventurous little one.
Starting with fake leaves and greenery to decorate the tables, you can easily bring the theme to life by incorporating animal figurines, plush toys, and printed napkins to tie it all together.
If you really want to impress, create different animal cupcakes so each of your guests can choose their favorite and use your real houseplants to make the experience even more lifelike.
One in a Melon: Fruit First Birthday Theme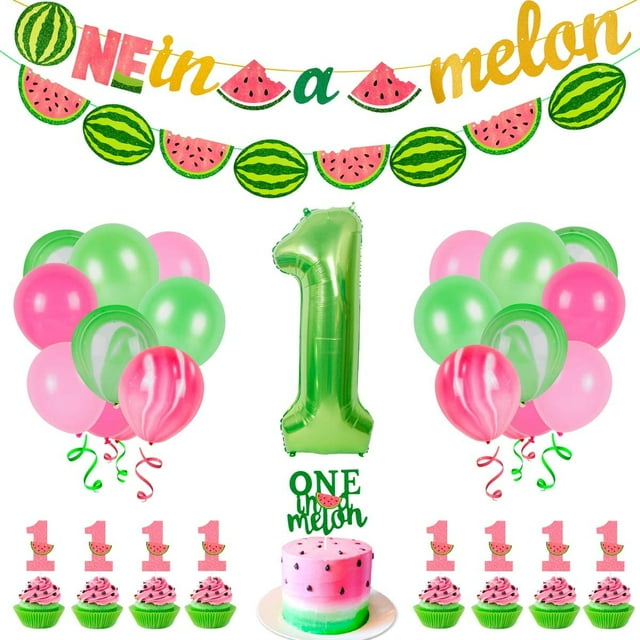 The perfect theme for a summer baby, this fresh and colorful theme is perfect for an outdoor party while being super easy to pull off.
Of course, you need to start with a large fruit platter (or table) as the centerpiece of the whole event. You can even add a chocolate fountain if you want to make it a little more enticing!
For the decorations, the great thing about this theme is that you can choose to go with pastel pinks and greens or bright reds, greens, and oranges depending on your preference, both work just as well.
Pick up a "one" watermelon sign, some on-theme balloons, and an adorable watermelon outfit for your 1-year-old and you're set!
One-ce Upon A Time: Fairytale theme
One-ce Upon a Time is the perfect theme for anyone who is having trouble deciding on one theme. With this magical fairytale theme you can incorporate elements of all your favourite stories with anything from Peter Pan to Peter Rabbit.
For a little princess, this adorable pink "one" sign, ribbon bunting, and storybook background are a great start. Little prince charmings may prefer this sparkling banner and wooden carriage centerpiece.
Whichever way you decide to go, make sure to include lots of tiaras, toadstools, and glitter to make the whole event tie into your magical theme.
One-der the Sea First Birthday Theme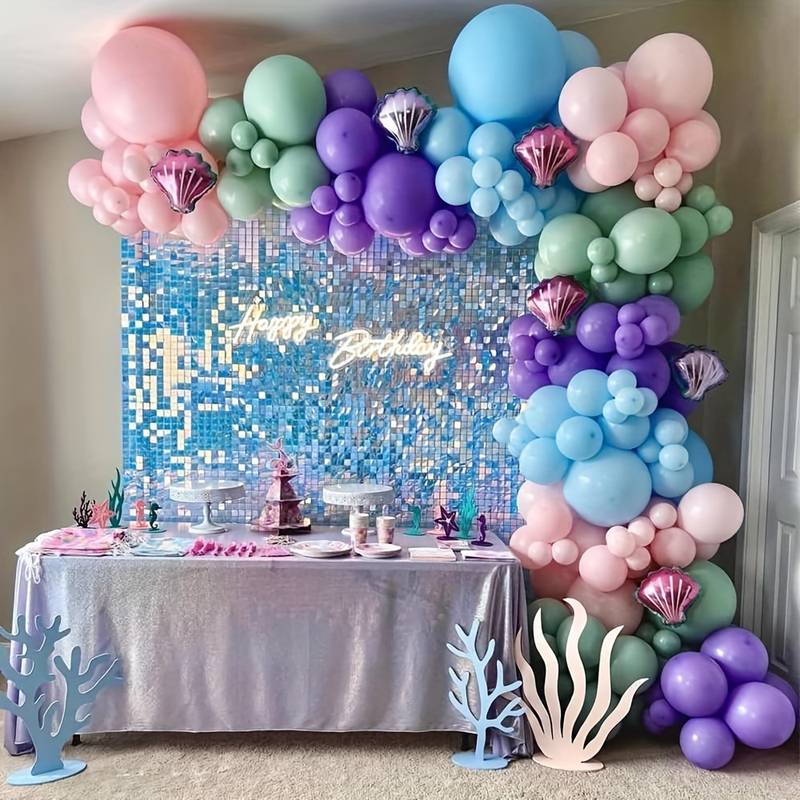 Another super cute animal theme option is the ocean. Again a theme that can be full of colorful fish or a more muted pastel pallet with mermaids and mythical creatures.
This adorable bunting pairs perfectly with this wooden sign for the centerpiece. Alternatively, choose these fun balloons with colorful sea creatures for a more bubbly aesthetic.
To add a little more DIY flair to the affair, hang blue polka dot bed sheets as the backdrop and create a bubble wall of blue balloons for a great photo opp.
[Name] in One-Derland First Birthday Theme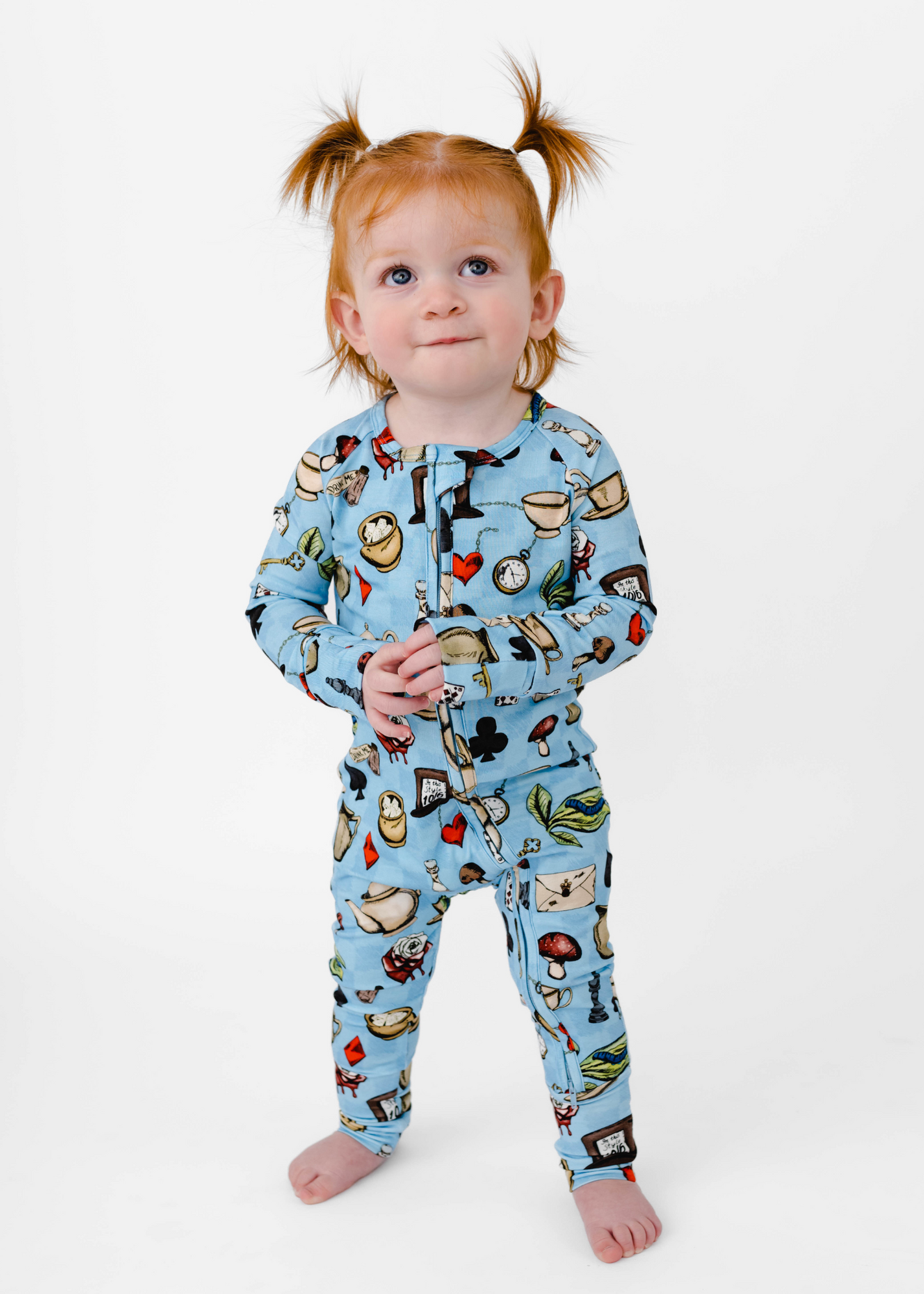 A fun twist on the classic Alice in Wonderland theme, you can choose to make this all about the Mad Hatters' tea party or incorporate the more mystical characters from the stories.
Whichever you choose, decorate with plenty of different patterns such as stripes, polka dots, and checkers, hide playing cards around the room, and incorporate hearts and clocks wherever you can.
I love these adorable invitations to get all your guests in the mood, then surprise them with these great decorations to bring the theme to life. To make sure your little one is still the center of attention, this cute costume will be sure to bring all eyes to them.
Hole-In-One: Golf theme First Birthday
If your family are big golfing fans, this play on words makes an ideal theme for your child's first birthday (along with getting them their first golf set). Start off by using your own clubs and other golfing equipment to decorate the space and then encourage your guests to dress up in their best classic golfing attire.
Having your golf-themed party outdoors is the perfect way to use the space as part of your decorations, purchase some fun obstacles, and set up a mini golf course for guests to play. Or use some artificial grass to bring the party inside.
This cool decoration kit includes everything else you need to bring the theme to life with gold ball balloons, a high chair banner, and a balloon arch.
One-der Woman: Superhero theme First Birthday
Looking for a bright, action-packed theme that celebrates the little superhero in your life, the One-de Woman theme is perfect for you.
Starting with the most adorable baby Wonder Woman costume, you can continue to decorate your room with red, white, and gold pompoms and tassels. Make sure to incorporate lots of stars and comic book decals, plus this cake and cupcake topper set is the perfect thing to round out your fun, bright birthday.
If you're looking for some on-theme food ideas, try a large, colorful fruit salad, star-shaped cookies, and lasso pretzels.
Some Bunny Is One: Bunny Theme
Cuddle bunny rabbits as synonymous with babies, innocence, and adorable pastel colors, so what better theme to use, tying into your little one's first birthday with a great pun?
This is one of the easiest themes to pull off as there are next to no guidelines. You can decorate in whatever way you like so that the aesthetic suits your style, then simply add some cute bunny decorations to round out the room. Of course, some carrots need to be included in the food and surrounding the table with a classic white picket fence will really pull it all together.
Some cute decorations I found for this theme include this classic bunting, sparkly bunny confetti, carrot-shaped goodie bags, and floral bunny ears headband.
One Around the Sun First Birthday: Sun or Space Theme
Another pun that lets you put your own spin on one year old birthday themes. "One around the sun" can refer to either a space theme with rockets, planets, and stars, or a literal sun theme with summer, and beaches.
For a space-themed 1st birthday, this decorations kit has everything you need to get started on the design. Any little boy would look adorable in this fitting 1st birthday outfit and this Nasa bunting really rounds out the event.
Alternatively, if you choose to interpret the theme in a more literal way, this summer birthday can focus on bright yellow and orange colors with sun and beach decorations filling the room. Your little one will look cuter than ever in this birthday crown.
One Happy Camper: Camping theme First Birthday
For outdoors enthusiasts, this camping-themed party is a super fun way to show your love of both your baby and nature.
If you're able to have your party outdoors, you can't go wrong with a fire pit and DIY smores station on some themed dinnerware. Fill the table with all sorts of toppings so your guests can have a blast making their own delicious creations, and why not have a competition to see who can make the best combinations?
To decorate, set up tents or blanket forts with cozy pillows, lots of throw rugs, and nature-inspired decor.
These one happy camper birthday decorations include plenty of earthy colored balloons, a photo timeline, a highchair banner a cake topper, and even a foil balloon in the shape of a cute bear.
Berry First Birthday Party Theme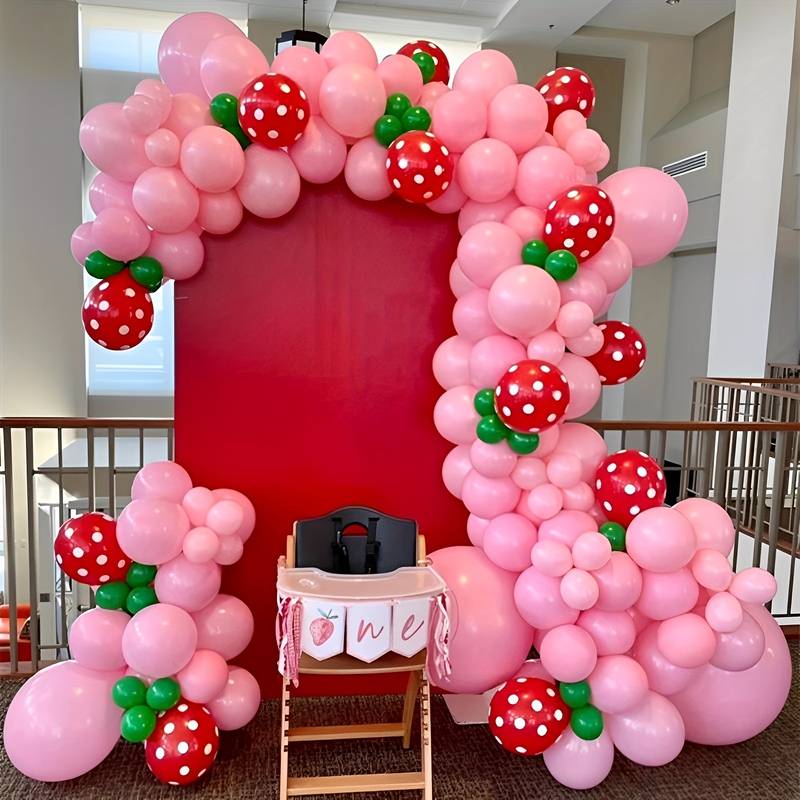 Similarly to the watermelon theme above, this berry theme is a great choice for a summer afternoon garden party. We all know many little ones absolutely love strawberries so if this is your bub, why not bring their favorite fruit to life?
On the food side, you can have a huge berry charcuterie board with a chocolate fountain, jam and scones, and of course a delicious berry cake. Serve it all on red-checkered tablecloths and you've got yourself a themed party!
If you're looking for a few more decorations to really kick it up a notch, this set includes everything you need to decorate the space and this baby bodysuit is the perfect outfit for your special little birthday child.
Winter ONEderland
Last but not least, this classic theme is unbeatable for a 1st birthday held in the colder months of the year. There's something magical about seeing everything covered in snow, so why not bring that indoors for your little one's special day?
Blue, white, and silver are the best color palettes to start with to create a magic winter scene, and don't forget to include plenty of snowflakes and glittery decorations. If you have lots of children attending you might want to also add a few Frozen decorations to bring this classic theme to the modern audience.
For a fun photo op, you could even create a giant snow globe out of cardboard and glitter that your guests can get inside to take pictures!