Lunches are an important part of a kid's day so you should ditch the brown paper bag in favor of a lunchbox. Not only is a toddler lunchbox more durable than a paper bag, but it's also much more fun so your child is more likely to enjoy their lunch.
I tested a bunch of them to find the best lunch box for your toddler (Yes, I tested all of them).
What Qualities Make up the Best Toddler Lunch Containers?
Any parent knows that the presentation of food is just as important to a toddler as the taste. But the aesthetic appeal isn't the only important factor.
We still need to focus on other key features. Here are some things to watch out for when looking through preschool lunch box examples.
Lunch boxes must be easy for the child to access. Nothing will spoil lunchtime faster than a child getting frustrated because they cannot open their lunchbox.
Insulation is essential so that the food will remain fresh and perishables don't spoil while sitting in the cubby hole at school.
A toddler lunch container should be large enough to add in the food, ice packs, and a thermos. You can also invest in a smaller compartmental box for separate meals. If you do, make sure it fits into the main lunch bag.
Preschool bento box should be easy to clean and sterilize. Your kid will make a mess of it so make sure that all compartments and interior sections can easily be sterilized.
Visual appeal is another factor. Kids care about how their lunch is presented so visually appealing lunchboxes will make their lunchtime much more fun.
Durability is the final factor. Kids are going to be rough on their lunchbox so make sure you invest in one that's highly durable.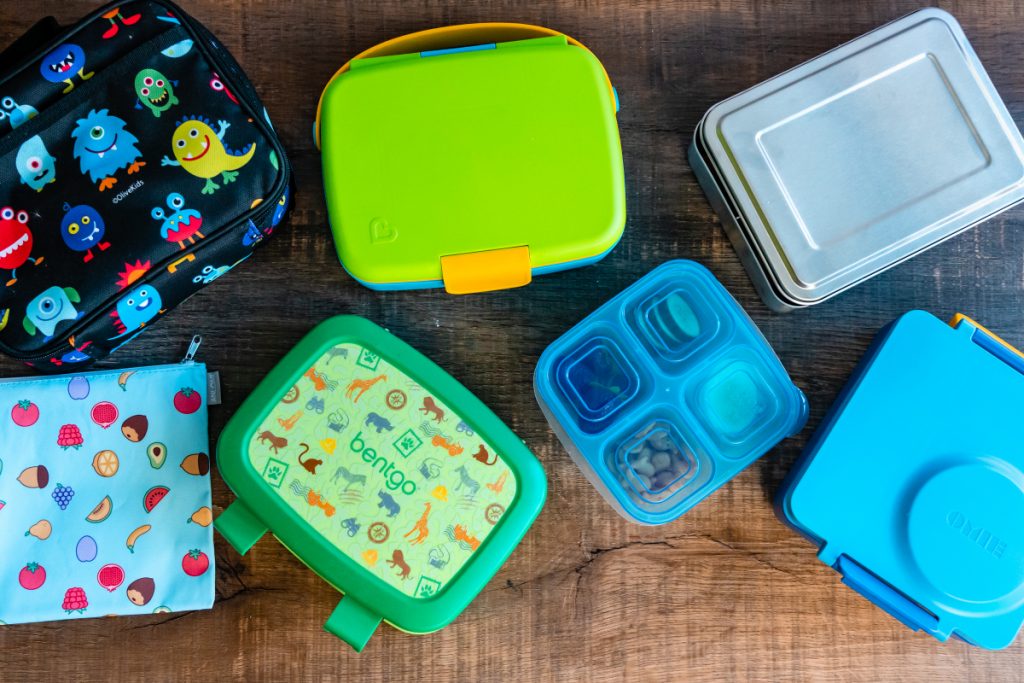 After testing every lunch box there is we settled on this model and kept it for my rising kindergartener. It worked fantastic during outdoor summer camp when they had to keep the food outside as it had a freezable container at the bottom keeping the food cool. At the same time, it's easy to open without an adult's help.
What We Love:
Great for hot & cold food
Removable freezable bottom
Easy opening
Dishwasher safe
What We Don't Like:
Pricier than some competitors
Food divider isn't removable
---
---
One of the primary features of this amazing lunchbox is that it comes equipped with a removable thermos section. You can pack soup, pasta, or any leftovers for their kids.
Naturally, the thermos is completely leak-proof, but the entire container is toddler-friendly, easy to open, and compact enough for them to carry around effortlessly.
What We Love:
Great for hot & cold food
Removable dividers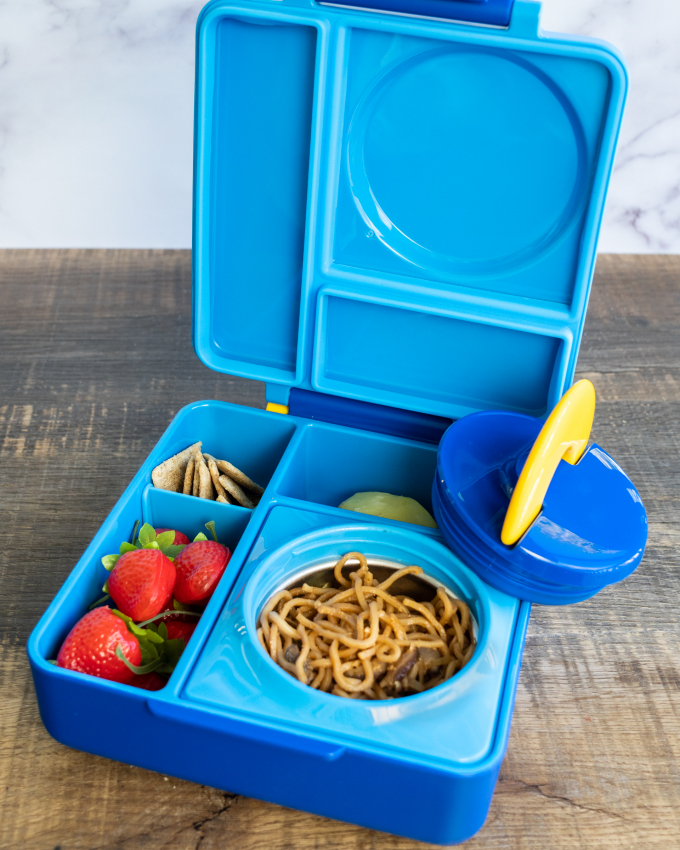 ---
This lunchbox can take a beating from your toddler. It also comes equipped with five compartments that are perfect for keeping their favorite foods separated. While this lunchbox isn't dishwasher safe, it can be taken apart for each cleaning. Finally, small-sized latches make it easily accessible for your kid.
What We Love:
Insulated containers
Fun colorful designs
What We Don't Like:
No handle to carry it
Containers cannot be removed so you can't fit a sandwich in it or longer items.
Small sauce container is hard to clean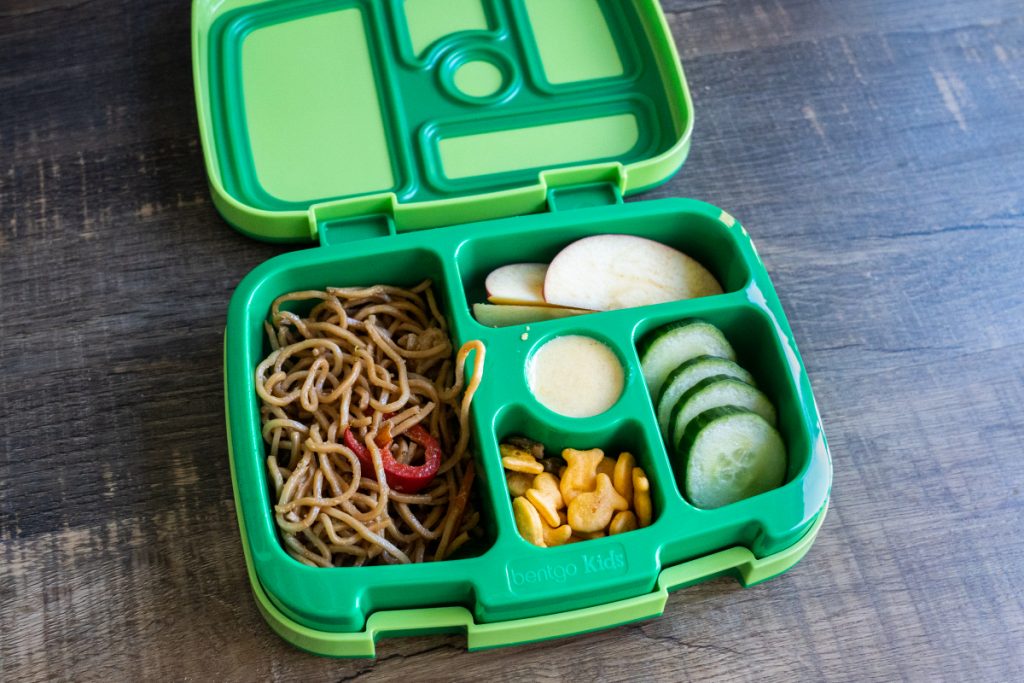 ---
This is the perfect simple toddler lunch box as it comes in a set of 4. Its compact nature makes it an ideal choice for toddlers since you won't need to pack enormous lunches.
Compartments are great for multiple snacks at once and it's all easily accessible. Furthermore, this lunchbox is easy to clean since it's dishwasher-safe!
What We Love:
Affordable and lightweight
Stays closed well
What We Don't Like:
Can't really put hot food in it
Won't fit a sandwich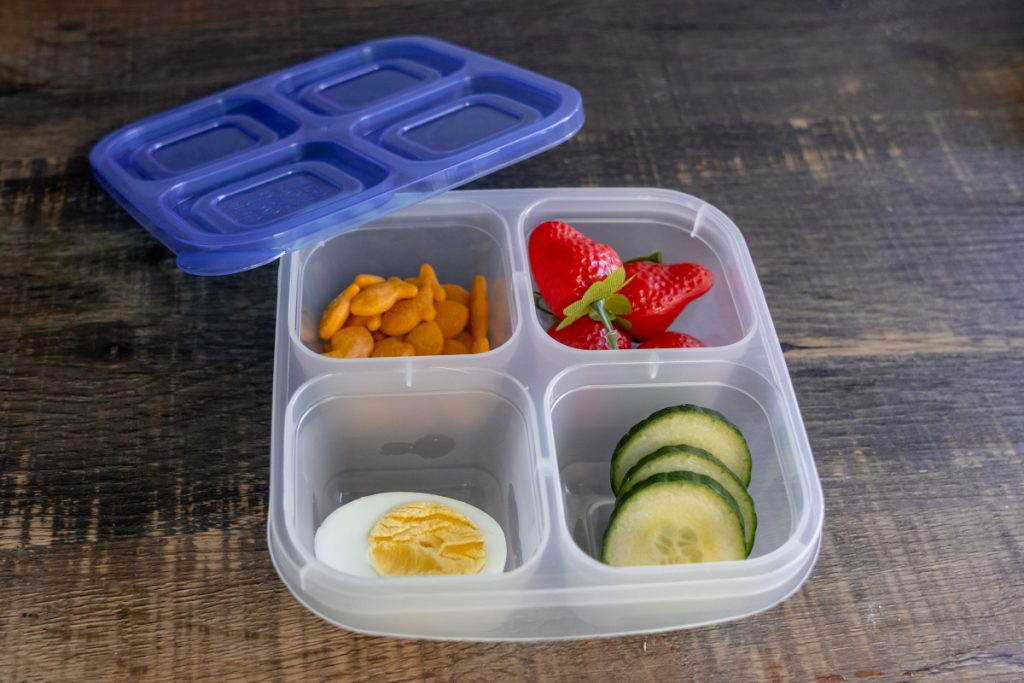 ---
This is the only non-plastic option on our list for our plastic-conscious people, but it also comes with downsides. Its dishwasher-safe design makes cleaning it a breeze and its durability makes it able to stand up against harsh abuse.
However, it's not leak-proof so you won't want to pack any messy foods. It's also not aesthetically pleasing, has no handlebar for the kid to carry it around, hard to open for smaller kids and makes a ton of noise.
Your child might have fun decorating it yourselves with stickers. Due to its lack of design, it's also cheaper than other options.
What We Love:
Non-plastic materials
Containers big enough for sandwich
What We Don't Like:
Not leakproof
No handle
Makes too much noise – annoys Kindergarten teachers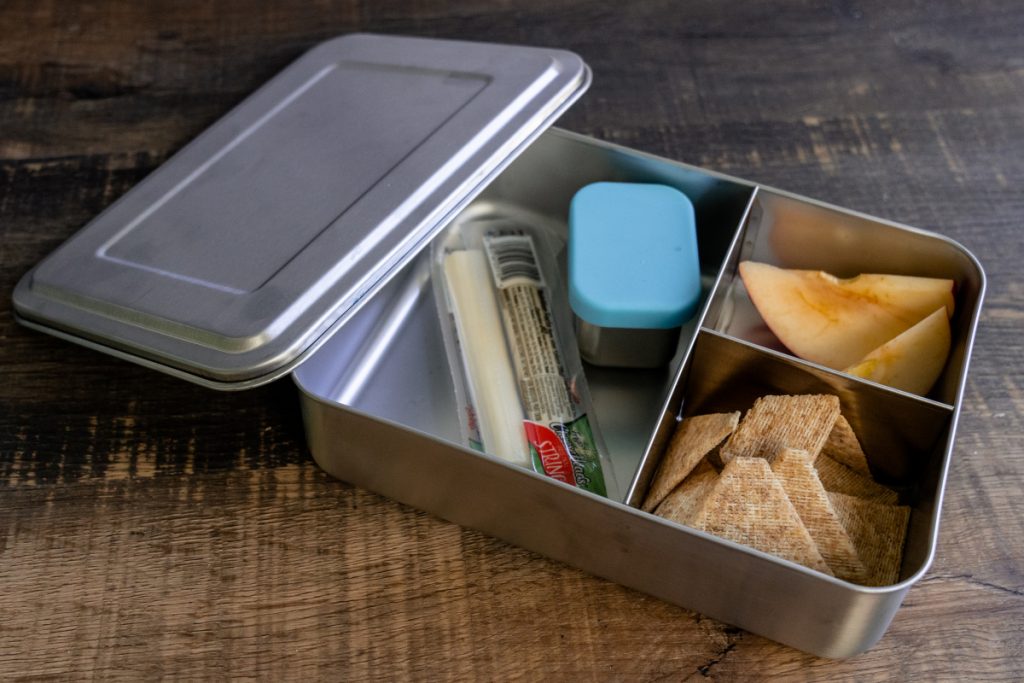 ---
This toddler lunchbox was my personal winner and my husband also chose it. It's perfect for kids that are having problems with spillage inside of their lunchbox.
Its secure compartments and ease of access make it stand out from the rest and put cutlery in. Bento box lunch ideas are endless with this one!
This lunchbox is extremely easy to clean from both hot and cold food. Just pull out the tray and put in a dishwasher.
What We Love:
Lightweight with cutlery attached
Design with handlebar
What We Don't Like:
Wish the smaller compartments had a removable option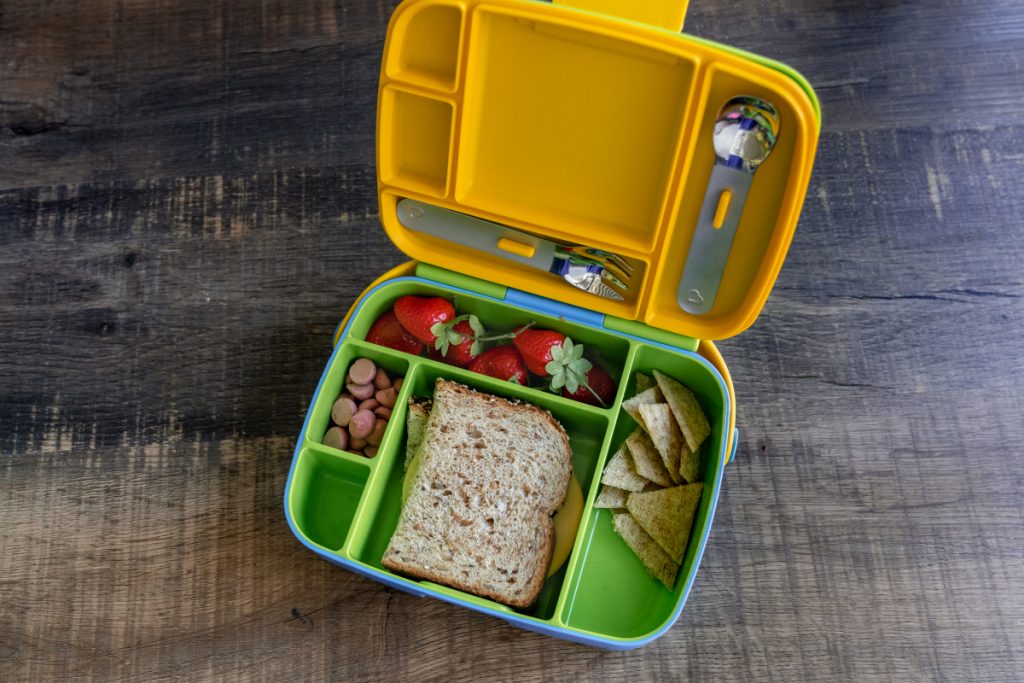 ---
Prepare for a cuteness overload with this animal-themed insulated toddler lunchbox. Your child will absolutely love its appeal and you'll love its efficient design.
Its roomy main compartment is perfect for holding the main course and an ice pack can be placed in an interior sleeve, allowing the food to remain fresh until it's time to eat. Plus the lunchbox is easy to carry around.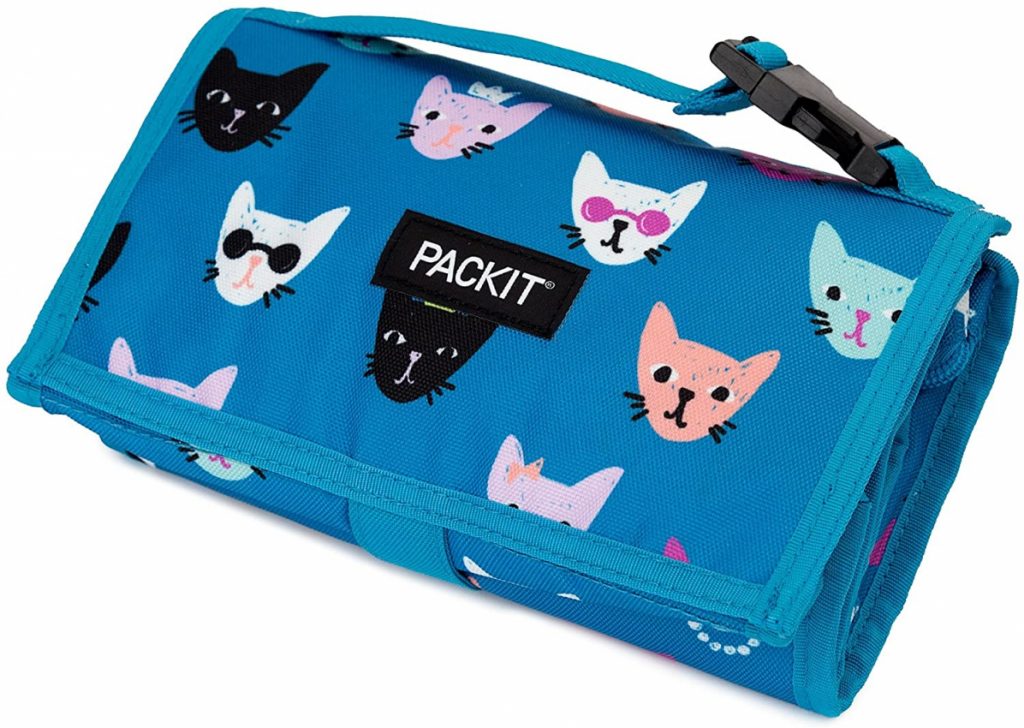 ---
This is a durable option and can withstand a lot of abuse, making it a perfect choice for rambunctious toddlers. This fabric lunch container is insulated using the latest designs and is also machine washable, making cleanup a breeze.
Toddlers will have no trouble accessing their lunch or carrying it around as it's super lightweight and can be collapsible. It comes with colorful designs as well and can match a Wildkin backpack.
What We Love:
Easy to clean
You can put juice, food, whatever inside.
What We Don't Like:
You need separate bags or containers for the food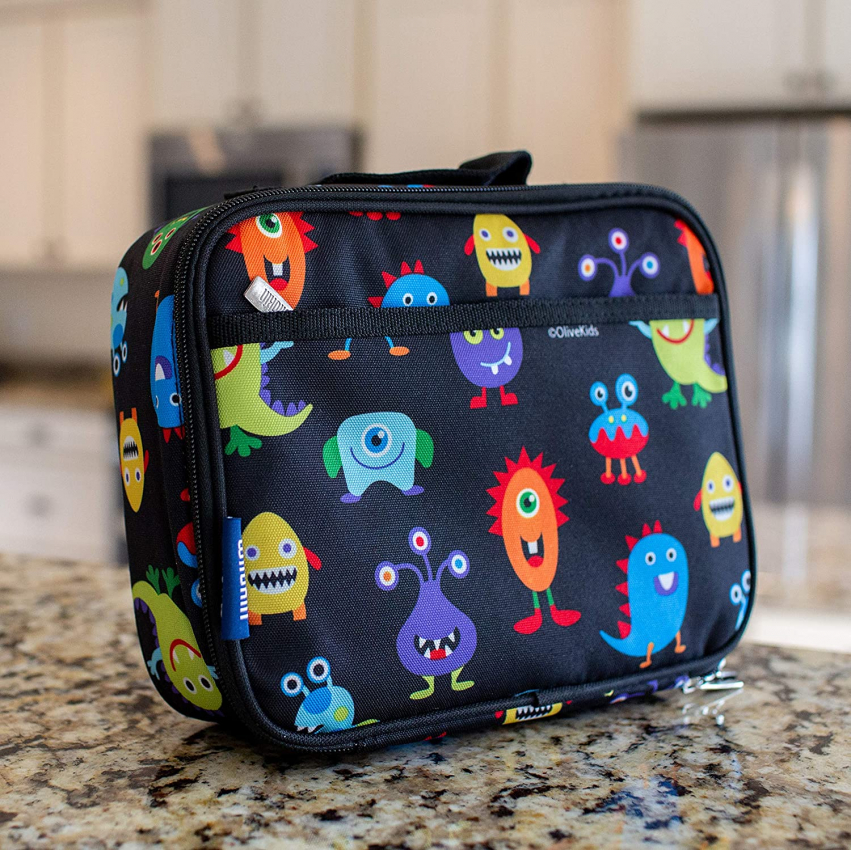 ---
If you need to send a snack or want to send lunch in individual containers, these bags are the ones that we've found to be the best and they're also very cute.
What We Love:
Easy to clean in a washing machine or dishwasher
You can throw anything inside
Fun design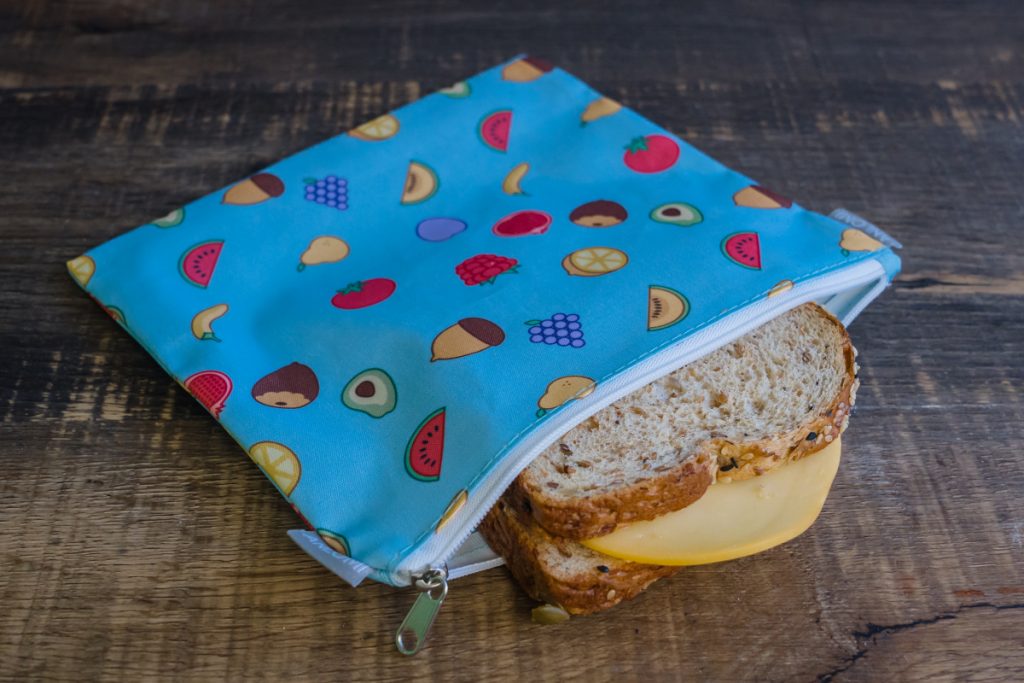 ---
Parents will find that their kids will have varying tastes that change quite often, sometimes within the same day.
Choose kids lunch box that can offer you these options, along with durability, accessibility, and sanitation in mind.
Children are more likely to eat everything you pack if lunchtime is made into an enjoyable experience.