Finding the best travel high chair is an essential step to parenthood, especially if you plan to travel. Not every hotel or Airbnb will provide toddler necessities like a travel high chair so parents need to be prepared with the best travel baby items.
The right choice is greatly dependent on your unique child. This list will show you the criteria that we use for finding the best portable high chairs and then show you some highly recommended choices.
Top Factors Used to Find the Best Travel High Chair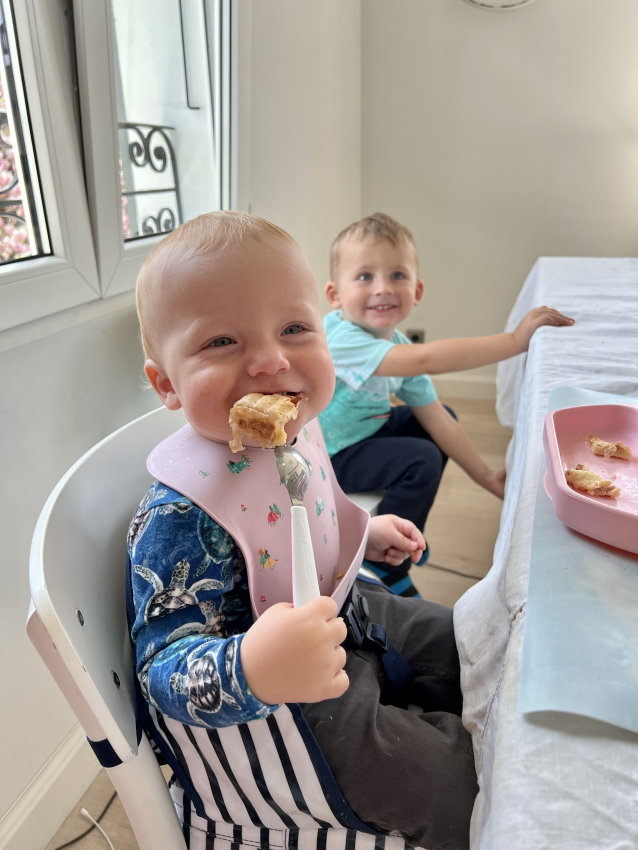 #1: Ease of Use
Convenience is the primary concern when choosing a portable high chair. After all, what's the point if it's bulky and difficult to carry around? It's essential that parents consider their own unique travel needs before making the final choice.
Even though booster seats are seen by many as the easiest choice, they don't have the longevity of a traditional portable high chair. That makes it a good choice for parents who only travel once or twice a year but not optimal for parents who travel more frequently.
#2: Portability
When traveling with a portable high chair, portability is an important factor. Weight and size both play a vital role. Smaller high chairs are generally better but you have to consider your child's size when making your choice.
I highly recommend that you choose the smallest size possible while ensuring that it's large enough for your child. You want to be able to throw it under the travel stroller for restaurants or put it in a carry-on suitcase.
#3: Ease of Cleaning
How easy is the high chair to clean? Toddlers are messy eaters and many prefer to eat alone instead of being fed, which creates more mess.
You can count on the fact that you'll be cleaning their high chair regularly. The best models are designed with cleaning in mind so they use a fabric that's easily wiped and don't have tiny crevices for food to get lost in. Not only is this more convenient, but it's safer for your child since food particles can attract bacteria.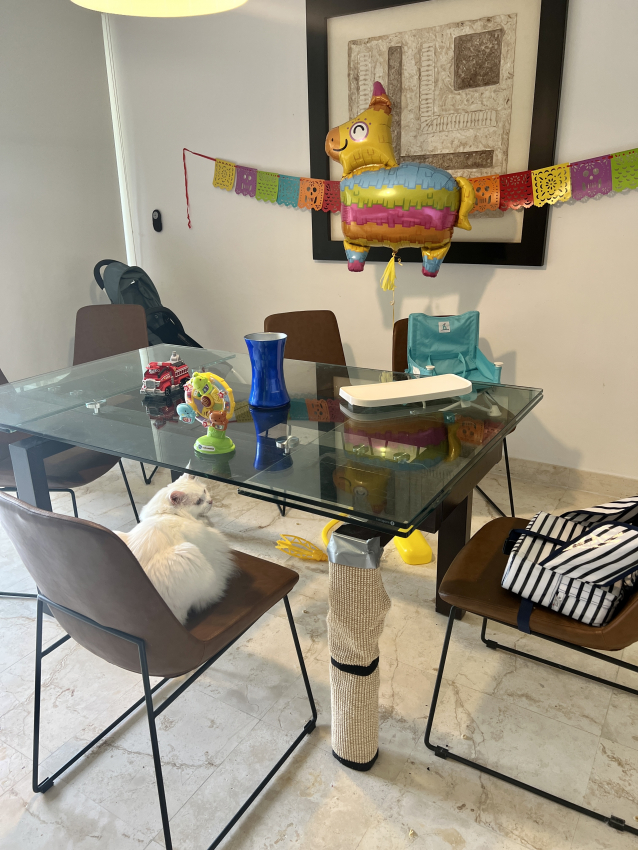 #4: Safety
Finally, and probably the most important factor is the safety of the high chair. Does it have a stable design? The least safe option is hook-on high chairs since there is no way of guaranteeing their stability in every environment.
No matter what type of portable high chair you decide on, what's important is that it's safe for your child. As parents, you can eat in peace knowing the child is safe and can eat on his own.
The Best Portable High Chairs
This high chair is designed with a safety-first approach, using five harnesses to secure the child. Plus it is quite portable, folding into a size equivalent of a diaper. So both portability and safety are huge with this model.
What makes it even better is that the My Little Seat high chair is also quite affordable. Plus its longevity can carry many toddlers through their third year. This is definitely a highly recommended portable high chair.
Five safety harnesses
Fits in a diaper bag
Budget-friendly
The next portable high seat on our list provides security and high mobility so parents can rest easy. It also folds into a small size that's easy to fit into a diaper bag or handbag. Plus it secures your child by using five high-quality straps.
The seat is also machine washable, which is perfect. Plus, it comes with a matching carry bag!
However, the only downside is that it can only be used by children under three (or under 35 pounds). Once that benchmark is hit, this high chair will need to be replaced.
Five safety straps
Fits in a diaper bag
Machine washable
This is one of the highest-rated high chairs but it slightly lacks in some critical areas. First of all, the tray must be purchased separately so the overall cost of this high chair is higher. It's also larger and heavier but doesn't make up for that with longevity.
With that said, the Inglesina high chair is sturdy and can fit tables of up to 3 and a half inches thick. This is a good choice for parents who travel a lot and need something a bit sturdier.
Easy setup
Durable and washable
Handy storage pocket
This wonderfully designed portable high chair showcases its versatility by functioning at home and on the go as a floor seat. It can also be used as a booster seat when needed. Plus, it has a removable tray for meals.
It might be a bit bulkier, but it's also one of the most durable high chairs on this list.
It provides the baby with the best sitting position which is a big bonus. For added safety, this chair comes equipped with non-slip grips so that it doesn't slide off the surface. The downside is the price tag.
Promotes natural hip development
Developed with physical therapists
Non-slip grips
Love this super portable high chair and we've been using it for over a year. It weighs only 2 lbs but holds up to 60 lbs.
Contours can turn into a backpack if you wish to carry it around. It also fits under the stroller if you want to bring it with you to restaurants.
Also functions as a storage pack
Lightweight
Water repellent seats
3-point safety harness
This is another versatile choice because it serves as both a booster seat and a travel high chair. It's perfect for saving space but it's much larger than anything on this list.
The Hiccapop Omnibooster travel seat does come equipped with its own travel bag for convenience but it's not small enough to fit inside of a diaper bag.
With that said, it fits all of our criteria as one of the best portable highchairs. The swivel tray is dishwasher safe. The cover is machine washable and durable!
Versatile
Affordable
Washable and durable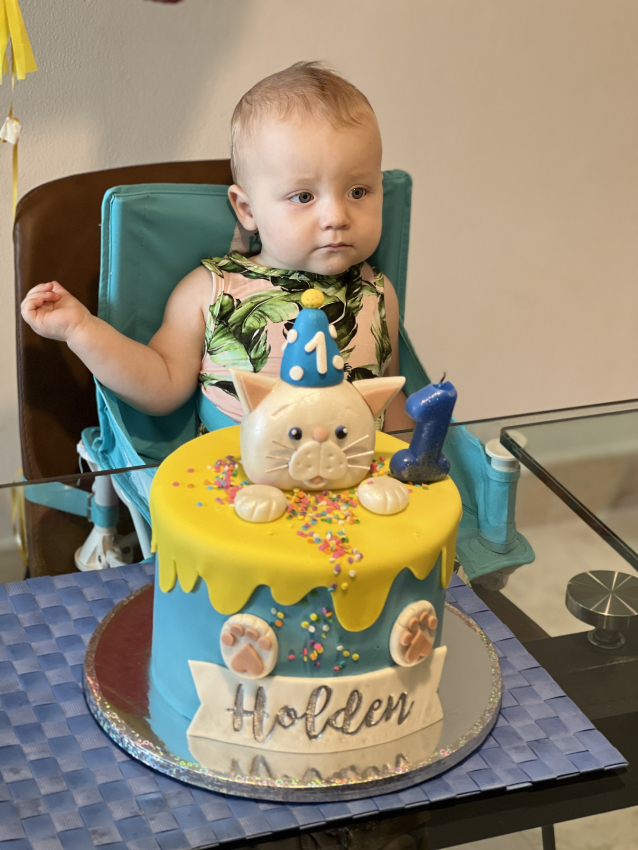 ---
Frequently Asked Questions
What Should I Look for With Functionality?
There are two main factors: how easy is it to get the baby into and out of the highchair and how easy is it to set up? You don't want a high chair that takes forever to set up or pack.
Finally, comfort is another factor that we can place in this same category. After all, what good is a high chair if your toddler is not comfortable using it?
What Safety Features are the Most Important?
High chairs with a harness are an absolute minimum. Of course, the more straps it uses, the safer it will be. But another concern with certain models is slip resistance. If the high chair sits on another surface, then test it to ensure that it cannot slip off.
How Important is Ease of Cleaning in a Portable High Chair?
It's very important. Cleanliness can be a major safety consideration. Models that are difficult to clean can have food get stuck inside of impossible-to-reach areas, creating a breeding ground for bacteria. You don't want that for your baby!
---
There are a lot of other models that are not mentioned in this post so if you are thinking about investing in a portable high chair that's not listed here, then be sure you pay attention to its features. Safety and functionality are the two most important considerations when choosing the best portable high chairs.