Finding the best diaper bag for your lifestyle and needs can be a real challenge, but it shouldn't be! A good baby changing bag needs to be durable with plenty of smart storage options but should also be comfortable and stylish.
It's easy to get overwhelmed with choices, but I picked some of the best bags I tested and picked the best ones for everyone's lifestyle.
What's Important in a Diaper Bag?
Material! Recently friends came over and their diaper bag was soaked… they couldn't figure out whether it was coming from inside or outside of the bag which caused a headache having to unpack everything and check.
I always say, you can live without another pocket but I wholeheartedly believe a waterproof lining is a staple in a diaper bag – from the inside AND outside. Your baby is going to wet through clothes that need to be stored in your bag until you get home, or maybe it will rain and you don't want to get your diapers soaked.
Design! One final thing to consider before ordering your bag is whether your baby's daddy plans to carry around the diaper bag too. My husband doesn't mind tiny flowers on ours, but some guys might. I'm sure that he wouldn't want to wear something that looks like a lady's purse so a backpack style is usually better unless you're planning on always attaching it to the stroller.
Do you really need a large diaper bag?
For your day-to-day bag, you really don't. When I traveled with the baby or was out and about with both kids for an entire day I wouldn't take a giant backpack with me – it would seem like a huge hassle to carry around.
The size of the bag should be enough to carry a few diapers and wipes, as well as some extra clothes and any bottles you may need. Also consider your frame and strength, and whether a larger bag will be comfortable to you.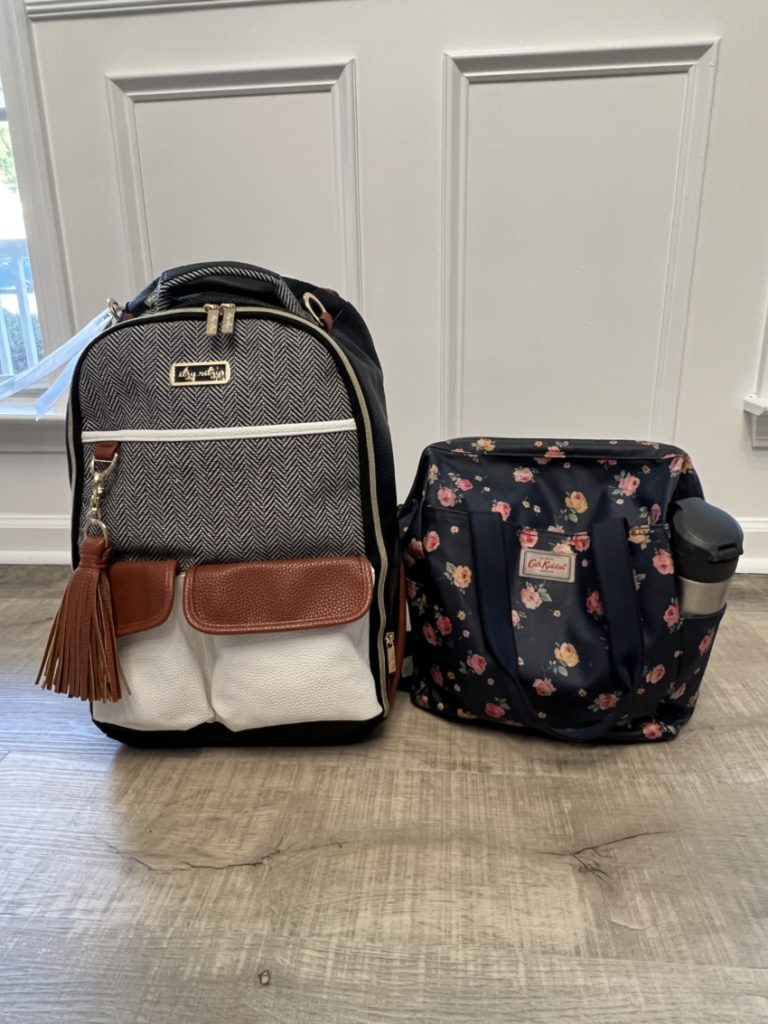 What materials are best for diaper bags?
Nylon and polyester are best as they're thicker and more water resistant. While they aren't quite waterproof, they're durable enough while being washable or wiped down.
Fabric like cotton or polyester can also be treated with waterproof coatings like polyurethane, which is a material commonly used for cloth diapers.
---
Best Stylish Diaper Bags for Every Parent
This baby bag has everything you might ask for: from wipes dispending compartment, to insulated pockets, a laptop sleeve, all of this with wide openings allowing easy access.
It's smaller than some other bags, but spacious – even a breast pump will fit in nicely. From the outside, it does not look bulky or feel like you are carrying this huge thing.
While it's not a name brand, it's a quality item built to last.
Waterproof
Stands on its own
Multiple pockets and insulated compartments
---
The Itzy Ritzy is a luxury diaper bag with a modern look. It can be carried by the built-in handle or worn as a traditional backpack with comfortable and adjustable straps.
The biggest advantage of this bag is that the whole front opens up. It's huge so it will fit a ton of stuff – not just baby items, but even your laptop can go inside.
It makes it useful after you're done with baby items because it doesn't look like a diaper bag.
Perfect for sensory development
Made of vegan leather with rubber bottom
17 total pockets
---
Cath Kidston is a British brand with many incredible designs. They offer two diaper bag options: a bigger and smaller one. I owned both and thought the smaller one was plenty big and it became our favorite bag.
The material is waterproof inside and out so the bag won't leak or get wet. It has an insulated bottle holder that you can put inside or attach to the outside of the bag.
Straps are adjustable so both parents can easily use it. Elasticated slip pockets and zip pockets inside make your life easier as you can stuff multiple things inside.
Colorful designs
Waterproof
Strong supportive frame
---
The waterproof baby changing bag is super spacious – it can fit up to 3 bottles, along with diapers, wipes, changes of clothes, and other things for multiple kids.
For such a low price the quality of it in unbeatable. The material is waterproof and the interior lining is trimmed so you can easily clean it with wipes.
It offers a ton of pockets everywhere so you can stay organized. You can also put it on top of the suitcase using the in-built luggage strap.
Simple but fashionable design
Machine washable or cleanable
Comes with changing mat & pacifier holder
Offers suitcase strap holder
---
This small but mighty bag is perfect for minimalistic parents or small escapades. IT can also work for older kids who don't need much apart from a few diapers and wipes.
There's lots of space for 6 diapers, a bag of wipes, some snacks and basic belongings.
It also has an insulated pocket for a bottle.
Clips into stroller or worn as a shoulder bag
Spacious despite size
Compartment to use as a wallet