Is the Itzy Ritzy Boss diaper bag worth it? It might be, but it all depends on what are you looking for in a diaper bag.
Itzy Ritzy is a reputable brand known for its diaper bags, diaper backpacks, stroller organizers, and the cutest pacifiers that many parent love. Naturally, I was curious about their diaper bag backpack, especially since it wasn't my first baby or a diaper bag and by then I knew my needs.
For this review, I tested the Itzy Ritzy Large Boss Diaper Bag Backpack.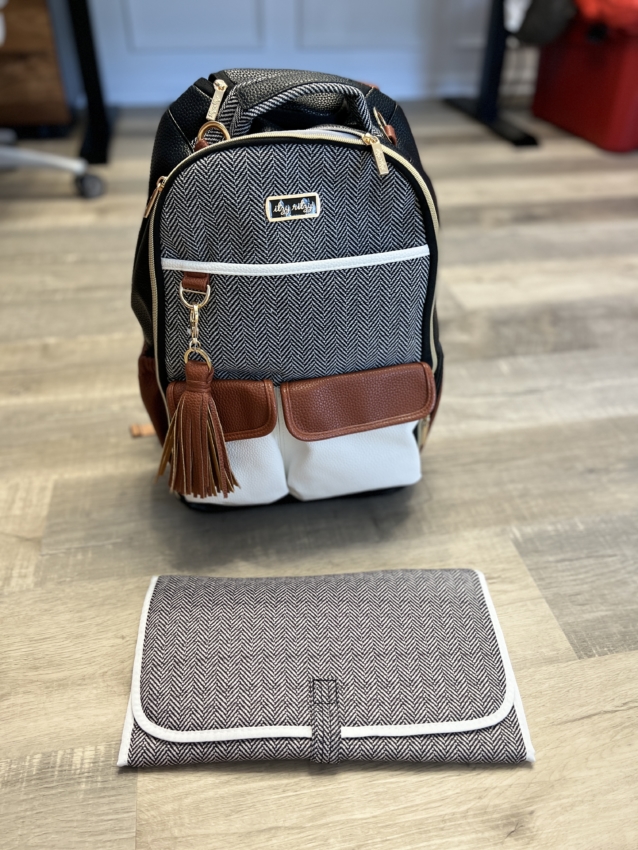 ---
When you first open it up you can see how roomy the main compartment is. The main opening is super easy to open and accessible from the top or side. I was amazed honestly.
The bag has 17 pockets in total (10 internal and 7 external, including 2 insulated bottle pockets). It also came with a removable easy-wipe diaper changing pad which was a nice touch, but I've also had one already so didn't think much about it.
It was also supposed to come with stroller clips, but mine were somehow missing.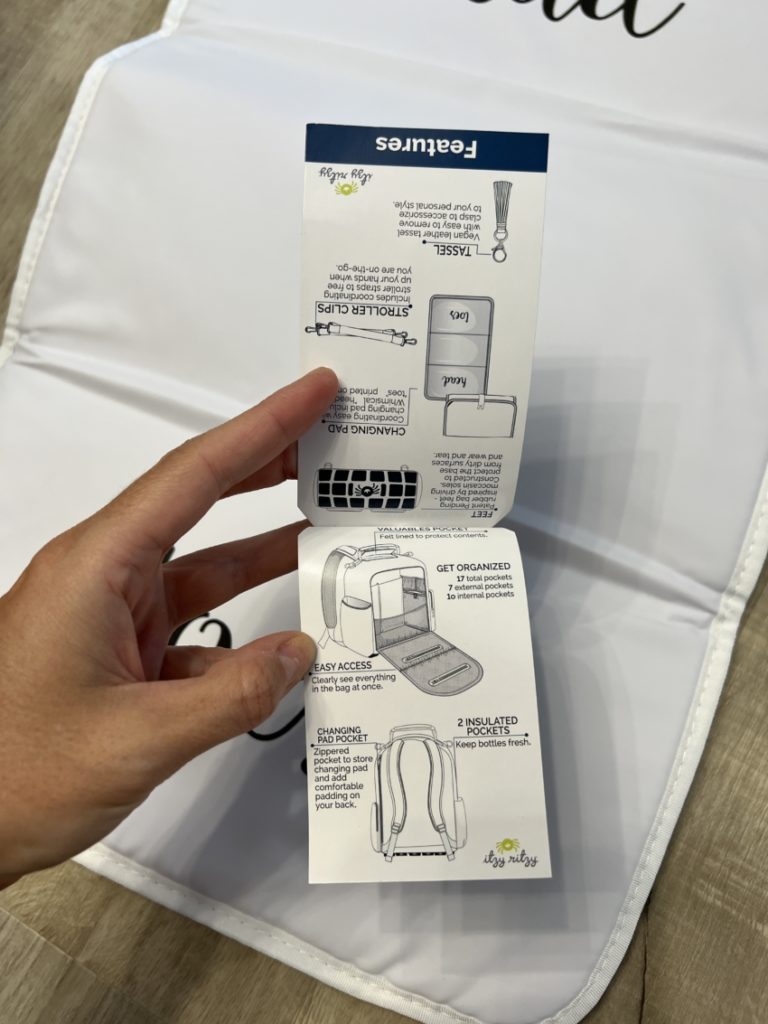 ---
---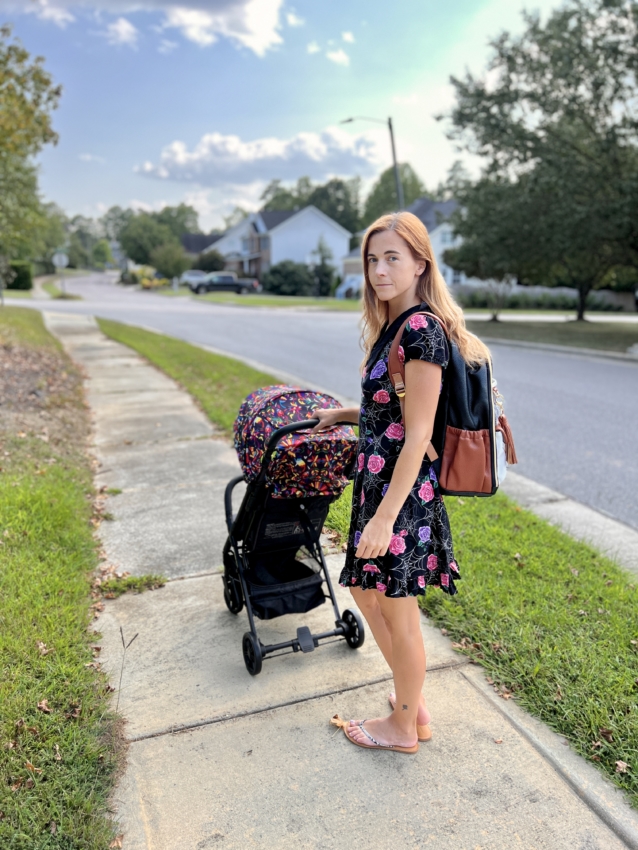 There's no denying that the bag looks elegant when you first see it. This stylish diaper bag backpack is unisex and includes a 100% vegan leather tassel.
The bottom of the bag features rubber bag feet that are inspired by driving moccasin soles to help keep the bag clean. It helps the bag stand straight up which is a nice feature.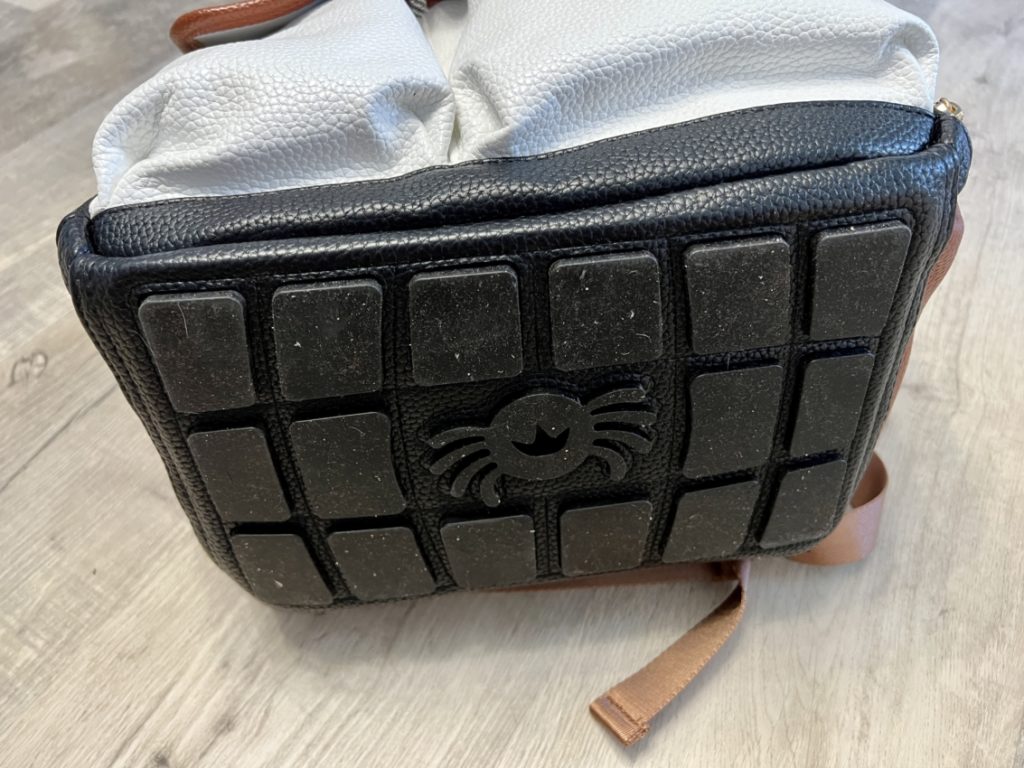 ---
Personal Experience with Itzy Ritzy Diaper Bag
There's no denying that this bag is amazing in terms of looks, quality and functionality. It has it all! There is a pocket for everything in there which both me and my husband loved, but…
After using it for a while I got the impression that this bag was perfect for over-packers, which I am not. To me, this bag felt like a weekend rather than a day-to-day diaper bag (and they also sell a weekender which is much bigger). I could pack me and my two kids for an overnight trip with it but I was never able to fill it up entirely with two kids for a simple excursion.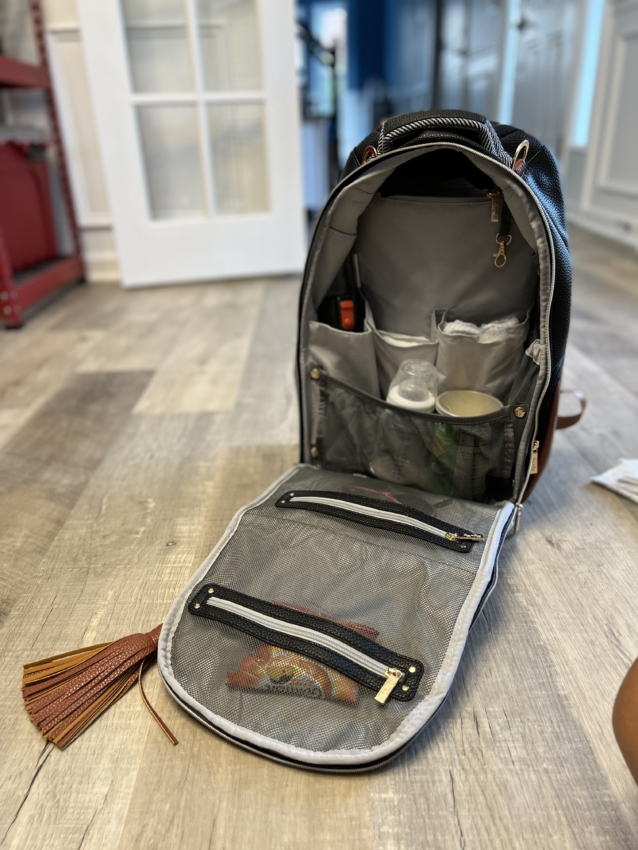 Like seriously, even if I brought lunch boxes, change of clothes, diapers, and bottles I still would have had space and I often felt like lugging around a giant and heavy (even when nothing was in it) backpack that was barely filled (especially since the older child stopped using diapers). I couldn't even fill it up for a 17-hour long flight!
Although I do realize that I'm in the minority and I'm that person who went to a hospital with a mini backpack used as a hospital bag, while my friends literally brought a giant suitcase.
Another con to me is that it's made of vegan leather. If you ever had something made of vegan leather you simply cannot avoid it peeling after a while, so the bag won't look entirely new if you truly use it.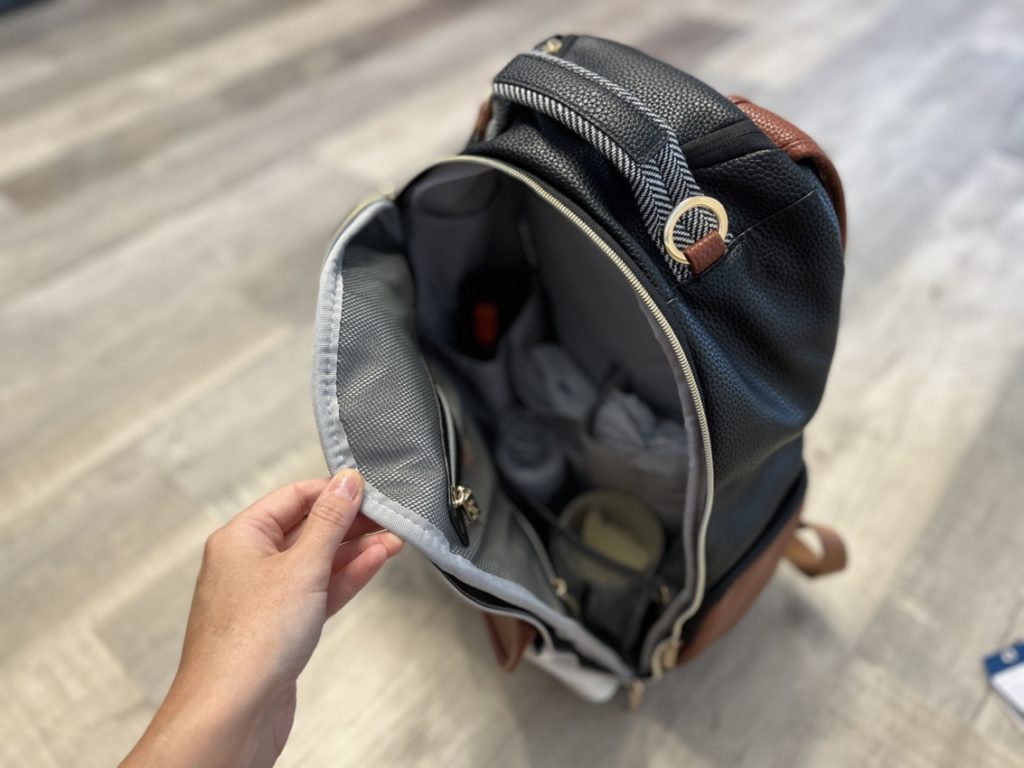 This brings me to the next point… Can you machine wash an Itzy Ritzy bag?
Sadly, you cannot. While the bags are water resistant, they are not waterproof and cannot be machine washed. You might think it's not necessary, but if milk spills inside or a fruit pouch explodes you might want to just throw a bag in the wash.
Another complaint I had with this bag is that the pockets on the outside (also known as parental pockets) of this bag aren't reliable. Phones or other items can easily fall out of there as there are no zippers so I never used them.
What I was hoping for was that the insulated pockets for bottles would work great, but sadly they were tiny. I could barely stuff a simple bottle from Phillips in the pocket if I put it sideways, which was ridiculous as I'm aware that many parents use Dr Brown's bottles and there's no chance of them fitting.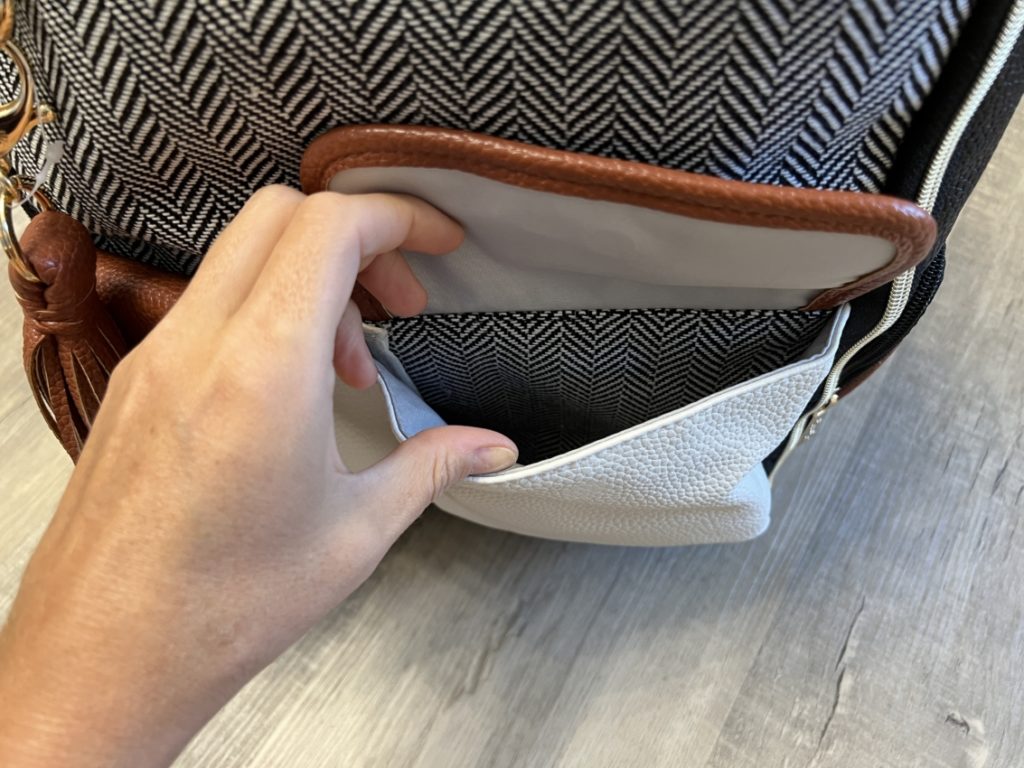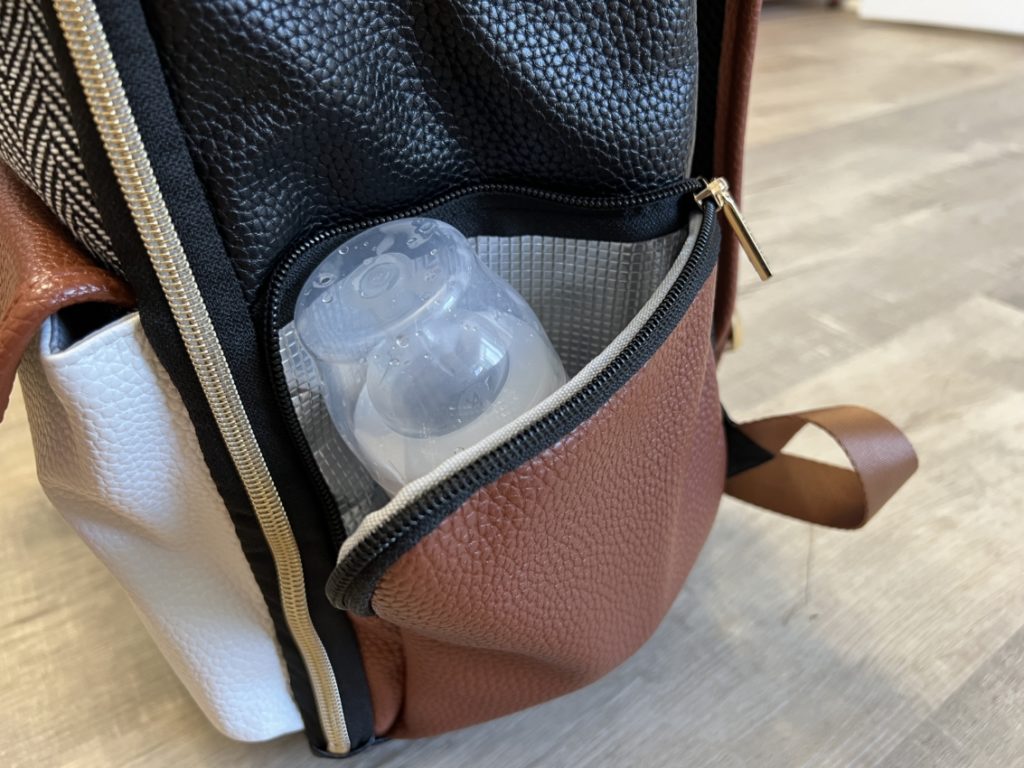 ---
Final Verdict
That said, while the organization of this bag is very awesome, and if you like to overpack it's probably going to be the best diaper bag you can find, but personally it was too big and heavy, so I ended up going back to our much smaller diaper bags.
P.S. I do see many people reporting that the main zipper breaks easily and the bag only has a one-year warranty.