Balance beams have been around for ages. Before I landed up purchasing one for my toddlers, I found my kids using all sorts of substitutes along the way. You'll notice that kids love to walk on a painted line or balance on the pavement edge. Kids find all sorts of places to test out their balancing skills.
A friend introduced me to the world of balance beams and has it made a difference. The kids now have a designated area where they can push their boundaries. It's easy to install (and use), small to store, and a safe way for children to explore and achieve their developmental milestones.
Alone with a wobble balance board, a balance beam could be a great addition to your Montessori setup at home, or in a classroom actually.
What is a Balance Beam?
You've probably seen the balance beams that gymnasts use. The balance beams for kids work around the same principles though they may not always look similar. Many companies have come out with a number of intuitive designs. The base concept remains the same. The child's center of gravity is challenged and he/she must learn to stay upright. Most modifications are intended to make the balance beam more interactive or challenging for the child.
Let's take the Mini Acrobat balance beam by Piccalio as an example. Here there are 4 beams that are joined together and the child walks on top of it. It's a fun elevated platform and it's an inch off the ground so it is very safe but fun enough for a child.
It's naturally lower than the acrobatic beam, so you don't need to assist the child. While learning, they can keep putting one foot on the ground – in fact, my son did it for a while.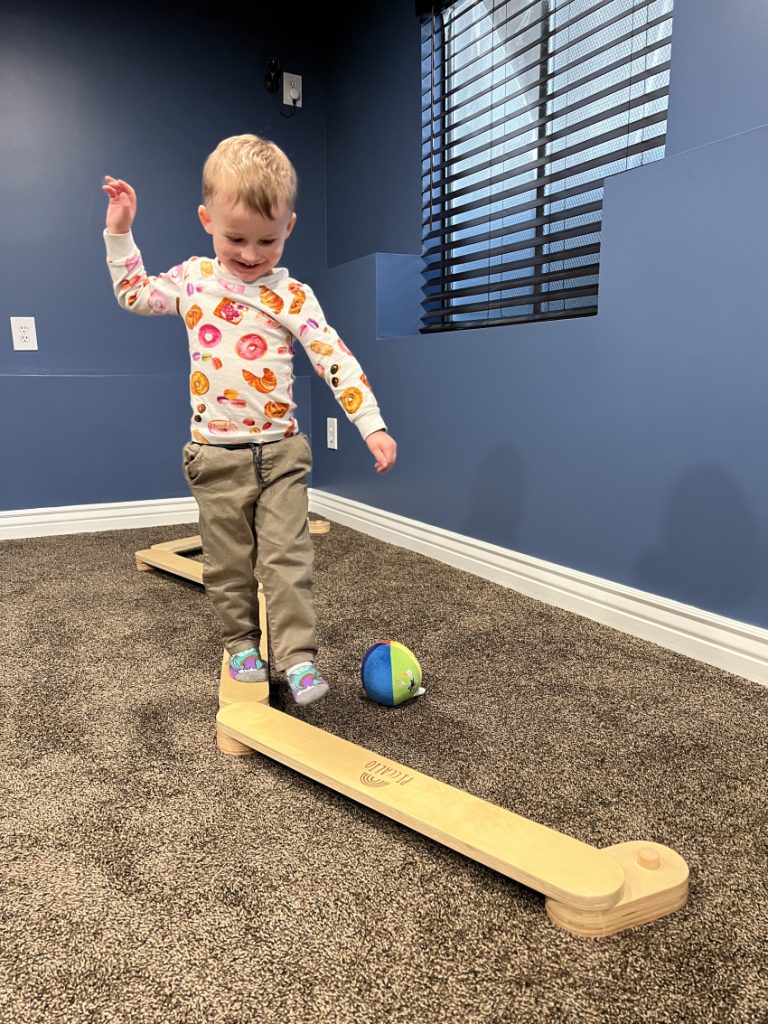 Benefits Of Balance Beams
Builds concentration: Kids really need to focus on where they are putting their legs so that they don't fall.
Improves muscle strength and coordination: Balance beams help develop the muscles in the core and the legs.
Helps develop a good posture: Children eventually learn to stand straight and to lower their center of gravity by bending their knees and not their back.
Improves balance: Literally the purpose the beams were designed.
Encourages creative play: Most of the balance beams can be converted into imaginary car tracks or used as an obstacle course.
Where To Buy Balance Beams?
There is a whole range of options where you can buy balance boards. I've found a whole range of products on Etsy that are definitely worth checking out and look way less obnoxious looking than those on Amazon (and in this case better quality).
Another great place to check out for balance boards is the websites of the companies that produce them. My two all-time favorites are Wiwiurka and Piccalio, because of the quality of their products – they both make awesome pikler triangles too!
Here are my top recommendations for a standard balance beam:
Here are my top recommendations for a NON-standard balance beam:
Polku balance beam – comes in either straight beams or in curly beams increasing the challenge
HappyMoon balance beam – double-sided beam in the sense that you can use both sides of it. One side is smooth and one with a colorful obstacle course.
When Should You Get A Balance Beam For Your Kid?
I get asked this question so often. In order to use a balance beam right, the child needs to have developed all the abilities required to stand upright and walk confidently. With my first son, this happened when he was about 10 months, with my second not until 14 months.
Ironically, the younger one got a hang of the beam around 15 months while the older one, despite walking way earlier, was still practicing with one foot down at 2.5 years. That said, it's a great toy for all ages.
My suggestion is that you can buy it as early as 14 months and kids will use it for a few years.
Are Balance Beams Safe?
One of the things that really bothers me when I try something new (especially with the kids) is safety. That's why you will usually find me pouring over the safety instructions. Balance beams as generally safe if used under adult supervision (I can imagine my toddler grabbing a wooden beam and using it as a weapon when unsupervised, haha!).
Here are a couple of tips to ensure that the child remains safe:
Adventurous kids however can get innovative. While the balance beams can get used as ramps for cars, monitor that the child always uses the beam on the floor.
Ensure that the balance beam is used in a place that has plenty of space and where there are no sharp edges.
Understand that the child is going to fall. Younger children may require help initially.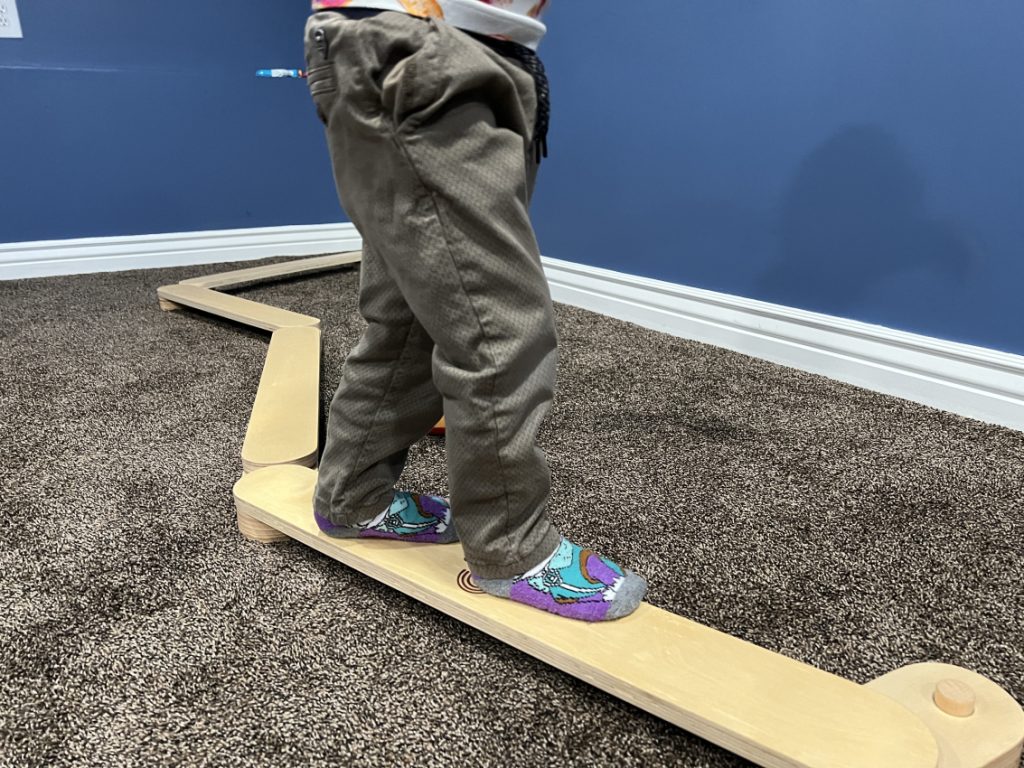 Balance Beams Versus Wobble Boards: Which Is Better?
Balance beams and wobble boards both are intended to develop balance. Wobble boards are multifunctional and you can use them as tables, rockers, alongside toys etc. Balance beams on the other hand can pose as a race track.
Storage of balance beams is definitely easier as they pack up into a small box. Wobble boards can't be easily put away. So if you have space constraints, balance beams are the best for you.