A toddler balance board is a curved wooden board that can be used for play or exercise activities. They are also referred to as wobble boards. They're one of the best small versatile toys as they're so simple, yet, can be used for all ages in different situations.
What is a Toddler Balance Board?
Balance boards are often called Montessori balance boards, but the truth is it's more of a Waldorf balance board toy. However, due to the fact it's made of wood it's often classified as a Montessori toy as well. Either way it's a fantastic piece of equipment.
Wobble boards are wooden boards that have a curved shape. They can be left as a natural wood design or easily customized from a selection of colors and designs to help you personalize your board.
What can they be used for?
By using the wobble board, kids can develop a sense of balance and learn how it works.
By proping it agains beds and sofas, the board can serve as a slide.
If you flip it upside down, kids can make it a race track for cars and other toys.
Rocking younger simblings (frequent thing at my household).
Imaginative play elements – it can be a fortress or a place to hide behind, shop front, anything your child wants it to be.
Cognitive development is evolving with the board.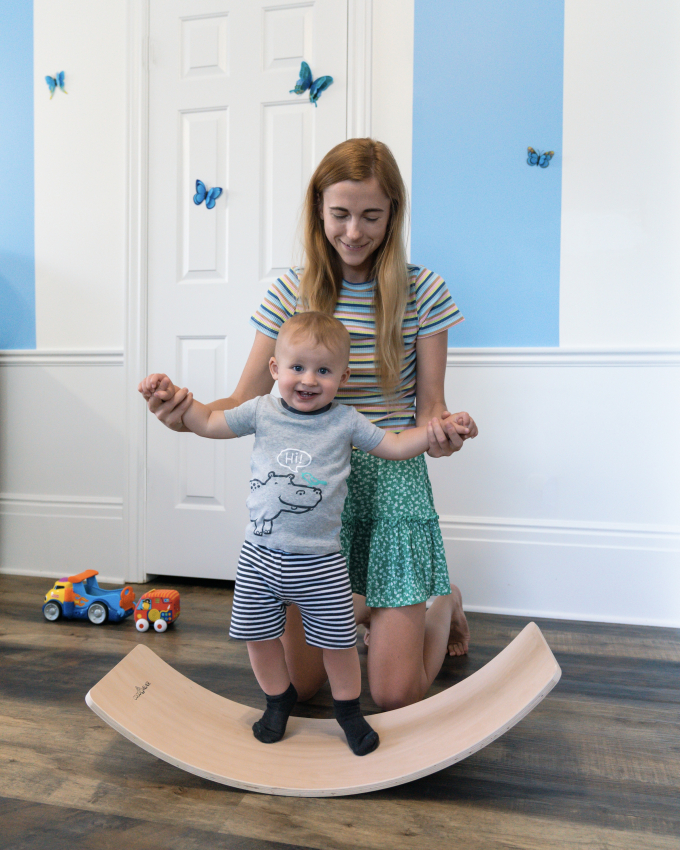 What Age is a Balance Board for?
This answer may surprise you, but wooden balance boards are great for very young toddlers and even babies.
It's totally normal for your kids to be nervous about using it at first. After all, it disrupts their balance. My own child wanted to use it only while holding our hands first when he was 15 months old.
Don't rush your toddler to do things they're not comfortable with. They'll get the hang of it on their own time, I promise.
He's 2.5 now and he's dragging it all over the house making it a race track, balancing on it and rocking his younger brother on top of it. I'm sure he'll find other ways to use the balance board later on.
Most boards can hold up to 300 pounds or more. I used it with my son as well. After all, before balance board became a thing for toddlers it used to be an exercise element for adults.
I'd say the most optimal age is 18 months and up, but it would make a great gift for a 2 year old.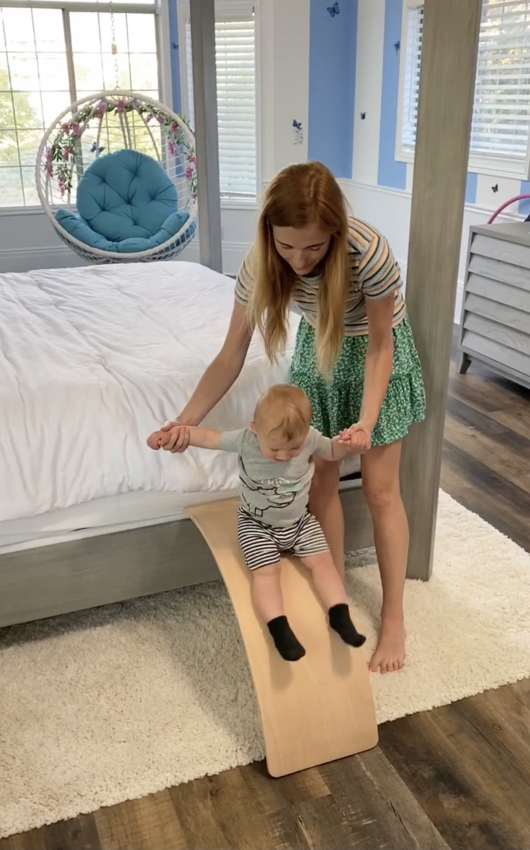 ---
Best Wobble Board for Toddlers
While I say it's possible to build your own pikler triangle if you're crafty, things like wooden rocker or balance board require way different skills and materials so most likely you want to just buy one from a specialist.
A wooden balance board for toddlers is a simple piece of wood, but there are a few things to consider – there's more than just googling the best balance board for toddlers, as there are various things to consider as a buyer and things to be aware of.
Especially in the day and age when I even saw some articles that have never even been near balance boards recommending adult skater boards (yes, those ones) when they're great, but not for toddlers at all.
Generally, I say stay away from random Amazon if you prefer higher-quality pieces and I stand by it when it comes to most wooden toys. For example, if you look at reviews of this board you can see photos of how the wood splits up because of the cheap glue and filling of the plywood.
My top recommendations:
Bunny Hopkins – My absolute favorite brand that blew up for a reason – it has the best balance boards. Colorful, natural, even different shades of wood mixed together.
Kinderfeets – Reputable brand that has been around for years. High-quality board with no gimmicks.
Lily & River– I got to know this brand very and while I do believe their pikler triangles are too small, the quality of their products is awesome. Their balance boards are simple quality items.
Piccalio – Simple and affordable balance board. If you're looking for a basic budget board that's it.
---
Things to Look for When Buying a Wooden Balance Board for Kids
1. Plain or Painted
Similar to other wooden toys, especially those that will need to stand toddler play – like the pikler triangle, you might automatically assume that a wooden balance board should be painted or sealed.
It's not necessarily true and as a former wooden toys store owner, I can tell you that certain varnish can actually limit play possibilities and pose hazards.
Some finishes can soak into the wood and damage it. Some can make the whole board more slippery. Pick your sealer wisely or buy it sealed but make sure it's not making the board slippery.
Personally, I can tell you that I have one board finished with beeswax only (which technically would count as unfinished) and have another one felted. The unfinished one provides more possibilities and hasn't suffered from any damages for the last year and a half.
2. Felt or no Felt
The original balance board was Wobbl. It was and still is felted, although now you can only order a version without it as well.
Felt definitely gives the board more grip, but removes possibilities of using the board as a slide or smooth car track.
If you have carpeted floors you can totally get away with no felt. If your floors are slippery then you might consider getting a felted one, or putting a carpet under the play area.
Another thing to keep in mind is that there are various types of felt. If you have pets keep in mind that your wool felt will be covered in pet hair. In my house felt just doesn't work because of the long-haired cat.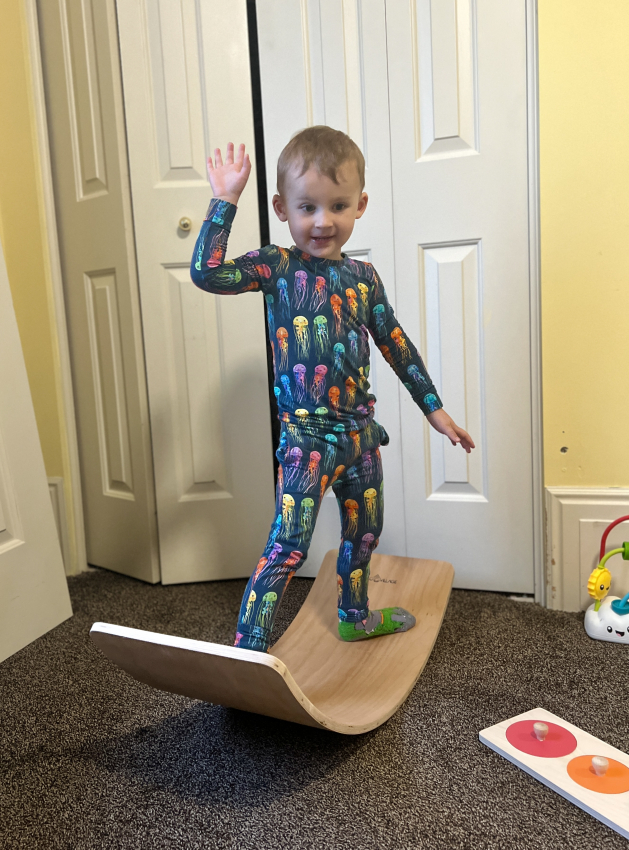 3. Size
These days there are usually two sizes of the balance board for smaller and bigger kids. I will always be that person who tells you to get a bigger size, because your kid can still use it from the very beginning but won't outgrow it.
After all, the point of wooden toys is that they should last for years to come and provide long-term play.