If you live in an apartment you might not need a baby gate, because there's no risk of your child falling. But in a few story house you at least are going to need a baby gate for stairs for your new walker or even crawler (some kids crawl up the stairs before they can walk). It's an instant relief because you'll be able to give your child the freedom of roaming around safely on the house or porch.
How To Choose The Right Baby Gate for Stairs
Are Pressure mounted gates safe for stairs?
One of the biggest issues that people face is the incapability of a gate with a staircase due to banisters and spindles, on top of having to drill into the wall.
Pressure mounted baby gates are popular in rentals because they don't require drilling, however if you can, I highly recommend going for the hardware-installed gate on one side for the top of stairs. These are secured in place with screws and have very little chance of failing. Pressure-mounted gates can be used for the bottom of the stairs.
The downside to these gates however is that they are not 100 percent secure since they work on pressure. If the baby gate is not adequately tightened or has loosened over time, the gate may give. This is why this type of gate is ideally used either at the bottom of the stairs or to prevent a child from going into another room. Installing it at the top of the stairs could be disastrous if the gate failed.
Baby Gates for Top of the Stairs
Measurements: 33" tall and 32-48" wide
One of the biggest challenges that a parent faces is finding a baby gate that can be installed on a staircase with banisters. The Summer baby gate solved that problem for me.
It accommodates most openings and can be installed remarkably easily. The gate clips onto the banister and does not require drilling which makes it easy to put and remove.
We're currently using this gate for our new stairs and have no complaints.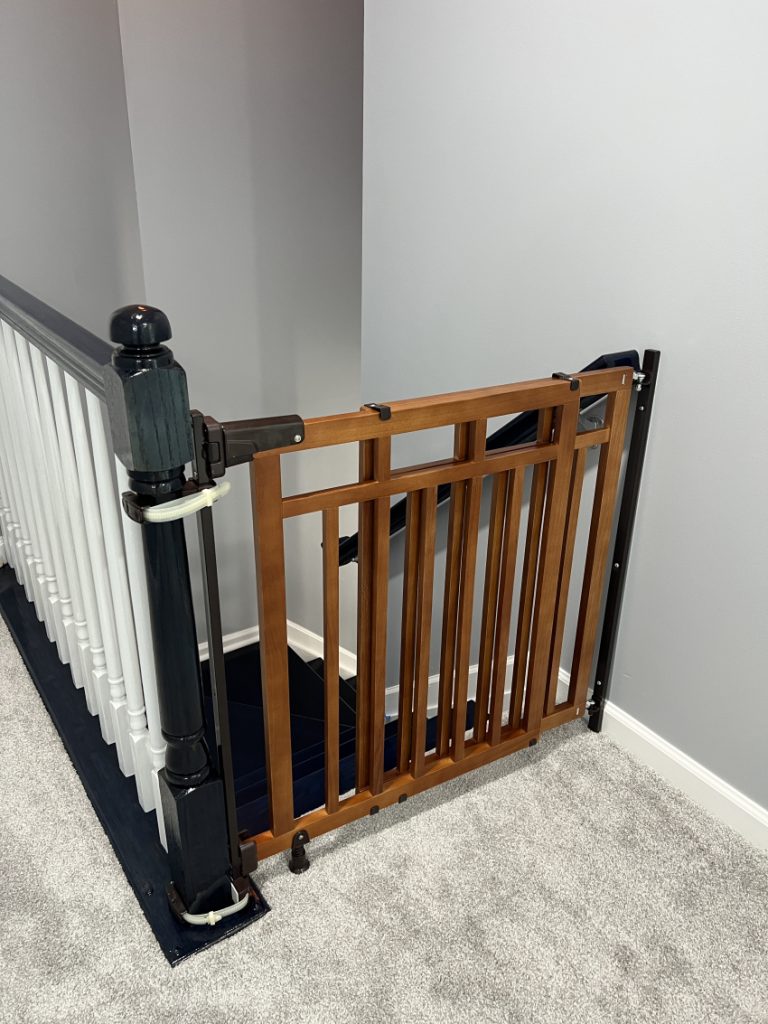 Measurements: 30.5" tall and 29-43" wide
I found that the Regalo Stairway gate is a great option for the top of the stairs as it can be installed using hardware that makes it secure. It also is extra wide which makes it great for larger stairway entrances.
In addition, it comes with banister corner protectors, adapters, and wall spacers. It makes childproofing your staircase a breeze.
We had this in a previous house and it was a breeze to open and close. I honestly wish it could fit our new house.
If this gate is too tall for your stairs, there's a shorter version of Regalo stairs baby gate.
---
If everything else fails: QDOS Universal
Not all gates will fit an opening, but don't despair – there's always a solution! The QDOS Universal Stair mounting kit is a unique solution that I love.
It's a universal solution to all child safety gates. Since it does not require any screws, this kit also does not damage your woodwork or walls. It makes it the perfect solution for apartments on rent and spaces where you may think the gate won't hold.
---
---
Baby Gates for Bottom of the Stairs
Baby Gate for Stairs Without Drilling: Regalo Easy Step
Measurements: 29.5" tall and 29.5-35" wide
The Munchkin easy close pressure mounted gate is one of the highest-rated gates in this category. The four knobs near the four corners help fix the gate in position. All you need to do is tighten them such that the pressure is enough to secure the gate in place.
One thing that I love about the gate is that it can be opened in both directions if you wish, so you can install it in other places too. The bottom has a small flip switch that can help keep the gate from swinging shut or opening in the opposite direction.
The gate is simple to use and has an easy close mechanism. So you don't need both your hands to open and shut it. It may not seem like much right now but I found it incredibly useful when I was moving about the house with things in my hands.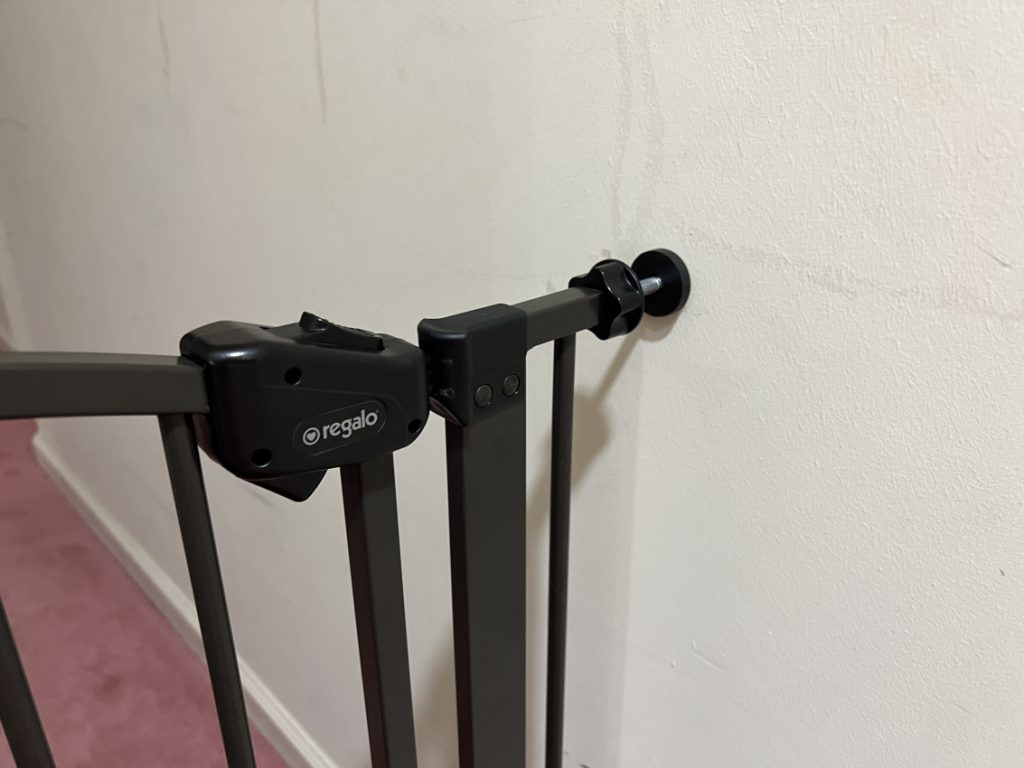 ---
Baby Gate with a Pet Door: Carlson Home
Measurements: 36" or 42" tall, 29.8-38" wide
The Carlson Home baby gate is very similar to the other pressure-mounted gates, but it has a small opening for a pet. The pet gate functions in the same way that the pet gate would function for your front door.
It's a flap door that is large enough for the animal to pass through but not large enough for a child (at least not this model! I bought a model from PetCo at first and while the gate was great my crazy son figured out he can fit in the pet door and he was sneaking out of the room).
The downside is that this does not work for larger breeds of dogs, but my giant cat which is the size of a medium dog fits fine.
Frequently Asked Questions About Baby Gates
When should baby gates be installed?
The phase when a baby starts to move about is so exciting both for the child and the parents. It is one of the big milestones that everyone keeps waiting for. Ideally, you want to have all your baby gates set up before this phase starts, but every child is different. My first son was walking at 8 months while my second wouldn't even move his bum until 12 months – you never know!
Children are innately curious and babies have just not had the freedom to explore yet. Once they grasp how to move about, the world is their oyster! You will find that in a blink of an eye, they will traverse distances that you would ordinarily not have thought possible.
At what age are baby gates no longer needed?
The gate loses its effectiveness when the child figures out how to use it or bypass it or is careful enough to know not to run wild around the stairs. This could be in different ways.
Some toddlers climb over it. Others learn to open the lock. Regardless of what your child does, it signals that it is time to remove the gate because its usefulness is at an end. You will typically see that this happens – for my kids with the first it happened at 2 years and with my second even earlier, because he's careful.
However, I know parents who don't feel comfortable with not having baby gates for stairs even at 4 years of age.