Spiderman is Marvel's greatest commercial success and as a result, Spiderman toys are always a hit for little boys and even girls!
What age is Spider-Man toys for? Spiderman is usually a known character from the age 3 or 4 years, but average toys are aimed for 4+. Even if your child doesn't know Spiderman just yet, he might be introduced to it through his friends at preschool. This is exactly what happened us… my son had no clue who Spiderman, Batman, or Sonic were but then started attending birthday parties and heard about it from his friends and naturally… suddenly started to like it too 😀
These are the ultimate Spiderman gifts for a 4 year old — but they are fun for everyone! I included some Spiderman toys for toddlers as well (position 8-10), because as you can imagine if an older sibling has something the younger one might want it as well.
Let's start with the classic – Spiderman action figure. This guy can be posedm and speaks 15+ phrases.
On each forearm, you'll find small buttons. These buttons activate the launching of Spiderman's spiderwebs from his wrists! and can shoot spiderwebs out of his hands.
If you're feeling like splurging, you can get this figure with a jet as well.
Lego Friends series is the starter Lego for kids who are ready to step up from Duplo (although Duplo can be played for years later). Spidey and Amazing Friends is a good Spiderman Lego set for 4+ but my son was fine with it at 3 actually.
The 4+ instructions are very good at keeping the steps simple with only a piece or two per page, and the mini-fig tracker at the bottom helps a child remember which page they're on.
If you don't mind spending a bit extra, you will find that it will keep the kids busy and entertained. My son spent 10 hours playing independently with his Mighty Tower on day one.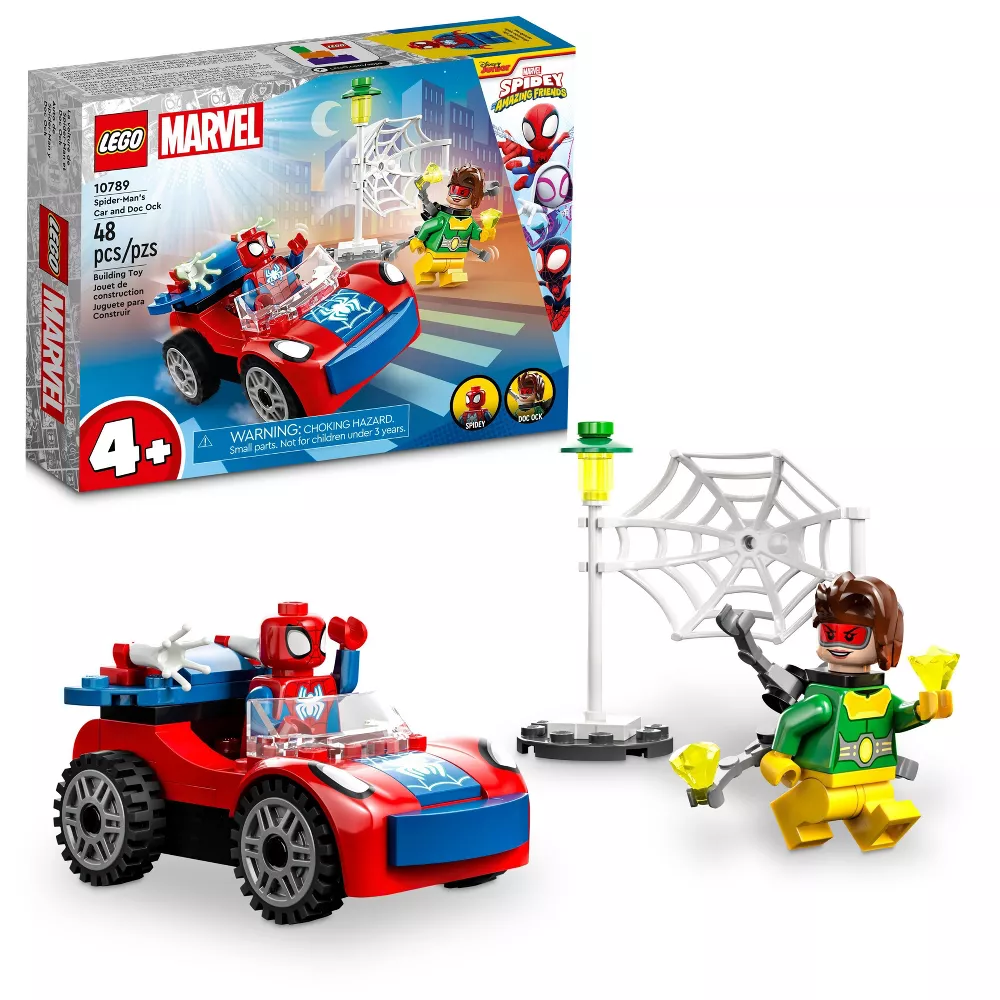 ---
The Spiderman swim googles are a fun addition to fun in the water. They don't work extremely well, so I'd say they should be used for fun rather than advanced swimming
---
 This is the perfect combo for car and Spiderman lovers! I enjoy playing together with him when he shoots the little car out of the larger car.
It's a simple, yet entertaining and multifunctional toy providing hours of entertainment because all little kids like to shoot things (and hence why so many toys offer this feature).
---
The Spiderman kids smartwatch comes loaded with kid-friendly features for your child without wifi.
It includes a selfie camera for taking pictures, video player, a voice recorder, a calculator, an alarm clock, a pedometer step counter, various playable games, and changeable watch faces.
This watch comes with a long-lasting rechargeable battery which is a great feature, as you won't need to have a neverending battery supply.
---
The 5-Minute Spiderman Stories Book is great for quick bedtime routines.
With colorful pictures throughout the stories it's perfect for a young superhero fan.
---
Spiderman Toys for Toddlers :
(but can be used by older kids too)
Smaller and basically an indestructible version of a bigger action figure (AKA he won't 'lose or break' arms or legs).
We had no issues with this fun guy, so it's basically guaranteed entertainment for younger
---
---
Duplo has everything these days.
The Spiderman set set is one of the best Spiderman-themed gifts for a toddler that will last them for years.
It's easy & fun to assemble and even when they get sick of building the same thing over and over, it leaves room for their imagination, to build something new with the same legos provided
Spiderman socks have been a hit in my household for both kids and we keep ordering more.
They are durable, cute but not obnoxious, and machine washable. It's a fun, yet practical item that your child needs and you want to avoid buying another toy.
There are a few different styles to choose from, but I think this one is the best quality, at least according to my son.
---
A water bottle is a practical gift for any child so why not make
There are various brands, but Zak design is the best due to the insulated cup that keeps the drink cold for longer periods of time.
---
---
---
Things To Consider When Buying Spiderman Gifts
Spiderman was just a normal child, and this is why he's so popular – because he's so relatable to a majority of audiences. Kids care not just about his superhero antics, but his alter ego's life as well.
As a result, these are just a few examples but Spiderman is a widely licensed character that can be found on everything, but not all toys or items are of quality. If you prefer shopping in person, most stores will have a selection of superhero toys as well.