Bath time serves multiple purposes in our house. While a clean, fresh-smelling child is definitely a happy result of bath time, parents often use our bathtub as a way to contain my littles for a bit when I'm maxed out.
Sadly, this never happened with my kids at first because they both hated bath and water to the extent that no one would even sit down. Until they got their bath toys.
Now they will spend hours in there while I have to do nothing more than serve as a lifeguard. At the end of a manic day, sometimes it is exactly what we all need. While the water itself will engage my kids for a lengthy amount of time, to get the maximum enjoyment out of bath time, bath toys for toddlers are a must!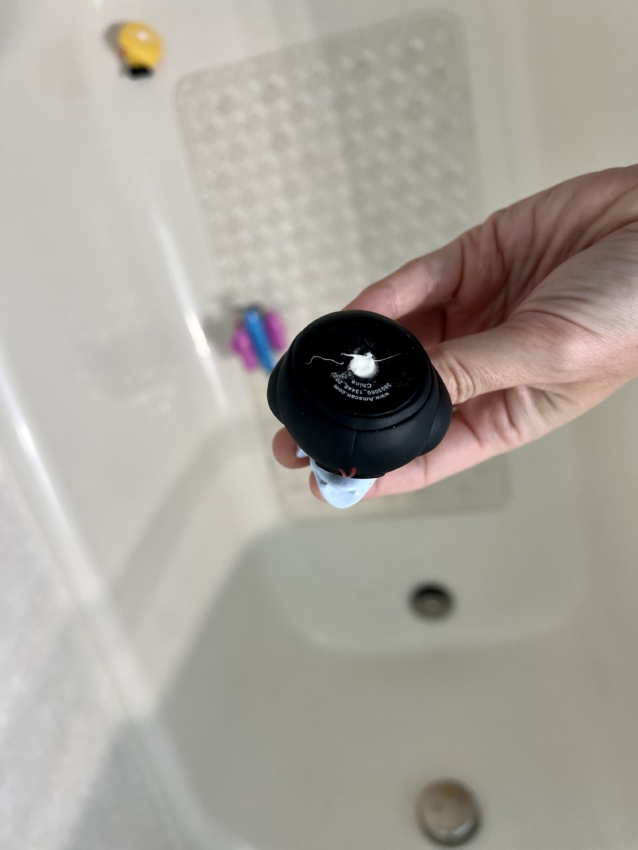 ---
Bath Toys for Babies
Babies don't really need toys in the bathtub – the experience of being in warm water is enough for them when they're really little. You can put the regular toys that they like to hold, like teethers, as long as they don't have any holes.
Any toy with holes should be avoided as water will get inside the toy and will cause the toy to mold on the inside.
If you want a toy specifically for the bath, these ducks are a huge hit with older babies. They float and spin and have bright colors to engage your babies' senses.
---
A tip I learned from a nurse in the hospital is to use a regular towel and soak it in warm bath water and put it over your baby. This keeps them warm and they like the soft, warm pressure of the towel. Make sure you continue to wet it down to keep it warm.
One overlooked detail of bath time is the spout on the bathtub. Most spouts are a little sharp and can cause injury if not careful.
I bought this cute tub spout cover when my kids were little and it has been a fun addition to bath time ever since.
---
Spraying Whale
Another fun addition we have recently made is this spraying whale. It makes a little fountain bathtub and tile so kids can use them for all sorts of imaginative play and story creation.
It doesn't take up a lot of space (major win!) and doesn't fall into pieces like some other toys – for example this one.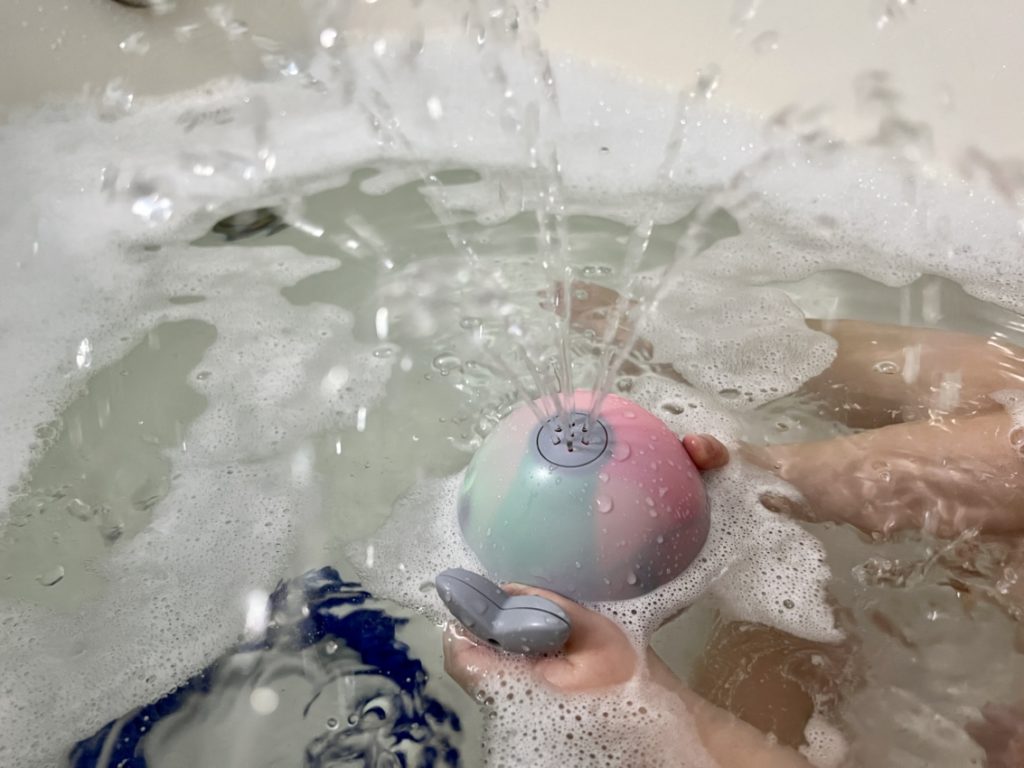 Bath Toys for Toddlers and Older Kids
Finger Paint
We love these finger paints for older babies and little toddlers as they don't require them to hold anything if their dexterity isn't there yet.
Once they can sit up, they can start finger painting! My littles love spreading the bright colors around the tub and splashing the color off and starting all over again.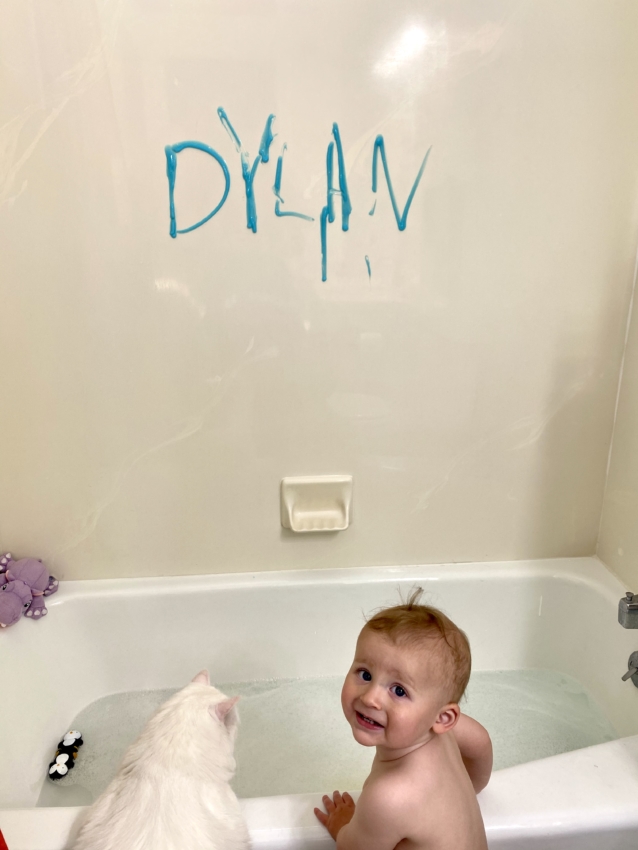 Floating Octopus
This floating octopus is fun specifically for toddlers as the tentacles and the rings are perfectly sized for little clumsy hands to be able to put the rings on.
I loved that it helped my toddlers create dexterity while also being so fun and incredibly cute!
Fishing Set
There are few things more enjoyable for a toddler than fishing in the bathtub!
For toddlers, this is my favorite set, as it is magnetic which makes it easier for toddlers to catch the fish.
They also wind up which makes the fish fun all on their own! We love windup bath toys at our house.
Simply Bubbles
Bubbles are a classic favorite – because who doesn't love bubbles!? We have tried lots of bubbles and these are our favorite. They are non-toxic and made for sensitive skin.
They do not aggravate my sensitive kids' skin and do not cause any discomfort if they accidentally come in contact with an eye. These things are really important to me with my toddlers especially.
Another aspect to these bubbles that I love is they are a pod, so I just drop one in and we have bubbles! When we have used traditional bubbles we have had rogue kids dump entire bottles in the tub, the floor and the toilet… these pods contain the mess to the bathtub which I appreciate!
---
Numbers & Letters
If you are going to buy one toy, this learning Munchkin set is a favorite at our house. This 36-piece foam set comes with the letters of the alphabet and the numbers 0-9 that can stick to baths and wall tiles when wet.
Kids have a chance to practice spelling their names and other words while taking a bath.
I wish toys like this had been around when I was a kid. This mix of bath toys is guaranteed to keep your child entertained!
I also bought a rinsing container to get it all out of the bathtub quickly and store.
Bath Bombs with Surprised
Kinder Surprise eggs were one of the best things of my childhood, but sadly they're still banned in the US #logic
Bath bombs may be synonymous with mothers around the world relaxation time – but bath bombs have evolved over the years.
They have all kids of fun bath bombs for kids. We love this set, as the bombs have little dinos toys inside!
You cannot go wrong with any of these toys, and I hope they bring your house as many laughs and hours of play as they have brought ours!
Best Tips for Cleaning Bath Toys
Bath toys even without holes sin them can become moldy and super gross. Here are some tips to keep in mind to increase the lifespan of water toys.
Drain any water from the toys by squirting the water out of them if needed
Store cups and boats upside down to increase drainage
Frequently run bath toys through the dishwasher to clean them more thoroughly
Soak them in vinegar and water once a month and scrub clean as needed.