Christmas is one of the most fun holidays to spend with a toddler. It's a truly generous holiday filled with traditions, flavors, and of course, colors. That means there is plenty to do with your bub during this joyful time.
You want to give your toddler to experience Christmas in the best way possible. So, here are a couple of Christmas activities for a toddler that will create the most wonderful memories.
1. Christmas Sensory Bin
You can make a sensory bin for any holiday or season. But a Christmas-themed one is especially fun because it brings a lot of different objects with interesting textures and looks.
Fill a big plastic tray with rice or Instant Snow to make it look closer to a winter scene.
Place inside jingle bells, wooden reindeer, small Christmas decorations, bows, pine cones, or a couple of tiny Santas. Your toddler will explore all the objects and will enjoy a super fun sensory experience.
---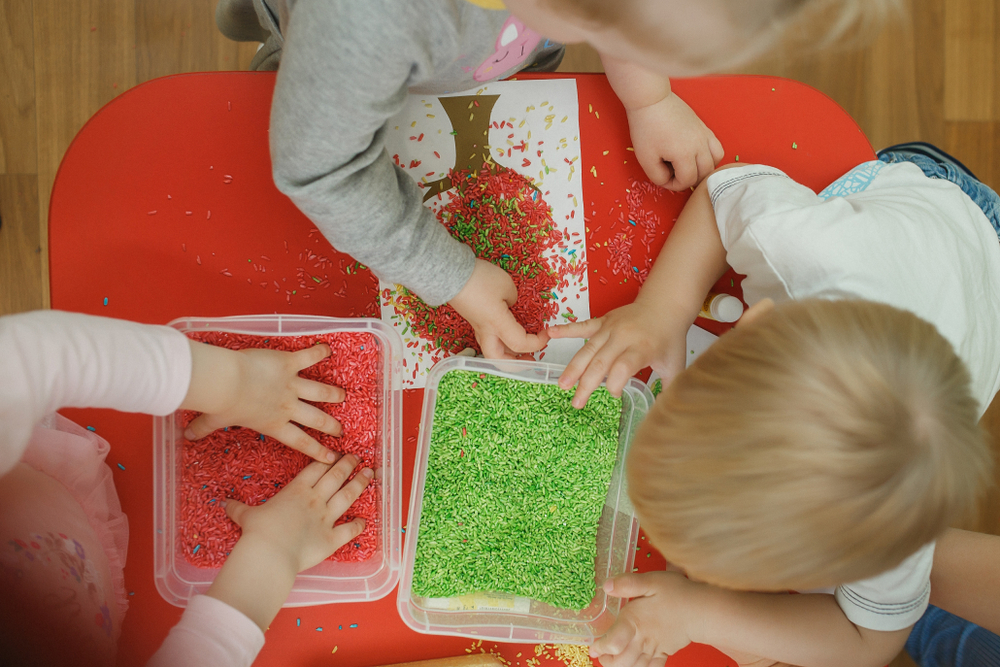 2. Christmas Tree Decoration
This activity involves not only decorating the Christmas tree but also preparing all the decorations together with your toddler. Start by buying a couple of simple, wooden objects, such as reindeer, stars, pine trees, angels, or a sleigh.
Paint them together and make your own version of Christmas decorations. Your toddler will love seeing his work upon the tree, and he might be more careful around them if it's something he worked hard for.
Just don't get your hopes too high regarding the looks of the Christmas tree. You might have throughout the holidays a half-decorated tree with the bottom a little more au naturel.
Or you could have one main tree, and get this felt tree that children can stick felt ornaments to. At 3 feet tall, it's just perfect for kids over 18 months (unless you hang it lower) and the tree comes with 26 detachable ornaments that your child won't get tired of playing with.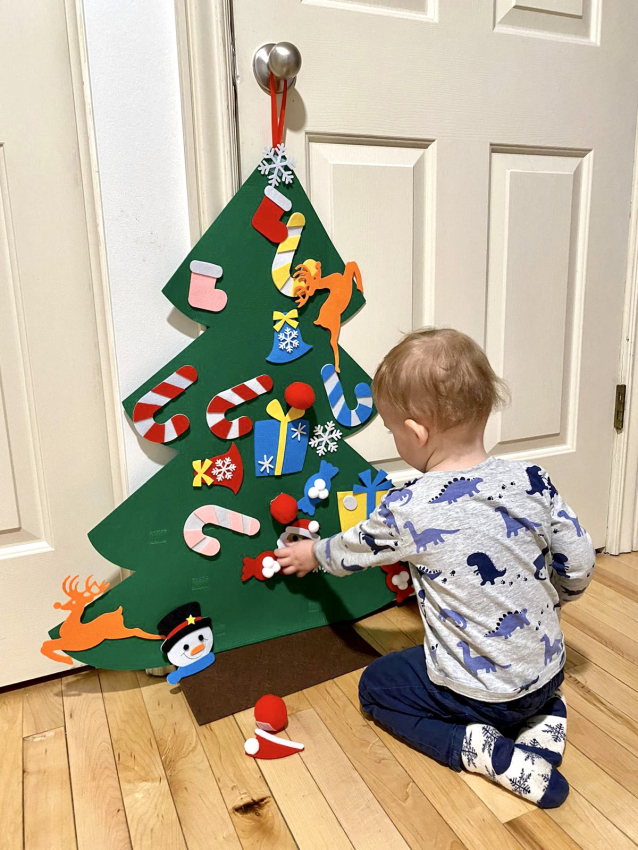 ---
3. Putting up the Christmas Lights
Turning on the Christmas lights is a truly magical moment – not only for a toddler, I have to say. Share this moment with your toddler and get in on camera.
If it's your toddler's first Christmas, she'll be absolutely amazed by the lights.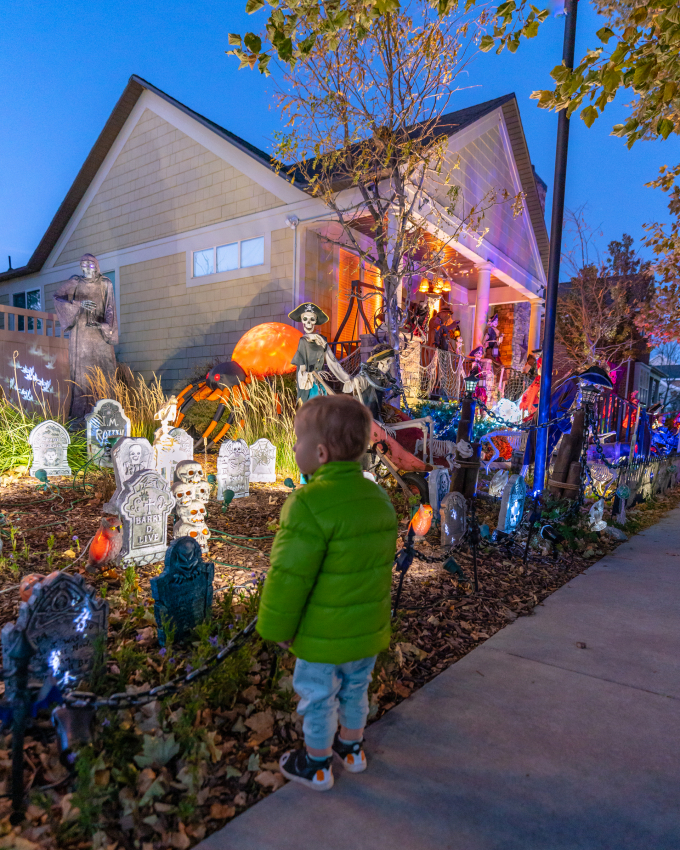 ---
4. Wrapping Christmas Gifts
Wrapping gifts can take some time, so instead of doing it at the end of a tiring day, turn it into a fun activity with your toddler. That is if you're ok with not having the gifts wrapped perfectly.
Your toddler could exercise cutting a straight line, help you glue the paper, or put tape on it. You could spark a conversation about the gifts and your dear ones.
Also, the Christmas wrapping paper is colorful, full of captivating elements. Put a couple of pieces aside for your toddler to cut it up with toddler-safe scissors and have their own fun with it.
5. Christmas Baking
Christmas brings a lot of fun, color, and creativity to the kitchen. There are so many things you can cook with your toddler that there's not enough time, but for Christmas Kolaczki is a safe choice.
You can start by baking the classic gingerbread or shortbread cookies, pancakes, truffles, and brownies. Buy some cookie cutters and shape them into stars, pine trees, snowmen, or canes, and decorate them with sprinkles, marshmallows, or colorful frosting. Your little helper will have a blast with so many fascinating options.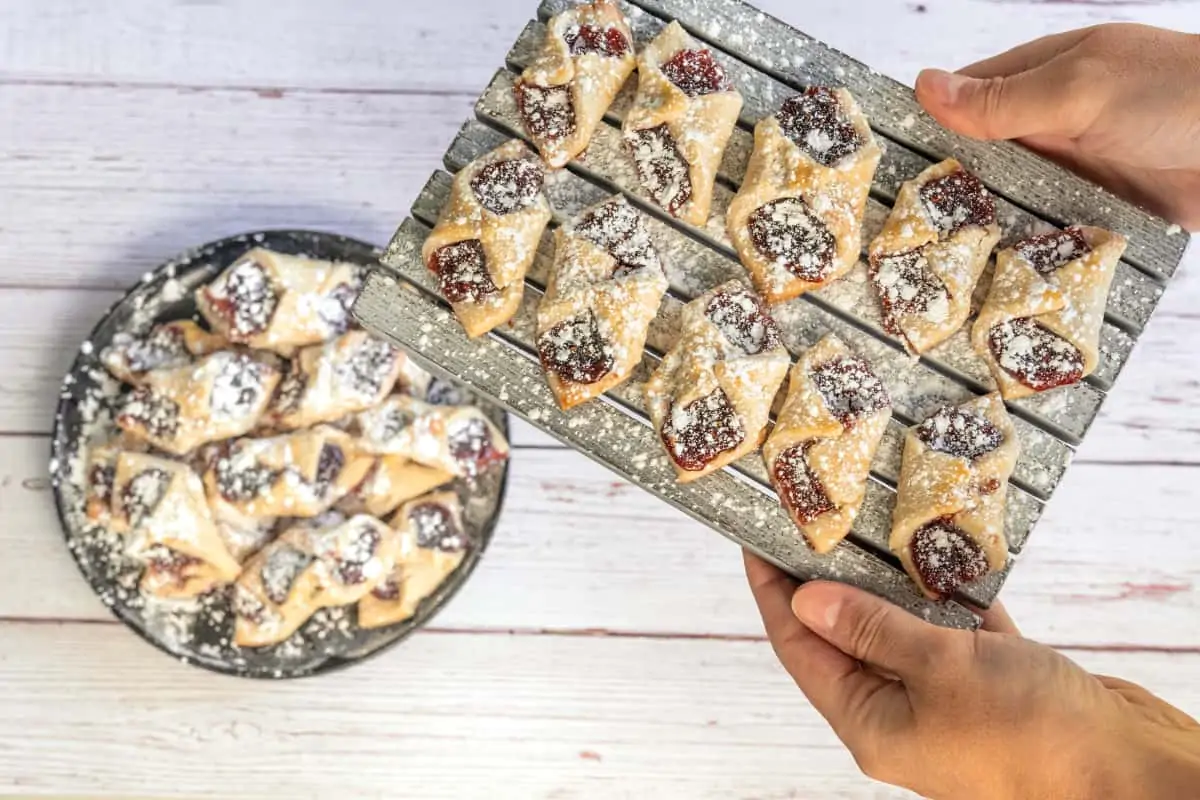 ---
6. Gingerbread House
Depending on how old your toddler is, you could go one step further and attempt to build a gingerbread house. Or get a ready-to-decorate gingerbread house kit.
Have a plan in mind, but stay flexible and let your toddler carry out her vision of the house. Prepare back-up supplies, just in case the toddler gets distracted by eating the frosting and candies and enjoy the process.
Or you could build a gingerbread house from legos with your little one.
---
7. Christmas Crafts
You can make Christmas decorations to hang around the house and on your Christmas tree, personalized gifts for your friends and family, or just craft for fun.
There are plenty of Christmas crafts for preschoolers that will give your toddler a great experience.
Your bub could build a pine tree from Legos or make one from paper or felt and decorate it with colorful round stickers, small pom-poms, jingle bells, glitter, or tiny tinsel garlands.
Cut out a gingerbread man, make a felt candy cane, paint or glitter a pine cone or make a holiday card for your loved ones. If you're a DIY master, Christmas is the time to shine and set-up for your toddler an amazing crafting station.
8. Christmas Costumes
Whether Santa is part of your Christmas holiday or not, dressing-up is pretty fun. Ask your toddler what he would like to dress up as. You could all go as reindeers, elves, or snowmen. It doesn't necessarily have to be complicated. If you want to keep it simple but still dress-up, you can just put on a pair of reindeer antlers, a garland, or an elf hat.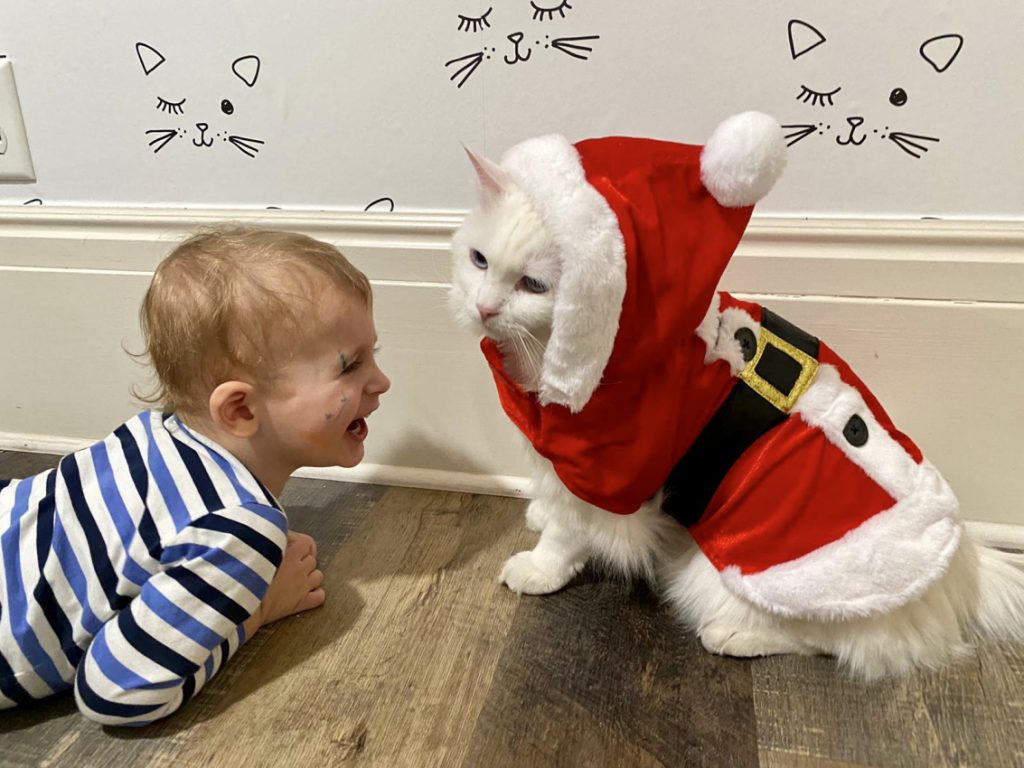 ---
9. Christmas Bird Feeder
And while we're on the subject of cooking, you could also prepare together with your toddler a bird feeder. There are multiple recipes out there that either involve baking or not.
This is a great opportunity for your bub to learn more about seasons, nature, and to encourage caring for others.
10. Elf on the Shelf
When you take the Christmas ornaments out of the closet, have your toddler help you sort them out before you begin decorating your home. You can surprise your child with Elf on the Shelf!
Elf on the shelf has been a hit for years not just for kids but also adults as they offer endless and funny decoration posibilities. They usually sell out everywhere right before Christmas so stock up beforehand.
---
11. Stuffing Christmas Stocking
Toddlers are very drawn to bags, purses, or anything that hides some objects. Their curiosity goes through the roof to find out what's inside.
Stuffing or emptying a Christmas stocking is the perfect opportunity to give your toddler the pleasure and excitement of discovery. Whether you put her gifts in a sock or use it as an exploration tool, your bub will be hooked.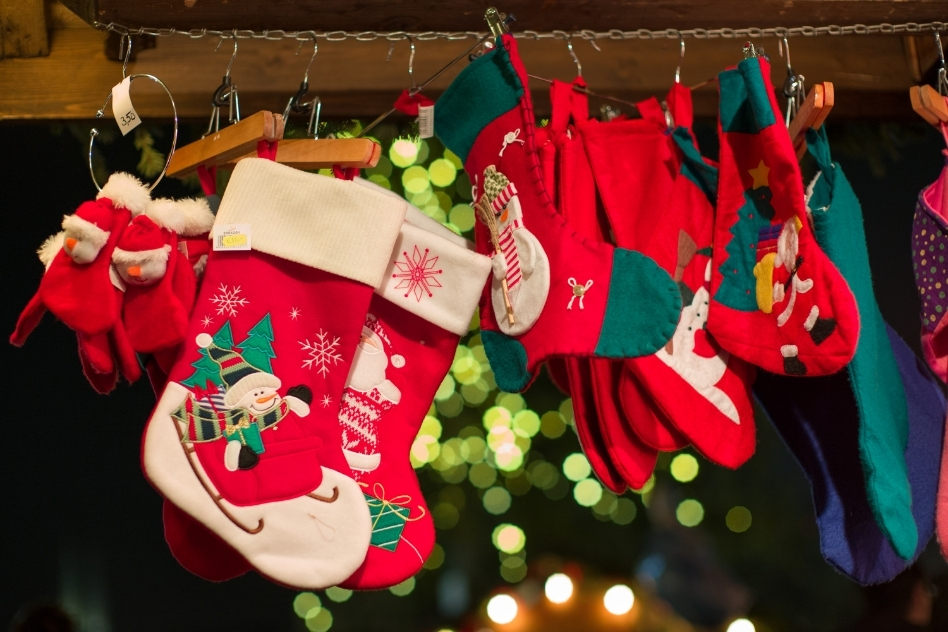 ---
---
13. Drive-Thru Christmas Lights
There's nothing better than watching glimmering Christmas lights. So many people decorate their houses and it's a fun activity even as a drive-thru.
Whether you want to keep it practical or bring more magic into it, making your toddler see them will keep the wonderful spirit of Christmas around and spread the cheer.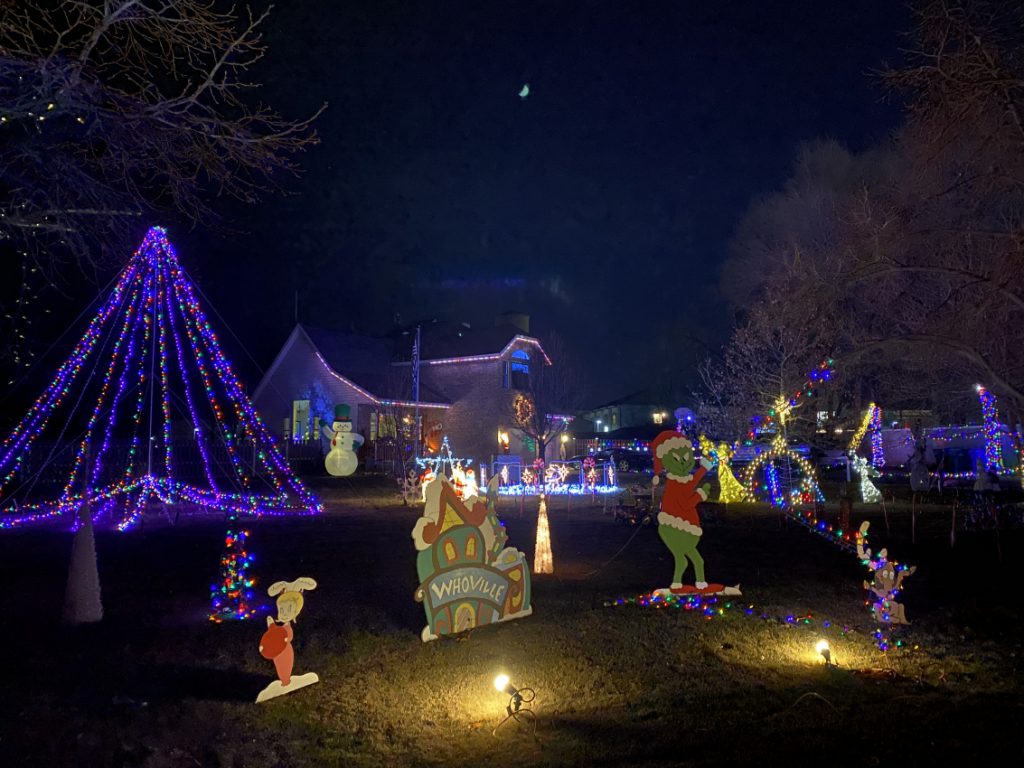 ---
14. Christmas Music Books
If your ears aren't going to get damaged by the incessant playing of Jingle Bells or Joy to the World, you could also get your toddlers push-button Christmas songs books.
These books are the perfect way to introduce your little ones to Christmas music.
12. Decorating a Window
Of course, you must be comfortable with this idea and use products that are easy to remove and clean. You can craft some decorations, such as snowflakes and tape, or glue them on your window.
You could also use fake snow to give your window and your neighbors a wonderful view. Your toddler will enjoy having such a big canvas to get creative and to display his work.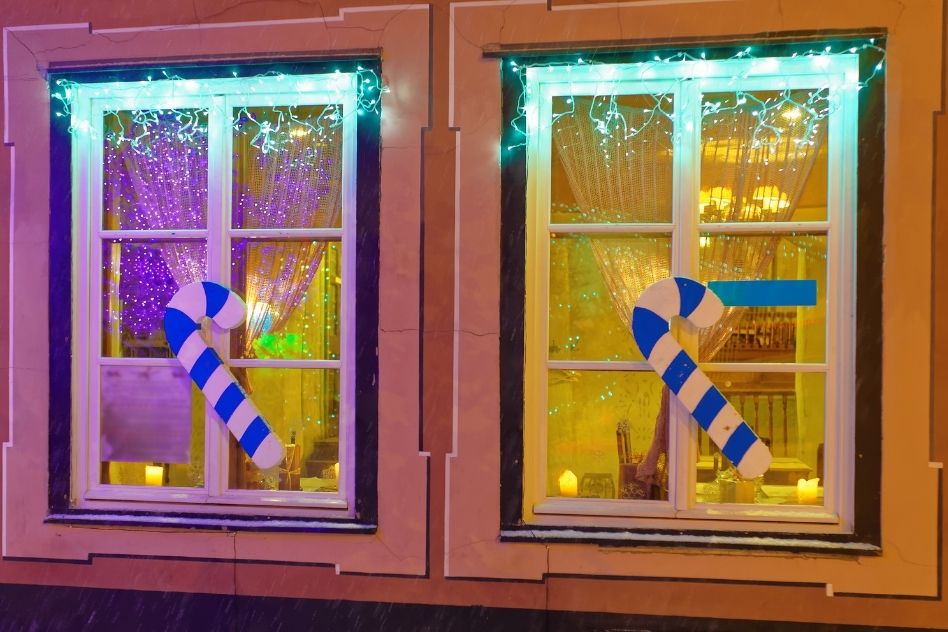 ---
15. Christmas Movies
Creating a Christmas tradition with your kids is an excellent way to build memories. Holiday traditions are difficult to forget and accompany an individual for the rest of their lives. Cue movies!
Movies have always been known to be a great bonding resource, and Christmas is the perfect time to start a movie tradition!
Christmas movies are full of joy and magic and will spur your toddler's imagination. Pick one appropriate for your toddler's age, in terms of length, story, and visual stimulation.
You can't go wrong with How the Grinch Stole Christmas, A Charlie Brown Christmas, Rudolph The Red-Nosed Reindeer, or Curious George: A Very Monkey Christmas.
With so many activities and options to choose from, your toddler is bound to have a wonderful Christmas!