If you don't know Etsy by now you must be living under a rock. Etsy is a huge American e-commerce website focused on handmade or vintage items and craft supplies.
You can register as a seller on Etsy super quickly and easily and list your first items for as little as $0.20. That's what makes it attractive for many. Comparing to the awful Amazon Sellers Central (more on my experience is described here) it's undeniably better and
However, starting an Etsy store was easy, but making it successful and understanding how things work was quite frustrating at first. This is why I believe it's important to understand what to do before opening an Etsy shop.
Before we start: Why you should listen to me?
I have my own Etsy store that has proven to be very successful from the start. Within the first 2 months, we had over 100 sales (and that's considering I actually closed the store for 2,5 weeks when I went to Greece). We would have had more sales, but unfortunately kept running out of stock.
I wasn't sure if I wanted to sell anything on Etsy. I thought I could just have a WooCommerce or Shopify website and never use bigger services like Etsy or Amazon. I was wrong for a few reasons:
Customers trust Etsy more than a new random store they find online.
They much rather buy from a service that offers customer purchase protection – it's understandable considering how many scams are happening online every day.
Advertising on Etsy is way cheaper than elsewhere.
There's no gain without any investment – you need to advertise to sell, otherwise how would people hear about your products? Advertising on Facebook or Instagram is insanely expensive these days considering click-throughs (and particularly if you don't know what you're doing with targeting). Advertising on Etsy is affordable and trustworthy.
Shipping labels are cheaper through bigger services like Etsy.
Unless you're selling exclusively digital items (not recommended, more on this later), you need to ship it to your customers. Etsy provides discounted shipping labels through USPS within the US. Even if you open a small-business account it still comes down to much more.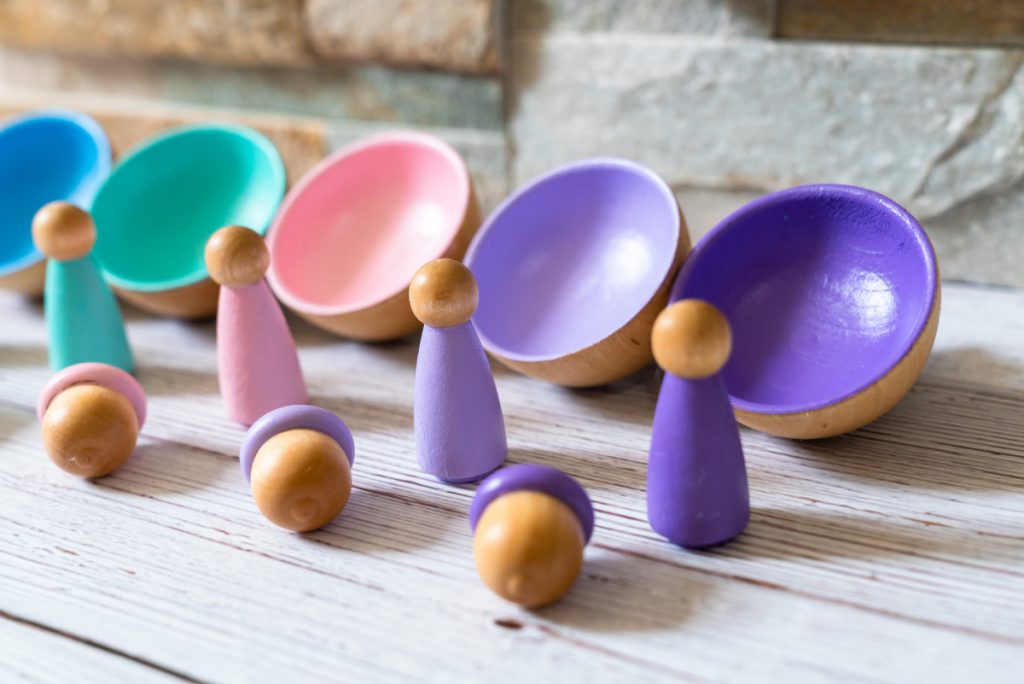 ---
What to Do Before Opening an Etsy Shop: Starting an Etsy Shop Checklist
Analyze Your Niche
Before you decide to open your own store on Etsy you need to do extensive MARKET RESEARCH. Don't think you can open a store with whatever you think is cool it's going to be successful. This is exactly why most small sellers fail.
Considering your skills and interests obviously, you need to think about what other people might want to buy, not what you think is cute. Check out google trends.
Etsy also sends sellers a newsletter with what's trending, what are people searching for and what are they buying. It's extremely useful!
To give you an example: I originally thought of creating a store with family matching clothes, simply because I was annoyed that I couldn't find many mommy and son clothes – it was always mommy and daughter.
I thought there was a demand for it and it wasn't available, but after extensive research, I realized that it wasn't there for a reason. It just wasn't a hot item. A new pair of leggings or t-shirt wasn't a product that would keep selling well, especially not during corona when clothing sales basically went to almost nothing.
That said remember – just because something doesn't exist, it doesn't mean it's needed out there!
Chose The Right Name
Create a descriptive name for your store. If you're an artist, it might be tempting to use your name, but that won't tell you customers what is your store about. Try adding something descriptive like 'workshop', 'prints', 'studio' so people know what's it all about.
Create Shop Policies
Be sure to include an estimated processing and shipping time so that your buyers have a clear idea of how long it'll take for their items to reach them.
Returns are another important policy. You don't have to accept returns in the US, but if you're starting out it's smart to do so.
Use SEO to Your Advantage
Leveraging SEO tactics on Etsy will make your store easy to find, so it's a surefire way of driving customers to your products. Keywords in a product listing are VERY important.
Understand that search engine optimization is an undertaking, but it's worth your time. Invest in a few ebooks or courses on SEO, read as much as you can – there's no success with an online business these days without SEO. Same goes for blogging, selling courses, or other things that will make you a digital nomad.
Do your own research and use as many keywords as possible in your tags, shop title, shop sections, product titles, and descriptions.
Set Competetive Prices but Within Reason
As almost any new business owner will tell you, pricing your products competitively is essential for a rising business, but it can also be one of the more difficult hurdles to overcome. You want to cover your own costs and time, but you also want your customers to trust you especially with a few reviews or none.
I raised my prices after a few reviews. I knew I sold the first couple of items for way too little after fees and I lost some money at first, but these are the calculated risks you need to take.
Prepare Your Photography
Don't rely solely on mockups. If you do you're setting your business to fail from the start as there will be many sellers with the same mockup design and you want your products to stand out from the crowd.
Study the photographs of successful stores that sell similar products to you. Analyze what makes them unique and replicate them adding your own accents.
Don't worry about investing in a great camera. Use whatever you have, an iPhone with a bit of editing will do at first.
---
How to Make Money on Etsy
Understand Etsy Fees!
Etsy fees are a bit confusing at first, especially in their finance, and if you try googling it you'll find a ton of YouTube videos not explaining anything.
Etsy charges their merchants fees associated with listing and selling products, just like any other service. If you're using Etsy Payments, these fees will be deducted automatically from your sales balance.
To break down the fees you need to pay:
$0.20 per listing, regardless whether you sell the item or not.
5% of the item cost of the item incl. gift wrapping, shipping, etc.
3% + $0.25 per transaction for Etsy Payment – separate fee for shipping labels as well (for US sellers)
2.5% fee if your product sells in a different currency. Etsy will convert the fee amount from the listing currency to your payment currency based on the current market rate
You need to take all these fees into the account when calculating the profit. If you want to make $5 per item you cannot list the item for $5, because after fees you'll actually lose the money.
Take EVERYTHING into the account and I mean everything. For instance, when I was selling pikler triangles I calculated materials, amount of work, fees and shipping into the account, but I forgot about one important thing: the cost of shipping boxes and additional packing materials.
Only after I packed a few piklers I realized that the box costs $8+, packing tape and bubble wrap also costs money, and there's an additional time involved in packing it all and cutting down the boxes (since there are no boxes for the size I needed). It came down to $15 per item, just for packing supplies!
Here's an example from my own account: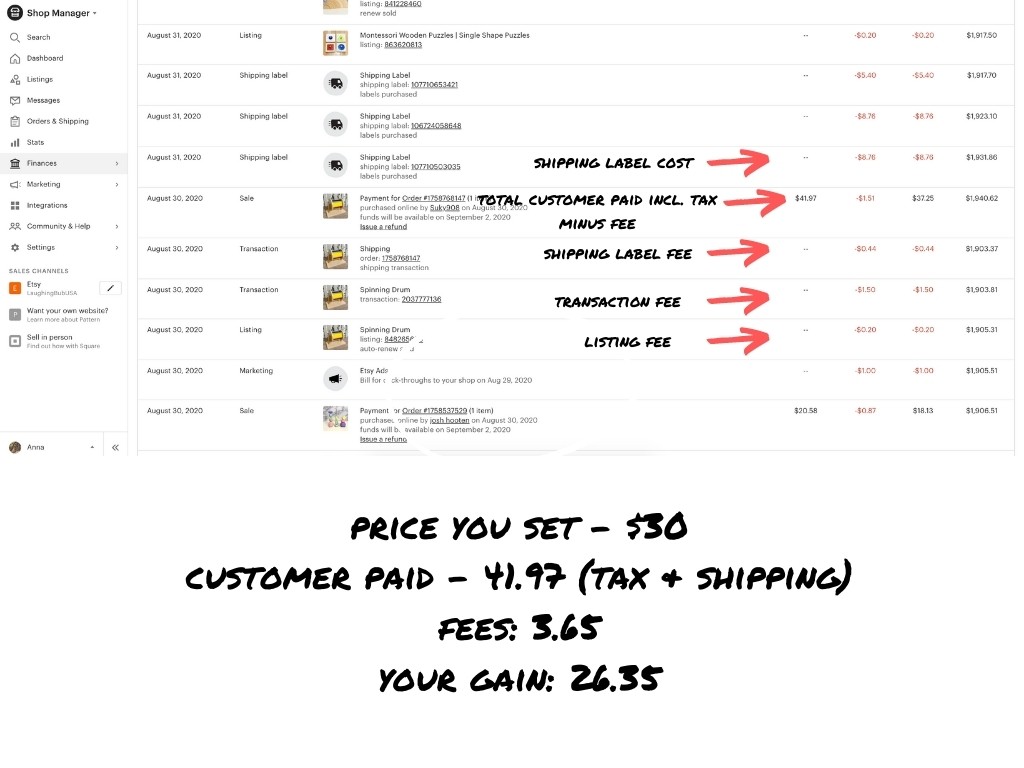 How I'd Approach My Sales Next Time
My store took off for a few reasons: I knew exactly that at the moment everything I was selling was considered a hot item, set low price and with as little as $1 per day spent on Etsy advertising once every other day I made it.
If I were to open a new store I'd analyze everything that's happening in my store even more than now, taking into the account views, favorites and sales in a spreadsheet.
For example:
1) If your item has 100 views each day but only a few people are favoriting the item and you haven't made a sale, people are seeing your item they might not be charmed by your photos, reliability or description. -> In this case, leave the keywords as they are.
2) If many people are favoriting the item, but you still haven't made a sale then it might be the issue of the price or simply an item being not something they need immediately. -> In this case, you can try to run a sale and see what happens.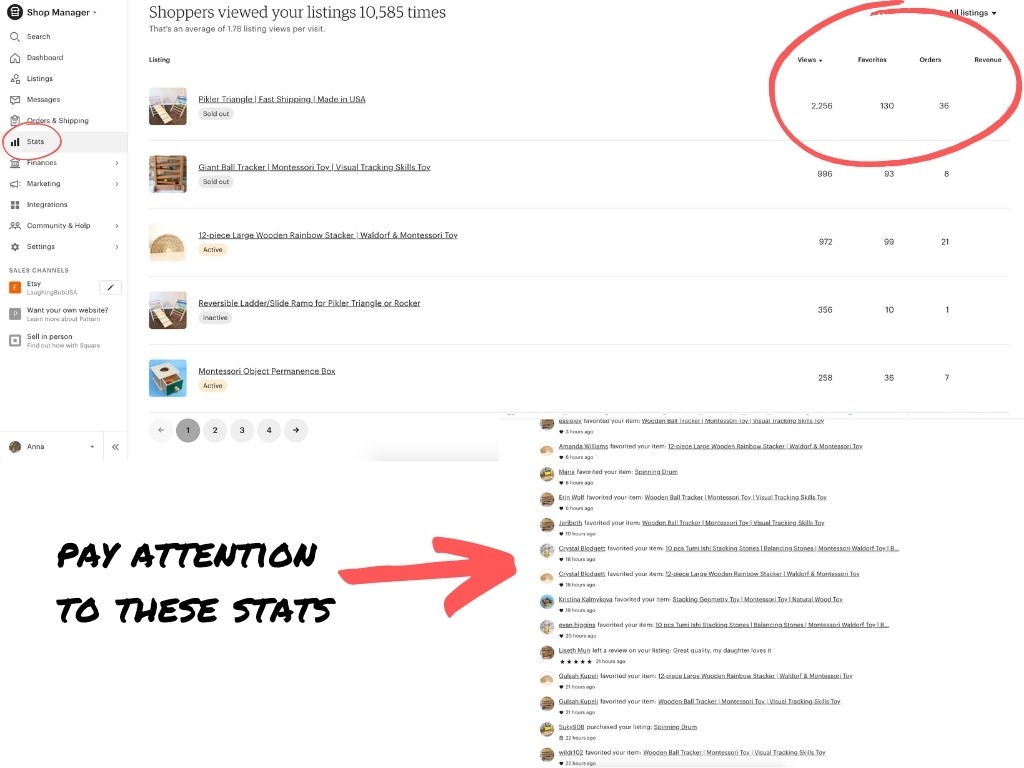 ---
Disadvantages of Etsy Business:
Your Products Cannot be Found Outside of Etsy
How do people find products on Etsy? Not through Etsy search actually, but from an external source – the big sellers are usually recommended by someone.
Shipping Is Often Miscalculated
Often, problems arise in situations where the shipping fee is not properly calculated and as a seller you realize you have to pay more for shipping than originally intended.
It happened to me a few times, especially when shipping to Canada. That's why I included the shipping in most items as "free domestic shipping".
Shipping costs vary per state but I knew the range – for my biggest item it was $35-58. It worked great until I received an order from a person in Alaska.
Alaska and Hawaii are technically domestic, but the shipping cost isn't the same. For my item it was $159 (over $100 more than I calculate), which basically would made me lose money if I keep the free shipping. I had to message the customer and explain that Etsy doesn't let me exclude some states from free shipping which was embarrassing – next time I remembered to put in the description that the free shipping requires an extra fee for shipping to these two states.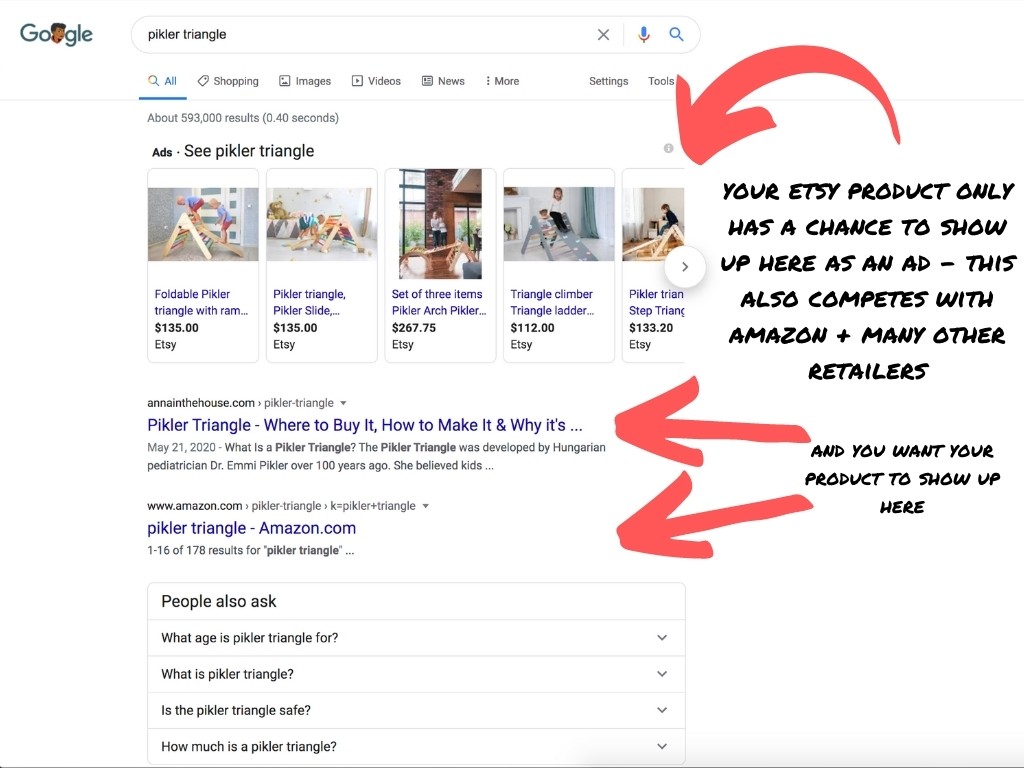 You Shouldn't Rely on Etsy Alone
You shouldn't rely solely on Etsy if you're starting a store. It's a very competitive market and fees aren't helping your financial gain.
If you have a store on WooCommerce the fees are MUCH lower, so I highly recommend moving towards your own website after you build a reputation.
In fact, one of the leading wooden toy producers – Wiwiurka did just that. They reached a certain point in which they didn't need Etsy as their fame spread through the word of mouth.
Etsy Isn't a Handmade-Only Market Anymore
Etsy is a handmade market, at least that's how it started. You probably want to sell on Etsy because you want to be able to do what you love and make a living of it.
The exclusively handmade years of Etsy are long gone though. Many sellers are using services like Printful for printing things on clothes, which really is as far from handmade as it can be.
Officially, you can list anything on Etsy as long as you include a production partner (spoiler alert: based on what I found out only 10% sellers actually tell the truth and list a production partner). Even if you do though, Etsy will still classify your items as handmade (my own product example below).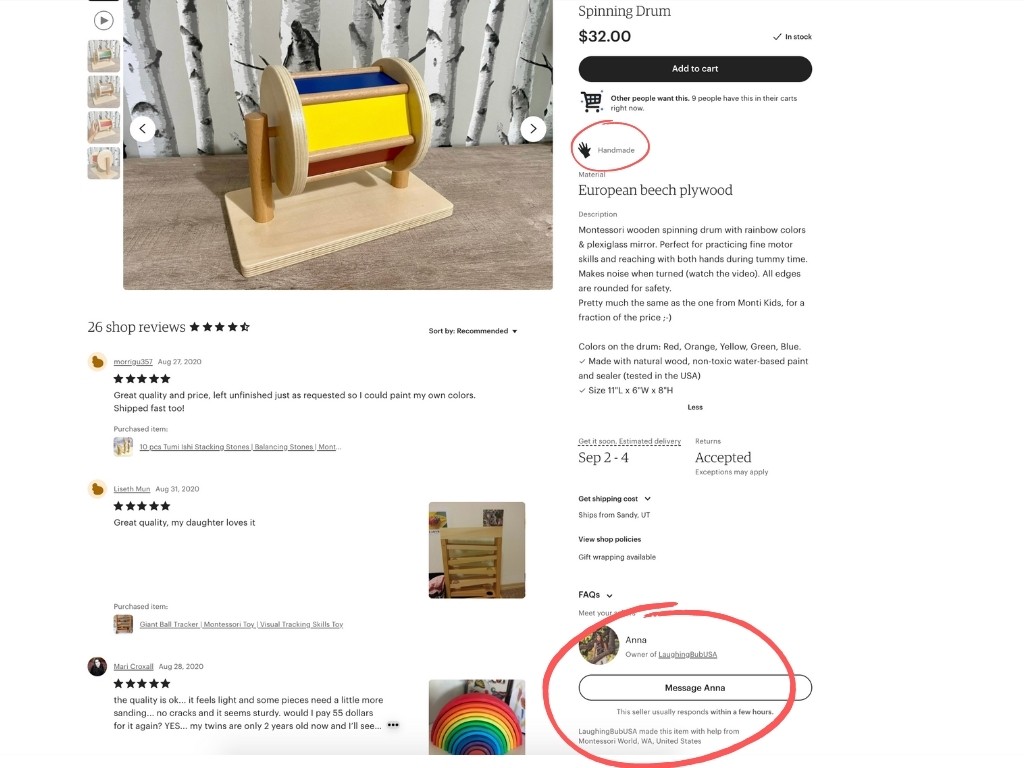 Review System is Questionable on Occassion
Reviews are very important on Etsy, there's no doubt about that. The review system although is a bit strange. Why?
You can publicly reply to reviews that rate your products 3 * or less. Careful though, because there's a catch. Once you publicly reply the review cannot be changed or deleted by the customer. Ever. Even if you delete your public response.
I had this issue that the seller had something missing from the order and posted a review slamming us that there were no instructions and some screws didn't arrive and we're on holidays now and how awful, etc (some customers don't bother to read the product description), before even sending us a message (because of some people).
As a new seller I quickly replied to the review saying where she can find the instructions again and sent her a message immediately, but we'll handle this issue immediately. And I did, she was sent a replacement on a Sunday in less than 12h after she decided to send us a message – despite me being in Greece.
Anyways, once I replied to the review and deleted my reply the customer couldn't change the review and I couldn't reply again. I tried to contact Etsy support to help, but they refused to delete the review, let the customer change it, or letting me repost my public reply.
Etsy's reply was "you need to ask the customer to call us and ask to change her review" – Who would go through so much hassle as a customer?!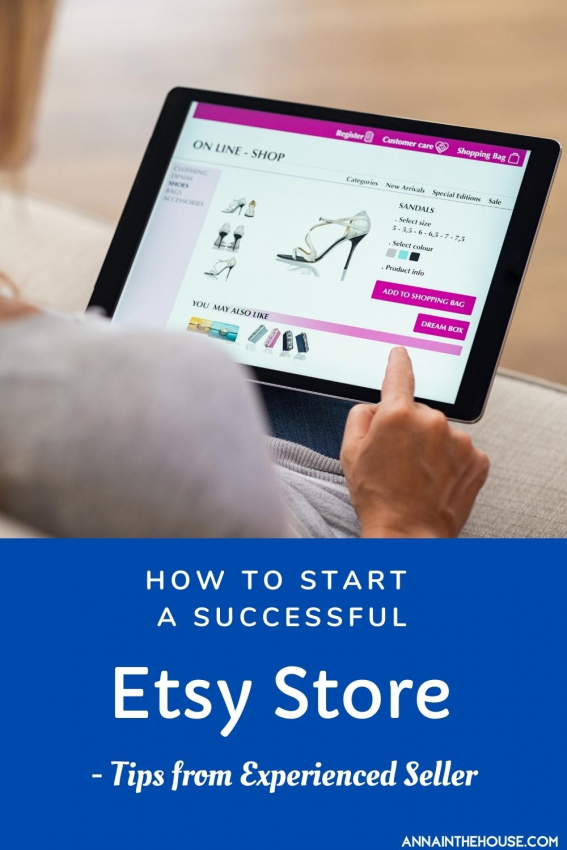 ---
Is it still worth setting your Etsy store? Absolutely! It's a good starting point, it's a good place to find your niche, look at the competition and it's a fantastic place to make a little side income. That's it. Once you have more knowledge and reputation behind you, I'm guessing most people move onwards to a separate platform.