Cybex Coya belongs to the Platinum line of Cybex strollers which, according to the brand itself, represents the ultimate in high-performance and iconic design. Coya looks fancy and luxurious, just like its bigger cousin Cybex Priam.
It's lightweight and compact enough to be a travel stroller or airplane stroller as it fits in the overhead bin without any issues.
Full disclosure: I bought this stroller myself. I wasn't paid and this isn't in any way influenced or curated by the stroller company, so this review is as objective as can be. Feel free to ask any questions in the comments.
Pros & Minor Cons of Cybex Coya
Age Range – newborn (with car seat) to 48 pounds (22kg)
Stroller Weight – 14.5 pounds (6.6kg)
Folded Size – 20.5 x 17.3 x 7 inches (52 x 43 x 18cm)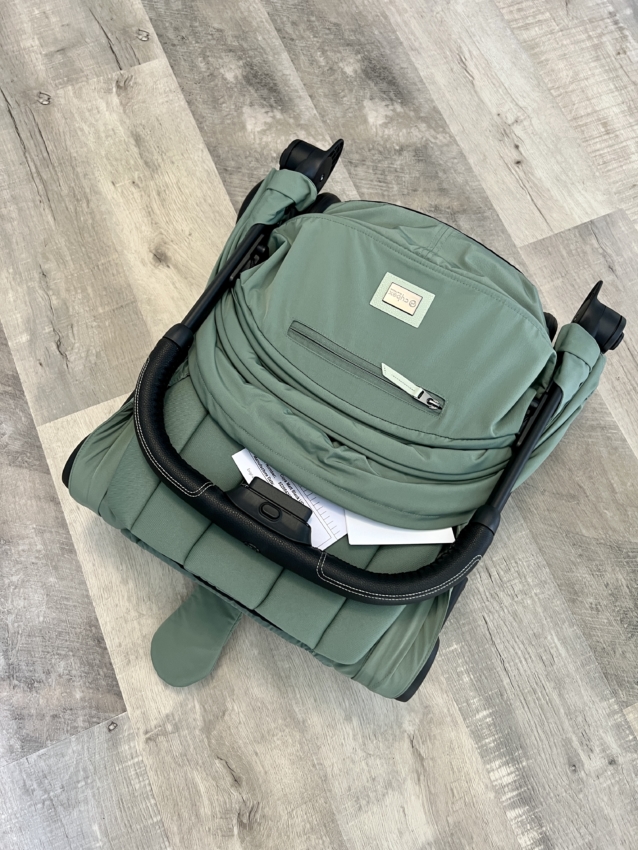 ---
Maneuverability & Design
Cybex Coya is designed differently from any other Cybex stroller and travel strollers in general. The folding system is different and the design is something in between Babyzen Yoyo and Cybex Priam.
The colorway of Coya's covers and frame is the best part. You can choose between a chrome, rose-gold, and matte black frame and the matte black is absolutely stunning!
Then, you also pick a color. They even offer off-white, which I would never get for a travel stroller as it gets dirty nonstop, but I guess it's interesting.
The parental handle is leatherette and slightly lower than Babyzen Yoyo's or Orfeo, but it's not uncomfortable.
Coya is suitable for a newborn with car seat adapters and as it's a Cybex stroller you can use reclinable Cloud Z car seat with it. The adapters can be folded down instead of having to be removed which is a nice feature.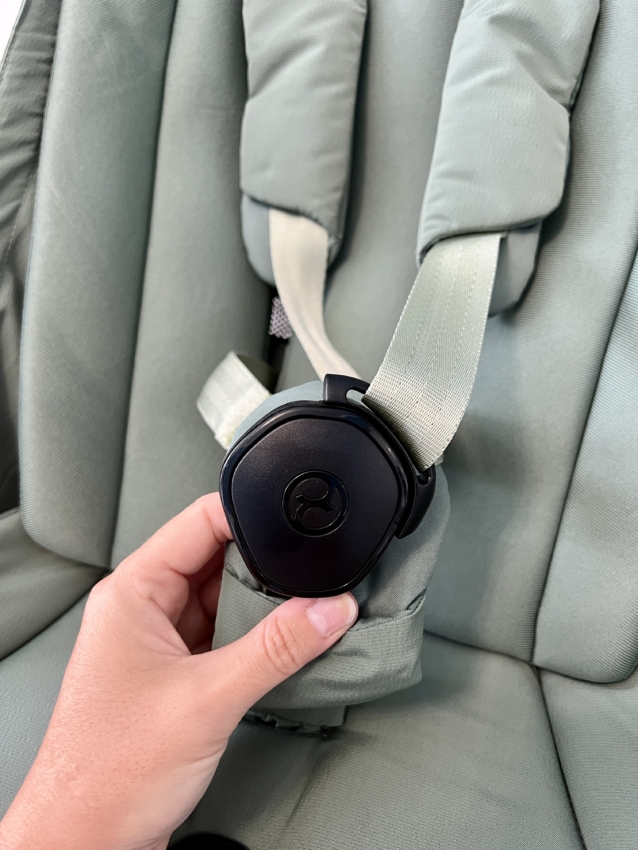 ---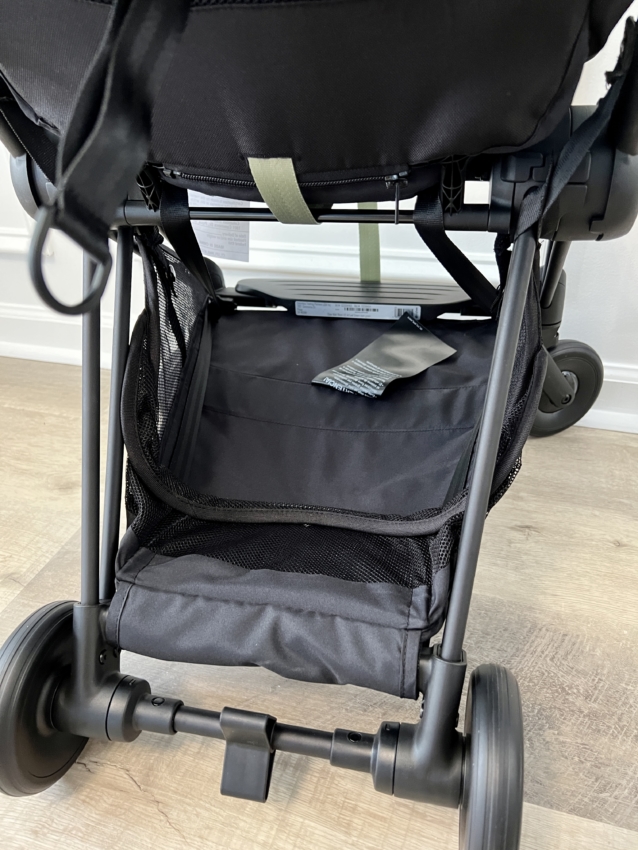 ---
---
Folding and Unfolding of Cybex Coya Stroller
Folding is one of the two worst features of Cybex Coya, the other one is less stable than any competitors. The promotional video makes it look like it's a 2-second one-hand process, but in reality, it doesn't work that way.
First, you need to push the buttons on the parental handle and the top of the stroller will fold forwards. Then that part is meant to automatically drop down to the ground, but it happens 80% of the time. Other times you need to give it a gentle push down.
Then you need to compress the stroller by pulling on a strap, usually by lifting the stroller up. The stroller won't fully compress that way, so you need to compress it until you hear and see the safety strap clicking and locking itself, by either pressing it with both hands or by hanging the strap on your shoulder and pushing your arm down.
In reality, the strap was often getting stuck elsewhere awkwardly often and you had to dig inside to find it.
To unfold, you need both hands as you need to unhook the safety lack with one hand while pulling the parental handle out with the other hand. Then the stroller opens and locks in place.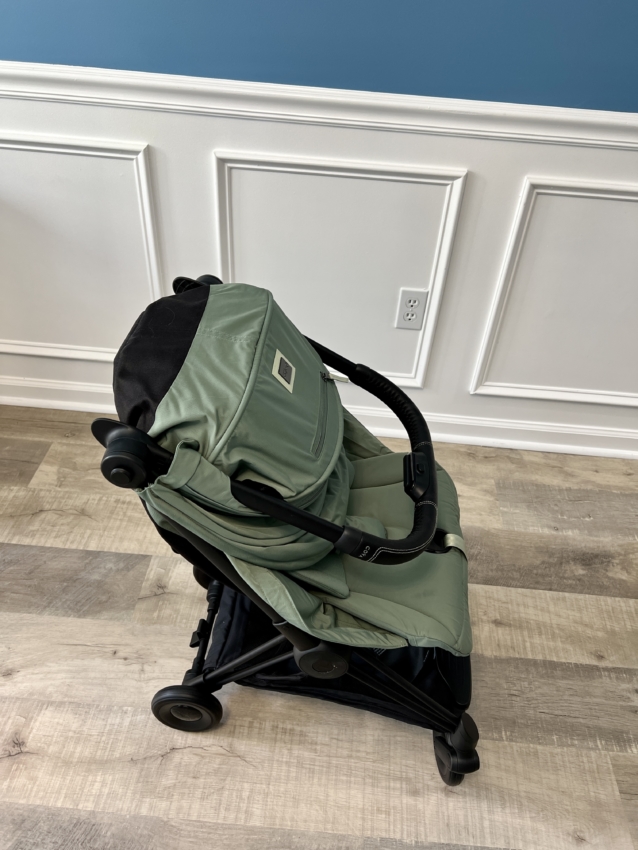 ---
Seat Compartment, Recline & Canopy
Cybex Coya is equipped with the new one-pull harness which replaced the old harness system on all Cybex models. It's great, especially for wiggly babies, but it does leave the stroller with a longer hanging part of the strap at the bottom.
The padding on Coya is made with high-quality materials and you can see it instantly. It's fantastic, the seat is padded a lot and the backrest has a mesh opening that actually stays in place (unlike other strollers), very useful on hot days.
I did notice that any water or milk stains stay on the fabric for a long time so the stroller can look dirty longer. Considering that Cybex also released Coya in white it's actually quite comical.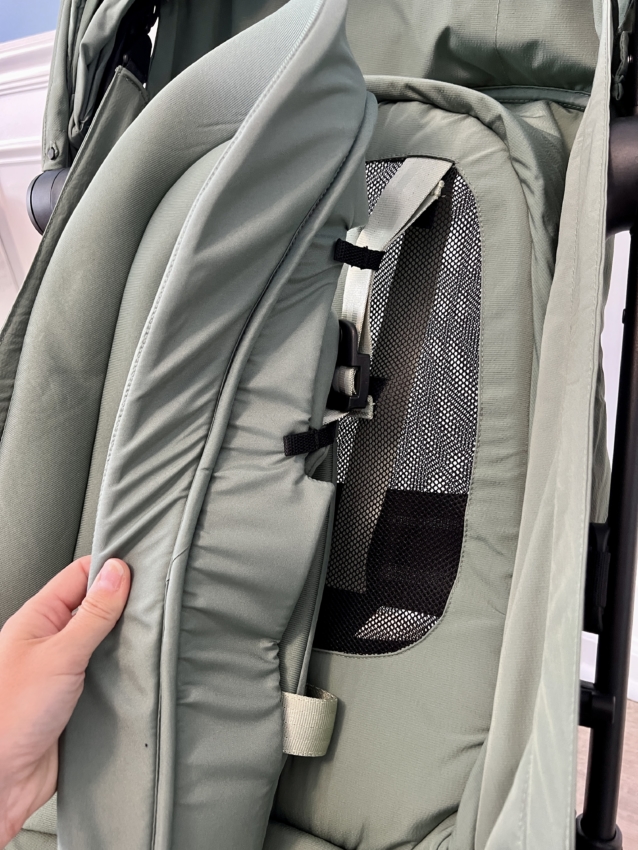 The inside seat has a width of 12.9″ which is slightly less than Orfeo but comfortable enough for a child. I do feel like while it has an in-built leg rest, similar to Orfeo, it serves more as an in-built part rather than actual leg rest, unless the child is less than 6 months old. The leg rest is pretty weak as it's basically a piece of thicker material trying to hold it together.
The biggest flaw of Coya's seat is that the upright angle is extremely tilted in a semi-reclined position which most kids over the age of 1 absolutely hate. It's basically just as deep as Peg Perego Selfie, which was a disaster when we took it for a day out. Considering the fact that the bumper bar for the child to hold onto is currently almost always out of stock, it's pretty ridiculous.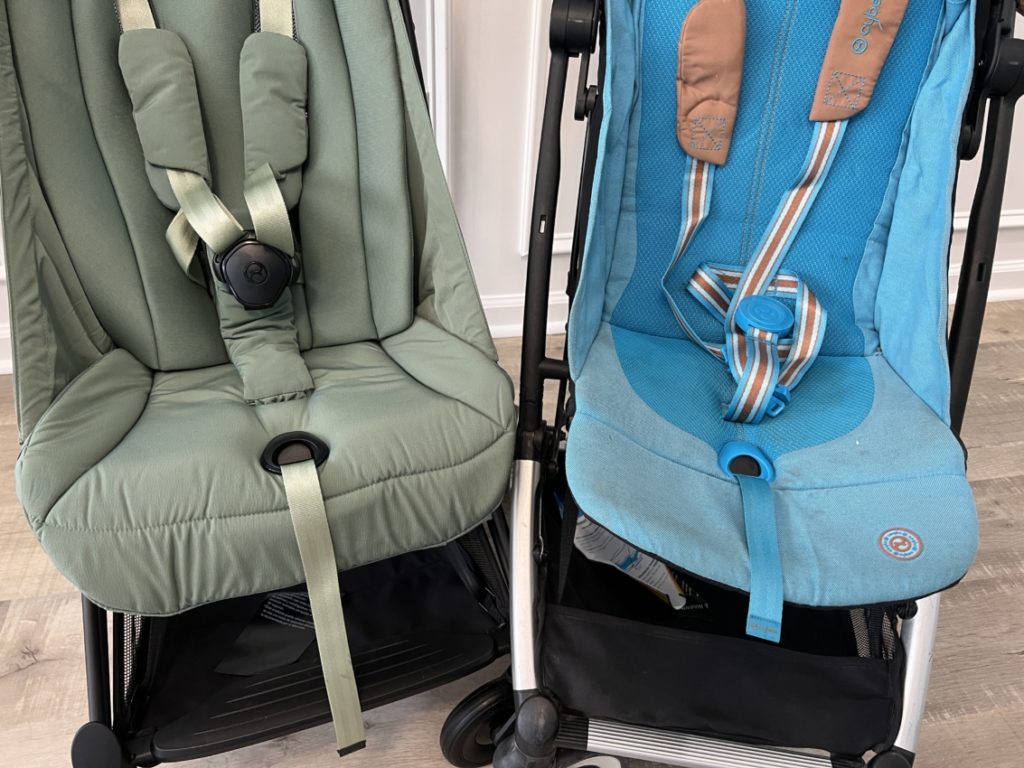 The canopy is sufficient and extendable, but unfortunately, strollers producers keep making strollers with a mesh section that doesn't offer any flat to cover it which doesn't seem like an issue until it's very sunny, bright and your kid is too distracted to sleep when they can see you through the mesh.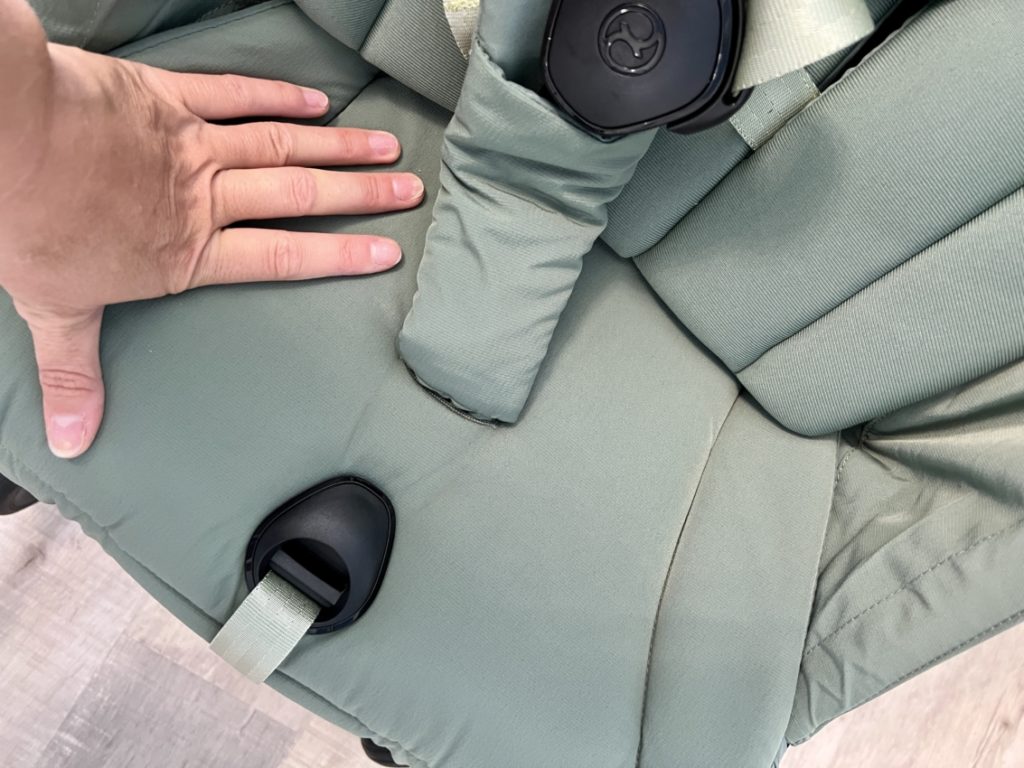 The recline is not 100% flat, it only goes as deep as the picture below shows if you're in the US. It's marketed as flat, but if you buy it in the US it simply cannot be due to legal requirements of compact strollers – basically, similar to Joolz Aer+, if you buy it outside of the US you'll get an actually flat recline, but not in the US. Is the recline comfortable enough though? Yes, it is.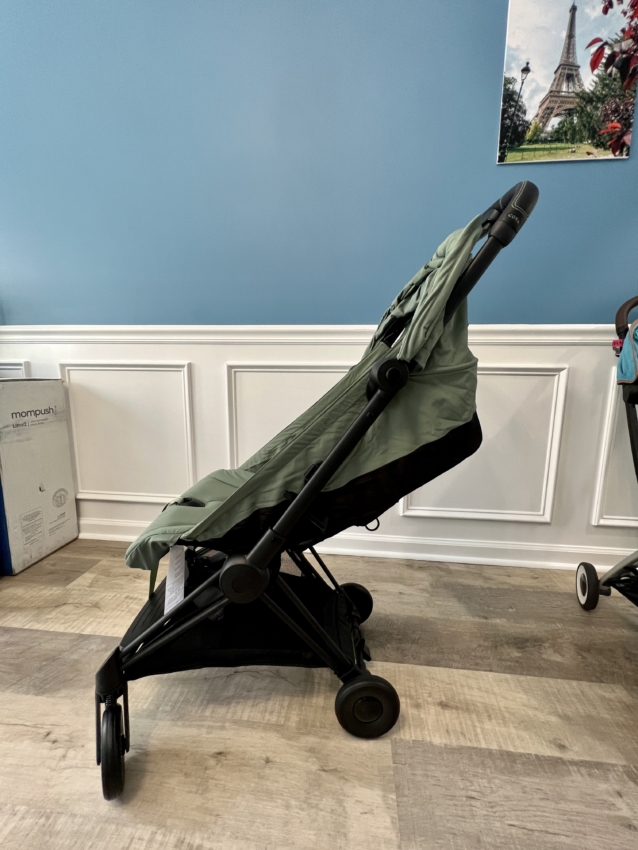 Cybex Coya vs Orfeo
When folded Cybex Coya and Orfeo are exactly the same, but Coya is slimmer unfolded. This isn't a good thing actually, as it makes the stroller more prone to tripping.
Coya has a little zip pocket on the back of the seat, which is a lifesaver for parents while Orfeo does not. However, the pocket is pretty small to the extent my iPhone 14 Pro Max barely fits so it was a bit of a letdown after Babyzen Yoyo's pocket where I like to store emergency tissues and diapers.
Coya, despite being a luxury model doesn't have a 4-wheel suspension (it only has front wheels suspension) and while it's not a deal breaker, it's something one should expect from a luxury and highly-priced stroller.
Despite the "luxury" features that Coya offers, Orfeo is simply more practical than Coya. However, would I personally pick Orfeo as my go-to travel stroller? No, I wouldn't pick either of them.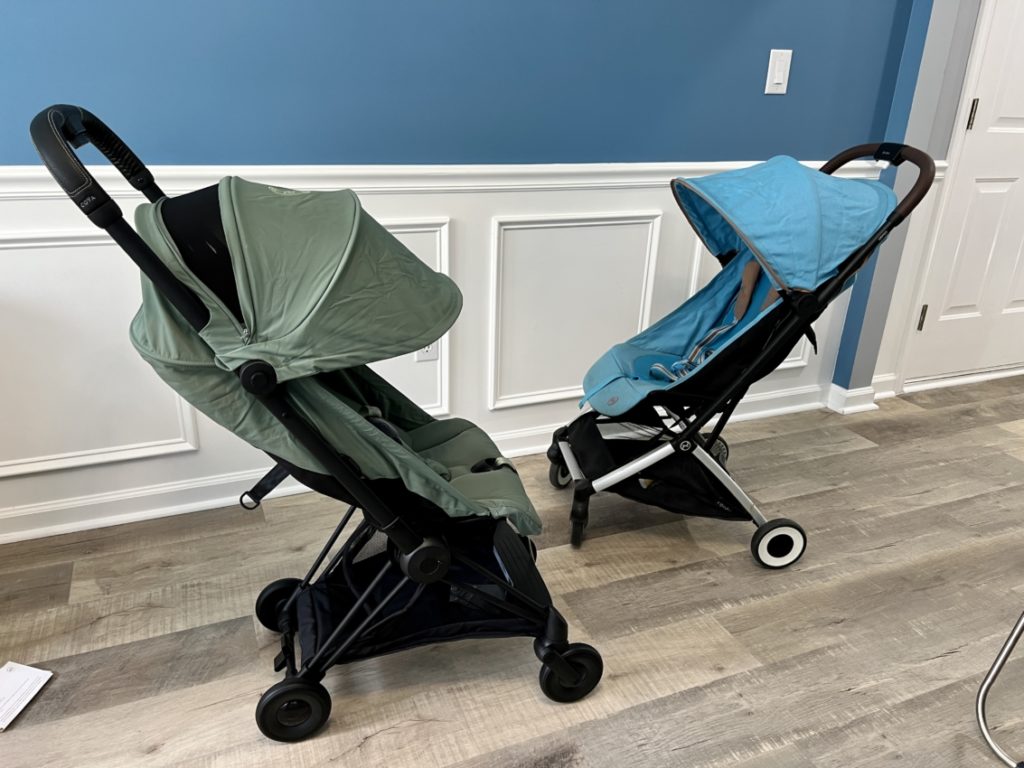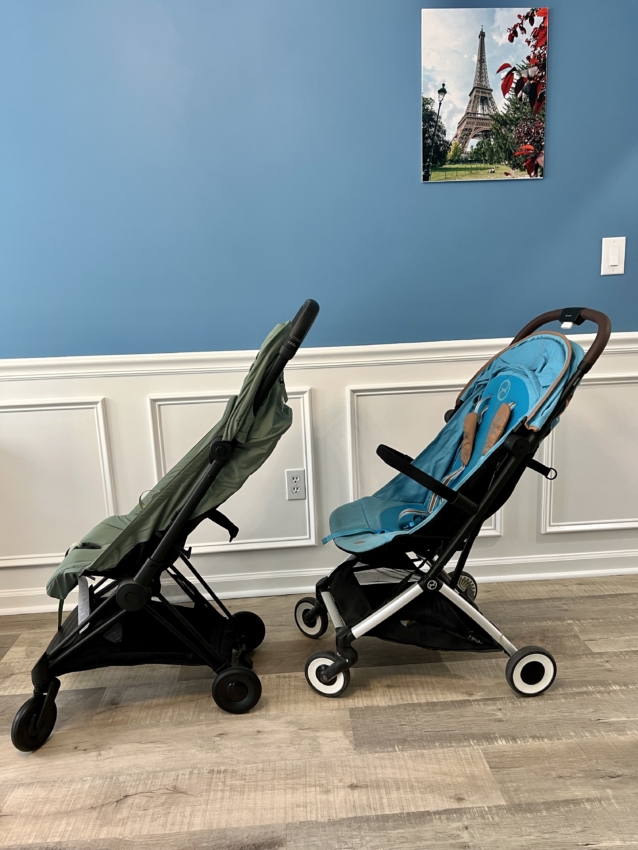 ---
Final Verdict
Despite the initial excitement, I'm not sold on Coya. While the quality is there and it fits in the overhead bin, it just doesn't hit all the checkmarks for the best travel stroller. The concept is interesting and it definitely works better than Cybex Libelle, but the stroller is lacking stability and easier fold. It's not a horrible stroller, but for this price you can get better travel and compact strollers.