Uppababy Minu is a travel friendly version of its bigger cousins Uppababy Vista and Cruz. It feels like a full size stroller, but it's much smaller – allowing a parent to bring it along as it's much more lightweight. Yet, it's not an umbrella stroller that requires both hands to push and at times feels flimpsy.
When I got Minu the brand wasn't new to me – in fact, Uppababy Vista was the first stroller I've ever owned and while we quickly got rid of it due to its size and other flaws, I was curious how would a lightweight Uppababy stroller perform.
Did I fall in love with Uppababy Minu? Not quite. While it's well thought out and you can see the quality is there, compared to its other lightweight competitors it wasn't my top pick. In fact, it didn't even make it to my top 5 lightweight travel strollers. I'll explain what's great about it and what's not to great about it in the post.
Full disclosure: I bought this stroller myself. I wasn't paid or given a sample, so this review is as objective as can be. Feel free to ask any questions in the comments.
Age Range – 6 months to 50 pounds (22kg) – from birth with a newborn cot
Stroller Weight – 16.9 pounds (7.6kg)
Folded Size – 23 x 20.3 x 12 inches (58 x 52 x 230cm)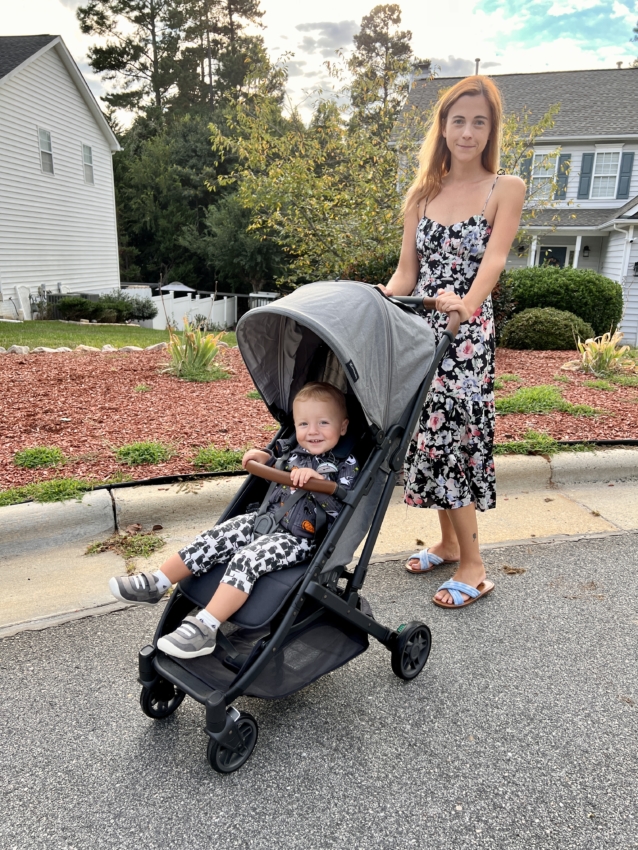 Joolz Aer+ Stroller – Is It Worth It?
Maneuverability & Design
Uppababy Minu isn't a cheap stroller, it's actually one of the most expensive strollers on the market so naturally, a customer expects no flaws. The frame is durable, doesn't scratch easily and you can see that it's made of quality materials.
The handlebar is leather which personally I don't care about, but it's a nice luxury touch. It is not vegan though – it's real leather.
The single-action brakes of the Minu are color-coded with two different pedals for set and release. The pedals align with each rear wheel and are easy to press, which requires changing the side which isn't an issue – just something new to get used it, especially if you put a buggy board on it.
And speaking off: Uppababy buggy board doesn't come with a seat. My own child doesn't approve of any boards without a seat so for us it was a deal breaker.
The Minu has single plastic wheels on each front leg but they don't lock in place for easier movement over rough terrain. They can take a lot of uneven terrain, but understandably the stroller won't be doff-roading all the time smoothly. However…
As I mentioned already in case of Joolz Aer I hate when the folding release mechanism is in the middle of the handlebar. Why? I push my strollers one-handed and this means that I have to grip over the mechanism or grab it next to it which requires more effort and isn't that comfy.
The next thing I absolutely hated about Minu was the bumper bar. It came included with a stroller which was nice and could also be swapped to a drink and snack tray – both were fantastic options that I wish more strollers would offer.
It all looked great until I sat my child in the stroller. The bumper bar is ridiculously short! The purpose of a bumper bar is meant to help a child hold onto it or pull on it to sit, but my son who was 18 months at the time couldn't even grab onto it without his elbows being squished all the way to the back.
It was absolutely ridiculous and I cannot imagine any child being comfortable in it – in fact, mine are pretty skinny but a chunkier child might feel trapped by this bar. Especially considering the fact hat the seat retracts just like in the photo below.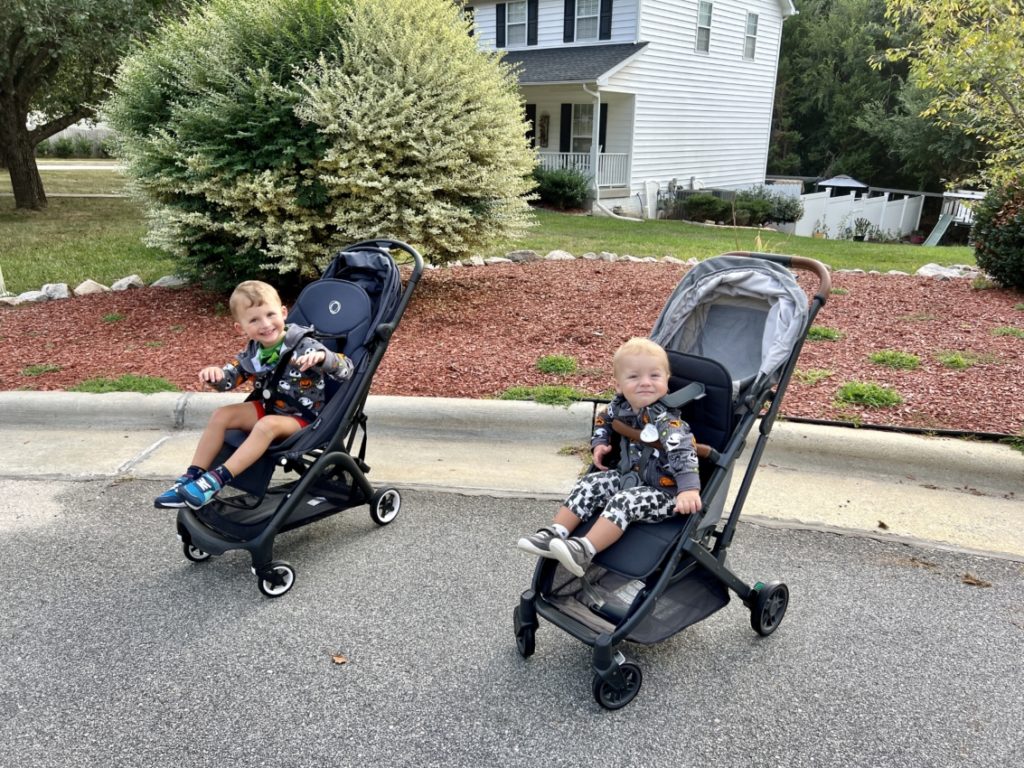 Weight and Size
The downside is that the handlebar is high when unfolded, but can't be retracted or folded down when your child is seated. I can easily fold the handlebar on a Babyzen Yoyo or Bugaboo Ant which makes it fit in restaurants or public transport, but Minu is stuck taking more space.
The Minu meets stroller size requirements for Disney Parks and technically folds small – only if you compare it to full-size strollers. Compared to any travel strollers or lightweight strollers Uppababy Minu is huge and heavy when folded.
Can you bring Minu on plane? Does Uppababy Minu fit in overhead bin?
On 90% of planes, it doesn't fit in the overhead compartment and has to be gate checked. So many reviews say it fits, but as someone who flew over 100 times all over the world with strollers I can tell you that the chance that a) the staff will let you take it b) it will actually fit physically in the bin, is next to none. In fact, even the brand itself admits it.
Folding and Unfolding of Uppababy Minu
One thing I always say about folding and unfolding the stroller is to check both. Most brands promote their strollers as "one hand fold" and so is Uppababy.
While Minu can indeed be folded with one hand, it cannot be unfolded with one hand due to the lock on the size that absolutely requires both hands. To unfold, you release the catch and have to bend down slightly and pull the handlebar upwards again.
Storage Spaces
The storage basket for a compact stroller is pretty nice. It's naturally not as big as on their full-size strollers, but it's pretty incredible. It can take up to 20 lbs of things! But, beware that you won't be able to squeeze in a big diaper bag in there because it's not that big.
There is also a pocket on the back of the stroller for phones, keys, or wipes. I love when a stroller offers a little pouch!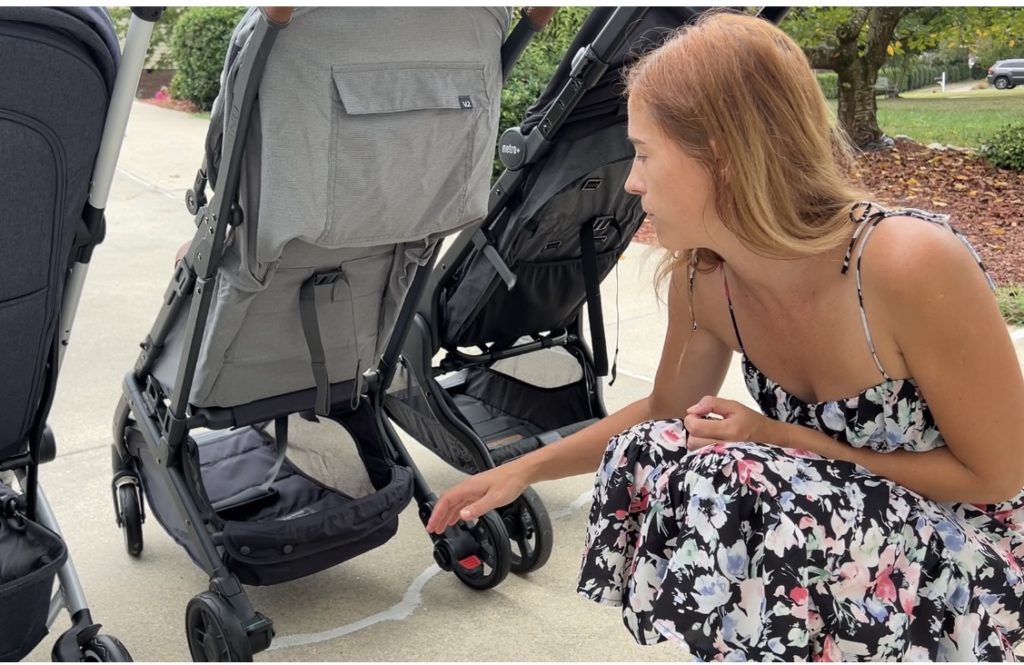 Seat Compartment, Recline & Canopy
The seat can be used from approximately 6 months and up, but Uppababy offers a "From Birth Kit" for $199. It's a smaller version of their bassinet.
The harness is one of the easiest to use with a user-friendly rethread design. Never had a single issue with it to be honest (and can't say the same about some others – hello Joolz Aer, looking at you!)
The Minu has a gradual recline and reclines easily with one hand to lie nearly flat. It requires two hands to return the back to a seated position, but that's not really a con – most strollers require the same.
The canopy on Uppababy Minu stroller is meant to be its biggest advantage and it has a giant peekaboo window in it that doubles as a ventilation mesh, but I found it very flimsy – pops back every few feet of walking or when going over a sidewalk bump. While it hasn't broken on me, I've been people reporting that it kept falling off.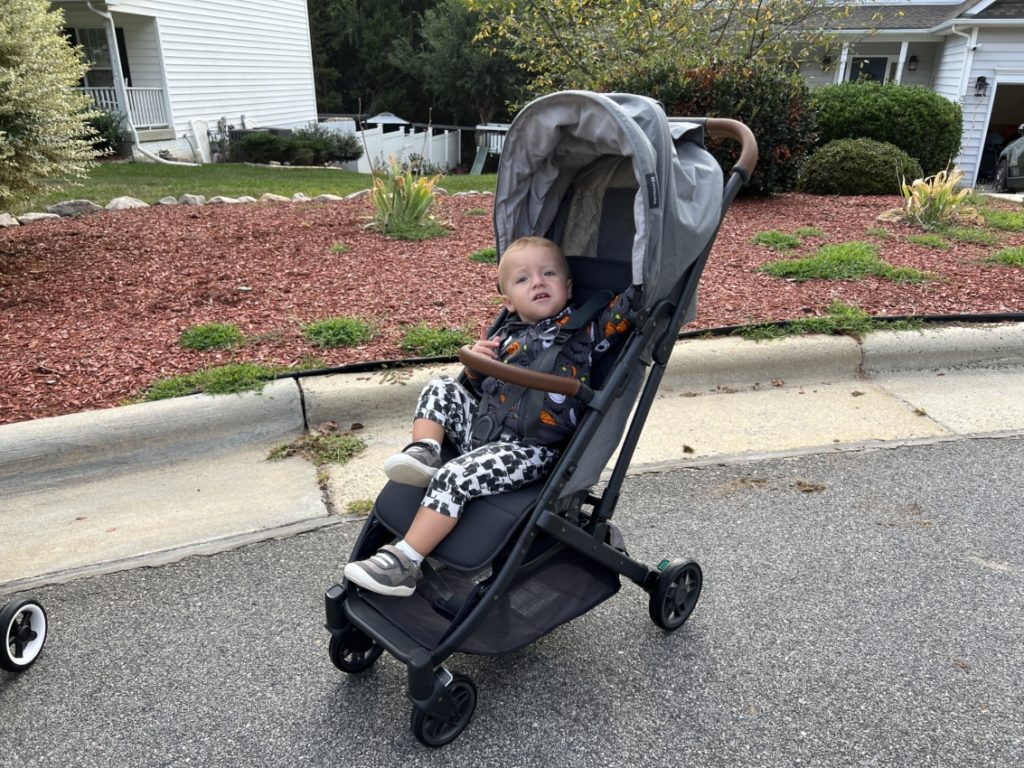 Final Verdict
Do I recommend Uppababy Minu stroller? Not necessarily when you take into account its hefty price tag, the fact that it's heavier than other strollers, and folds pretty big.
For a city use or travel stroller I still will recommend Babyzen Yoyo over Uppababy Minu. It you don't like the design of Yoyo and prefer the Minu the Zoe Traveler is a cheaper but quality alternative that also folds smaller than Minu but offer the same features such as huge canopy and even better recline.