I've been eyeing Zoe strollers ever since I saw it on the street in Boston. It looks compact, and lightweight and the canopy was huge. Even though I ended up buying and keeping Babyzen Yoyo as a travel stroller for just one, when the second baby showed up we needed to figure out what kind of stroller to buy for our travels.
I was eyeing the Tandem+ double stroller for a while. Tandem strollers are the width of one stroller but with added length to accommodate a child. This means that a tandem stroller won't take up as much walking space on a sidewalk, in a store aisle, or on public transportation. But, this isn't the case with Zoe stroller. Zoe side by side stroller is basically the width of single Uppababy Vista (2″ difference).
I decided to get Zoe Twin stroller (side-by-side). My toddler has been wanting to be near the baby to show him things, they both get the same level of visibility, and side by side strollers are way easier to push because of the weight distribution.
Months later, we still have it and we use it (or even abuse it sometimes, haha!) and it's still going strong. I'm definitely glad I purchased it and while it might not be for everyone it's a good double stroller for travel, especially the price.
---
Pros & Cons of Zoe Twin + Stroller
---
Classic vs Luxe Zoe Model
I own the Classic model, because in my opinion it made no sense to keep waiting for Luxe (it's usually sold out) and have a leatherette handle on my other stroller and it makes no difference to me.
The material on the seats is probably better on the Luxe, but to me personally, it wasn't worth paying the extra $100-something dollars. I just assumed that at some point we might need to change the wheels anyway and for $30 I can order spares.
The price for Zoe Twin stroller is competitive – $299. It's one of the most affordable strollers on the market.
What brings me to accessories…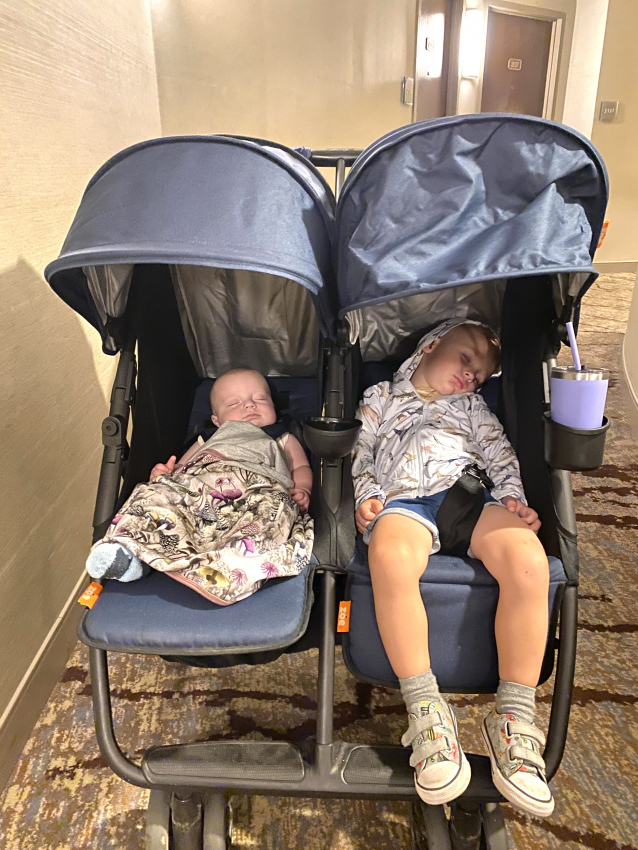 ---
Accessories
My Zoe Twin stroller arrived with some accessories – a cupholder for the parent, a double bar, and one side-snack compartment and one cup holden for the child.
When the baby was tiny he didn't need anything. My toddler personally never used the bars past the age of 1 and he wants to go in and out freely, so we used the cup and snack holders at first.
Note that the cup holder can come off easily, so double-check if it's in your trunk or your toddler hasn't decided to throw it away at some point during your walk 😉
However, as the baby grew I wanted to have a bar for him to be able to pull up on it. This wasn't possible in the combination it came with, so I had to purchase a twin half belly bar and I also got a rain cover for the stroller.
That way the toddler can still have his juice holder and the baby can have his bar. Once the baby doesn't need the bar I can just order another cup holder and they can share a snack container in the middle.
I mention it, because the half bar and rain cover came down to about $75 extra. If your kids prefer snack trays in front of them you'll need to order it separately as well (but you can either have both belly bars, both snack trays, or half bars or half snack trays but then the other kid can't have anything apart from the drink holder.
Maneuverability & Design
I'll be real… when I received my Zoe Twin+ Stroller I felt a little disappointed at first. So many people love this stroller and I couldn't feel a bit underwhelmed. The stroller felt slightly flimsy, seats were sinking a bit – it definitely wasn't Babyzen Yoyo quality.
The stroller is light and at only 17 lbs it can add to the feeling of more flimsy because of that, but it's really not bad. Even if you hang a diaper bag off the handle it will stay still.
After using it for a while I can say that while it might look innocent, Zoe stroller can stand a lot and it surely won't fall apart easily.
The handlebar is not adjustable but feels comfortable for both me (5'7) and my husband (6'1).
The pedal break is a bit frustrating as it's a whole pole and sometimes I'm not sure whether the stroller is actually locked or not. It's pretty hard to unlock in sandals.
As a side by side double stroller Zoe is easier to push than tandem strollers (yes, even the big fancy ones), but I won't lie to you – it's still hard. After all, you are pushing two kids and a diaper bag and they all weigh a lot together.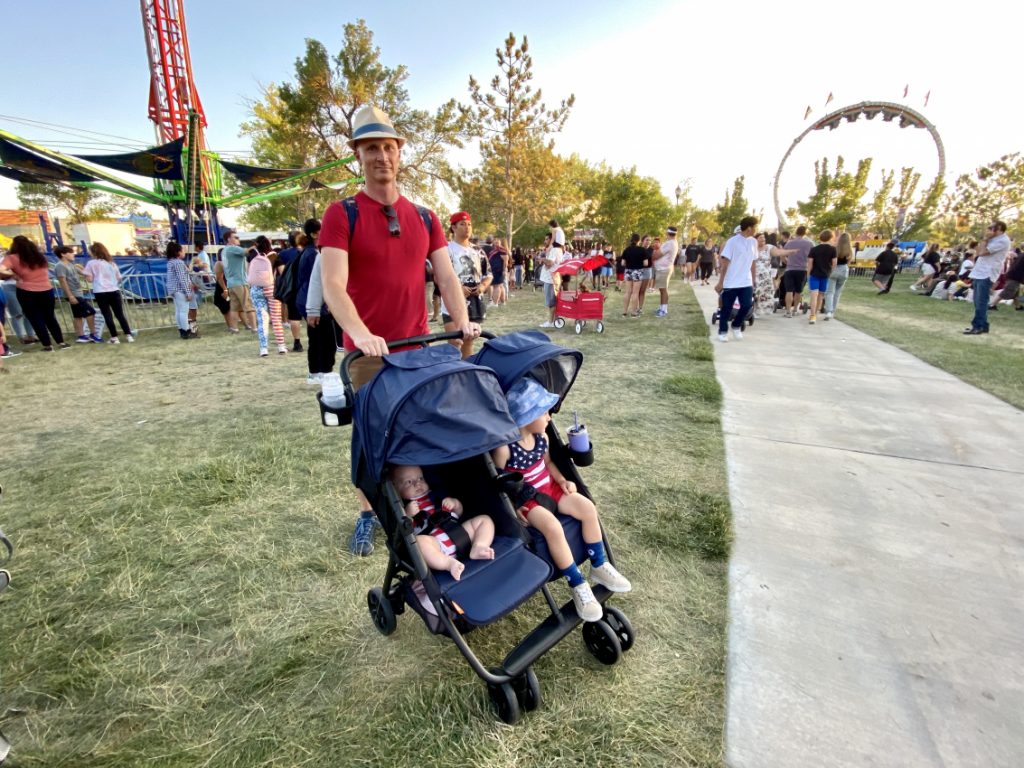 ---
Wheels
I didn't expect much from wheels. They're small and don't look very sturdy and durable. The double wheels are supposed to provide balance and the ability to go over rougher terrain, but I wouldn't call this ride smooth.
It will ride just fine on the grass, but if there's an "obstacle" like a water hose on the way the stroller won't go over it. I had to lift the front to conquer the water hose various times.
We did take the stroller on a very rough hike (by accident, not knowing the trail) and while it survived at some point my husband said that it's better for the toddler to get off because it might be too hard.
I'm curious how and if the wheels will handle snow this winter.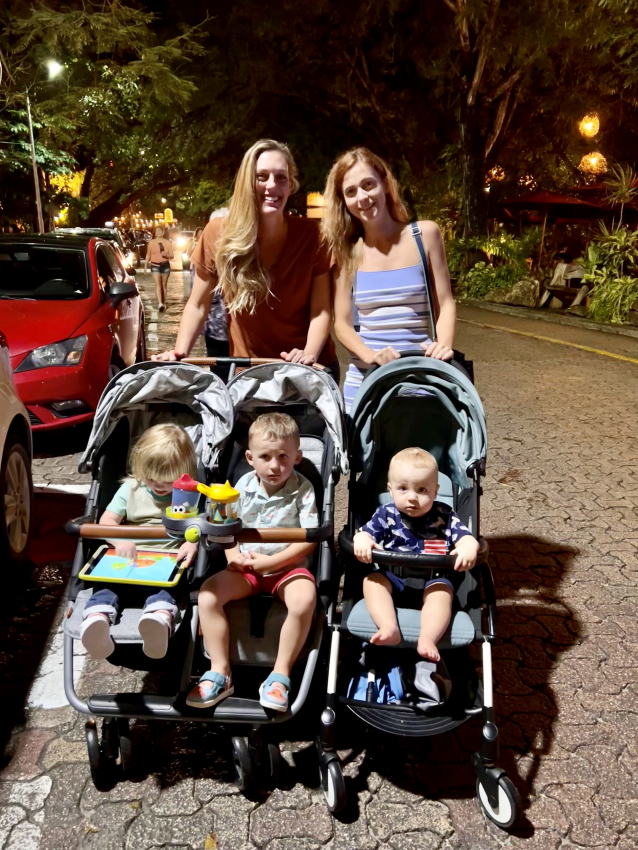 Storage
Storage is not humongous, but the mesh basket holds our diaper backpack and some other random things. It's plenty of space for us. It's elastic and has straps so if I want to insert a bigger item it's not an issue.
The rear shade includes a pocket that fits a cell phone and bib so – pretty convenient feature.
---
Folding & Size
We got Zoe stroller because of how small it folds. Anything else takes the entire trunk space and some (like Bugaboo Donkey Duo) wouldn't even fit in our trunk, because we have no hatchback.
It folds easily, you just need to spread your arms and reach to the bottom of both seats and pull the strap underneath.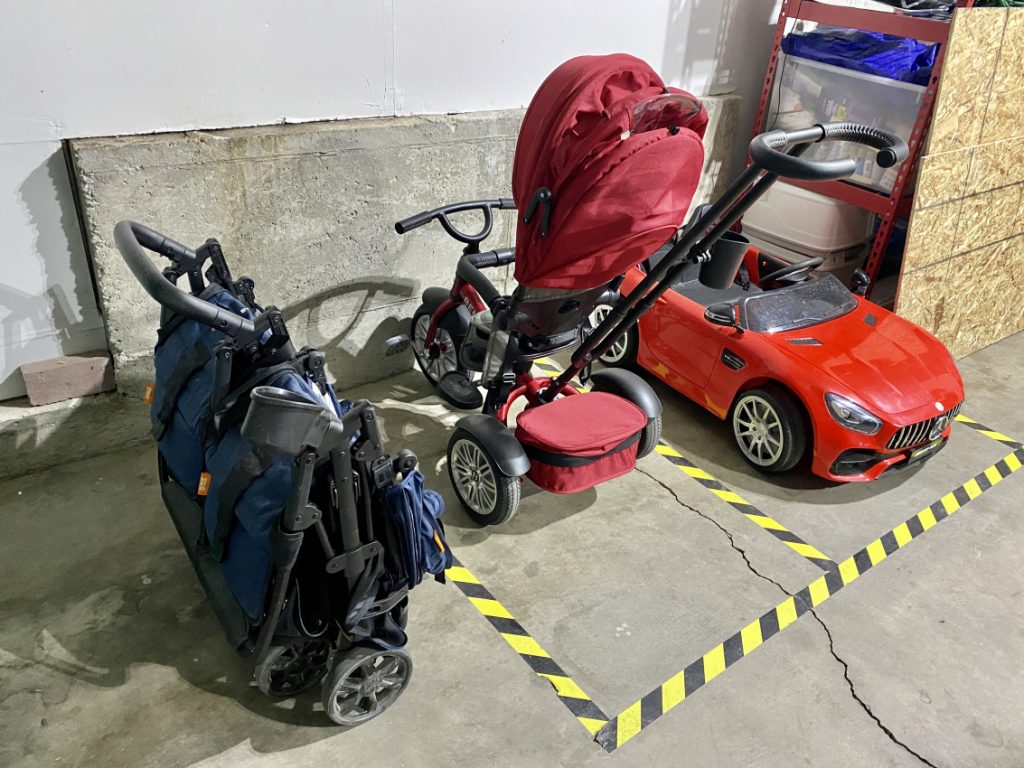 Seats, Reclines & Canopy
Zoe strollers are loved for the canopy – it's giant! The bonus of this twin stroller is that both canopies are independent so when one child wants more privacy it's possible. In fact, my 2-year-old just grabs the canopy and sets it up himself.
The canopies also have a magnetic peek-a-boo window, but quite frankly it never stays open for me. It's not a big deal, especially with my toddler yelling at me for spying on him, but definitely something that could be improved.
The same independence goes for the recline feature. Children can recline separately and it doesn't bother the other child, nor it changes the weight distribution and ability to move the stroller. One child can sit up straight with the canopy folded back above them while the other lies back with their canopy pulled deep over them.
Recline is not entirely flat, but it's close to flat. I always say that even if something is advertised as "flat recline" it's pretty much the same. No child of mine ever looked uncomfortable or complained about this recline.
The footrest is great for smaller children and perfect for naps. It's basically an extension to the seat you can fold away (something I always wished full-sized strollers had instead of an awkward U-shaped footrest that's pretty awkward for taller kids).
The seat holds kids up to 50 lbs and is quite tall. Padded harness straps feel comfortable and my baby loves to munch on them for some reason.
Safety buckles are sometimes hard to unlatch, but it's a minor flaw. To me personally, it's a bit better, because my now 2 year old could get out of car seats and strollers since he was 1.5 and when it's a bit harder he cannot escape this stroller.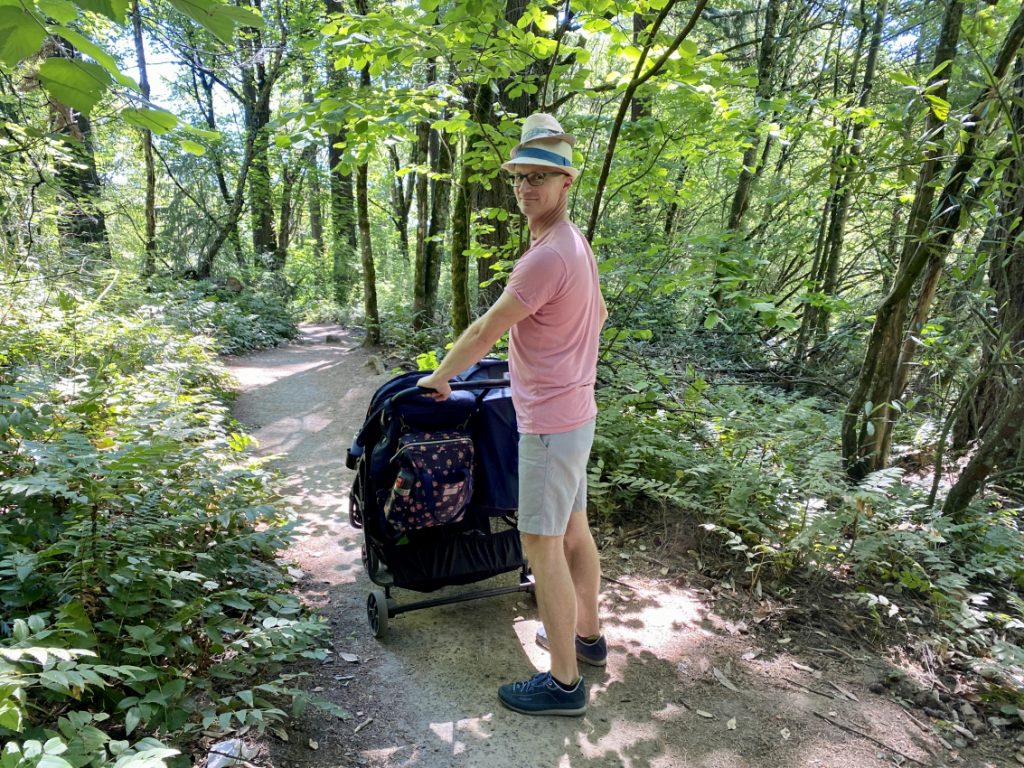 ---
Traveling with Zoe Twin Stroller
Despite the fact that I'm an avid traveler (with and without my children) we've only traveled to Pacific Northwest by car with the stroller.
We took it on a few flatter hikes and it worked just fine. We had a problem with this stroller at a restaurant in Seattle because it was too wide to go through the door (and no way it will go through any doors in Europe either). Despite it being small compared to other double strollers it's still a big item.
When we went on our longer trip we didn't bring Zoe. It simply felt too big to lug around and after giving it some thought it felt better to just bring the Babyzen Yoyo for the baby and let the toddler walk (or ride on the suitcase as pictured below – or you can get this one).
I'm still unsure whether we'll take it on future trips, but the answer is probably not unless we ever go to Disneyworld. Zoe Twin stroll is Disney approved, because it's so small, which makes it one of a few doubles that are approved (btw wagons are banned at Disney). If we really need to I'll probably purchase another Yoyo+ stroller.
Most of my European friends use two single strollers for two kids because with a wide double it's pretty much impossible to go to a store, maneuver, and I cannot even imagine entering public transportation with it (it's impossible in many places) and tandem strollers are pretty heavy. Let alone basically taking the entire crowded sidewalk with the stroller.
That said, while I do enjoy Zoe Twin+ Double Stroller, it's just not as practical for travel as a single stroller, or two single strollers instead.