Joolz Aer stroller is the first lightweight stroller of the very established and trusted Dutch brand Joolz. Aer is described as a high-quality, stylish, lightweight buggy. Is it really a good stroller though?
I'll be real. When the stroller was first released I wasn't convinced. Their full-size stroller like Geo 2 was weirdly designed with a second seat at the bottom and no basket. Their Joolz Day stroller was good, but pretty expensive for what it offered considering its size and most of my friends quickly swapped it for a smaller stroller relatively early on. When Joolz Aer showed up first it was released with no accessories, which made it impractical so I kept using my Babyzen Yoyo.
These days the accessories and extra options are available for the Joolz Aer and I finally bought it. It's safe to say that Joolz Aer quickly became our second go-to stroller for a while. I can honestly say that it's a top contender when it comes to quality travel strollers available on the market, but there are certain things you need to take into consideration when buying it – like the fact that it might not be guaranteed on board a plane.
Full disclosure: I bought this stroller myself. I wasn't paid or given a sample, so this review is as objective as can be. Feel free to ask any questions in the comments.
Age Range – 6 months to 50 pounds (22kg) – from birth with a newborn cot
Stroller Weight – 13.4 pounds (6kg)
Folded Size – 21 x 18 x 9 inches (55 x 45 x 23cm)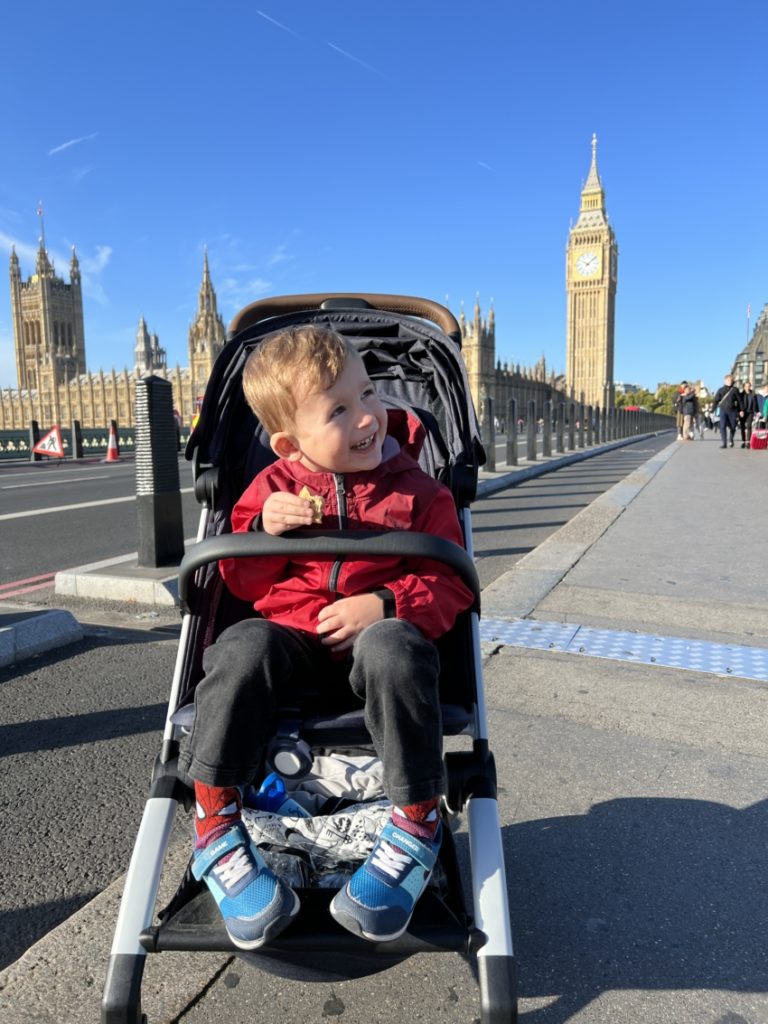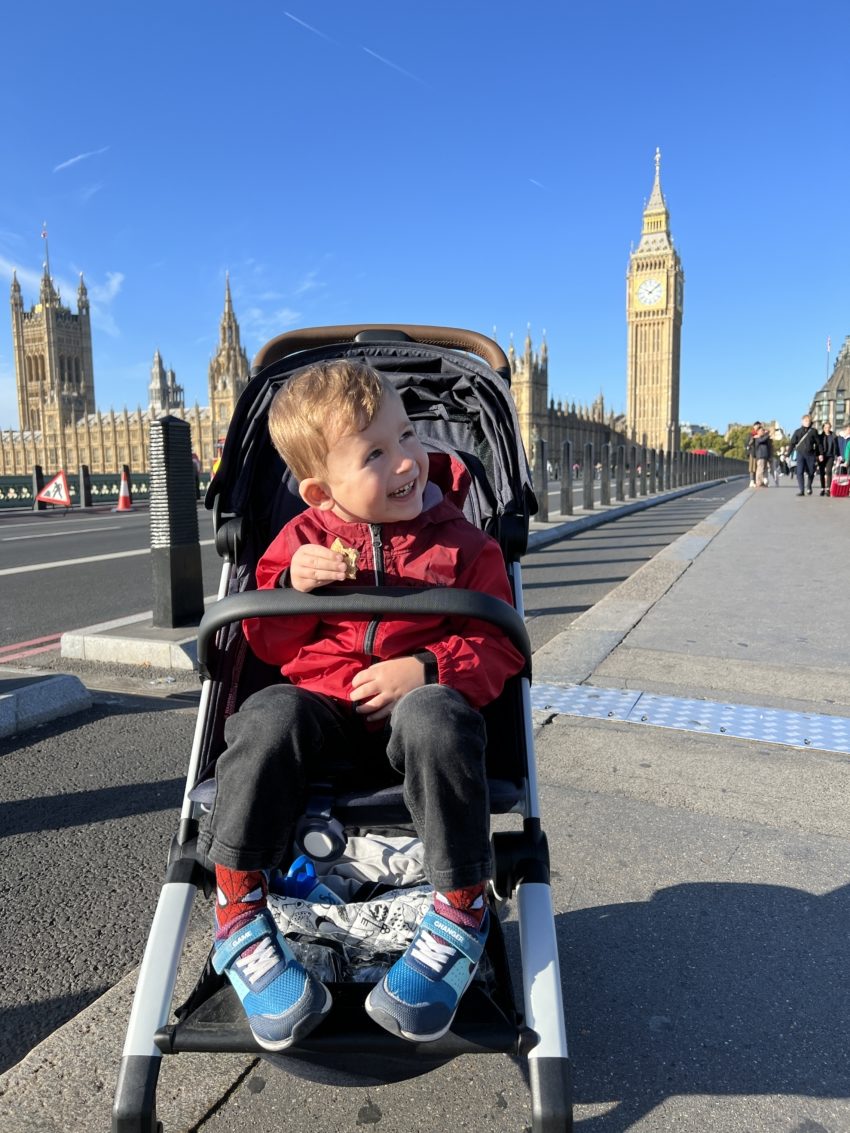 Joolz Aer+ Stroller – Is It Worth It?
The release of the new Joolz Aer+ stroller version is making many parents ask whether it's worth the upgrade. What's new? Were all the annoying features of Joolz Aer corrected?
The new version offers only slight improvements so if you already own the Joolz Aer I wouldn't necessarily buy the + version. Especially since it does NOT come with the rain cover anymore like the now discounted standard version.
The basket underneath is slightly larger, but not by much – it's not really making a difference.
The recline is deeper offering near flat recline (in European version at least, because it's not as deep US & Australian versions due to recline laws on compact strollers – it makes the stroller less stable).
However, it's still a zipper-regulated recline that now will require stuffing even more material. Not to mention the break is in the middle which when the stroller is reclined deeper will be harder to reach. It's also less convenient to push when the stroller is reclined more because you have to reach over it.
The canopy is minimally larger and the huge peekaboo mesh is smaller, but still doesn't offer the flap.
The biggest difference though is that now the bumper bar is foldable with the stroller. It was a deal-breaker for me because the bumper bar was a big pain to reattach and detach, so for this feature alone I'd pay extra and exchange the stroller myself but overall I'd probably wait for the next version.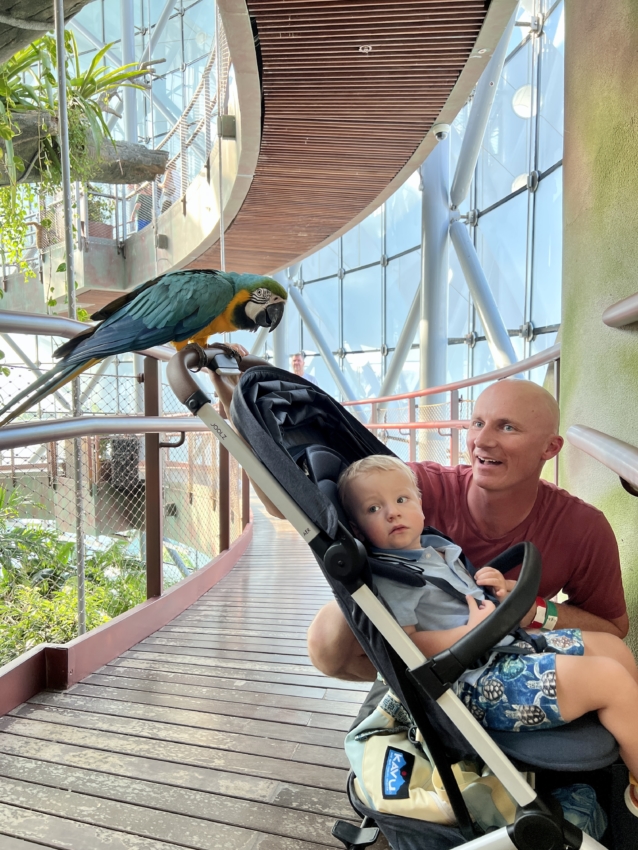 Maneuverability & Design
The Joolz Aer is super compact and what most parents love is the fact that it looks like a luxury full-size stroller, but it's compact and light when folded. I often see some parents swapping their big strollers like Uppababy for smaller alternatives and Joolz is a perfect option for downsizing.
This stroller came all assembled, which already made me feel relieved because you have enough to deal with as a parent. Everything is ready to go straight out of the box!
It's also worth mentioning that Joolz comes with a rain cover already included while + does not. It's a nice gesture to include it when many competing brands make customers pay extra for it.
Speaking of quality, Joolz Aer looks modern and feels like a durable top-range stroller that will last a long time. I throw it around, drag it along, and it still looks like new. And frankly, can't say the same about Bugaboo Butterfly (if you're debating both) that was already scratched up after one day.
I took it to London and it did just fine on uneven pathways and up and down the curbs. While the wheels aren't huge it even got through the cobblestones without wobbling, just a stronger push. I wouldn't say that it can handle cobblestones like a stroller or wagon with huge wheels, but it got through them.
One big difference I always see is that when strollers fold one-handed the closing mechanism is in the middle of the bar, which makes it slightly more difficult to steer with one hand vs when the bar is clear of any buttons. When I say slightly more difficult I don't mean it's super difficult, it's really minor, but once you steer a stroller without the mechanism in the middle you'll understand what I mean.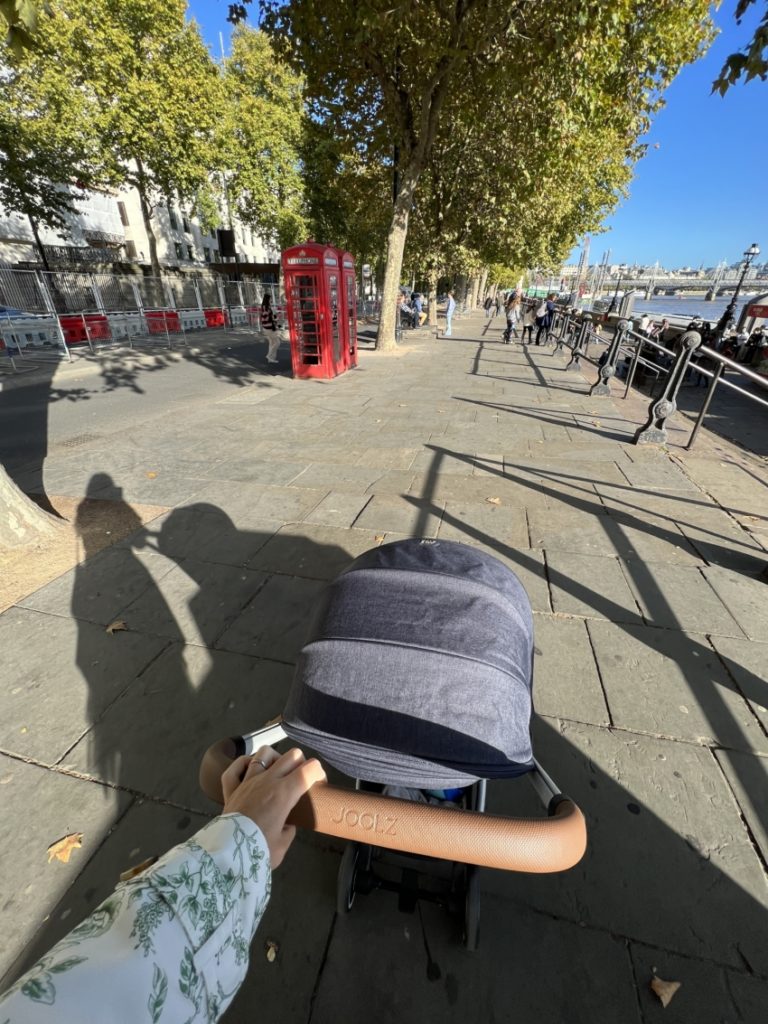 Folding and Unfolding of Joolz Aer
It folds & unfolds incredibly well with one hand and the seat is sturdy and tall, plus has a ton of storage which is a huge plus for a travel stroller.
Make sure you have the recline zipped up before folding the stroller though. While the stroller will fold reclined with no issues, a part will be hanging out and you'll be forced to zip it up when already folded which is harder than when the stroller is unfolded. It's not a huge deal but an extra step when you're in a hurry.
Does Joolz Aer fold with a bumper bar? NO with old bumper. YES with new bumper.
Does Joolz Aer + fold with a bumper bar? YES
Only the new version of the bumper bar folds with the stroller.
For me personally the fact that the stroller would't fold with a bumper bar is a huge pain in the butt because I use the bar non-stop with my kids and we cannot live without it. Having to remove the bar and make sure I don't lose it when the stroller is folded (the bar doesn't fold) adds an extra step. This is why the new bumper bar has been a game-changer!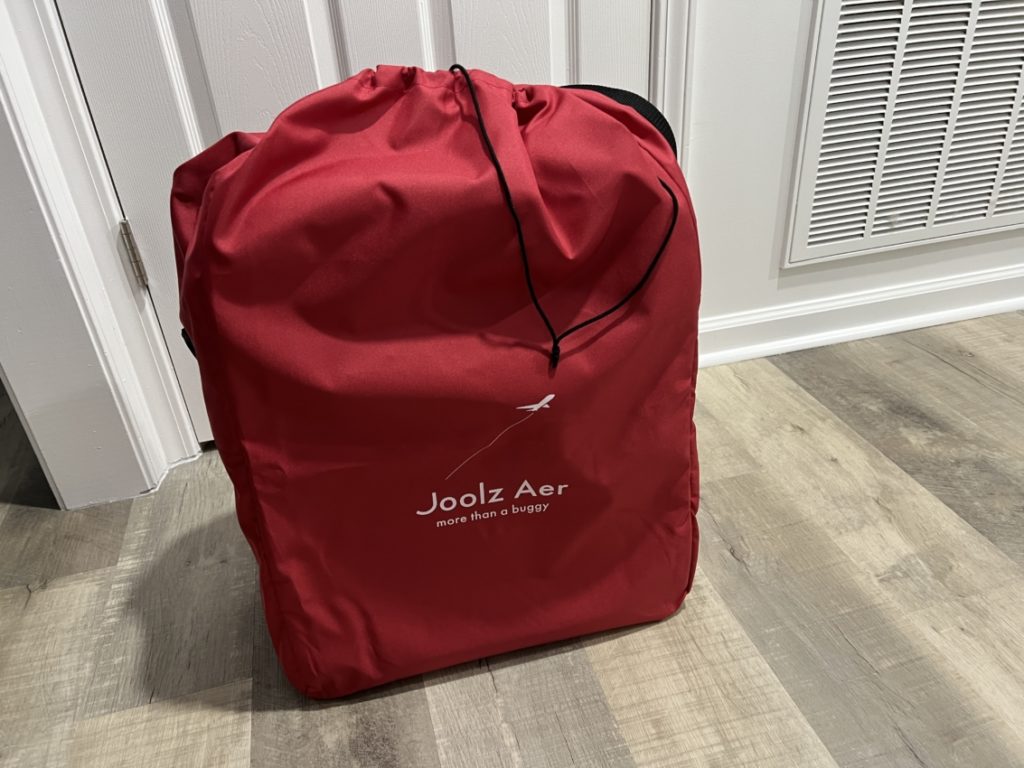 ---
Weight & Size
Joolz Aer + is lightweight – only 13.4 lbs.
A few major cons is that it might not always fit in the overhead as it's bigger than Babyzen Yoyo. I was let on the plane with it 3 times and luckily the bins were big enough, but I know that on a previous flight, it wouldn't have fit and as it's about 2 inches over the limit you might have to gate check it sometimes.
The other three times I was told it was too big (American Airlines & British Airways & Emirates sitting closer to the front of the plane when overhead bins are indeed smaller). Emirates made a fuss about it making me wake up the baby so they can measure it (it happened every flight) saying that "it's not Yoyo so they don't know for sure". Basically, even though it's a well-known stroller now it's still a novelty and might cause issues with airlines.
Keep in mind that just because someone says "I took this stroller on board and it fit" isn't an indication that a stroller will fit in the overhead for you. Different airlines have different size restrictions so if your stroller exceeds them the crew has the right to say no or might let it slide (but then it's also not guaranteed that the stroller will actually fit in the bin). Better get the smaller fold and be safe than sorry and stressed later!
However, the stroller is compact enough to fit behind the front seats in the car so you don't have to lose any trunk space.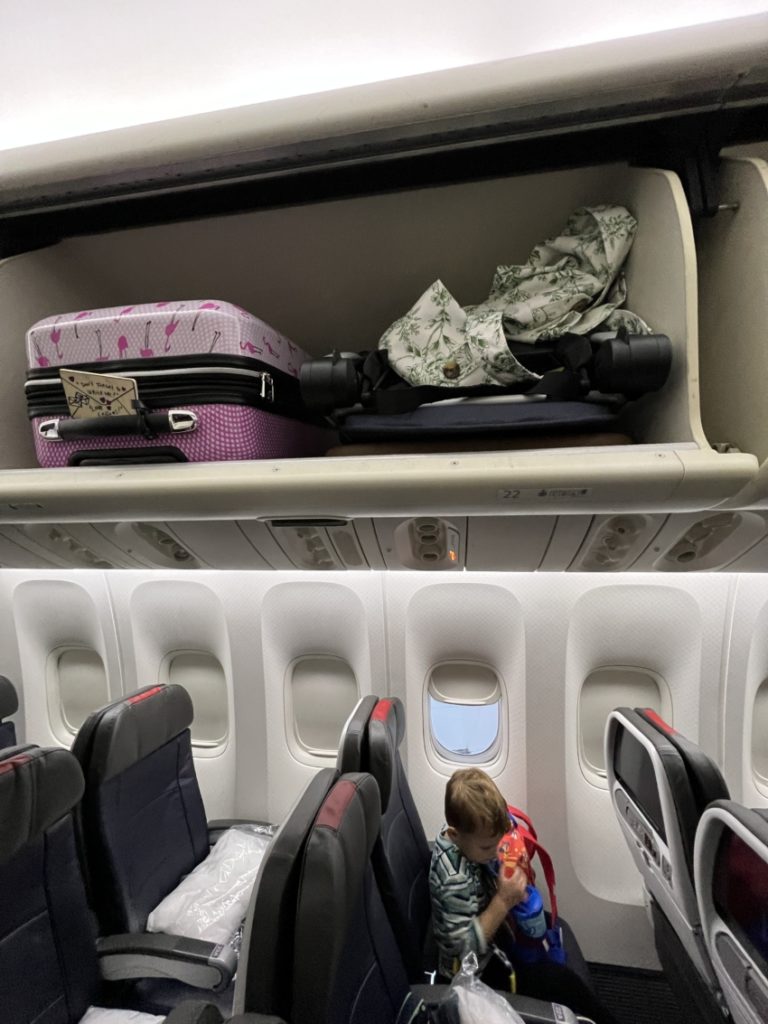 ---
Storage Spaces
The basket is very spacious and it's a huge plus for a compact stroller. I was able to put my own purse, along with two big bags of shopping in without any major issues.
The basket isn't all mesh, so things stay dry and clean.
There's also a small pocket behind the seat, which is extremely handy for things like a phone, keys, and small belongings that you want to keep closer to you than underneath the basket.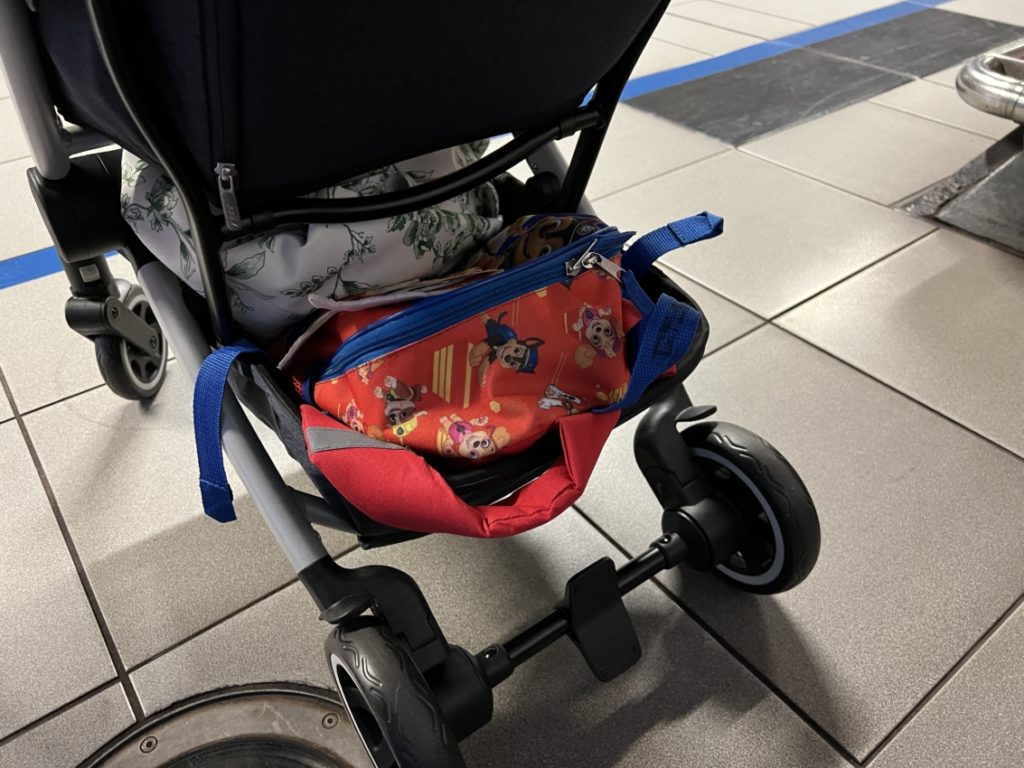 Seat Compartment, Recline & Canopy
The seat is very generously padded and comfortable, at least according to my son. One of the best features of the seat compartment is a high backrest. Even a very tall child can fit comfortably. My son, pictured below, is 41″ and fits perfectly, but the seat doesn't have much depth and no side protection like Yoyo, Inglesia, or Cybex models which might not work well for chunkier kids.
The harness honestly isn't great until you mark which strap goes where. I swear I don't know why manufacturers keep making those same-looking buckles, even the magnetic ones feel like they've been made to make parents' life more difficult! Once you pull the strap you need to basically guess where can it go and try it in both directions and during the process, the lower straps can get pulled and change their length – if you have a wiggly child it's an ultimate nightmare, so I recommend marking the straps with nail polish or something to make it easier which goes where.
The seat reclines by using a zip at the back which allows the backrest to recline. You can then adjust the angle of recline by tightening or loosening two straps on the side, but it's a strange and a bit tricky process.
The side straps get stuck in a zipper when putting the seat back up, especially when you're trying to do it in a hurry like at the airport. Although it does the job for naps on the go, especially with a big canopy.
By reclining the seat, you also allow access to ventilated mesh around the seat, which will be perfect in the summer. The huge and extendable canopy is perfect for sunny or rainy days as it's UV50 and also water repellent.
For the winter, Joolz now makes a footmuff that closes with the stroller. It's definitely an expensive accessory, so definitely think about whether you really need it.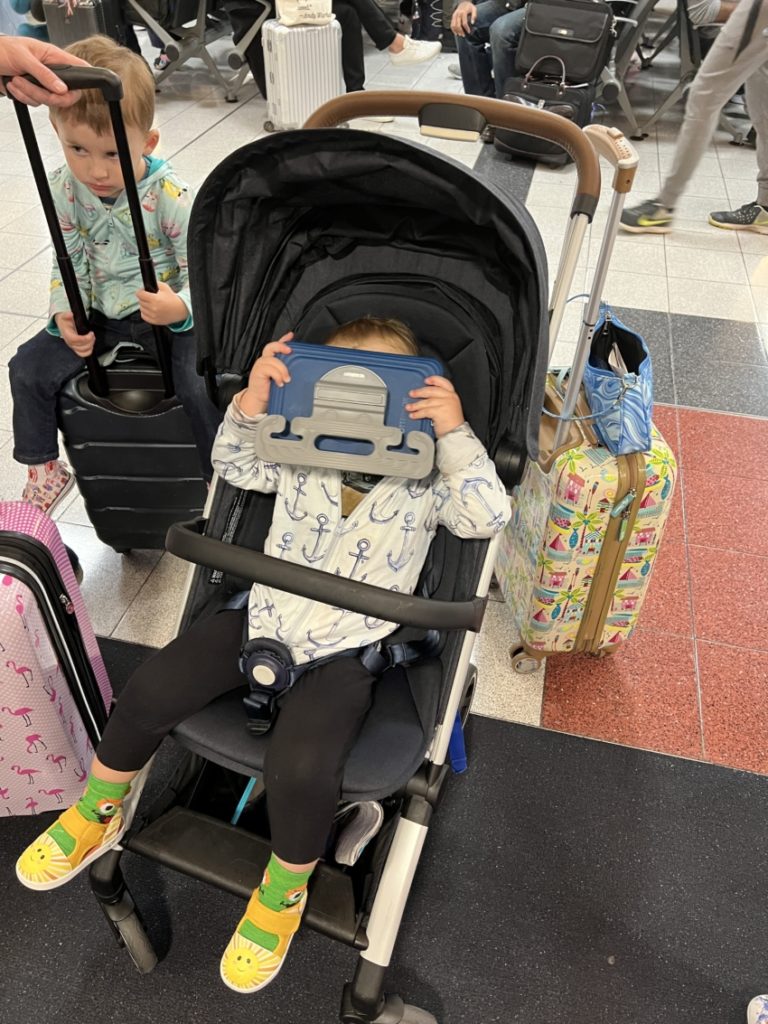 Is Joolz Aer Suitable for a Newborn?
When it first launched it wasn't, but now Joolz Aer is suitable for a newborn with a cot. The stroller folds with the bassinet attached (makes it a little bigger though), which is fantastic.
The bassinet is a great solution that very few compact travel strollers offer, so it's a great feature to have as we all know that babies shouldn't be stuffed in car seats outside of the car for extended periods of time.
Joolz Aer Buggy Board
Would Joolz Aer work for siblings? Joolz finally released the footboard / buggy board with seat and people get excited that the board folds with a stroller (but it makes it way too big for the plane anyway). I still prefer the Yoyo's board though, but it might be a personal preference.
Because once the footboard isn't in use you can walk normally with Yoyo vs Aer's board is longer which makes the stroller harder to steer obviously and it still sticks out, so you'll be walking beside the stroller even when it's not in use by a child.
It's made that way so that the child in the stroller can recline and you can just kick it up with your foot, but honestly, my son wouldn't have the seat next to his face. It's also next to impossible to get to the break when the footboard is attached. But, it's still a decent board – I just prefer Yoyo's board.
---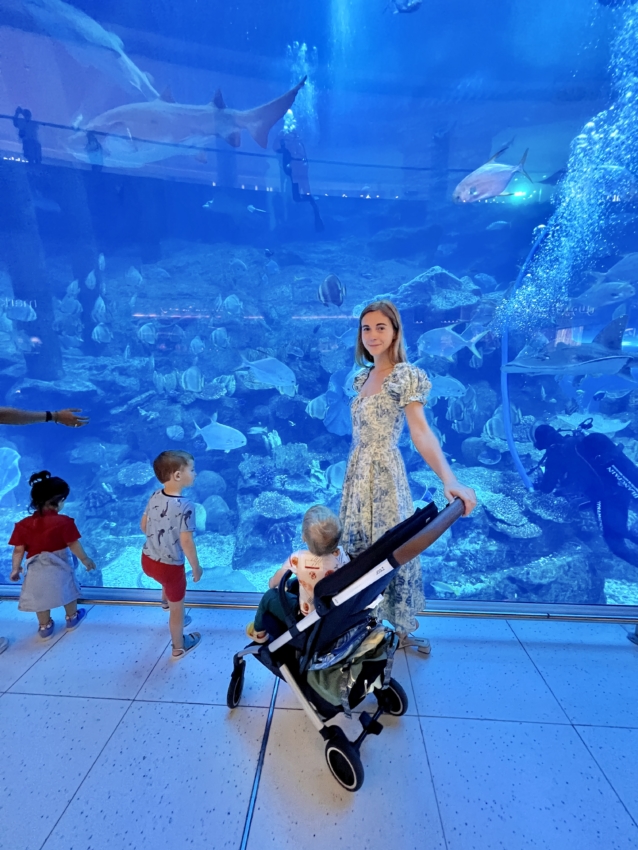 ---
Joolz Aer vs Babyzen Yoyo
Many parents are debating Joolz Aer and Babyzen Yoyo and as I have both I will say that it's a tough choice.
Yoyo has an advantage as it's smaller when folded so basically guaranteed on board, while Joolz is technically an inch too deep for various airlines and you might have to gate-check it if you get unlucky.
However, the seat back is higher on the Joolz and the canopy is bigger, so that's an advantage for taller and older kids. Babyzen Yoyo will fold with an off-brand bumper bar, but Joolz will not fold with the branded bumper bar.
The buggy board has pros and cons on both, so I guess it depends on what your personal preferences are.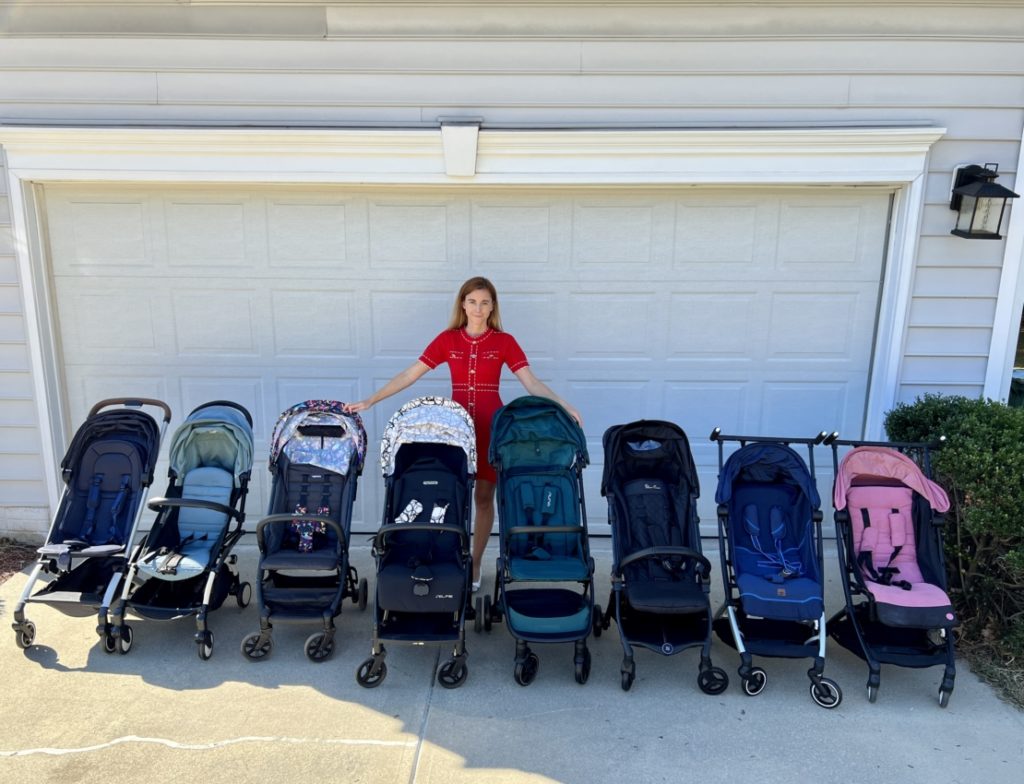 ---
Final Verdict
I definitely think that Joolz Aer is worth splurging on, especially if you're looking for a stroller for tall and/or older kids. It's not a stroller that will fall apart on you and something that will surely hold its value over time.
The biggest con is having to find out at the airport whether you can take it on board or not, but if you don't like the Yoyo then this stroller might be a good alternative for you.
For me personally, due to the issues with airlines and the annoying recline, I switched to Cybex Orfeo stroller. It's basically like Joolz, but folds smaller and the harness is magical honestly.