Most jogging strollers take up a ton of space in the car or when stores, but Guava Roam is a jogging stroller that is portable at the same time. I was excited to try it out after already owning a number of other jogging strollers and knowing the quality of Guava brand after our beloved Guava Lotus travel crib.
Keep in mind, this review isn't sponsored and no one is influencing my opinions. Well, maybe apart from my kids who are testing the comfort of this stroller.
Age Range – 6 months to 50 pounds (22kg)
Stroller Weight – 28.5 pounds (13kg)
Folded Size – 29 x 17 x 15 inches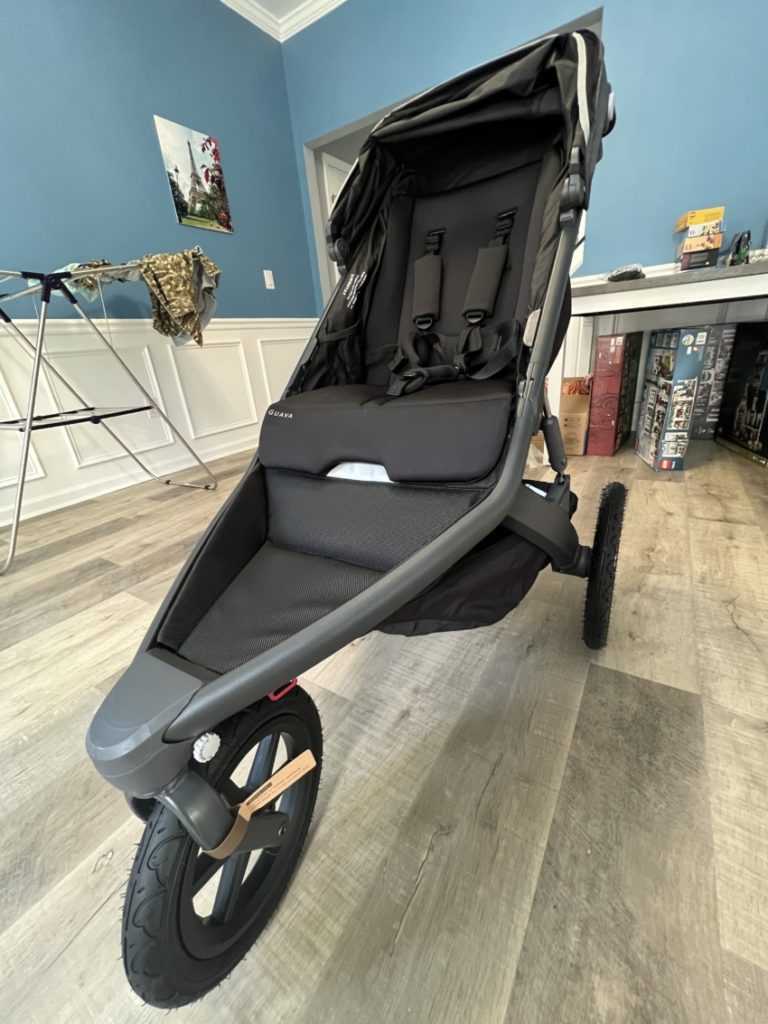 Maneuverability & Design
I always say that most people will tell you that they like their stroller unless a certain model truly sucks or they feel like they overpaid for it. I like the Thule jogging stroller already and our first jogging model was BOB, so I had high standards.
The large airless wheels and all-terrain suspension make it easier to push than BOB and definitely easier than Uppababy Vista (which is already pushed smoothly). Most importantly, it's not as heavy as other jogging strollers which might not seem like a big deal but it is when you're going uphill. And the big reason why despite loving it and having all the functions one might want, I don't often use Wonderfold Wagon because it's too heavy.
The parental handlebar is adjustable (34" – 45") which is crucial when it comes to actually jogging. It has a toggle to lock and unlock the front wheel so you don't have to constantly bend down and switch it back and forth, so it doesn't wiggle when you're running with it. Or even when you're not running it can help with rocks and cobblestones.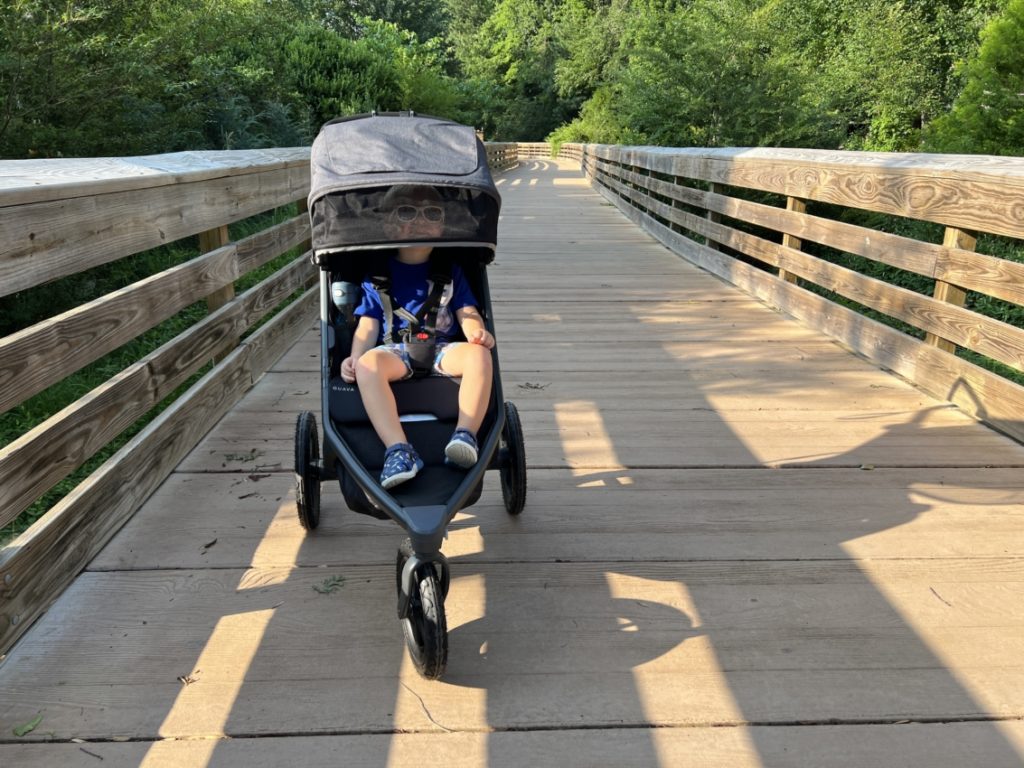 ---
Folding and Unfolding of Guava Roam Stroller
I was originally slightly concerned by the Guava Roam folding mechanism, as it leaves the parental handle on the bottom. I'd say it's the worst part of the stroller because if you fold it and the ground is wet, muddy or dusty, there's no way for the parental handle to stay clean and then you gotta touch it again.
Plus, the stroller only comes in black. You might think it's great because it's a dark color but I always find black getting dirtier easier than grey or navy.
But, the fold is about half the size of other jogging strollers which is crucial as I could even consider taking this stroller with me on my travels if I knew I would have to use hiking paths a lot.
Guava Roam stroller requires two hands to fold and unfold it (you can technically fold it with one hand if you learn the trick), but it's an easy movement requiring you to pull a strap. It's super useful that instructions on how to fold and unfold the stroller are printed underneath the seat cover, so a relative or airport employee can look it up when needed.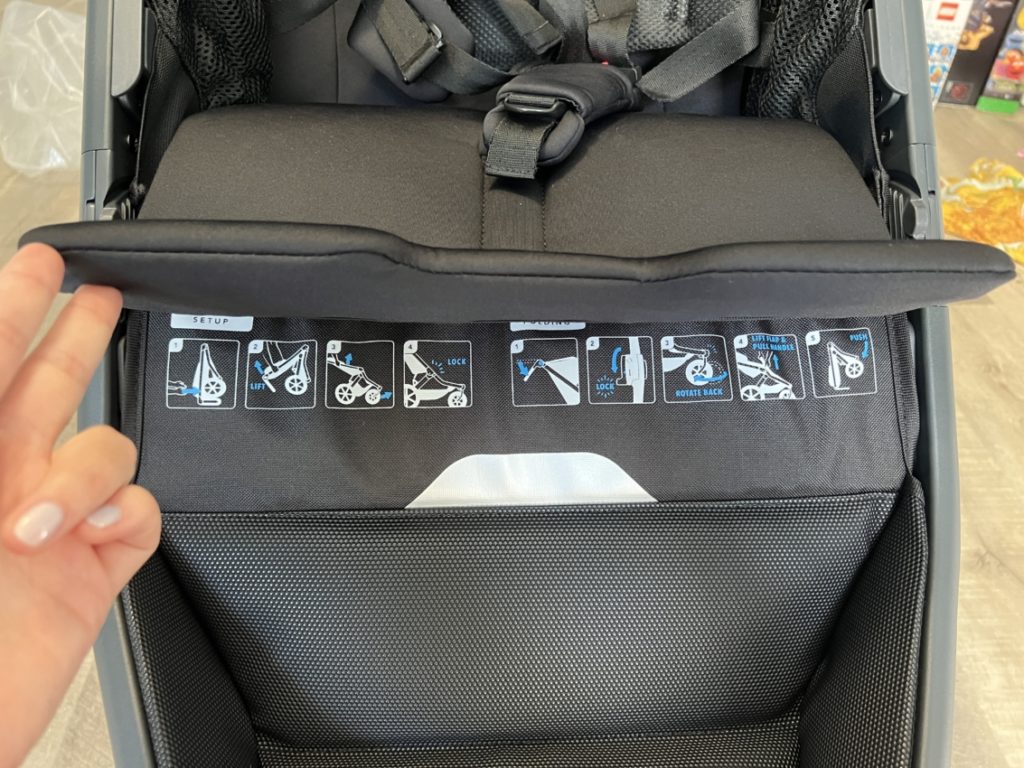 ---
Seat Compartment, Recline & Canopy
My younger son tested is the prime user of this stroller and he's a picky one as he dislikes most strollers, but never complained in Guava yet. The seat seemed roomy enough for it and he was able to see everything just fine as the backrest isn't too inclined backward.
While the seat has a capacity of 50 lbs, I will confidently say that you won't be using it for that long as my older son who's 4 and 36 lbs still fits, but I don't see him fitting comfortably for much longer. Definitely not until he reaches 50 lbs, because he won't fit lengthwise.
The seat is well padded with removable covers that can be easily machine washed if needed (in our case it's always needed with Holden).
The canopy stays in place and never bounces back as it's reinforced, so that's a huge plus. However, since the canopy has metal rods inside I do hear that it wears off with time or when you're gate-checking it and gets holes, so it's something to keep in mind.
There's also an infant car seat adapter, so it can be used from birth.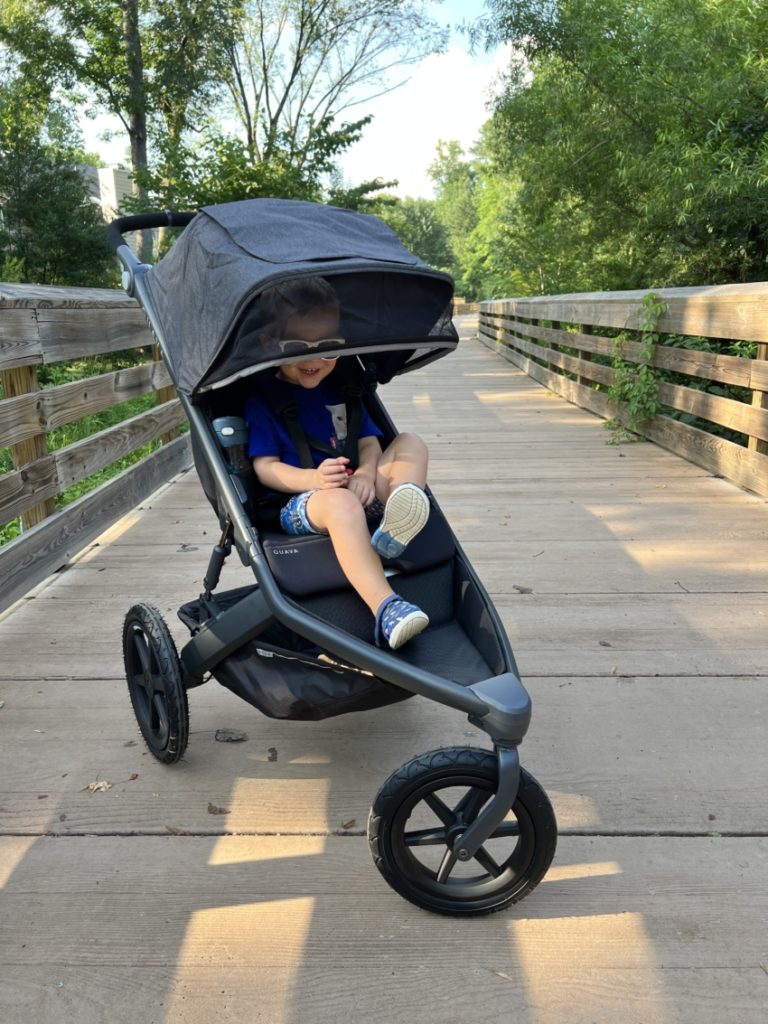 Storage Spaces
You don't need much storage space when you're actually jogging, but everything is safe and secure in Guava. You will be able to fit some small diaper bags in the under-seat compartment.
The Guava Roam has a back pocket which is crucial for phones, keys, or wallets.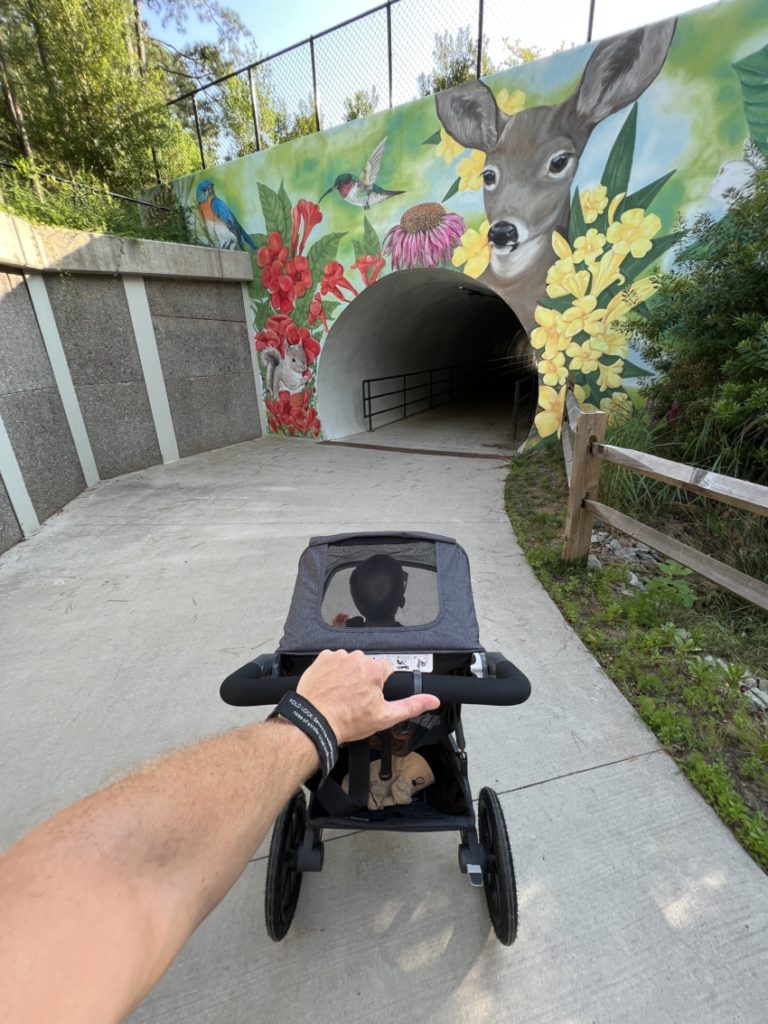 ---
Final Verdict
If I were to pick one jogging stroller, or even an off-road stroller, I'd pick Guava Roam over bulky BOB or Thule. It basically offers the same features in a much more compact version.
If I were to compare this stroller to another I'd say it works similarly to Baby Jogger City Mini GT2, which ironically despite the name isn't a jogging stroller that has slightly more functions but it's not meant for running with it.
Owning a stroller that can be used for everyday errands, running, and travel just makes a lot of sense and this is when Guava Roam ticks all the boxes. Would I get for living in New York City or traveling abroad? No, unless a lot of hiking was involved, but if you're an active family living in a hilly all-weather spot then it might be a great option for you!