A jogging stroller is trendy, but might not be for everyone's actual needs. I thought that the stroller was bulky and "way too much" at first, but I admit that I was wrong. Thule Urban Glibe stroller literally glides when you push it and drives so effortlessly that you might want to use it daily – it's definitely the best jogging stroller on the market.
Thule is undoubtedly one of the most luxury and respected outdoor brands and we owned a few hiking carriers from them and never encountered an issue. That said, my husband is a fan. Is the stroller ideal? No, there are a few things I'd change but so I would in about any stroller I've tried.
Stroller weight: 33 lbs
Seat weight limit: 65 lbs
Folded dimensions: 34 x 30 x 16
Maneuverability & Design
The stroller is lightweight and easy to maneuver, making it perfect for city streets or off-road adventures. 
The swivel front wheel allows for easy navigation in tight spaces, while the locking feature provides added stability when jogging. It feels weightless and I can easily go up and down hills without an issue or feeling heavy. It's something I can't truly say even about Wonderfold wagon and people still say it glides and while it rides smoothly it feels heavy while Thule does not).
The adjustable handlebar and hand-operated rear drum brakes are a plus, giving me full control of the stroller at all times
Thule Urban Glide Double is only available in black (other colors are available for a single option), which might work for some, but I wish there were more colors available. Personally, I hate black strollers because every milk or snack stain is super visible.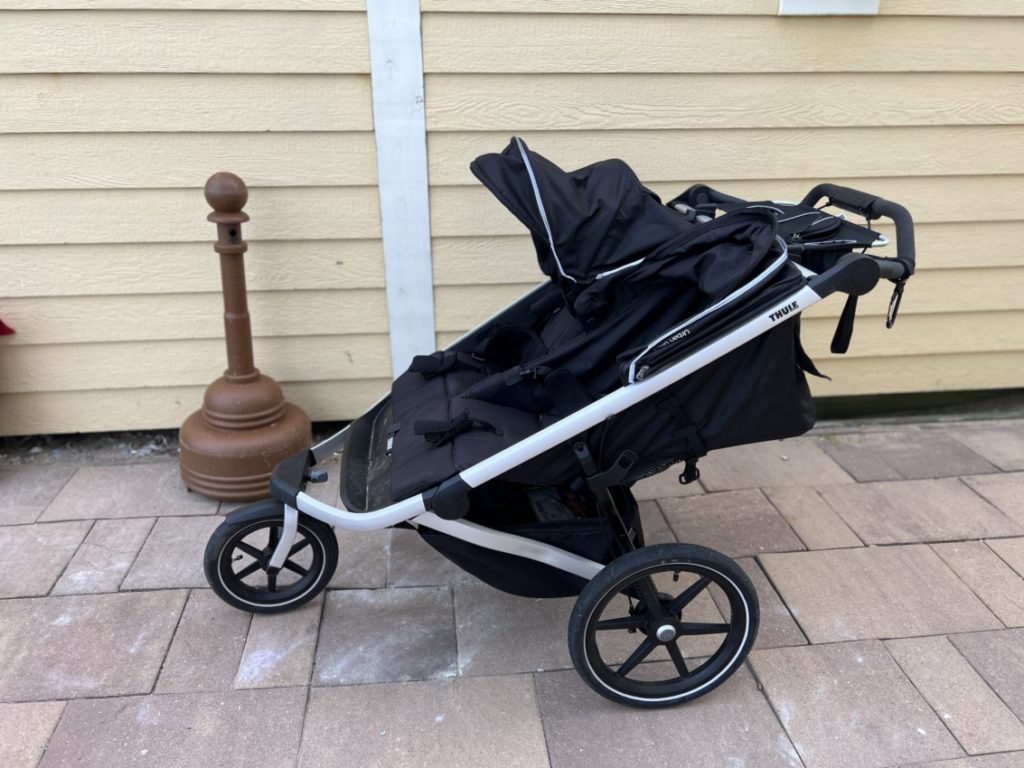 Folding and Unfolding
I'll be real: the stroller is big when folded and when folded, it doesn't stand up straight. It makes it really hard to find a spot to store it, but it's the case with any double stroller I tried.
It only requires one hand to fold, though two will make it more comfortable.
Thule Urban Glide is wide even when not folded because of how big the wheels are. While it fits through a standard doorway, keep in mind that there are various non-standard doorways and stroller will be hard to take to restaurants or other places at times.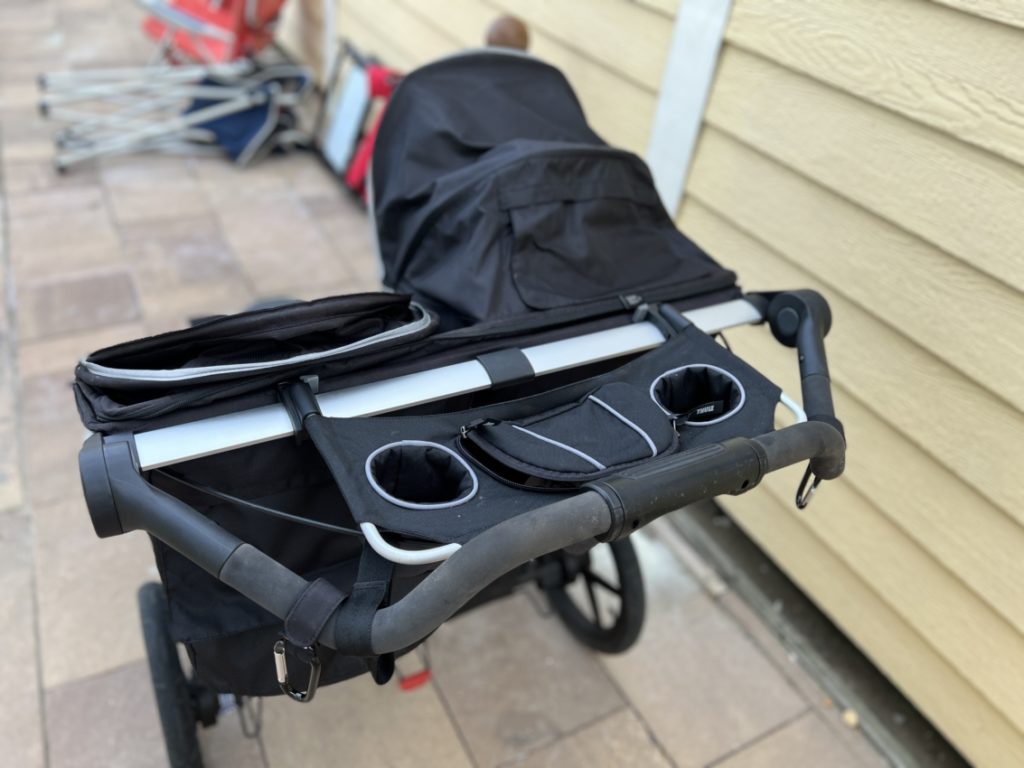 Storage Spaces
I felt like the stroller offered a lot of storage space, especially considering the fact that as it's sturdy you can also hang things off it.
There's a large storage bin with a waterproof zippered cover that prevents items from falling out. The Thule Urban Glide 2 is the only option with a cover that keeps contents in the basket contained and dry.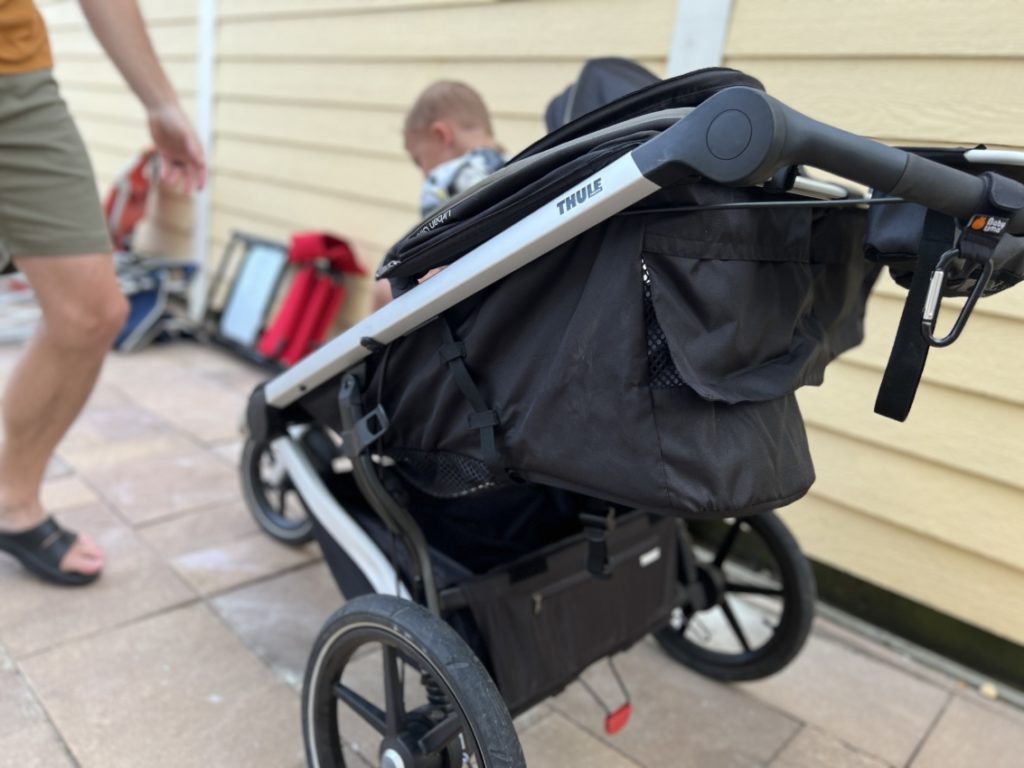 Seat Compartments, Recline & Canopy
Our toddlers seemed a lot more comfortable than the single Bob All Terrain we had before and while it worked just fine, it wasn't riding nearly as smooth as Thule. With basically next to no price difference I was astonished.
It can be used from birth, just like ZOE Twin stroller had but with an insert *which makes sense as it's a jogging stroller. I actually got to see how Thule works, because our cousins had a newborn and she was super secure and comfortable. The harness is easy to use and comfy.
My older son was 41″ when we got to try the stroller and he seemed super comfortable in the seat, so it will last you a while. The canopy provides ample shade for all ages and the adjustable calf support is great for little legs. The little magnetic peekaboo window is there but doesn't stay open.
While quality is there, the seating positions are slightly more reclined than would be ideal but sadly I feel like strollers manufacturers keep making the strollers more and more inclined when parents are asking for more upright positions.
I understand that it's so the baby doesn't get whiplash from sudden starts and stops on a run, but if you use this stroller for everyday errands you may wish it could go completely upright.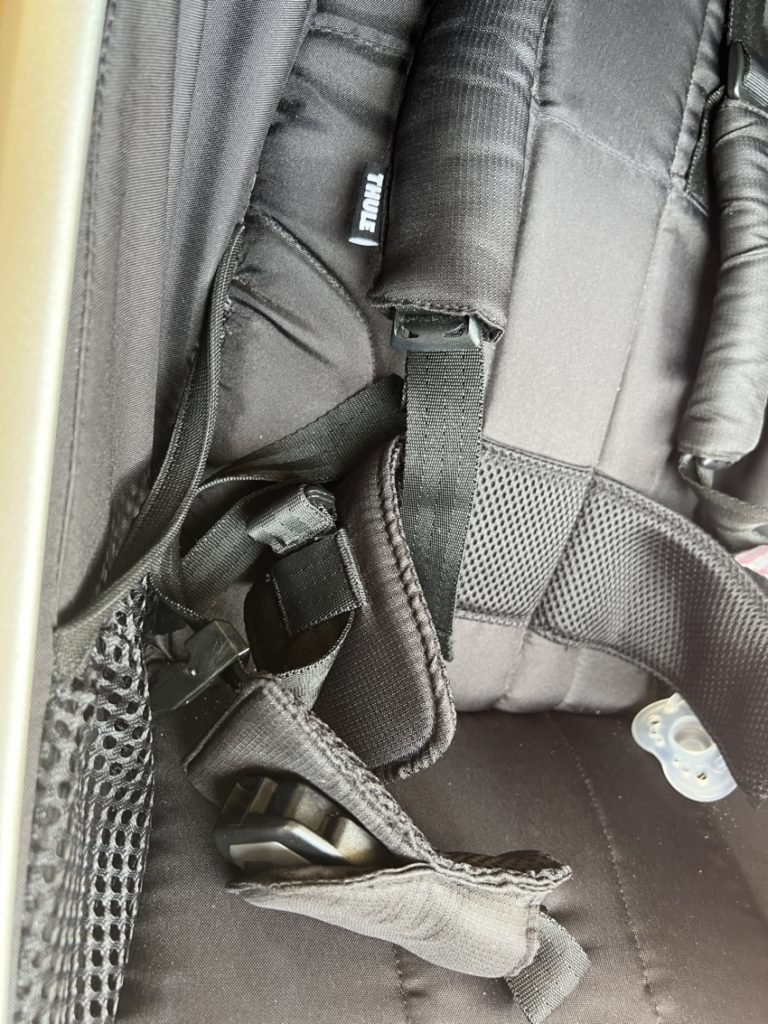 Thule Accessories
The stroller doesn't come with any accessories which is a bummer.  It can get a bit expensive for all the accessories like rain cover, bumper bar, cup holder and muff, but they might be necessary depending on your situation.
Buying the parental console gives you good storage for phone, drinks, small stuff so I think it's a must.
The rain cover is also awesome but can't be used while the organizer is on.
---
Is Thule Urban Glide Suitable for a Newborn?
You just need to purchase the Thule infant car seat adapter (sold separately for ~$60). That said, the Urban Glide Double can accept only one car seat at a time, so it's not suitable for twins.
---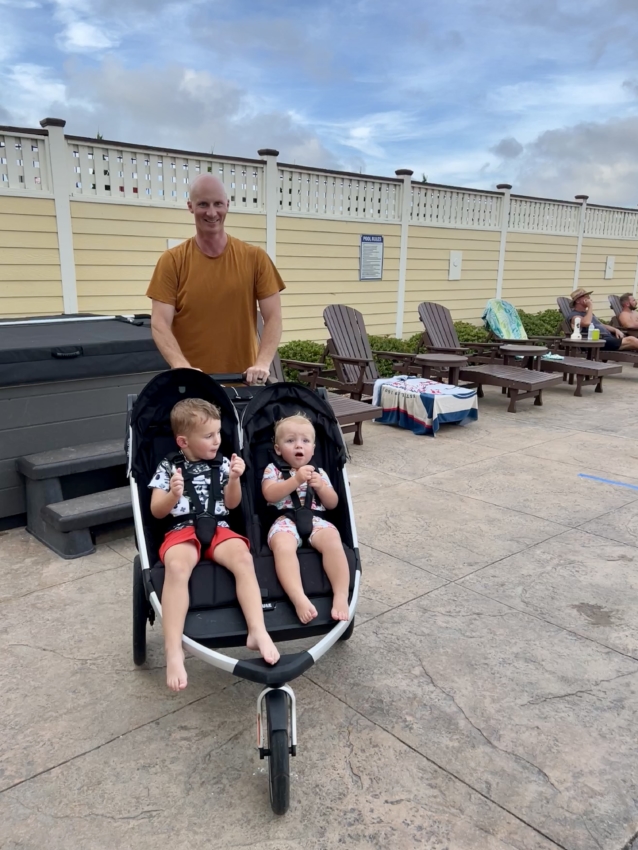 Can You Fly with Thule Urban Glide?
You can, but some airlines might as you to check the stroller at the check-in counter instead of the gate due to its size. American Airlines has this policy officially, but might not always enforce it.
Thule Urban Glide 2 vs Bob Revolution
The biggest difference is in terms of maneuverability. Thule maneuvers better. but Bob offers seat positioning more upright. Bob feels clunkier, and significantly more awkward to store when folded, but a child can sit better which makes it superior when it comes to longer outings when walking around.
Final Verdict
If you're looking for either a jogging stroller or even something for uneven pathways, then you can't go wrong with Thule. It's big and may seem bulky, but folds like a charm and kids are perfectly comfortable without feeling every bump.
Would I purchase it as a walking stroller? Probably not, because I would prefer something smaller but if you live on a farm it might be a good solution for you.