Jeep Wrangler stroller wagon is one of the most popular wagon stroller on the market, so I was pretty stoked to test it. The Jeep, by Delta Children, comes with a bunch of included accessories. And most importantly: you can detach parts to wash them!
Is Jeep Wrangler wagon a good choice for your family? It depends. For us after testing top stroller wagons on the market including the Jeep it was good but not our favorite.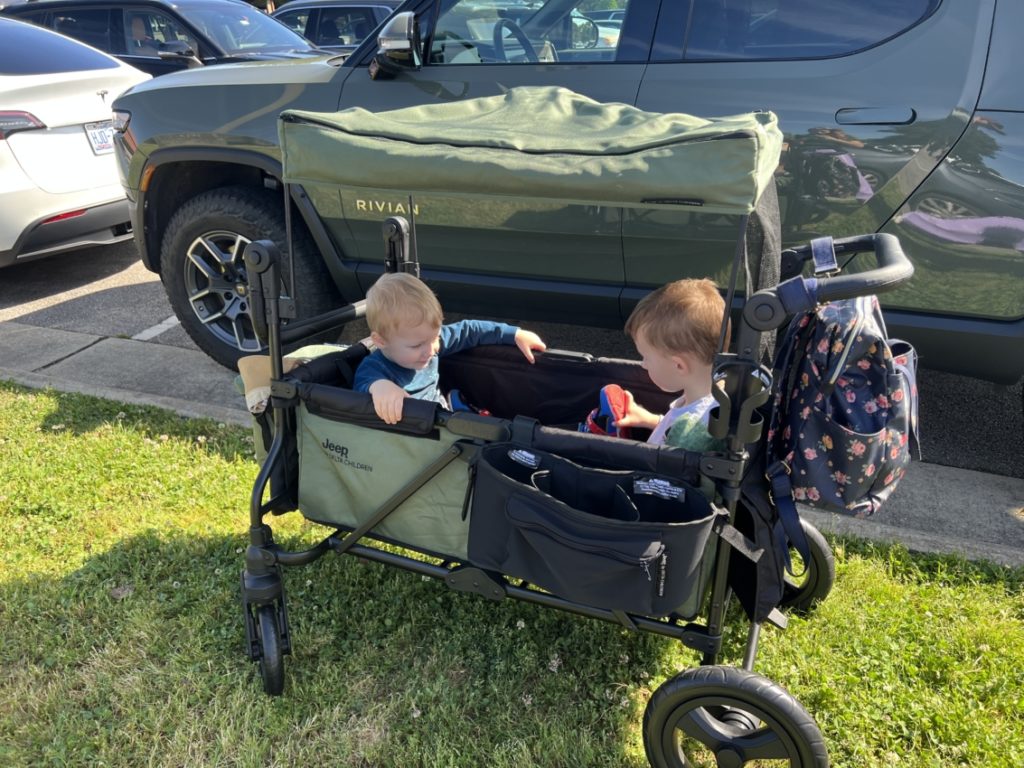 The Jeep wagon is compatible with Graco SnugRide Click Connect 30, 35, 40, Evenflo Nurture and Embrace, Britax B-Safe 35, Chicco KeyFit 30. But, if you place the car seat on top of the wagon you'll have a space for one child but it's a small space that some kids over 2 might feel squished into. I cannot imagine mine doing it honestly. But, it's one of a few stroller wagons that offer compatibility with a car seat for newborns.
However, especially with the car seat adapter installed which requires you to put a steel bar across the middle of the car seat, the toddler sitting in the wagon can bump their head on it easily, so might not be great for a wiggly one. Plus, the button that is used to release an infant car seat from the adapter can be reached and pressed by a child sitting in the wagon – personally, I wouldn't feel safe with a child who likes to stick his fingers into anything new.
It feels well-made. The handles are comfortable with a nice zip cover for extra protection, and the break never gets stuck and works like a charm.
This model can hold up to 110 pounds, making it suitable for children of all ages.
My favorite part is the removable UV-blocking mesh fabric (on each side) for shade and sun protection. It's something I could do with Wonderfold, but no other stroller wagons had it.
The wagon has an in-built retractable bug net, but it doesn't keep mosquitos out entirely because there are gaps along the sides between the netting and sunshades.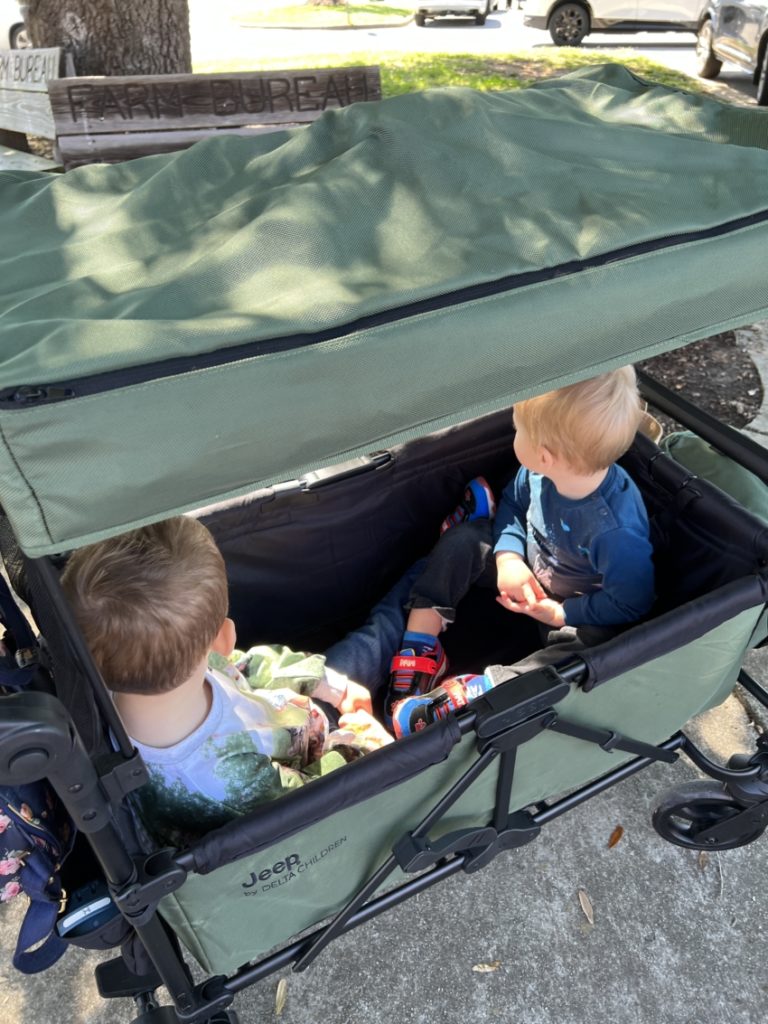 ---
Size, Folding & Maneuverability
The Jeep wagon is bulky and while one could say that ever most wagons are bulky. However, take Wonderfold for example – it's very bulky but the kids have a ton of space inside it and this isn't the case with Jeep. The Jeep is 46.2 lbs which is more than Wonderful with 4 seats! Kids had very little leg space since the wagon doesn't offer any raised seats.
My kids instantly started fighting who sits where and where the legs go and my older son's legs were basically touching the back of the wagon while his younger brother is kicking him nonstop and he was barely 2. There's just no room for length growth and they don't know how to keep their legs on their, "designated side" (it's 33″ x 18″ x 12″ on the inside).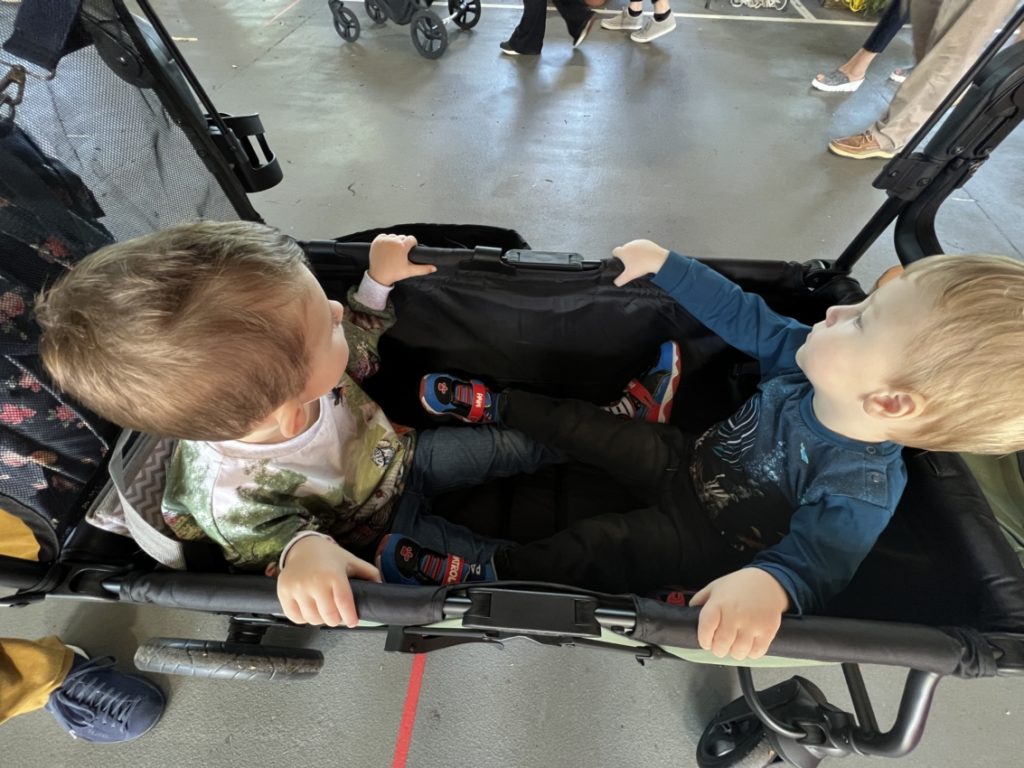 Plus, it's not the easiest to maneuver, not when you compare it with other stroller wagons. It's not an "off-road" wagon for sure, not like Veer or anything that offers beach wheels. In fact, I felt like despite the name Jeep it struggles on any obstacle. If you plan on taking this thing off paved surfaces, be aware that the tires will have a relatively short lifespan.
You can buy extra sand wheels as the newest accessory, but I haven't got a chance to try it as it's often sold out.
While the folding is easy (I read somewhere people complained that folding it was difficult, which I couldn't believe) as you literally have to pull the inside strap up and it folds up, it's a pretty big item.
We have a big truck now, so transporting it isn't an issue, but folded up, the Jeep wagon is 38 inches long by 29″ inches" wide, and 25″ high which indicates that it's not actually small.
---
Jeep Wrangler Stroller Wagon Accessories
It's pretty crazy how many accessories for Jeep Wrangler stroller wagon are already included. It has a ton of storage. There's:
UV-blocking canopy that functions as a sunshade or rain shield with zipped-in, pull-down shades to use as needed
"Bug net" that is zipped into the canopy and can be rolled up
Small insulated cooler
Two multi-pocketed caddies (on top of the in-built caddy)
Solid cup holder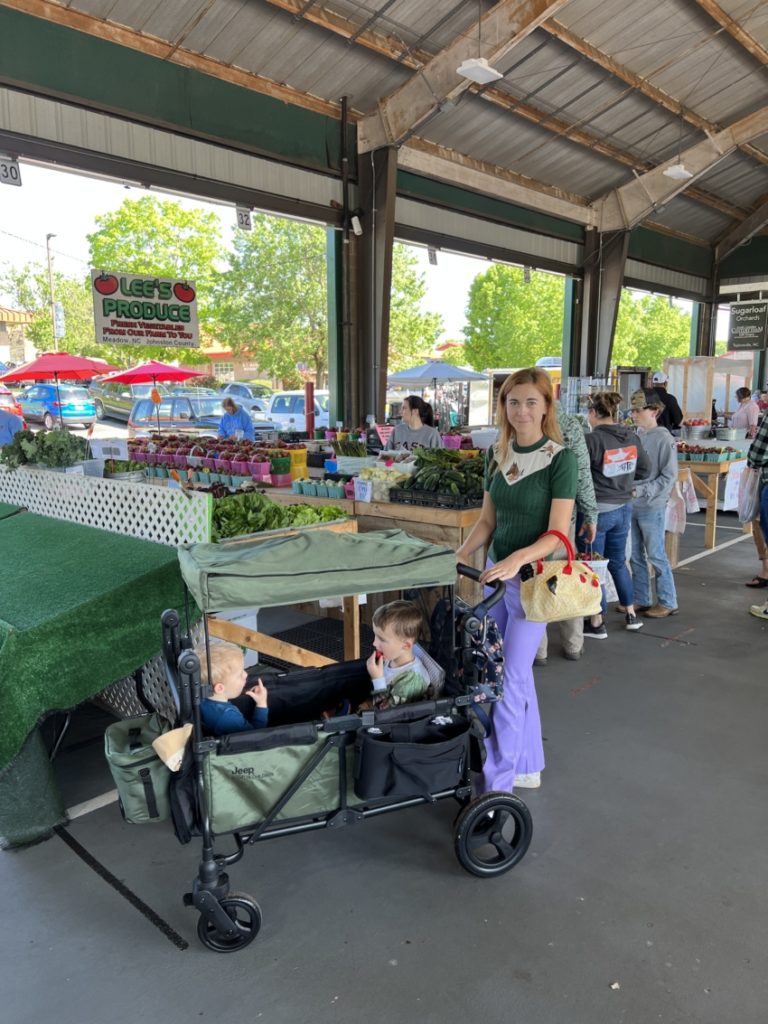 All of the storage accessories are removable so you can decide what to utilize and when to leave the rest at home and I feel like you need to remove them often as the attachments add a decent amount of width to the stroller and might not be passable through all doors. Which, in our case never left the house apart from the first run, because we never knew what else we need to store in there. Even during a trip to the farmers market, we had more than enough storage without the extra accessories.
But, if you're a notorious overpacked then you'll love the storage compartments and will get your money's worth. The attached compartment in the center can serve as a cup holder.
Jeep wagon stroller cooler is something I was most excited about and it serves its purpose. It's easy to remove from the wagon itself to transport anywhere else and it's a fun extra bonus of holding cold adult beverages.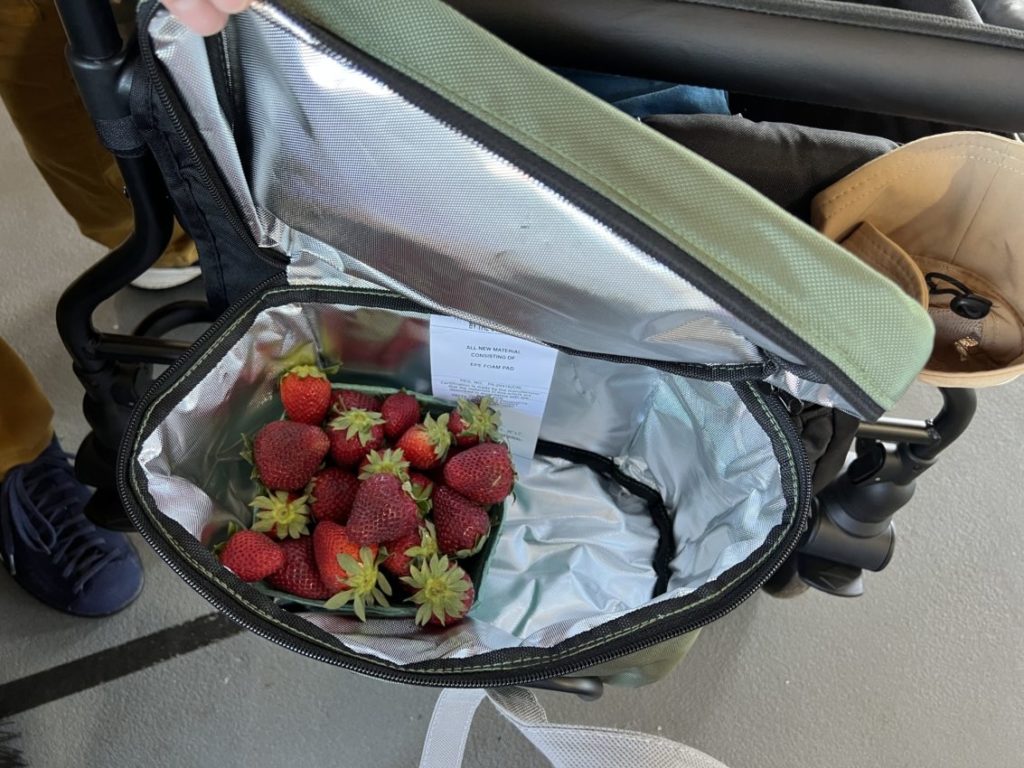 ---
Final Verdict
The Jeep Deluxe Wrangler Stroller Wagon by Delta Children is worth considering is you're an over-packer and feel like needed a lot of accessories that you normally need to pay extra for.
If you are looking for something compact that will go into a small trunk, Jeep is not the answer for you. I also think that if you're picking between various wagons, the Larktale or Evenflo Pivot Xplore have lower profiles and cockpit-style seats which makes a huge difference and avoids fights between siblings.
If you don't mind not having raised seats then Radio Flyer with canopy will do just fine for a much lower price.