Babyzen Yoyo is the most well-known travel stroller out there. It fits in the cabin, it folds easily and all airports know it. I've been wanting to get this stroller from the very beginning because we travel a lot, but my husband kept saying 'we already have a stroller you can just gate check' and the hefty price tag was also scaring me off.
But, fast forward 2 months later after our Uppababy Vista getting broken twice by the airlines and waiting 45min at the gate for the stroller collection at Amsterdam airport I decided I needed a lightweight stroller for travel that fits in the cabin.
I ended up buying a cheaper Cybex Eezy S Twist and while it's been a great stroller we did have issues taking it to the cabin (because unlike many will tell you – it doesn't fit on many planes), and my own husband purchased Babyzen Yoyo after seeing how great it was for families at the airport.
We've been using it ever since, but like all strollers, it's not flawless. Babyzen Yoyo traveled with us around Italy, Poland, France, Slovenia, Malta, USA, French Polynesia, Switzerland and Spain. Currently we also have Cybex Libelle for the older son.
Full disclosure: I bought this stroller myself. I wasn't paid or given a sample, so this review is as objective as can be. Feel free to ask any questions in the comments.
---
Features of Babyzen Yoyo Stroller: Why Is the Babyzen Yoyo Popular?
Parents love baby strollers that provide maximum convenience and are lightweight, compact, and foldable. Yoyo+ became an instant success after its launch in 2012 because parents loved its features.
Babyzen Yoyo+ attachable car seat (with adapters) also makes it a more versatile option for travel, but we never used it. We used a travel system once and realized how sweaty and uncomfortable the baby was when stuck in a car seat all day.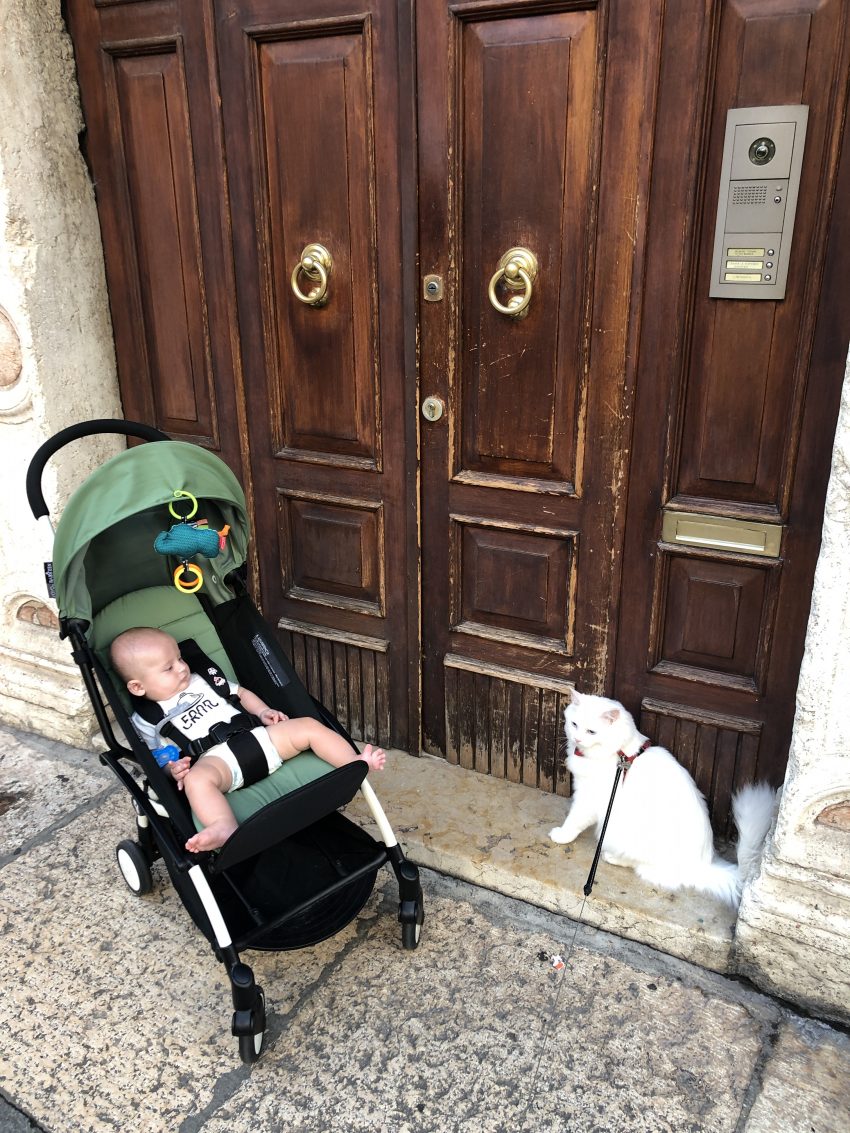 ---
Pros & Cons of Babyzen Yoyo Stroller
Let's look at some of the features of this lightweight travel stroller:
Maneuverability
Yoyo+ is a four-wheel stroller with a suspension system that allows movement on rough terrains. The wheels do seem small, but after over a year or using it pretty much full-time on often on cobblestones in Italy they still haven't worn out (they do offer an option of getting just an extra set of wheels, but so far we haven't needed it and both myself and my husband laugh that we're seriously beating this stroller up).
Compared to other travel strollers like Bugaboo Ant for example, even my husband says that these wheels are the winner. The stroller is also more stable than other compact strollers and doesn't wobble.
My baby always sleeps and chills comfortably in the stroller, and it's not bumpy for him. Also, you can roll it around like a suitcase, which makes rolling even more seamless. Generally, I love how easy it was to move the baby stroller with one hand.
The brake system is super responsive, months and months later it never got stuck. Overall, I must say this is very impressive.
No cons here.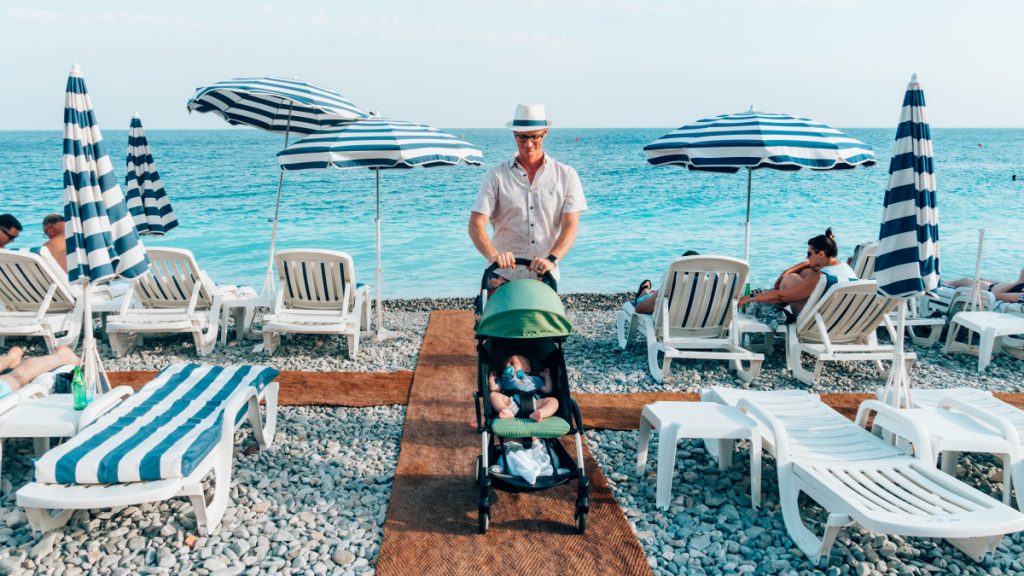 ---
Weight
At 14.5 pounds or 6.6 kg, Babyzen Yoyo2 is one of the lightest strollers out there. Although it's a featherweight product, it has a reinforced frame. That makes it possible to accommodate a baby's weight and other items up to 48 pounds (22 kg). Isn't that incredible?
I carried it on my shoulder various times up and down the stairs (like in Santorini or Venice) when we wanted to have a stroller for meals and on flatter streets.
No cons here.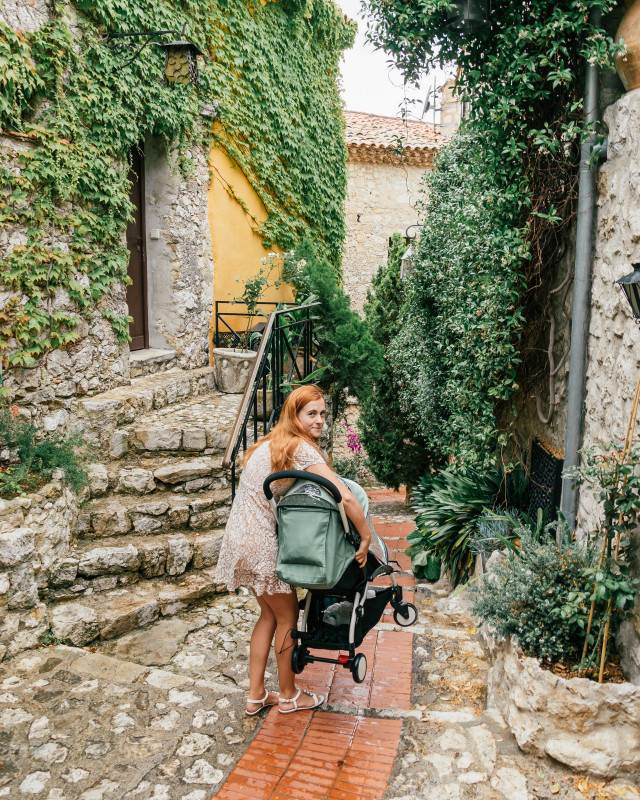 ---
---
---
Handlebar
Yoyo+ stroller's handlebar requires some improvement because it doesn't extend, but on the other hand it makes the stroller less flimsy.
I didn't find pushing the stroller any problematic though, neither did my husband that's 6'1.
Cons: very tall parents might prefer an extendable handlebar while shorter parents might feel like it's too high.
Folding
Babyzen Yoyo2 stroller has been the easiest stroller to fold. Folding it isn't complicated. Once you get used to the mechanism, you can fold it with one hand.
The only step that requires two hands is folding the canopy, but you can do it when the baby is still sitting in the stroller. Packing has never been so easy!
Babyzen Yoyo stroller is small and portable when folded; it makes transportation easier. It will fit in easily into your car trunk and in the overhead bins of airplanes.
Speaking of airplanes – it's one of a few strollers that honestly always fits on airlines (others are Bugaboo Ant, Cybex Libelle and GP Pockit). I'm saying always because while many others might fit in the overhead bins (like Uppababy Minu, Cybex Eezy S Twist, Bugaboo Butterfly) it's not guaranteed – trust me, I've been on numerous planes where the 1″ of thickness made the stroller not fit which means you might have to gate check it. Airport staff also mostly knows about Yoyo, so once you tell them it's a Yoyo you just roll onto the airplane.
No cons here.
Seat Compartment
The seat is super comfy and well-padded, which I find very satisfying. The seat actually has side protection made of a material, which can be detrimental to the baby's arms' safety, especially in tight spots.
The seat isn't reversible, but in my case we only needed a reversible seat for the first 3 months and the bassinet is naturally parent-facing. We never had the bassinet though (more on this further down).
Cons:
The seat is angled – like most strollers, which is great for relaxing but can make the child slouch unless you buy an extra belly bar / bumper bar. Babyzen doesn't officially sell those, so you need to purchase them from Amazon.
I have this one and it works great and the stroller can fold with it just fine, but it's just an extra you want to add – for us it's a must!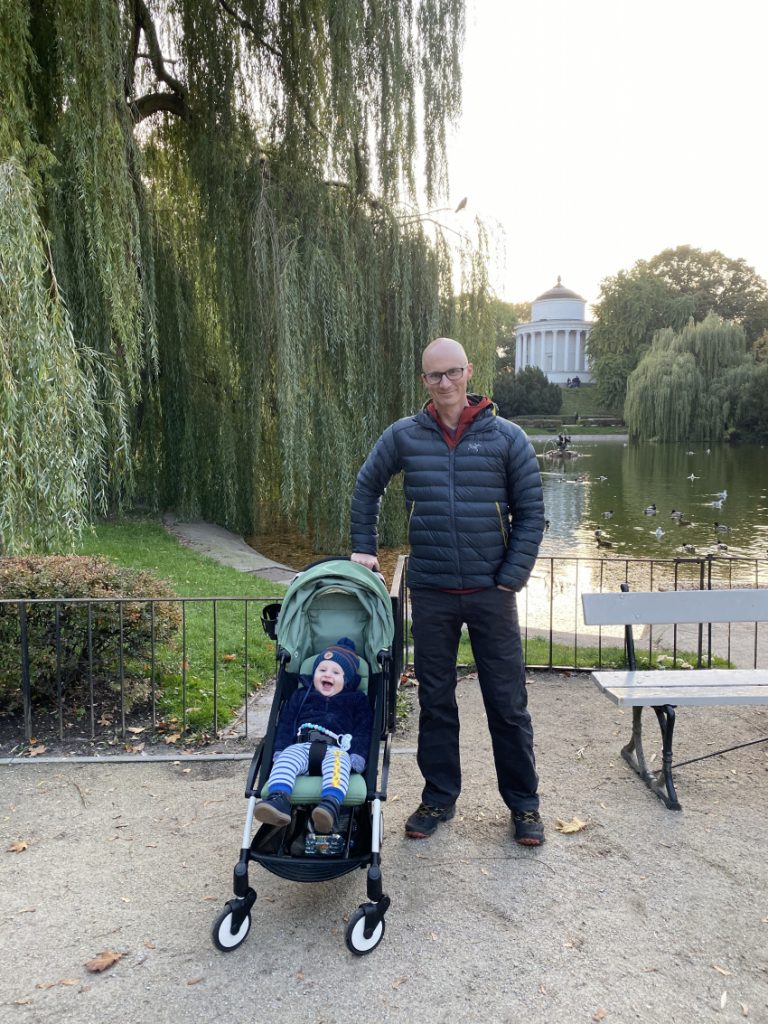 ---
---
---
Seat Recline
One thing I love about the Babyzen Yoyo stroller is its multiple recline seat positions as it works with an adjustable strap. It doesn't wholly recline 100% flat (neither do most big strollers actually), but it reclines to an angle convenient for any baby to sleep. Dylan slept comfortably for long hours without any issues.
My first child has actually been in Yoyo since he was 4 months old, because he refused the bassinet. That said, I've never got to experience the bassinet as we simply didn't need it. My second son was using Cybex Cloud Q car seat in a double stroller and Zoe Twin, so when he swapped to a Yoyo he was old enough to sit in a chair.
Cons:
Adjusting the seat is also super easy, but it could be improved. All you have to do is hold the buckle and push the backrest to the front. It's a bit more difficult if a baby is sitting in the stroller, but not a major issue.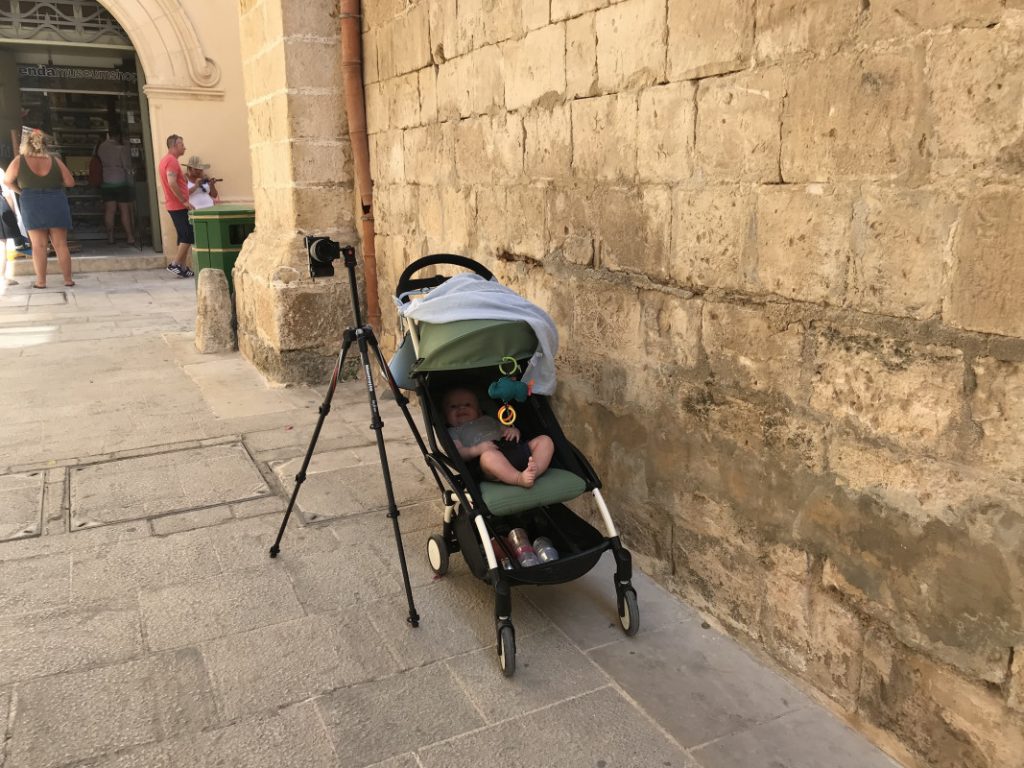 ---
Harness System
Babyzen Yoyo has a five-point seat belt strong enough to secure your little one from falling off. If you buy this stroller in Europe you will have to push one button to release the straps.
In the US, Yoyo harness requires two fingers to release the straps, but you can remove the top strap and make it a 3-point harness, which is what we mostly use.
I originally wished we got a European version of Yoyo, but quickly realized how handy is to have a 3-point harness as an option.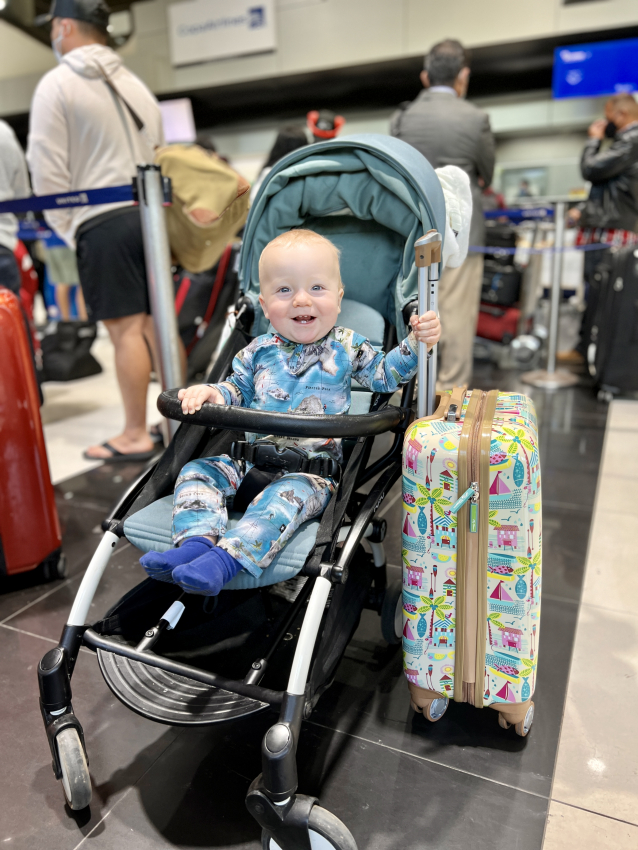 Bumper Bar for Babyzen Yoyo
Babyzen doesn't have a bumper bar as an official accessory and for me, that was a downside as my kids love pulling on it. As you can see we have a bumper bar and lots of people wonder how it works and where did we get it from.
It's Amazon (link here) and while not original it's been working great for 2+ years. The stroller folds with it just fine.
Canopy
Canopies can become a complicated feature in compact strollers, but with the Babyzen Yoyo+, this is different. The canopy is sufficient for a baby. While it doesn't extend like on full-size strollers, we've had no issues with it at all, but we like to fold up the bottom part with the second child because he likes to stick his face out.
Cons:
The peek-a-boo window on the canopy seemed useful, but it's made of transparent soft plastic. You cannot open or close it, so on a sunny day we usually put a rag over it, because the sun gets through it so we often put a cloth on top of the stroller on very sunny days.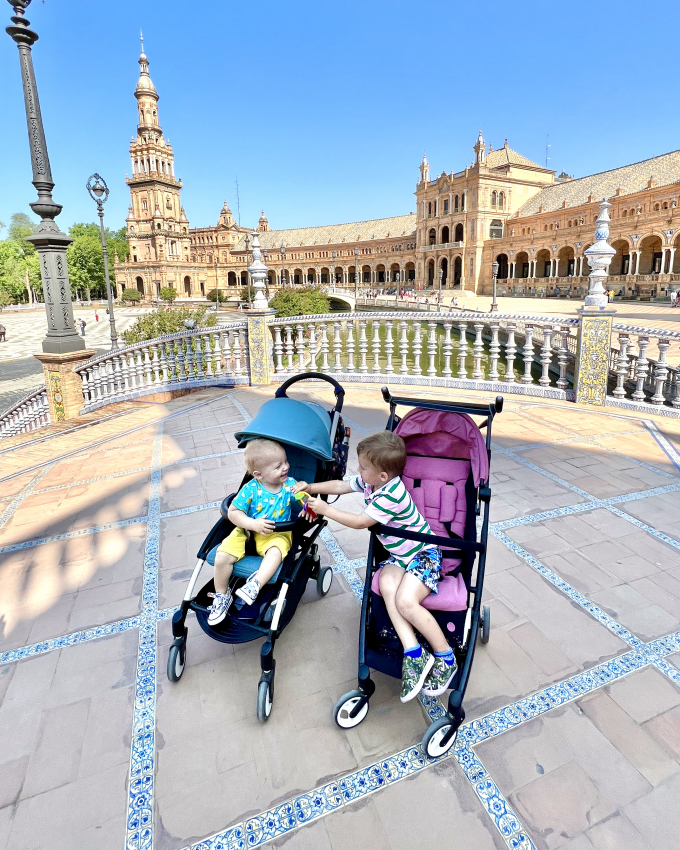 Storage Spaces
The big basket underneath the stroller is a plus and one of the things I particularly enjoyed. The basket can hold items weighing up to 15 pounds.
I can easily put several items in it without worrying about carrying enough for my baby's needs. Also, I can access the storage basket from the stroller's front, which is fantastic.
I was also able to hang my own handbag on the handlebar when Dylan was sitting in it. Now with his brother Holden we still hang a diaper bag off it and it never failed when the baby is sitting in it, it's 100% safe.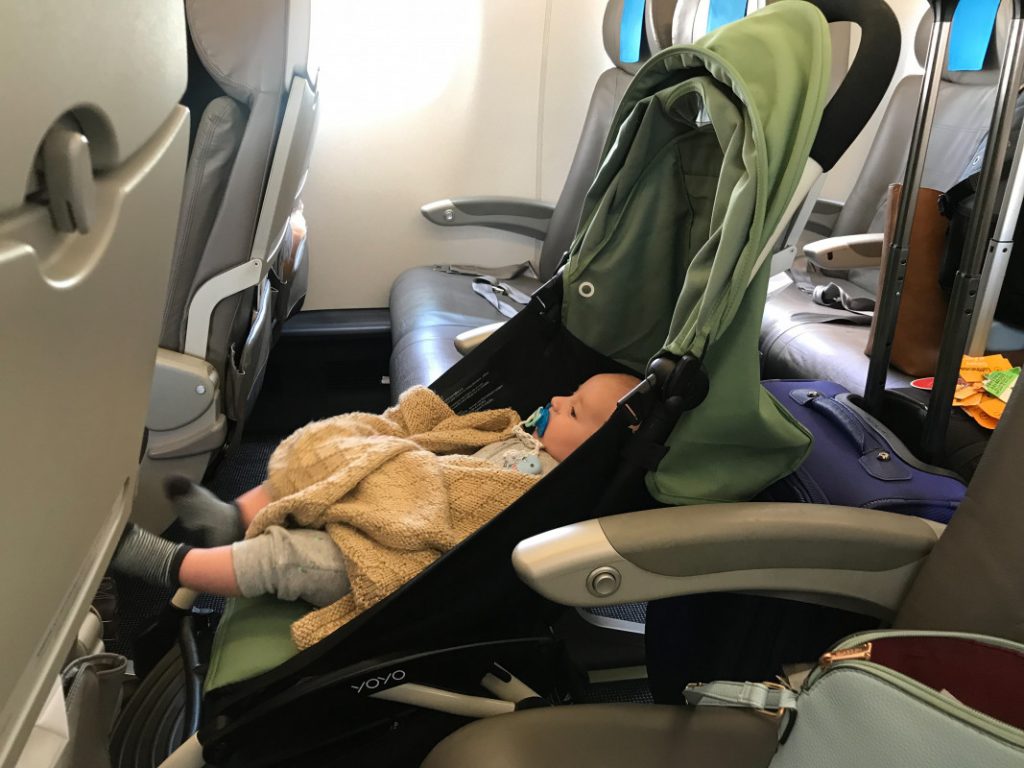 ---
Additional Accessories for Babyzen Yoyo
One useful, but costly feature of the Babyzen Yoyo is the need for accessories. When you purchase the stroller it comes with just a rain cover.
Everything else like a bug net, cup holder, or infant bassinet and car seat adapters (compatible with Maxi Cosi infant car seats, Cybex, and Nuna Pipa Lx) have to be purchased extra.
I ended up buying a bug net and footmuff, as well as a cup holder. In my opinion, skip the cupholder (it keeps falling off). The bug net was great and the sleeping bag worked fantastically and it was needed for the correct folding possibility.
If you're thinking of getting a cheaper footmuff from another company – my honest advice is don't do it. The stroller will not fold if you put a different one on and removing it every time you need it would be a pain. Babyzen footmuff fit in Uppababy Vista and now on Cybex Gazelle as well.
As the family expanded we also ordered the buggy board with a seat and Dylan is comfortable on it. When he walks you can fold it up so it doesn't bug you when walking. That way we avoid having to bring two strollers on shorter trips.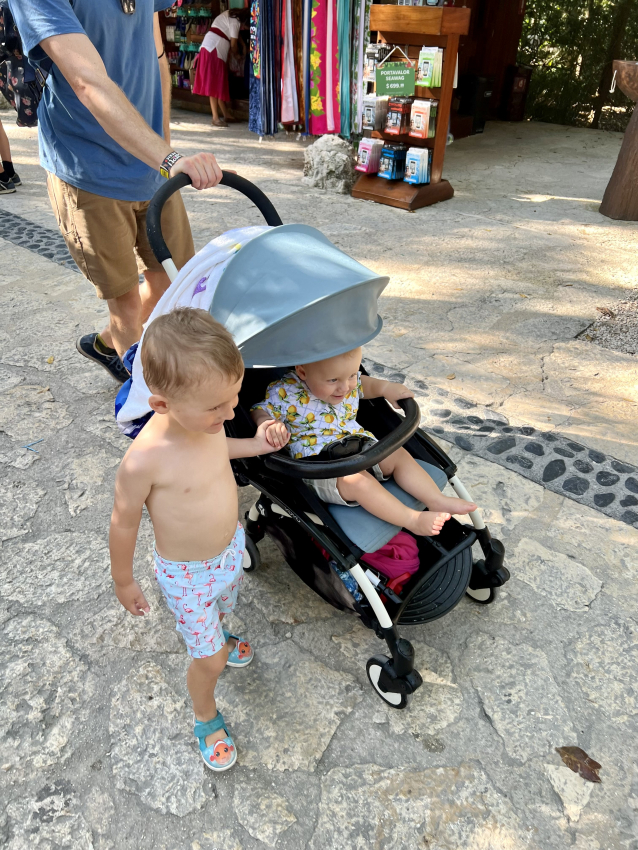 ---
I've spent so much time testing travel strollers, and I say that compared to other baby strollers, Babyzen Yoyo+ is a fantastic option. I can take my bub or even two bubs anywhere with Yoyo+ because it's compact, maneuverable, and easy to navigate in tight corners. More importantly, its accessories are readily available.
If you're looking for a stroller for only occasional trips and don't want to spend that much – I get it. While I'm yet to find a stroller that's better than Yoyo there are some passable strollers who do their job:
Strollers Similar to Babyzen Yoyo That Fit in Overhead Compartments
These Babyzen YOYO+ alternatives will also fit in overhead compartments:
Baby Jogger City Mini
GB Pockit
Joolz Aer
Zoe Tour
Strollers that fit on some planes, but might not always fit on smaller planes:
Cybex Eezy S Twist
Bugaboo Butterfly
Silver Cross Jet
Uppababy Minu