Bugaboo strollers are well-known among parents. If you look around anywhere in Europe, you'll be able to spot many Bugaboos rolling around. This is why Bugaboo Ant was a highly anticipated stroller, as it's a first from the Bugaboo family that's compact and lightweight enough to be a perfect travel stroller. Is it a flawless travel stroller? Let's see…
Bugaboo Ant Review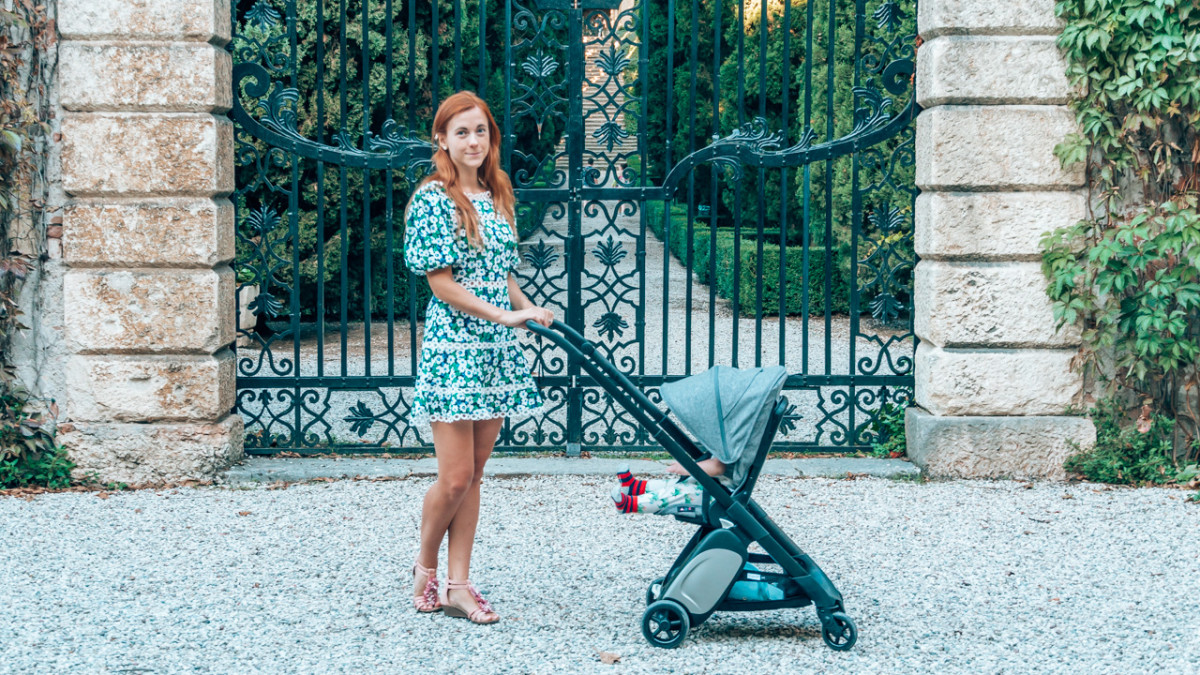 Why You Should Listen to Me?
I was never the person who had to have the best and new trendy things. But, ass I fly a lot and often alone with the baby, when it came to strollers I've become picky. After my first flight with a baby, when I had to gate check my main stroller and airlines broke it and the second time I had to wait over 45 minutes at the gate to get it back, I decided I didn't want to gate check any strollers. My travel stroller had to be able to come with me into the cabin.
Disclosure: I have been gifted Bugaboo Ant, but as you can see in another article, I also own and tested many best travel strollers on the market. I'm not a fan of praising products as ideal (especially baby products) just because you've been gifted it.
Let's be honest – every stroller has things that one parent might love, but it won't work for another one. I personally don't believe that any travel stroller is flawless.
---
General Impressions of Bugaboo Ant
Truth to be told when we first got the stroller, my husband and I weren't too excited about it. We already had a travel stroller and the fold of Bugaboo Ant seemed more complex. However, after a few days of testing it around Italy even my husband said that he likes it more and more now.
While there are some things we like less than others, the Ant comes with many advantages over other competitors.
Some people might complain about the price of Bugaboo Ant, but let me tell you – if you want a lightweight stroller that doesn't come with way too many flaws, and more importantly, fits in the overhead compartment of the place that's the price you're going to have to pay no matter which stroller you pick.
Many US-based reviews of best travel strollers will tell you that many strollers fit in the overhead bins, but they don't take into consideration that European carry-on requirements are smaller than US ones. That said, only 4 strollers on the market will fit into ALL overhead compartments, especially on Embraers – one of them is Bugaboo Ant. That said, it's worth the price if you ask me!
Speaking of the price, one thing you need to remember when buying this stroller is to consider an extra cost of additional accessories – such as rain cover and mosquito net. They don't come included with the stroller. Also, if you're planning on using this stroller from birth you will want a newborn cocoon.
Ant weights only 15.8 pounds, so it's easy to carry and fits nicely in the trunk.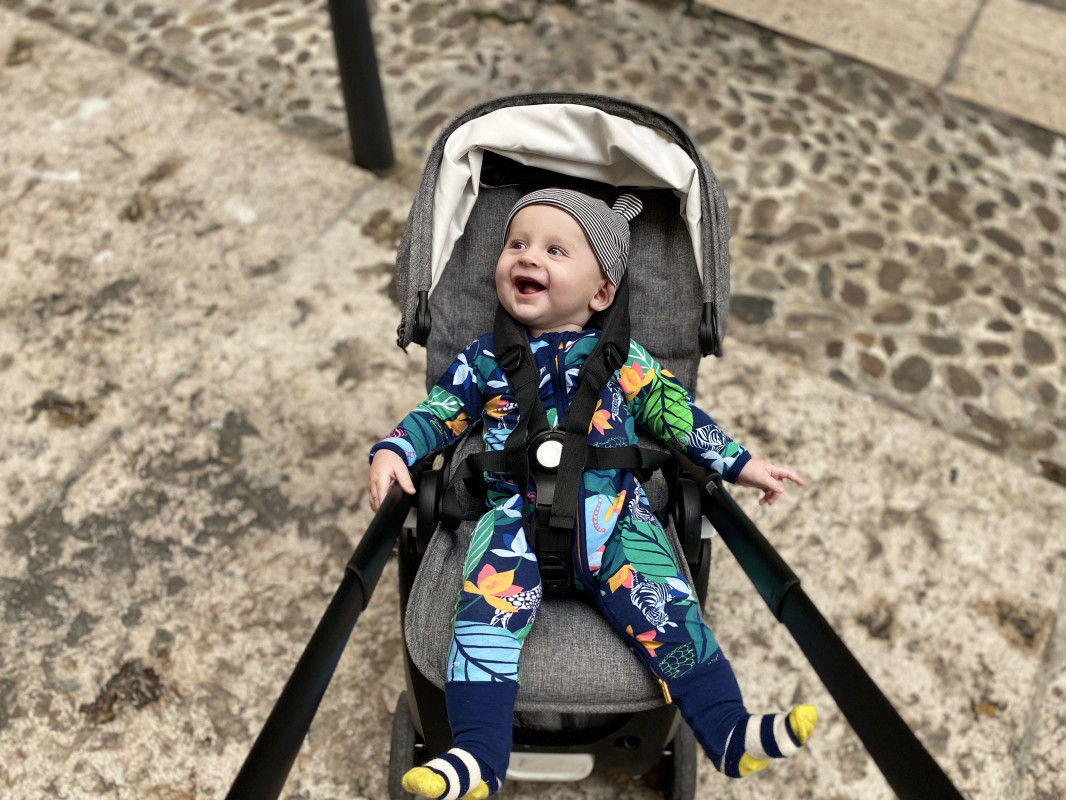 ---
Folding
I must admit that folding the stroller felt slightly complicated and I got a hang of it after a week. It's definitely not a stroller that the airport staff will help you fold when you hold your child and unpack at security. Folding Bugaboo Ant requires a few steps.
While it doesn't have the traditional one-hand folding that I love, I still manage to fold it with one hand (check the video). It's not impossible.
Now you're all probably wondering: does it get stuck sometimes? Sure, but I haven't tried a stroller that never got stuck during folding. It's nothing to worry about.
The stroller is designed to be rolled around like a suitcase, but I haven't had a chance to do since Dylan isn't walking on his own quite yet. I wish there was a carry strap, but it's something that I'm probably going to add on my own. As I always travel with a carry on suitcase it would be inconvenient to me to roll both the suitcase and luggage through the airport.
One big advantage of Ant is that all 4 wheels are facing down when folded, unlike in Yoyo, so I never get my clothes dirty when I decide to carry it. Especially during muddy days.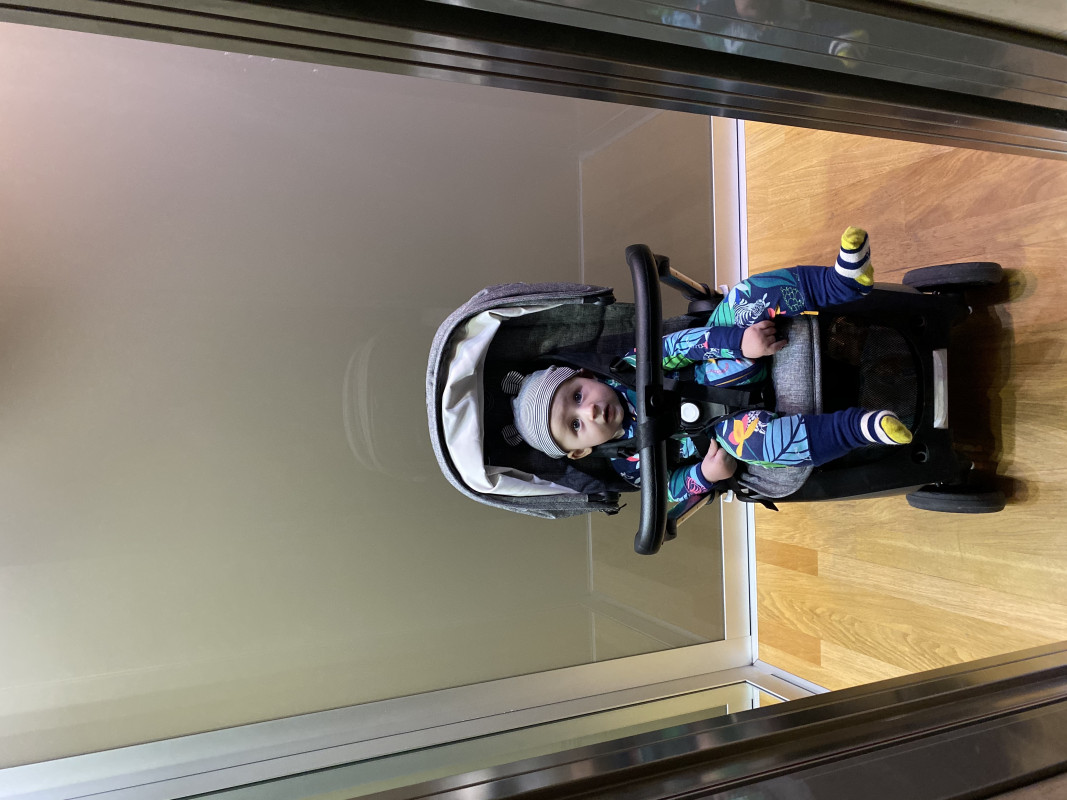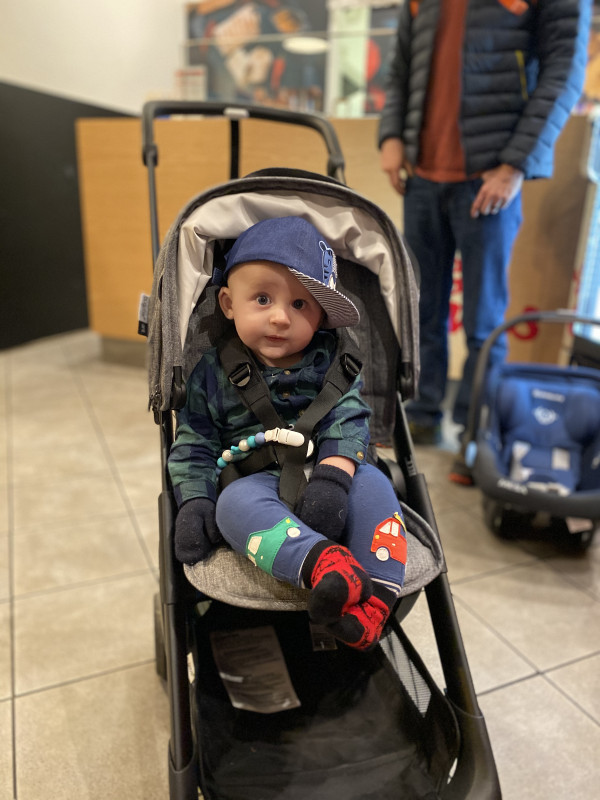 ---
Seat
First of all, this is one of the two lightweight strollers with a reversible seat (the other one is Cybex Eezy S Twist, but it doesn't fit in overhead bins on European planes). This only shows how rare feature this is among compact and light strollers, and also why I originally purchased the other stroller when Dylan was still a newborn.
When I originally opened the seat and tried to adjust the straps I thought it was really weird that the straps aren't allowing him to move his head. However, the seat height has to be adjusted to the height of the baby for the straps to fit him properly. Which, while it is a nice feature, adds another step to unfolding the stroller, just so you're aware.
One thing that I wish Bugaboo Ant offered was side protection of the seat. I'm aware that with a 'suitcase-like' design it wouldn't be possible (or maybe it is somehow?), but I need to double-check if Dylan has his hands back in the stroller when passing by other people, other strollers, doors – it gives me a heart attack that something might easily break his arm.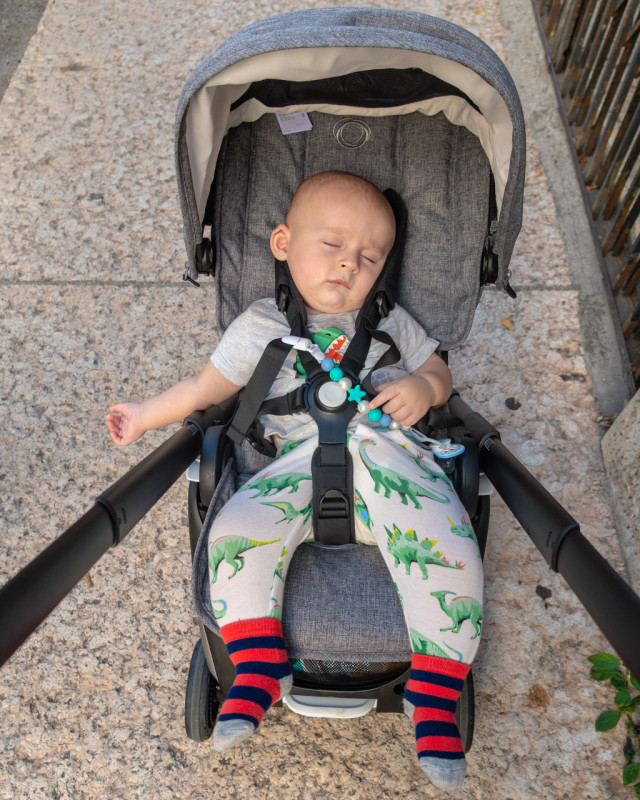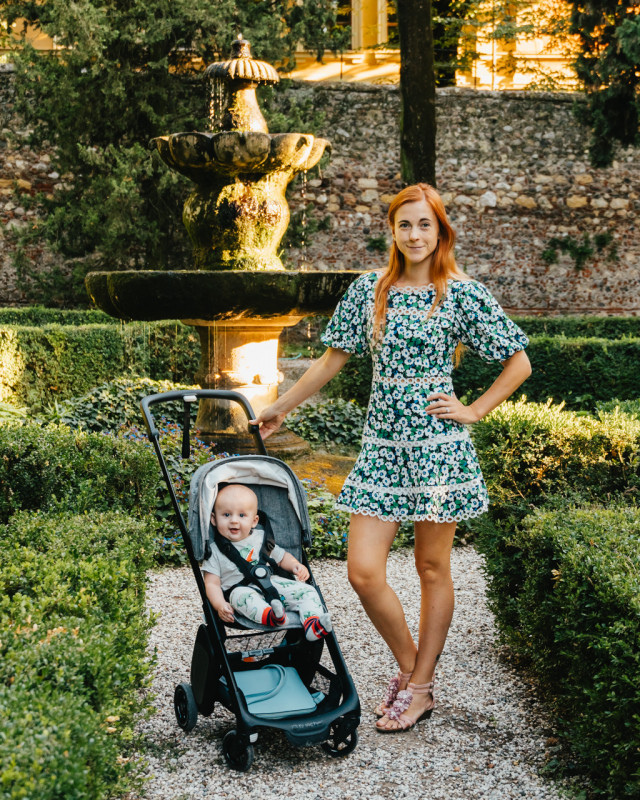 ---
Recline
When I read first reviews of the Ant many claimed that the recline is entirely flat like on Cybex Eezy S Twist. That's not actually true, as the recline is almost flat but not 100% and the recline can be tricky. Let me explain:
Bugaboo Ant has 3 recline positions: upright, recline (comparable to seat recline on airplanes), and almost flat. However, the almost flat position is possible ONLY when the child is seating facing the parent! If the seat is facing the front, the further recline is blocked by the handlebar.
While many parents love having their kids facing them and I do too, my child doesn't necessarily agree with me on that. He loves seeing what's in front of him and prefers to see what's going on, but if he falls asleep – unless he's facing me, he's screwed by sleeping almost sit up as I cannot turn the seat around without taking him out of the stroller.
Before leaving the house I always think whether he might want to take a nap during our walk and position the seat accordingly. Wish the stroller offer more recline when the seat is facing both ways.
Don't get too discoured by it, because the Ant offers a unique feature that I haven't seen in any other compact strollers – the ability to set the seat fully upright. As the seat isn't made from a material, it's easy to adjust even with a child sitting in a stroller, which again is a very unique feature and a huge advantage among competitors. I no longer have to kneel down and adjust the backrest using force of both of my hands. All you need to do is to squeeze the buckle on the back of the seat and push the backrest forward. No straps and uneven backrest.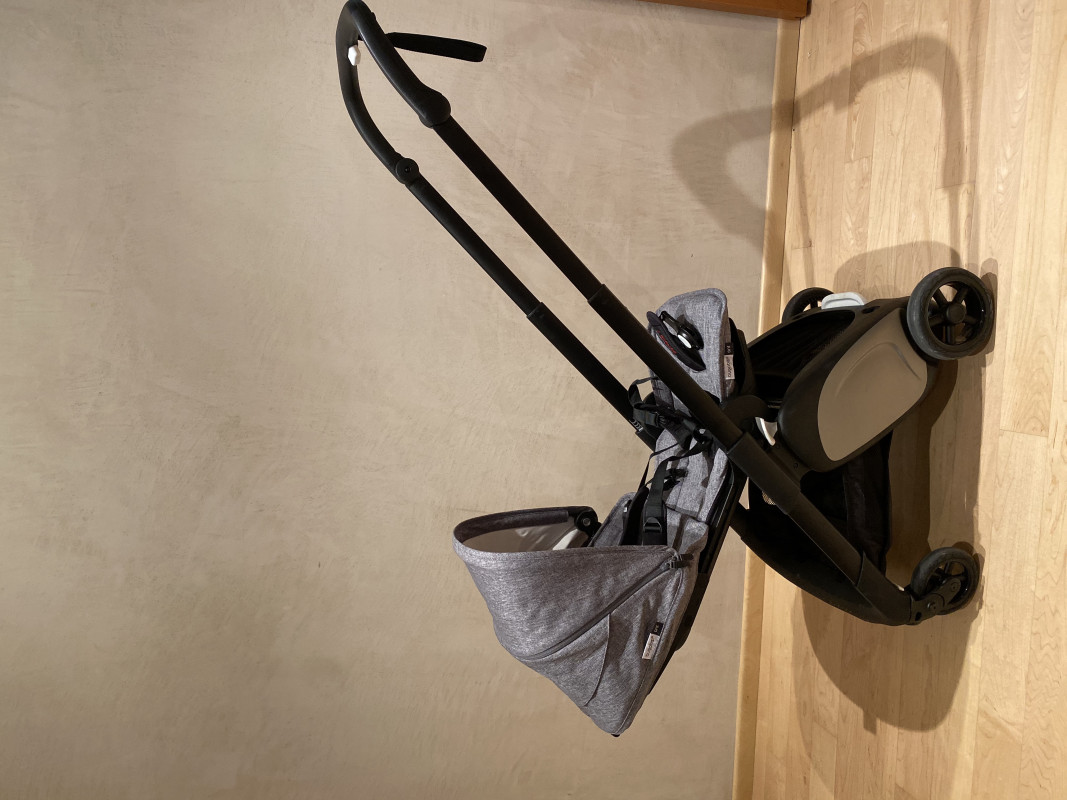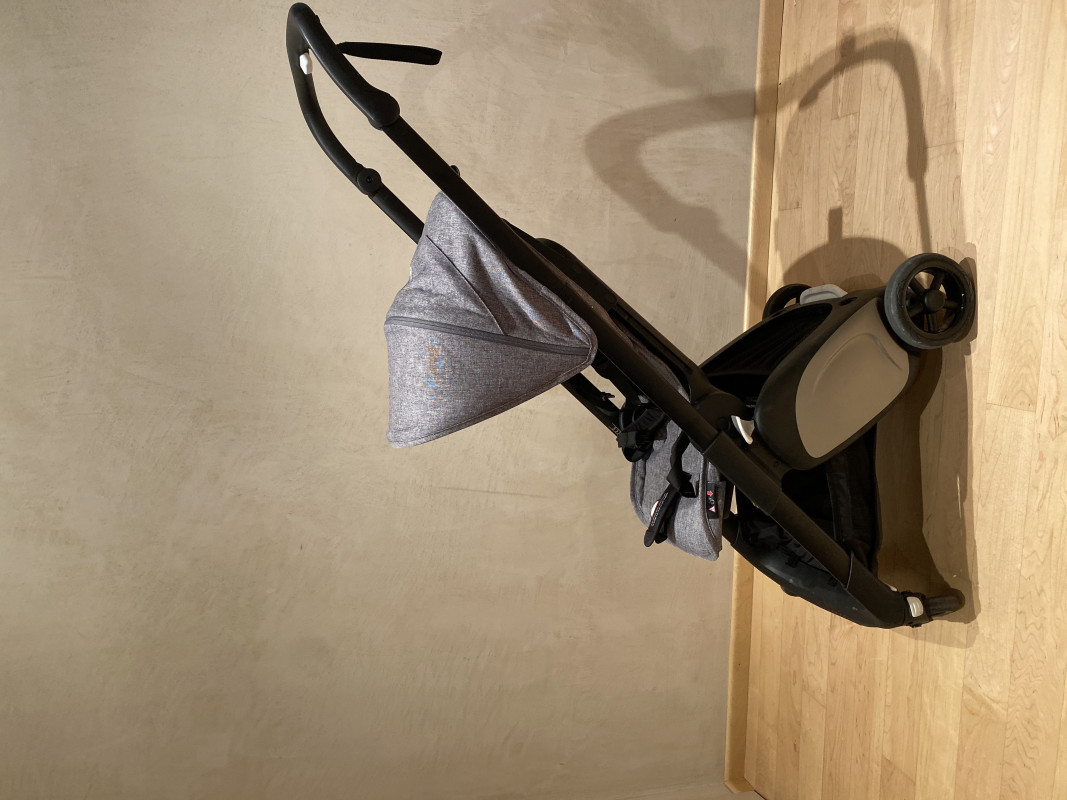 ---
Canopy
Good canopies are a rare feature on compact strollers, some even don't have any. This isn't the case with Bugaboo Ant that has extendable UPF50+ canopy. Not only that, but it also has a third panel that opens with a zipper – extendable canopy. It can pretty much cover the whole child which is awesome.
But the extendable canopy isn't ideal. As the seat has to be lowered to fit straps, the canopy gets in the way of taller children, like mine. When compared to the Babyzen Yoyo, the Ant seatback is technically taller, but there's less space between the seat and canopy. Dylan is only 6 months old, but already over 31 inches tall (80 cm), so will we be able to use this stroller when he's 2 years old? We'll see, but I'm not entirely sure about that.
While there are many colors of the canopy available, only two premium fabrics offer a mesh peekaboo window. As I wanted to have it, I only had a choice between a grey and pink.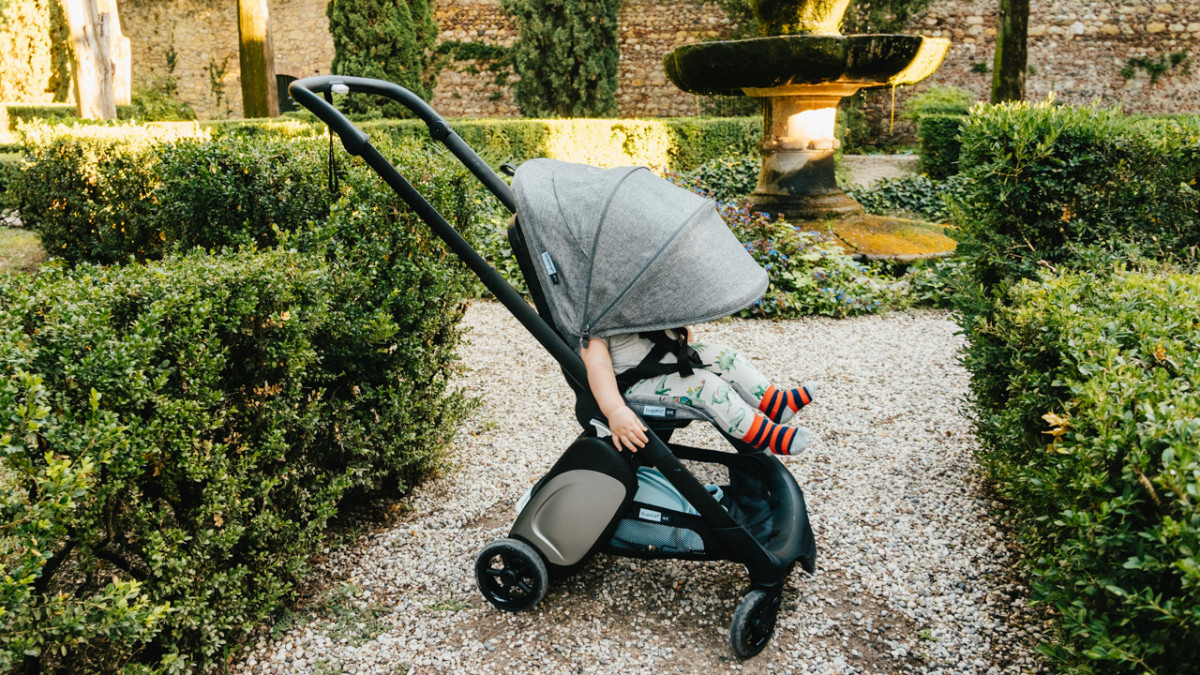 ---
Basket
We particularly enjoy a big basket underneath the stroller – even our cat fits into it as it can hold up to 17 pounds (almost 8 kg), but I even loaded more into it and it was still great! The cat loves riding with the baby, but so far he wasn't able to fit under any other compact stroller.
The first, bigger part of the basket has easy access from the front of the stroller. The other mesh part of the basket can be accessed when the stroller is folded, which is incredibly useful especially for parents like myself that don't really bring a diaper bag on walks.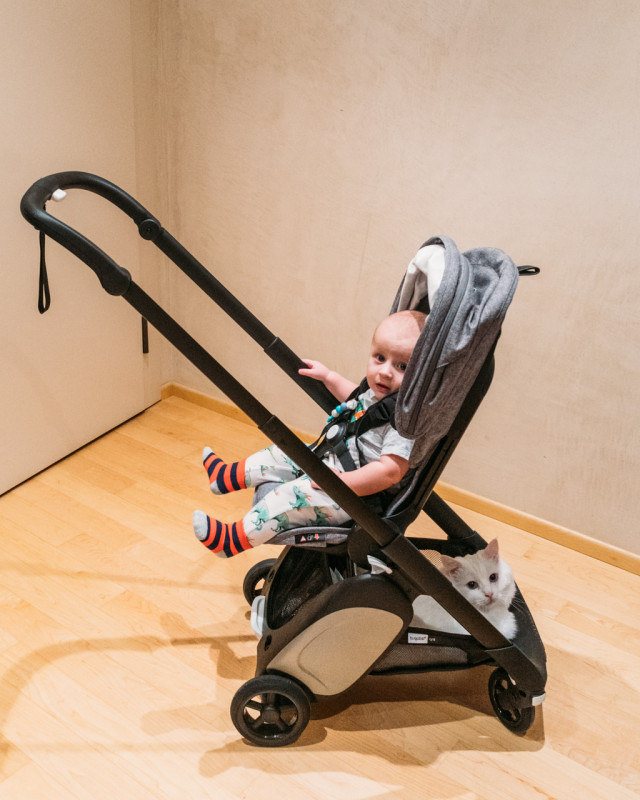 ---
Handlebar
I'm not going to lie – the telescopic handle feels flimsy. I guess there's no way around it as it can be extended and fully folded. It feels funny when fully extended.
But, as the handle is telescopic it comes with advantages. It's the first stroller that ever fit into my elevator easily as I can just fold the handle in a split second. It's super convenient in restaurants as well, when I had to fit the stroller in between tables.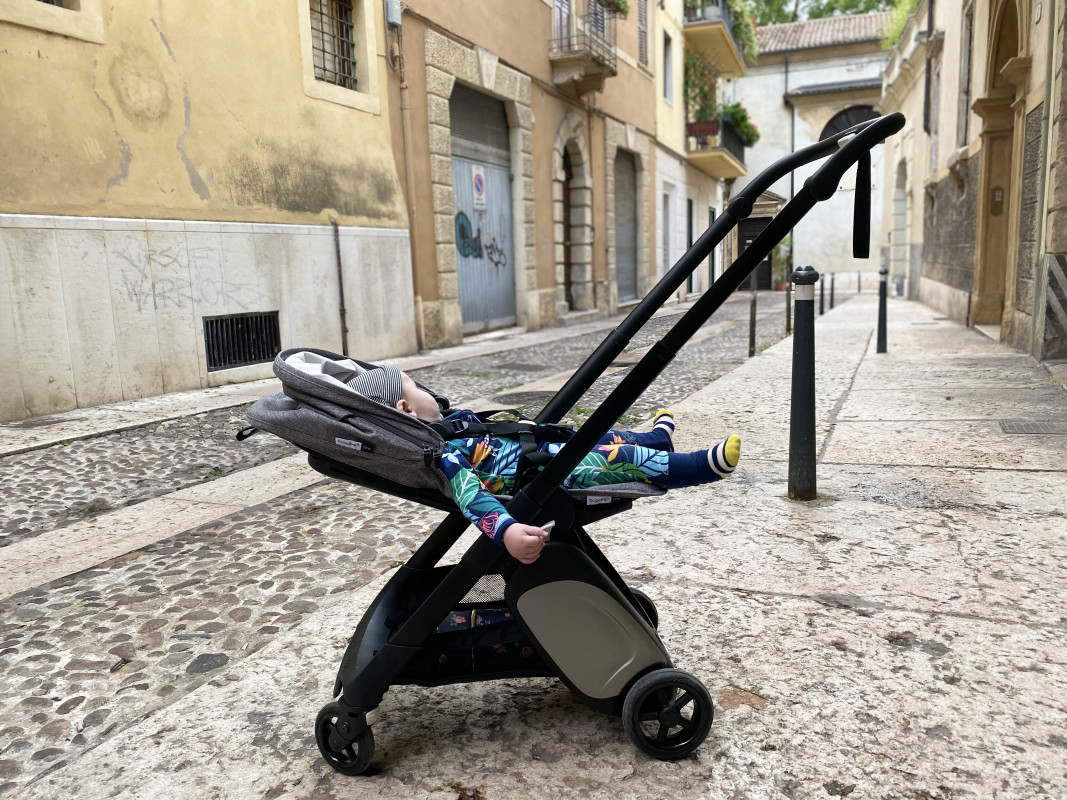 Wheels
Wheels of Bugaboo Ant are the only feature I can honestly say should be improved. They're excellent on flat airport floors or very even sidewalk, but any curb or let alone cobblestones are an issue. I don't mean that the stroller won't roll on it. It will, but it will be bumpy for the child and some curbs aren't the easiest.
The break is fantastic though. I personally love it when the break can be easily locked and unlocked in the middle, regardless of the footwear you're wearing.
---
Extra Features & Accessories
Another useful feature of Bugaboo Ant is car seat comparability. I haven't personally used it as Dylan is already too big for an infant car seat, but for smaller infants, it's a great extra feature. Ant is compatible with Nuna Pipa Lite, Nuna Pipa Lite LX, Cybex and Maxi Cosi infant car seats. Adapters are sold separately.
Bugaboo Ant doesn't come with any often necessary accessories, so you'll have to buy it on top of the stroller. I'm talking about a rain cover, footmuff, and car seat adapters. Even if you already have another Bugaboo stroller, rain cover or footmuff won't fit on the Ant, which is understandable considering the unique design of the stroller.
Having spent so much time in Europe this year, one thing I found fantastic is that Bugaboo accessories are much easier to find than accessories for its famous competitors. As Bugaboo is a highly popular brand in Europe you won't struggle to find anything in stores.
Do you have any questions about the Bugaboo Ant stroller?