Cybex Libelle is one of the newest additions to the Cybex family. I tried many Cybex strollers such as Cybex Priam, Cybex Gazelle S, and Cybex Eezy S Twist and while they're not flawless the quality was always there so I was excited to try Libelle.
Honestly, I thought after my older son turned 2.5 and the baby was over 1 we ditched a double stroller due to the fact that our car is small and it's simply not practical for European travels. I thought we wouldn't need another stroller after attaching a buggy board for the toddler to Babyzen Yoyo. But, having a second stroller was crucial for the 3-year-old when we explored European cities all day long.
A part of me wanted to simply get another Yoyo, but since Dylan is already 3 we didn't want to spend so much on a stroller for occasional trips. I ordered a Cybex Libelle stroller in pink as it's his favorite color.
Age Range – 6 months to 55 pounds (25kg)
Stroller Weight – 13.7 pounds (6.2 kg)
Folded Size – 18.9 x 12.6 x 7.9 inches (48 x 32 x 20cm)
Libelle is lightweight (only 13 lbs which is lighter than most competitors!) and folds super small. The main con, however, is that the stroller doesn't offer one hand fold, not even half fold so you need both hands to really fold and unfold the stroller.
The handlebar is also a bit short, especially when you're pushing it with one hand holding to the middle. But, if you're used to things like Doona that are uncomfortably short then Libelle will be fine as it's taller than that.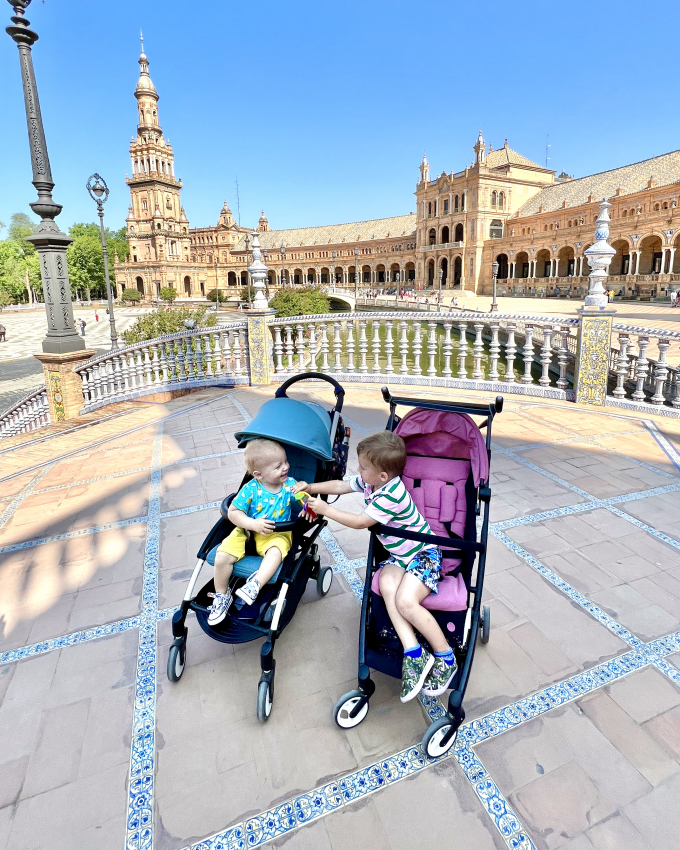 Maneuverability & Storage
Libelle maneuvers surprisingly well considering how small the wheels are. I didn't find pushing the stroller any problematic, and neither did my husband that's 6'1. We kept bumping it on the stairs and didn't have any issues. I even had to ride up and down the escalator with it when elevators were broken and it held up just fine.
We also carried a balance bike on top of it (hanged the wheel from the handle) and it was just fine, as long as the child was in the seat.
I was a bit concerned about how to steer it with one hand, but you can totally do it. It would have been nice to have some sort of padding in the middle as it only exists on handles for two-hand steering, but it's not a deal-breaker.
The storage isn't huge and while I can hang the diaper bag off other strollers, it doesn't work well with Libelle so I wouldn't count on the possibility of bringing a lot. However, if you're thinking of buying it as an "emergency stroller" for an older child Libelle will fit underneath a full-size stroller basket along with other items 😉
Seat Design
The seat is much taller than on any other compact travel stroller I've seen, which makes it comfy for taller kids. But, it's profiled and soft so it doesn't give a ton of back support like some other strollers.
The seat also doesn't recline a lot so while it works for older kids, it's not very suitable for small ones who need more reclined positions. There's also no peekaboo window in the canopy.
But… don't give up just yet if your baby is small. Cybex Libelle does have a possibility of a car seat attachment! You would have to unhook the back seat to install a car seat, but the good news is that it fits Cybex Cloud Q car seat which is the best on the market as it reclines. The car seat adapter is easy to install and stroller can fold with the adapter attached.
But, Libelle comes with an adjustable built-in footrest – a very unique feature for travel strollers. It's material-based because it folds in half, but it's enough to stay up.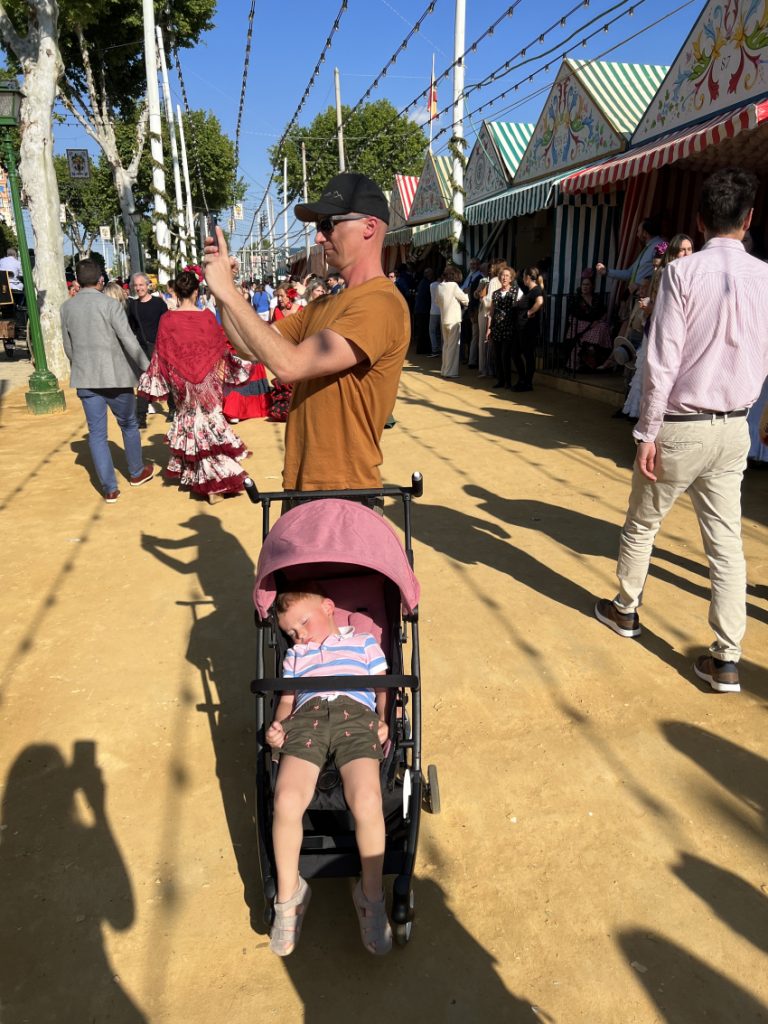 Fold & Unfold
The stroller folds mall and it's easy to grab and carry around. Sometimes I don't even fold the wheels because it's still small even when it's not fully folded. It never got stuck.
However, because this stroller has a lot of folding pieces I once grabbed it quickly and it smushed my finger entirely. In fact, weeks later my nail is still black and injured after this incident so be careful.
Bumper Bar
A bumper bar is crucial when it comes to a travel stroller, regardless of age. Small babies like to hold on and older kids basically use it instead of straps. Libelle doesn't come with a bar, but the bar can be ordered separately.
Cybex Libelle does have a bumper bar! I read so many reviews that it doesn't, but it simply comes as an extra accessory (link here).
It's not the bumper bar you're used to it, because it's soft and foldable. You can roll it like a snake and it unrolls before you clip it into the stroller. My son can still hold onto it and it works fine, but… unfortunately, the stroller doesn't fold with it. I found the same issue with Joolz Aer which was super disappointing and the biggest con.
Unclipping the bar isn't an issue as it's an easy task (even my toddler can do it), but you need to remember not to lose it. I put it in my purse, but as the bar unrolls it's literally like having a snake in the bag (reminds me of the creature from the bag from the 1988 movie My Stepmother is an Alien).
Another accessory that you might need with Libelle is the travel bag. Because of the way the stroller folds the strap cannot be attached to it easily, but a bag makes it easy to carry.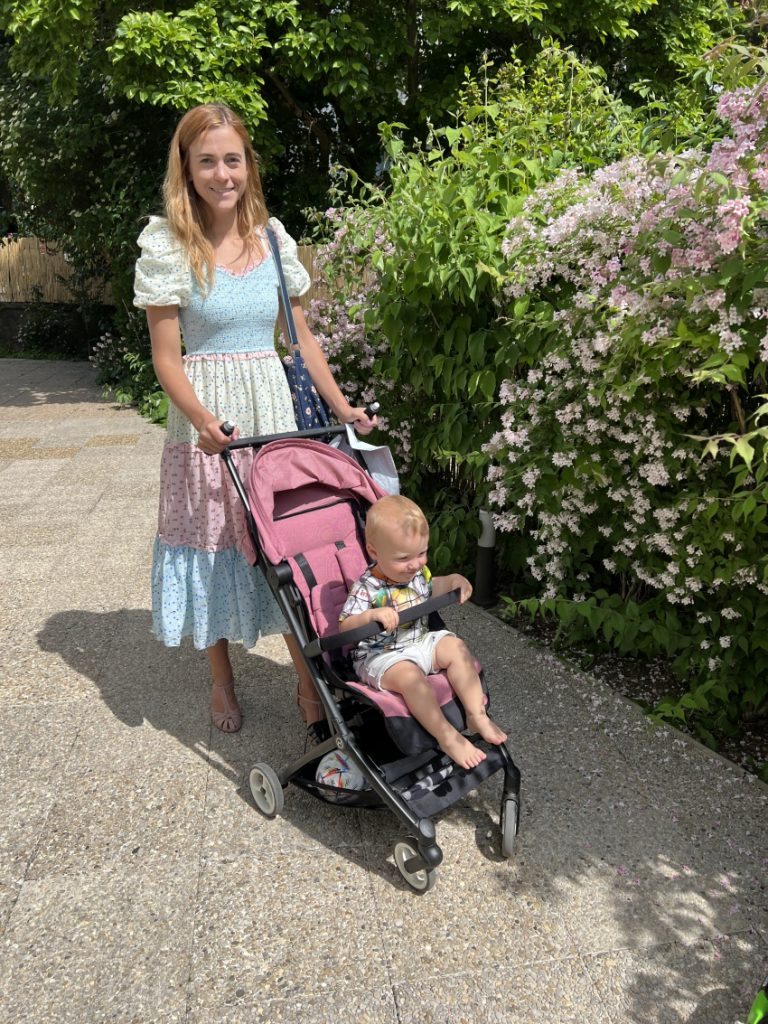 ---
Cybex Libelle vs Beezy
I'll be real: before setting on Libelle I was close to buying Cybex Beezy stroller. Beezy is a small stroller but you can see that the quality is there. Unlike Libelle, Beezy doesn't shake around, the bumper bar is in-built and the back wheels are bigger and it's got a one-hand fold.
Beezy is an amazing stroller, to be honest. I tried it and if it was my first travel stroller and I had a baby around 6 months old or younger I would totally buy it (as it has a lie-flat recline which most travel strollers don't have). They cost the same in the US (in Europe Libelle is a bit cheaper).
But, as we only wanted to use a stroller occasionally for an older child the compactness of the stroller was the most important feature and this is why Libelle won me over. Beezy was just too big when folded and heavier.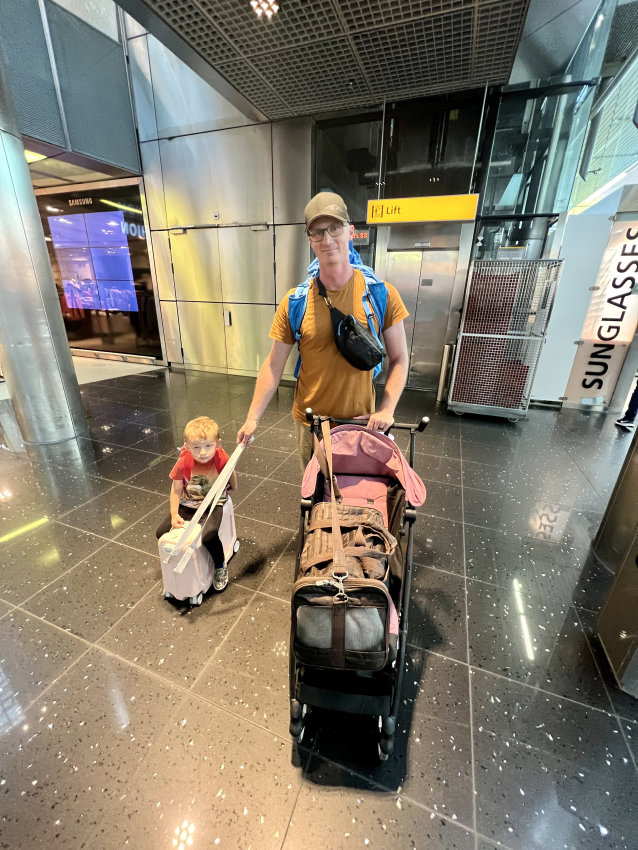 Cybex Libelle vs GB Pockit
Is Cybex Libelle and GB the same? One could think so because when Libelle was released a lot of people noticed that it looks a bit like a copy of GB Pockit.
GB Pockit seems attractive due to its folded size, but the stroller is absolutely useless because the wheels cannot handle any terrain (I'm not even going to say rougher, because it doesn't even need to be rough for Pockit to fail). On top of the fact that folding the wheels of Pockit to get it in the smallest position is rarely flawless because the stroller gets stuck a lot.
The sunshade on Libelle actually works fine and feels enough for a child. Pockit's thin fabric blows backward all the time and won't stay put.
The brakes for the Pockit are located on a wheel which many people hate, but the break on Libelle is magical as it's easy to use on the bar between wheels – regardless of the shoes.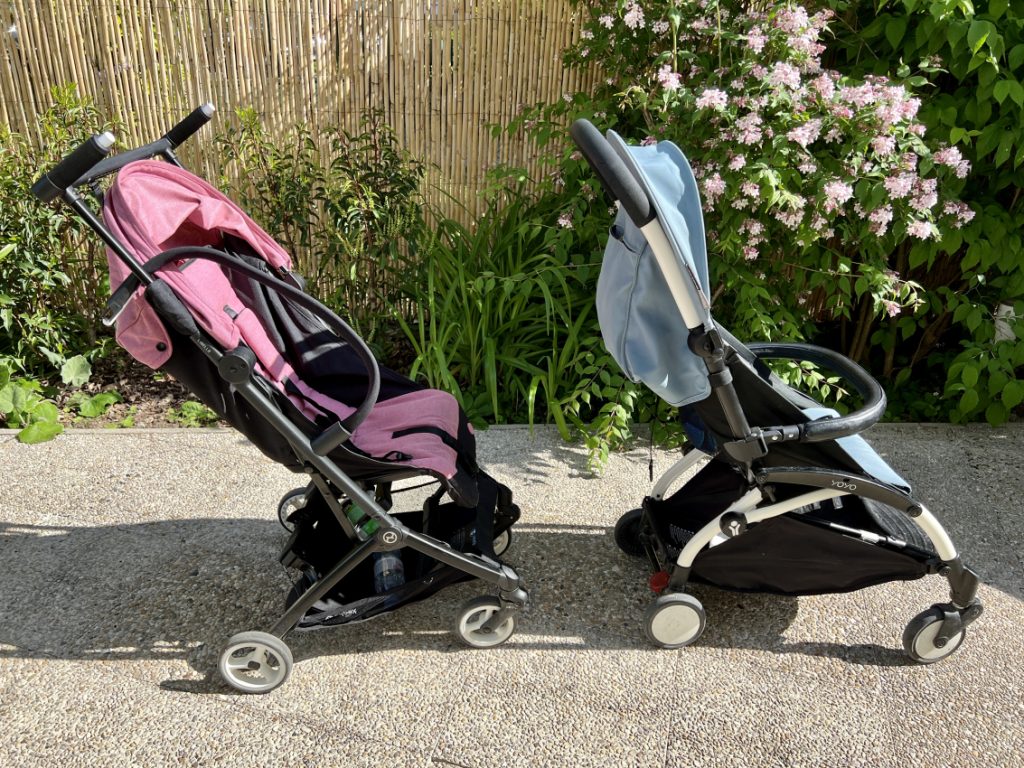 Cybex Libelle vs Yoyo Babyzen
I'm a big fan of our Babyzen Yoyo stroller and my second child has now inherited this stroller. On a recent trip we used both strollers at the same time, so I can say how Libelle can handle things when compared to Yoyo.
Babyzen surely feels sturdier and when you move the handlebar it doesn't shake as much as Libelle. I can also hang a diaper bag off it with or without the child sitting in the stroller, but I cannot do it with Libelle because the stroller trips.
Cybex Libelle Review: Verdict & Final Thoughts
Cybex Libelle stroller is surely not the best travel stroller out there, but it works just fine considering its portability. Because of the lack of further recline and seat profile, I think it best serves kids over 2 years, especially as a secondary stroller. It's portable enough and wheels can handle a ton.
The stroller is rarely on display anywhere, so if you're unsure you might order it from Nordstrom as they accept returns easily.
If you're looking for a compact stroller for travel for a baby or smaller toddler, especially if naps on the go are important then I wouldn't recommend it unless you're using it with a car seat like Cloud Q. Babyzen Yoyo or Cybex Beezy would be more suitable.