I had high expectations about their new stroller Nuna TRVL stroller. It had various glowing reviews, but there was a problem with them: everyone was testing it with kids around 6 months old…
I've been a fan of Nuna products for a long time. Their car seats, are not only one of the best performing in crash tests, are also the lightest on the US market (Nuna Pipa Lite is only 5.3 lbs!). And that's not even the coolest thing about their products.
Did you know that almost all kids items (crib mattresses, cribs, clothes, strollers, car seats, toys) in the US are sprayed with toxic chemicals causing long-term effects due to an outdated law? It's shocking honestly and it's hard to find a product that isn't sprayed with flame retardants. All Nuna products (every stroller and car seat) are free of flame retardants, which makes them non-toxic and natural.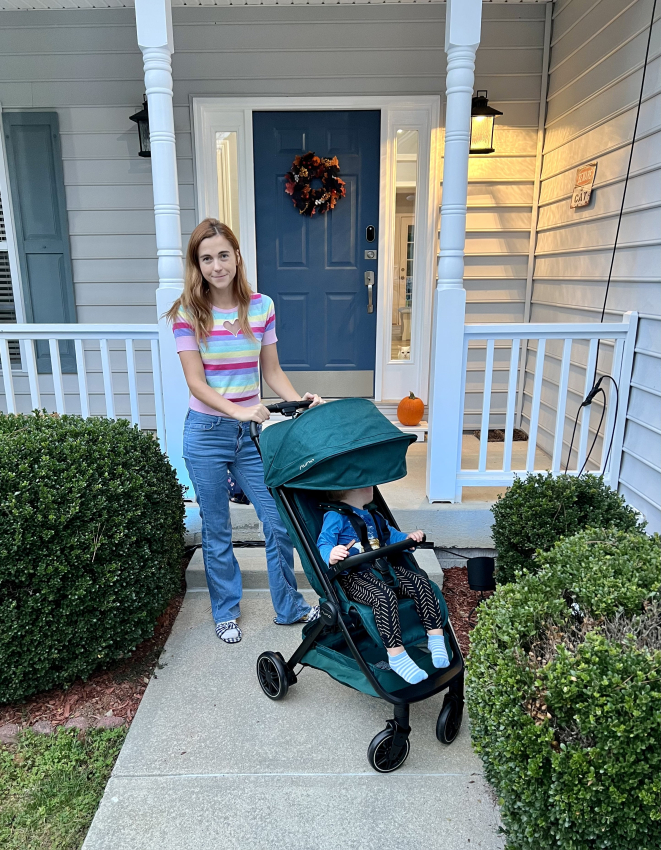 Pros & Minor Cons of Nuna TRVL Stroller
Folding and Unfolding of Nuna TRVL stroller
The fold is amazing indeed and there's no such contender on the market. Nuna TRVL stroller self-collapses with a push of a button.
Don't worry though, it won't fold with your baby in it by accident, because you need to engage both fingers in the movement. It did fall on the ground after folding itself a few times, but I'd say it happened about 25% of times only.
When locked, Nuna TRVL doesn't lock so you need to remember to grab it from the side of the bumper bar, because otherwise, the stroller can unfold. This can be frustrating because frequent fliers know that airport employees (or even bus handles, taxi drivers, anyone) might not know how to handle the stroller properly at the gate – it makes it more prone to breaking unless it's in a travel bag.
Unfolding also works like a charm. It never got stuck (like Bugaboo Butterfly), it doesn't require any practice. It just works on its own.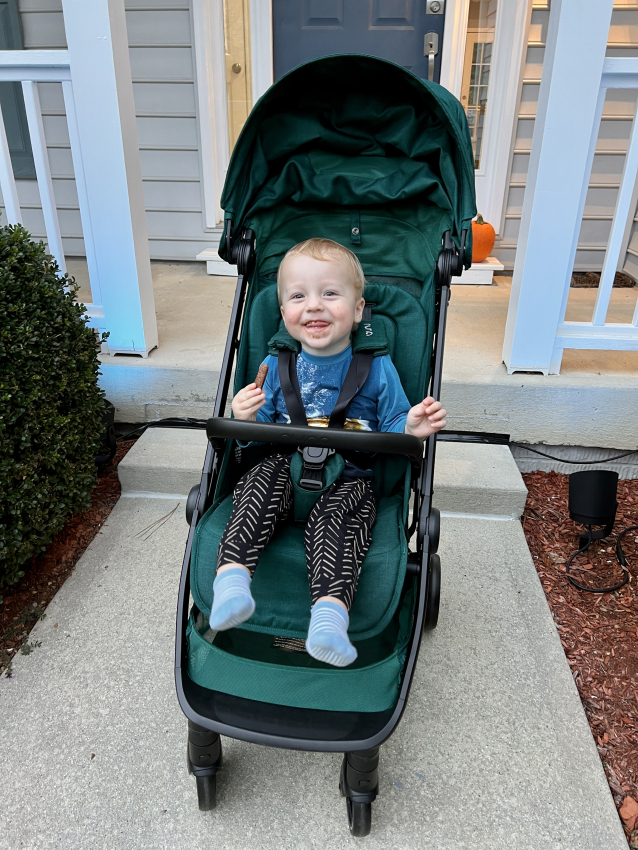 ---
Weight & Size: Can you take Nuna Trvl on plane?
Nuna TRVL stroller is promoted as an ultra-lightweight at just 13.6 lbs, which is the same as the lightest strollers on the market. But, it's a pure marketing tactic, as the "*" indicates that it doesn't include the bumper bar or even the canopy! That means the stroller is naturally slightly heavier than Babyzen Yoyo, Joolz Aer, Bugaboo Butterfly and many others.
To me it feels like cheating a customer, because when will you ever remove the canopy from the stroller and the armband which is the only option for carrying the stroller? Pretty much never, so why not just give people the actual number of how much the stroller weighs?
It's definitely easy to carry by the bumper bar, but it doesn't come with a carry strap. Instead, it comes with a stroller bag that you can use to carry the stroller around on your shoulder.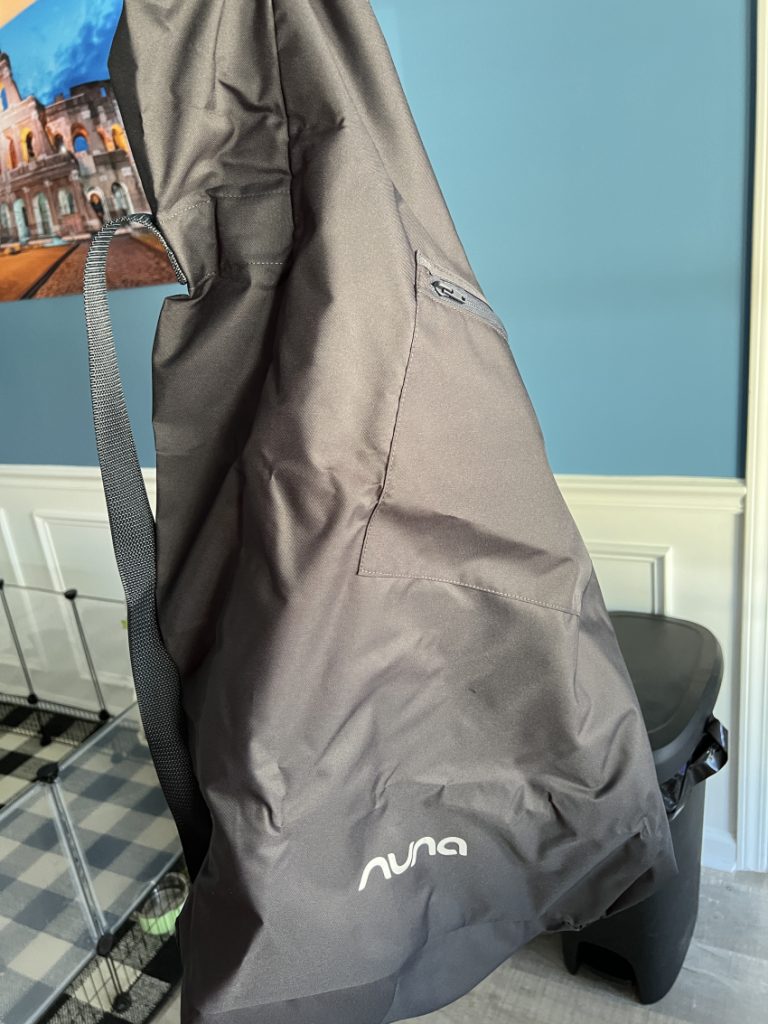 It's pretty impractical, because while the bag is great, sometimes all you need is to quickly fold the stroller and throw it on your shoulder because you need to be hands-free – whether to carry the baby, luggage or both. You don't want to have to put the stroller in the bag first.
Just like it happened to me at the airport when the escalators and elevators weren't working. Thankfully, I had a different stroller with me at the time, but it got me thinking that while the bag is nice for gate-checking the stroller, the lack of a shoulder strap is an important con. Especially considering that you can buy a stroller bag for $15 and a shoulder strap isn't so easy to buy separately off-brand.
The provided bag is also incredibly uncomfortable to carry. Getting the stroller in and out of the bag requires removing the back wheels unless you want to stuff it and risking a bag breaking —easy to do, but an extra step. I think they realized how crazy it sounds and came out with a travel backpack to put this stroller in instead… for $150. Seriously Nuna?!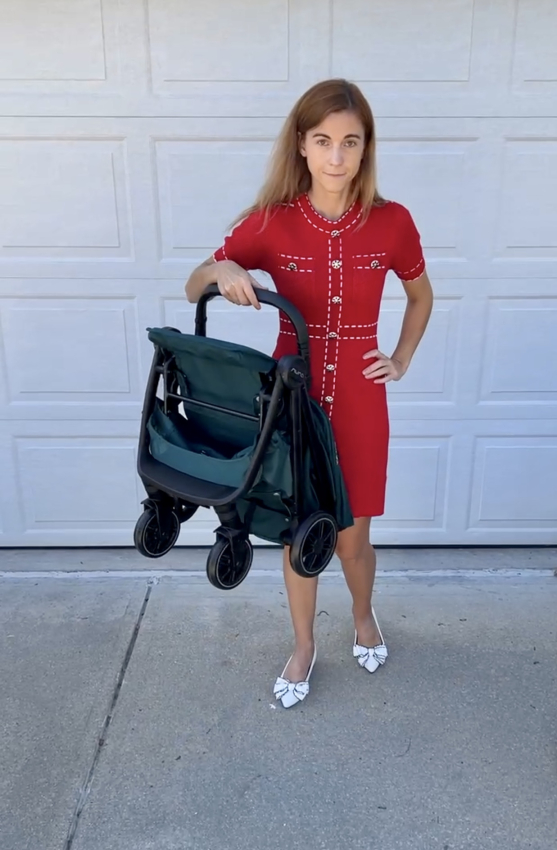 The rest of the stroller is underwhelming – especially considering that it's not exactly the smallest out there. Considering the name "TRVL" the stroller was designed with the intent of traveling, but I feel like while it could make a decent everyday stroller for a baby under 12 months rather, as for actual traveling it's not the most practical solution.
Does Nuna TRVL fit in the overhead compartment?
The short answer is NO. The average requirement for carry-on luggage is recommended to be around 22 x 14 x 9 inches. Nuna TRVL is 24* x 20.25 x 11 in and that's not even including the armbar, which makes it way over the limit.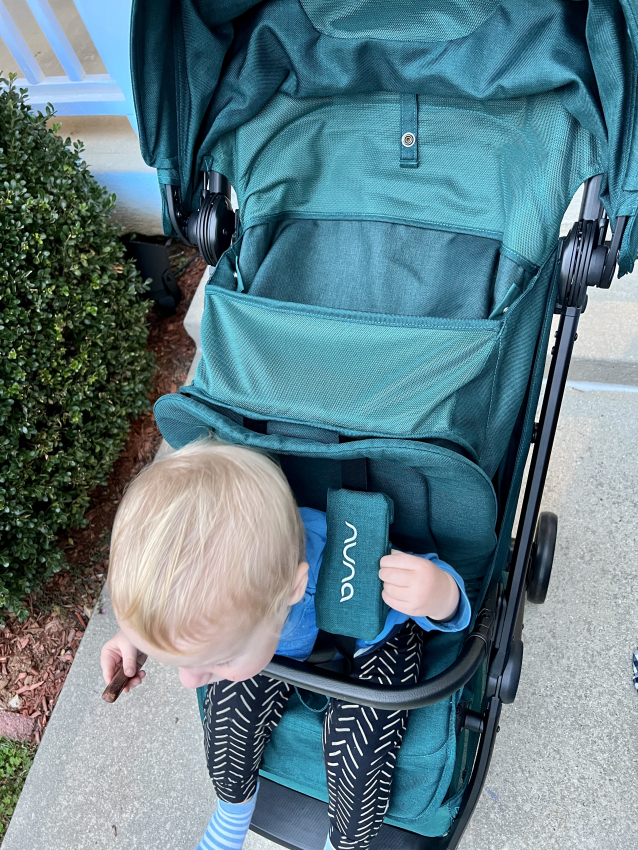 ---
Maneuverability & Design
The stroller pushes nicely and the rear-wheel suspension technology provides a smooth ride indeed. It's stable, doesn't wobble, you can feel the quality of the frame.
You can also lock the front wheels which enable to ride through rougher terrain without swiveling.
Is Nuna Trvl good for newborn? In theory, the Nuna TRVL stroller can be used for infants and toddlers weighing up to 50 lbs in either the travel system mode or stroller mode. What's the issue then?
If you have a Nuna car seat, then you can easily put it in the stroller as it simply inserts into the bumper bar. To do so, you need to keep the stroller reclined which with a car seat inserted makes it slightly riskier to hand anything off the parental bar.
The problem is when you have a different car seat than Nuna because you already had one from your full-size stroller travel system or got gifted. Then, you cannot use it with Nuna TRVL stroller as it doesn't have any adapters for different car seats.
Does Nuna Trvl fully recline? It does not, it's only a partial recline, which makes it unsuitable for a newborn to use from birth. Keep reading about an even bigger issue with the recline.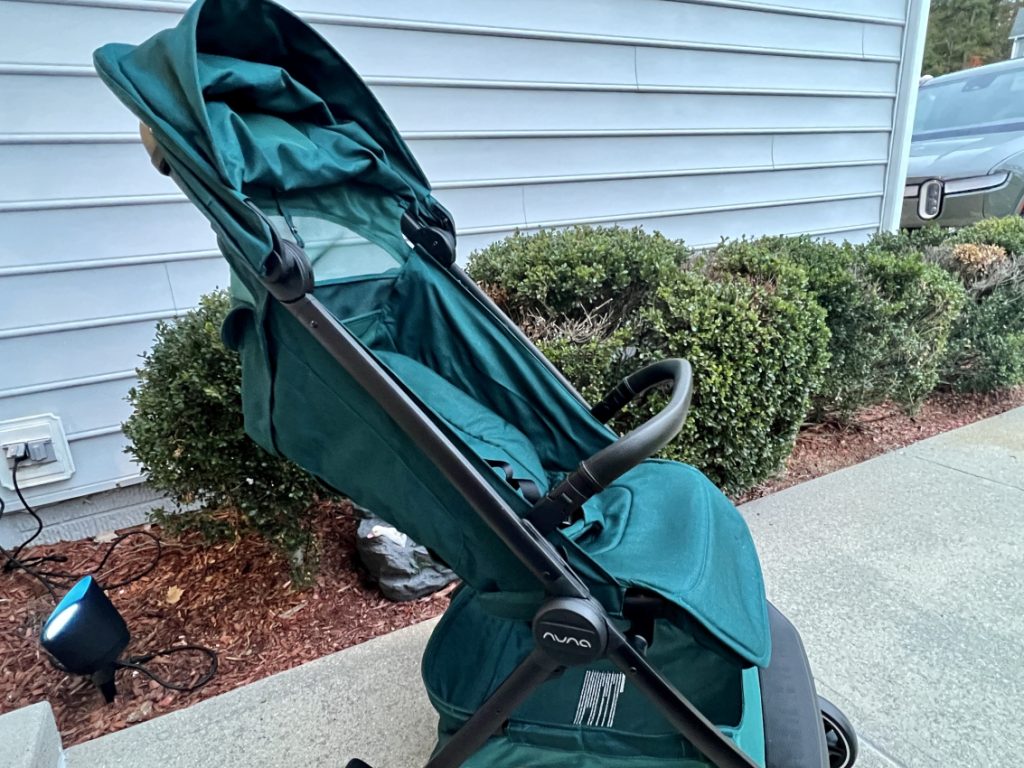 ---
Nuna TRVL LX
Nuna came out with a new stroller Nuna TRVL LX, which is basically the same stroller, but with bigger wheels. It's a great improvement considering as TRVL standard model doesn't fit int he overhead compartment of the plane either way, you might as well go for bigger wheels to make it rougher terrain friendly.
Storage Spaces
The basket is large and fits a ton. You can easily throw a big diaper bag underneath along with some shopping. It's easily accessible and the sides keep your items safe.
This makes Nuna TRVL stroller a candidate to just be a smaller everyday stroller.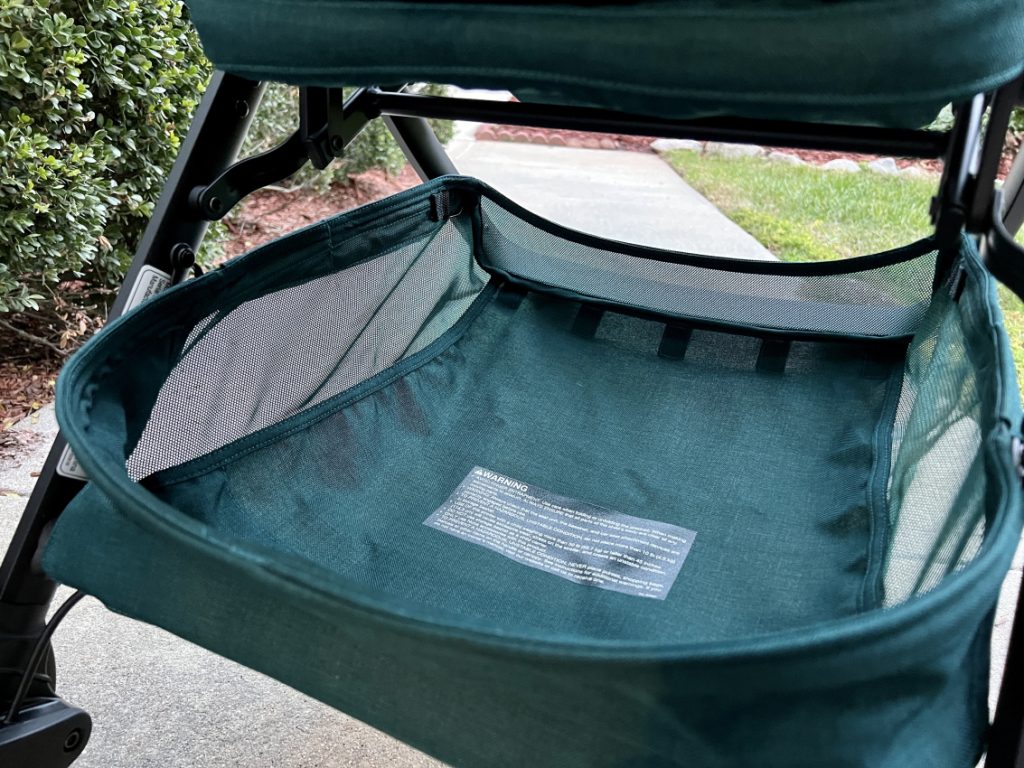 ---
Seat Compartment, Recline & Canopy
The seat compartment appeared fantastic at first. The seat was soft and comfy and so were the straps. There's even an in-built footrest that some kids love for naps.
The included bumper bar is great, but unless your kid learns to crawl underneath it every time, you need to remove it to let the child out. The bar is easy to remove the arm bar, but putting it back on is awkward and frustrating.
The no-rethread 5-point harness supposedly makes adjustments easy and while it does, the magnetic harness as well, but I didn't find it much easier to put together than the regular one when the toddler was screaming and wiggling around.
You can unzip and roll up the huge ventilation panel in the back to provide tons of ventilation and let your baby feel the breeze all ride long. It's officially made for breathability so you can open the back canopy and to make it safe the manufacturers put a "mesh wall" at the top of the seat. You cannot fully see it until you recline the stroller.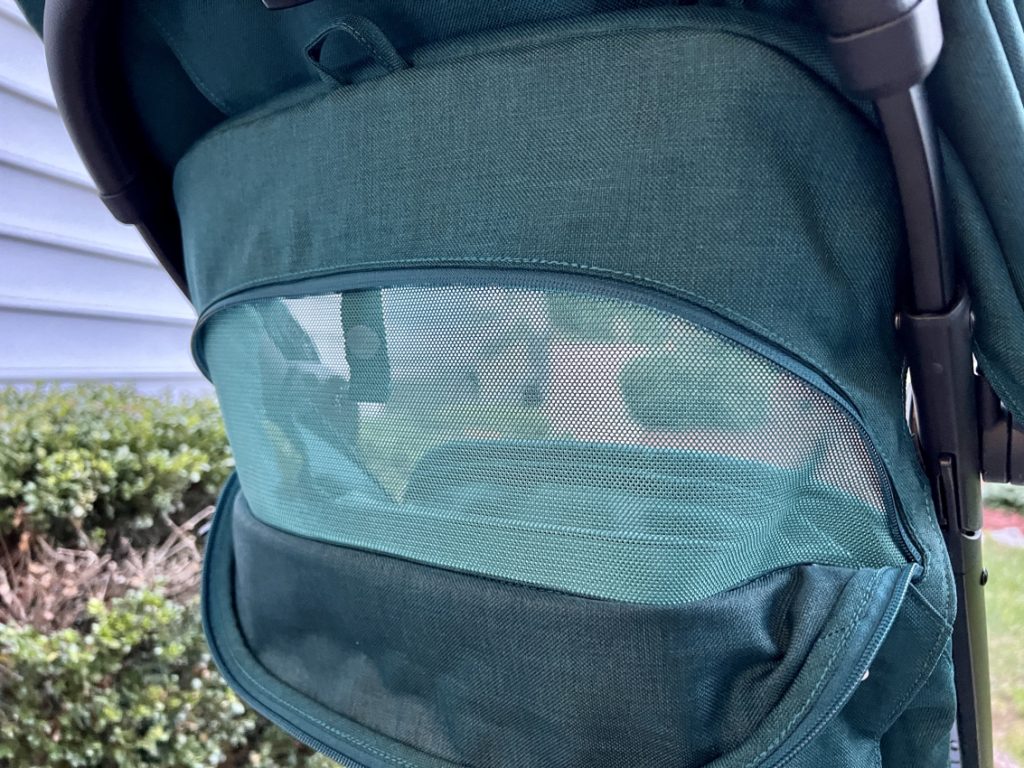 I was honestly very impressed, despite the seat back being quite short, until I reclined the seat. The recline worked fantastically, you can do it with one hand… but then I noticed the biggest problem with Nuna TRVL stroller.
The seat backrest is barely 15" when reclined. That makes the seat much shorter than Babyzen Yoyo and other competitors and the problem is that due to this stupid mesh wall that's where it ends. None of the marketing video reviews ever show this as they never show you the inside of the seat compartment.
I've never seen it mentioned in any other reviews is that the mesh at the seat top that basically makes the stroller useless for naps.
My younger son is currently 33", which is barely the 50th percentile of height for 18 months and his head hits the mesh and pushes against it, making the stroller useless when reclined. He absolutely hated it and would stay in the stroller reclined and I don't blame him – it looked pretty darn uncomfortable and scrunched up. If we had this stroller with my older son Dylan the stroller would have been useless by 12 months, because he was always in the 90th percentile.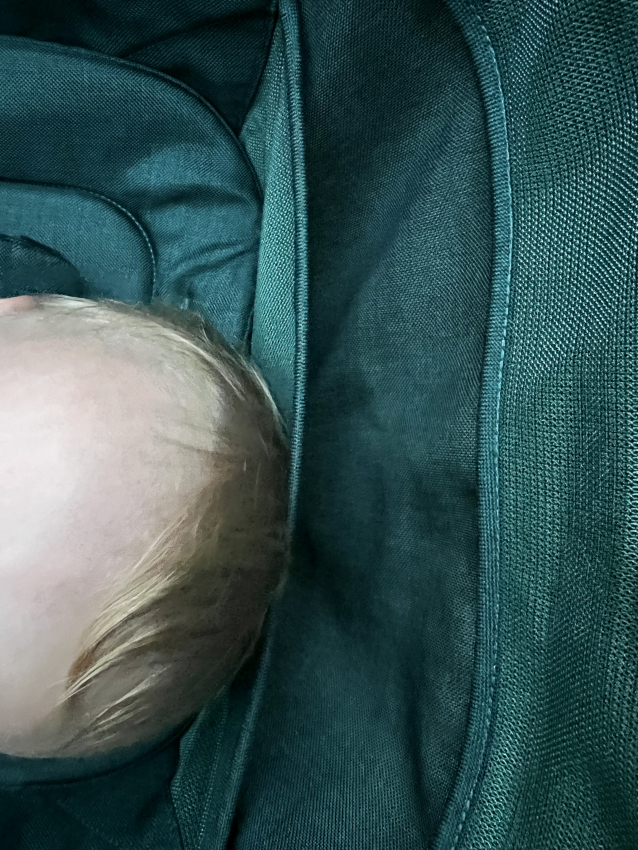 ---
Nuna TRVL Accessories
The stroller only comes with the weird travel bag I talked about earlier.
Nuna TRVL stroller doesn't even come with a rain cover. It's sold separately for $50. The canopy is water-repellent, but if you live in a rainy environment you need to add the extra accessory.
Nuna TRVL vs Yoyo Babyzen
For this similar price tag, I will pick Babyzen Yoyo any day over Nuna TRVL. The first is actually made for traveling as it folds small and fits in the overhead bin, unlike the Nuna.
While Nuna is bigger in terms of folded size, it doesn't actually give the child more space in the seat which is disappointing. The seat back is half an inch shorter than Yoyo's.
Nuna TRVL might feel like a more luxurious stroller as to folds easier and offers a bigger basket. But, if you're worried about those two functions then a better contender than Babyzen Yoyo would be Joolz Aer.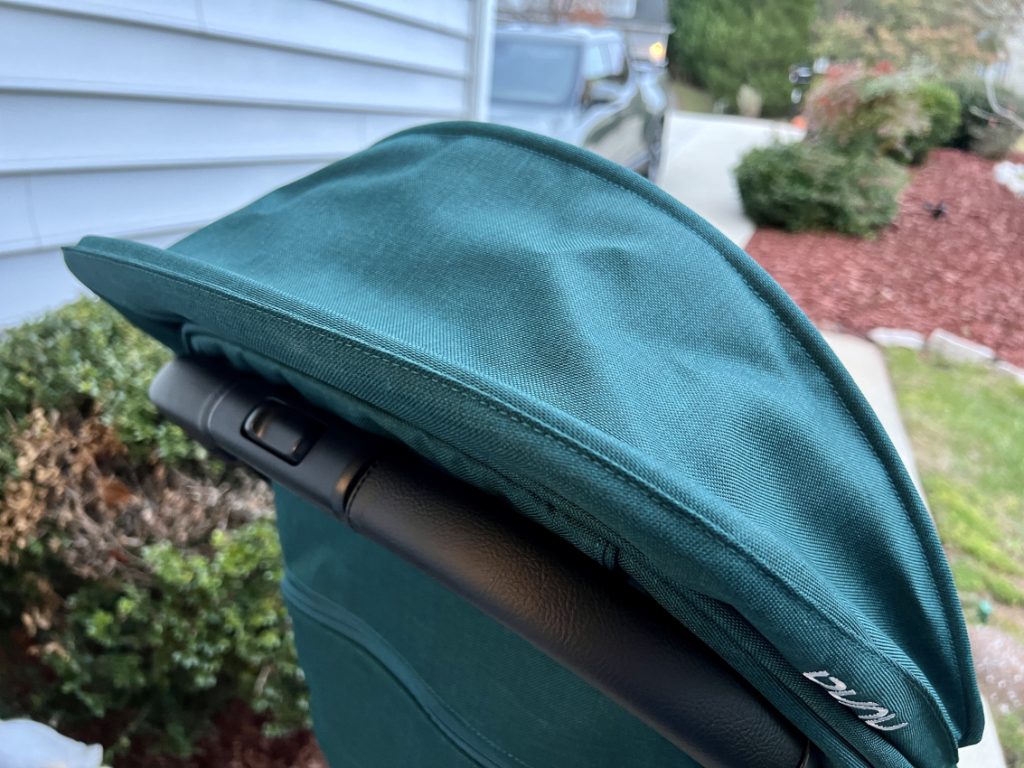 ---
Final Verdict: Nuna TRVL Stroller
Honestly, if you're buying a stroller as expensive as Nuna TRVL stroller you want to use it for years and make sure it's practical and fits in the cabin. Despite the incredible fold, it's not a super impressive stroller. Especially with the seat compartment issue and lack of compatibility with other car seats.
For the price of Nuna TRVL I would expect more because there are cheaper options for travel strollers that can give you more practical features than it.