Silver Cross is a popular and trusted brand of strollers from the UK. I'll go as far as to say that it's a European version of the luxury Uppababy brand. In fact, Kate Middleton used Silver Cross stroller with her babies so there must be something good about it, right?
Silver Cross Jet 3 is an improved model of a lightweight travel stroller. At the first glance, it has all the best features you might need – it's overhead bin friendly for airplane travel, has a full recline, peekaboo window, bumper bar, and built-in footrest… but yet, my kids absolutely hated this stroller and the seat compartment made me rethink the stroller.
Full disclosure: I bought this stroller myself. I wasn't paid or given a sample, so this review is as objective as can be. Feel free to ask any questions in the comments.
Age Range – newborn to 33 pounds (15kg)
Stroller Weight – 13.6 pounds (6.2kg)
Folded Size – 22 x 12 x 7 inches (56 x 23 x 17cm)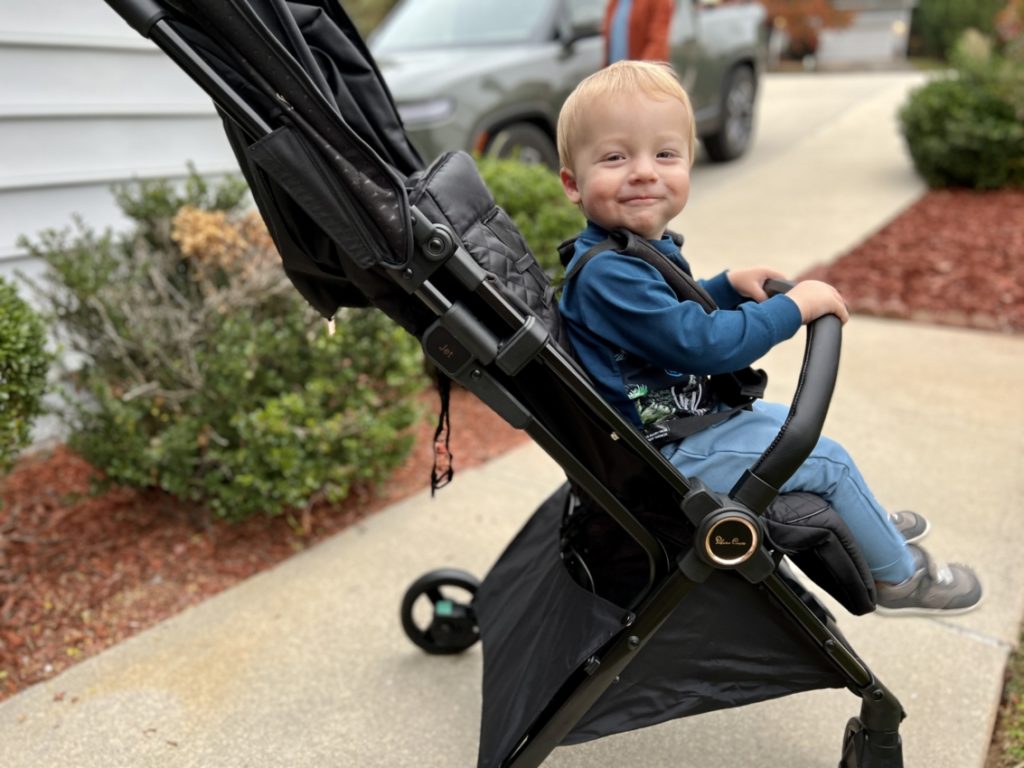 Maneuverability & Design
Silver Cross Jet 3 offers a full lie-flat recline. No almost flat, no angles – it's a fully flat recline making it suitable to use for newborns. Technically, because we'll be talking about the seat issue later.
The stroller comes with an in-built bumper bar, which is always a bonus but the bar is pretty far out and uneven, so might be harder for kids to use it to pull up.
I didn't feel like I could hang anything off the parental bar, especially not when reclined because the stroller was tilting easily and the wheels are made of cheap plastic and aren't as powerful as on other competitors – Yoyo, Joolz Aer or even Bugaboo Butterfly. It's impossible to push along cobbled streets and even the slightest curb causes a struggle, it's basically a stroller you can only push at the airport which isn't useful at all.
And speaking of powerful… I did feel like due to its folding mechanism it wasn't a strong stroller. The more parts have to fold or get squished around the more chances for it breaking I did notice that various reviews said the stroller didn't even last a year for many people which for this price isn't acceptable.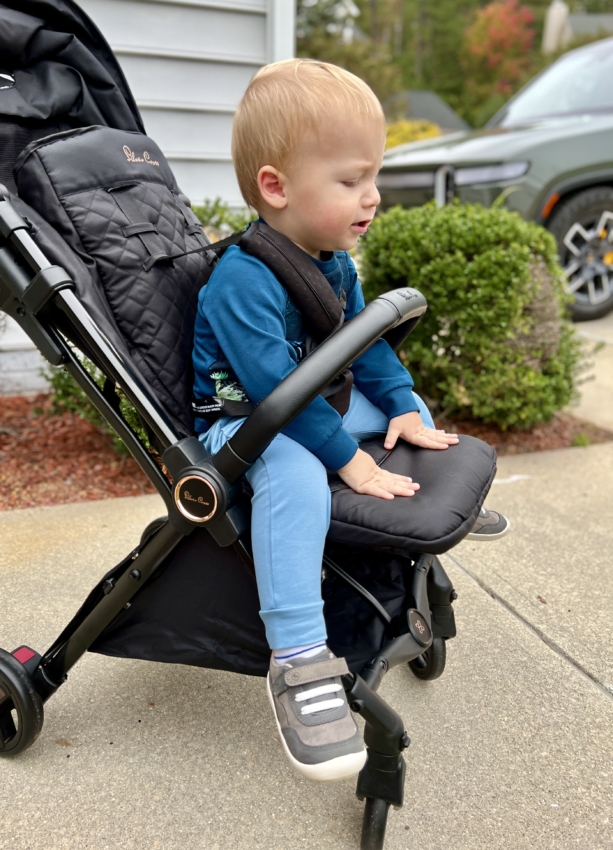 ---
Folding and Unfolding of Silver Cross Jet stroller
Silver Cross Jet 3 now only needs a simple motion when folding and unfolding – in theory. In reality, you often need a push of a second hand to either "break" the handlebar or squeeze the stroller and then release the pedal break with your foot.
While folding it down isn't too bad, to open it you need to violently flick the stroller AND then manually click both of the side pieces in that keep the structure locked in. It's extremely annoying, especially considering the price tag.
The stroller is being promoted as possibly being pulled around like a suitcase and you can put a cover on it making it look slick. The bigger question is why would you want to do this? You want to fold and unfold the stroller quickly without having to put and pull a cover off it (that actually, isn't effortless to put on the stroller).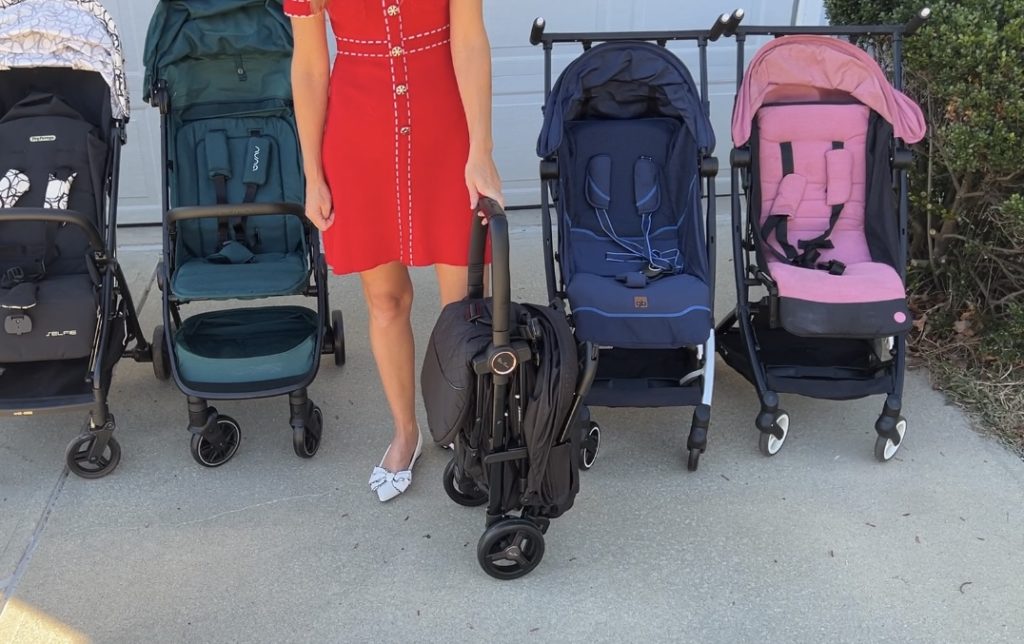 ---
Weight & Size
Is Silver Cross Jet cabin approved?
Yes, it is and can be put in the overhead bin without any issue as long as you detach the bar naturally.
It can also be pulled along suitcase style (if you're short – I'm 5'7 and I had to bend a bit) when not in use which I think it's not a very useful feature personally, but it fits. It has no shoulder strap so you have to roll is or weirdly hold it around when it has to be lifted.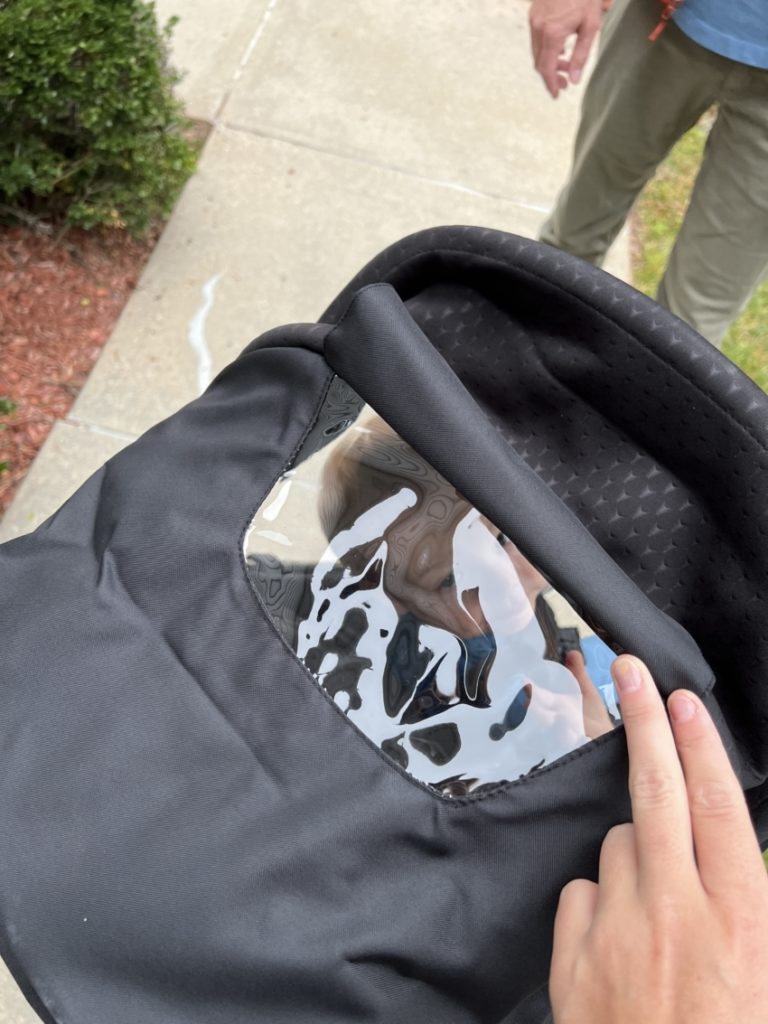 ---
Storage Spaces
What storage space? Whoever designed this stroller must not have had kids, because the storage of Silver Cross absolutely sucks. Babyzen Yoyo storage can be considered small, but this is really a joke with a bar blocking the middle. Not even a bigger thermos can squeeze in there.
You absolutely cannot hang anything off it, especially when fully reclined, because the stroller would tip over instantly.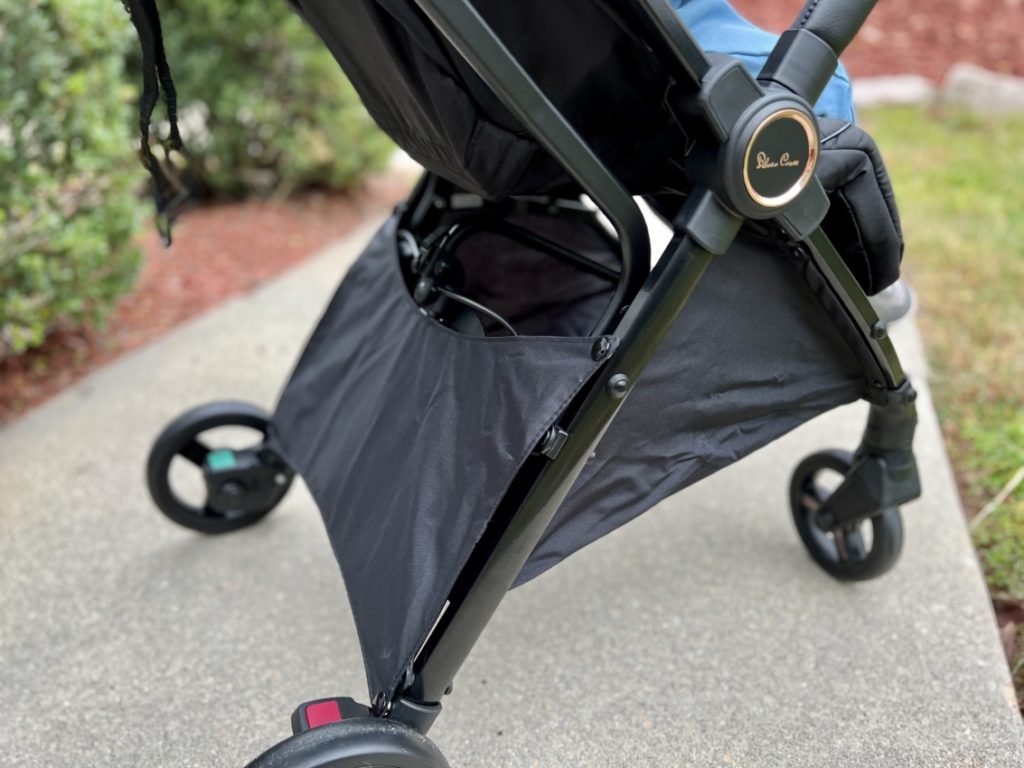 ---
Seat Compartment, Recline & Canopy
If your child is afraid of the dark like my younger son or/and you live in a warm and humid climate you might hate it. I couldn't figure out why my son was so terrified of being reclined in the seat until I actually read someone else's review. We had a black option and it was just so dark inside. My son doesn't sleep in a completely pitched black room and he's afraid of fully closed Slumberpod so for him it felt very claustrophobic inside.
And speaking of, as the stroller was designed in London where the weather is often muggy and colder, once you bring it to warmer climates you realize that the seat has almost no ventilation. There's no mesh like on Uppababy Minu or the canopy doesn't open like on Nuna Trvl.
And that wasn't even the worst part of the seat. The seat is tiny and narrow, even for the skinniest babies, and more importantly, there's no back support. Because the seat has to be folded and broken down in the middle it's not flat and feels like it's made out of random weirdly positioned thicker cardboard pieces. Your child is often slumped down or up so honestly and the whole seat can move with the child – it doesn't stay in place. That said, I'd never put a newborn on it.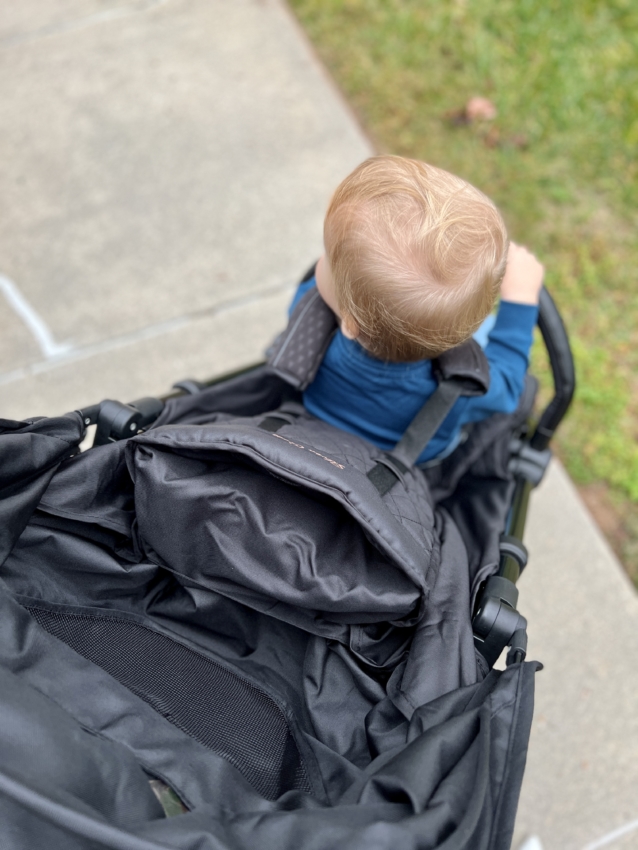 While there is a bumper bar (some call it a belly bar) it's not straight and the arch on it is so high that if your child is wearing a harness it's basically useless as a child can't easily reach it when sitting in the seat. My son was 19 months when he tested this stroller so he could obviously pull himself up to it, but I don't see it happening with a child around 12 months old or younger.
Not to mention the fact that the canopy is small, so when fully reclined it's not going to be much help for a newborn. The canopy also gets in the kid's eyes which makes for a very strange design.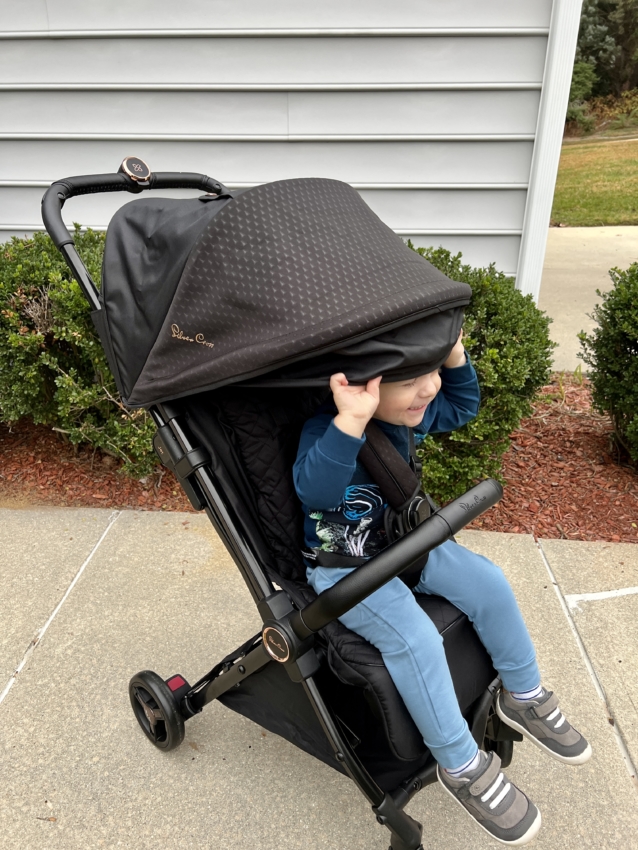 The harness annoyed us a lot because while magnetic there are a lot of pieces that have to fit together and with a wiggly child it's not the easiest task. it doesn't just "click in" naturally.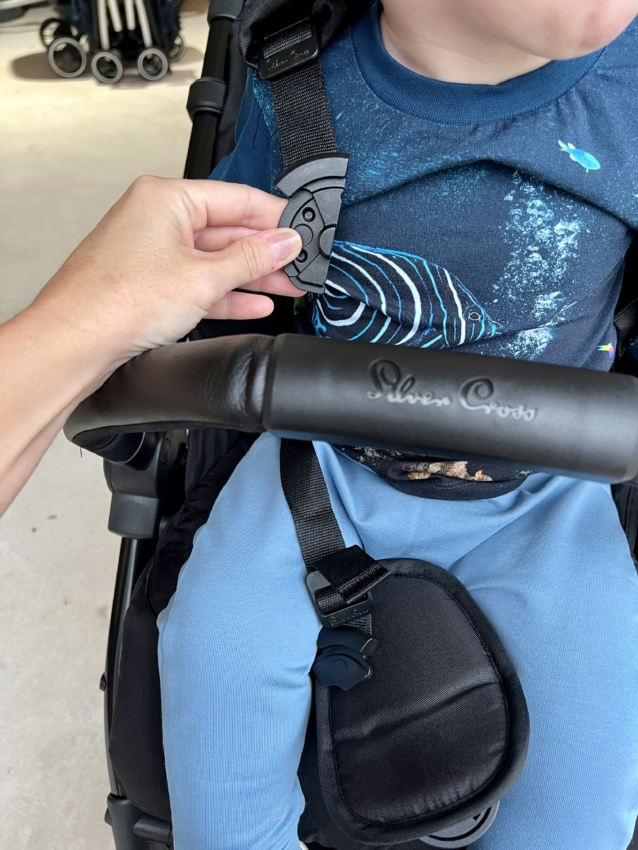 Final Verdict
I owned and reviewed a few dozen strollers and they all had pros and cons. Some strollers I liked more, and some less but Silvercross Jet 3 falls off the charts for me. It's the only stroller I ever felt so strongly about it because of how flimsy the seat, straps, and frame felt.
The feeling was mutual with my kids because they both wanted nothing to do with the stroller at any time and it was the first time that ever happened to us.