There's been a huge buzz surrounding Bugaboo Butterfly as it's been a highly advertised stroller and appeared to be one of the best-designed strollers from Bugaboo. Many people are debating getting Bugaboo Butterfly vs Babyzen Yoyo (or the new Nuna Trvl), so I had to see what the fuss what about – despite being satisfied with our Babyzen Yoyo.
After an impractical and strange Bugaboo Ant – the previous compact stroller design of Bugaboo that got recently discontinued, I gave it a benefit of the doubt and tried it (bought the stroller myself, this isn't one of those gifted reviews).
After testing it, I will say that Bugaboo Butterfly is an okayish stroller, but still prefer Babyzen Yoyo or even Joolz Aer+. Don't get me wrong, the stroller has a lot of good features, but for such a high price tag Bugaboo Butterfly underwhelmed me for various reasons described below in detail – most importantly quality is very low.
It can definitely work as a small stroller for some people, but, as I always say: even the best travel strollers aren't ideal in every aspect so everything depends on your personal preferences and lifestyle.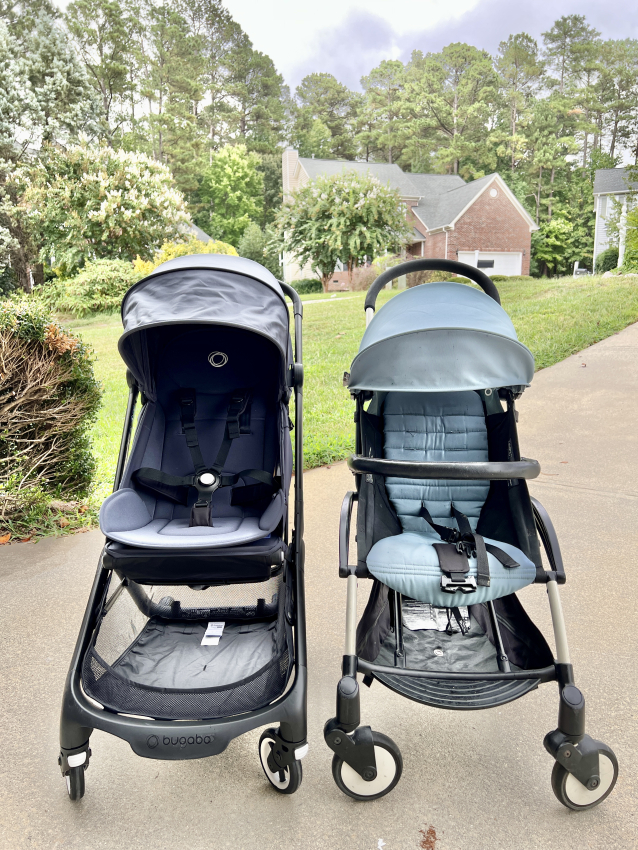 ---
Age Range – 6 months to 50 pounds (22kg)
Stroller Weight – 16.1 pounds (7.3kg)
Folded Size – 21.26 x 17.72 x 9 inches (55 x 45 x 23cm)
Maneuverability & Design
The design of Bugaboo Butterfly is slick, with some aspects that might not be for every parent. The stroller includes a stroller frame with seat fabrics, rain cover, and built-in leg rest.
Bugaboo Butterfly drives smoothly and there isn't much difference between the Butterfly and the Yoyo2 when it comes to being able to maneuver around tight corners and suspension on wheels. It drives like a charm honestly so no complaints here.
While the wheels are durable, the stroller is a bit heavier and bigger than Yoyo which means it won't always fit all smaller aircrafts (despite it being IATA certified). But, when the stroller is folded, all 4 wheels are down, unlike in Yoyo, so you don't get your clothes covered in dirt. The break also makes up for the wheels, as it's easy to lock and unlock.
While the stroller looks elegant, I wish there were more colorful colors available as the Bugaboo Butterfly is currently only available in Black, Moss Green and Dark Blue. Before anyone purchases a black stroller I must advise that milk spills are the most visible on black – I've learned that with quite a few strollers 😉
I honestly feel like the production was rushed as the stroller has been announced way before it's been partially released. When I received the stroller I was confused about how to set some things up as it appeared to come with no instructions or paperwork. After some struggles and frustration (basically, horrible first impressions) I discovered that a folder with paperwork has been stuffed inside the stroller and the first thing I found was a paper correcting a bunch of instructions – some of it concerning the carry strap which we never got to figure out where to reposition – it always seemed to be stuck in a wrong place.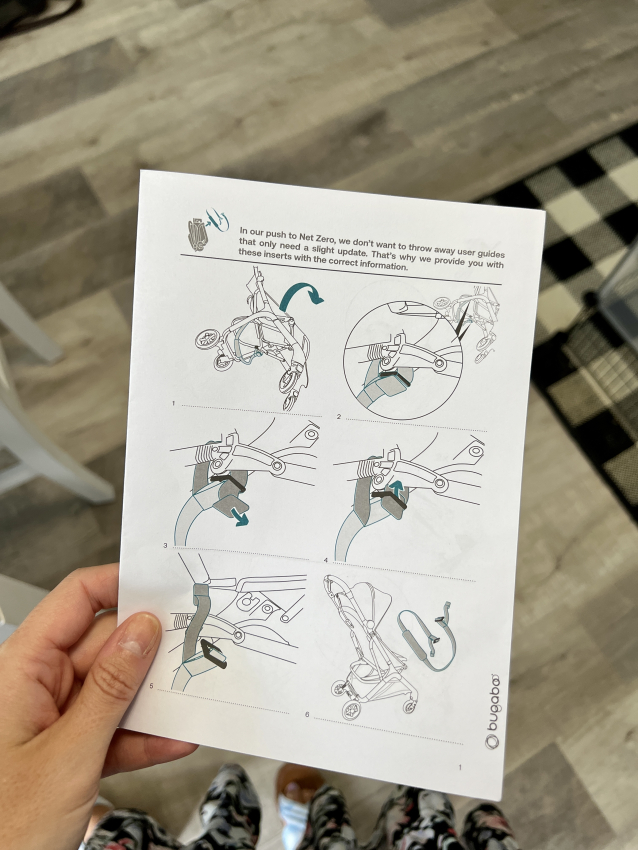 ---
The strange thing is that this is the only stroller by Bugaboo that didn't offer a compatible buggy board option for a while and when they finally released one it's basically collecting every possible bad review (you can see it here) and apart from it being just badly designed requiring a separate purchase if you already own a full-size Bugaboo stroller. You can see that it's bad even in their marketing photos – the tall person can barely reach the stroller over it.
Not to mention… have fun reaching the foot break over the child sitting on the buggy board because it's located in the middle (something that clearly wasn't thought of).
Especially considering the fact that Bugaboo full-size buggy board for every Bugaboo stroller BUT Butterfly is pretty awesome – in my opinion, the best buggy board on the market among all brands.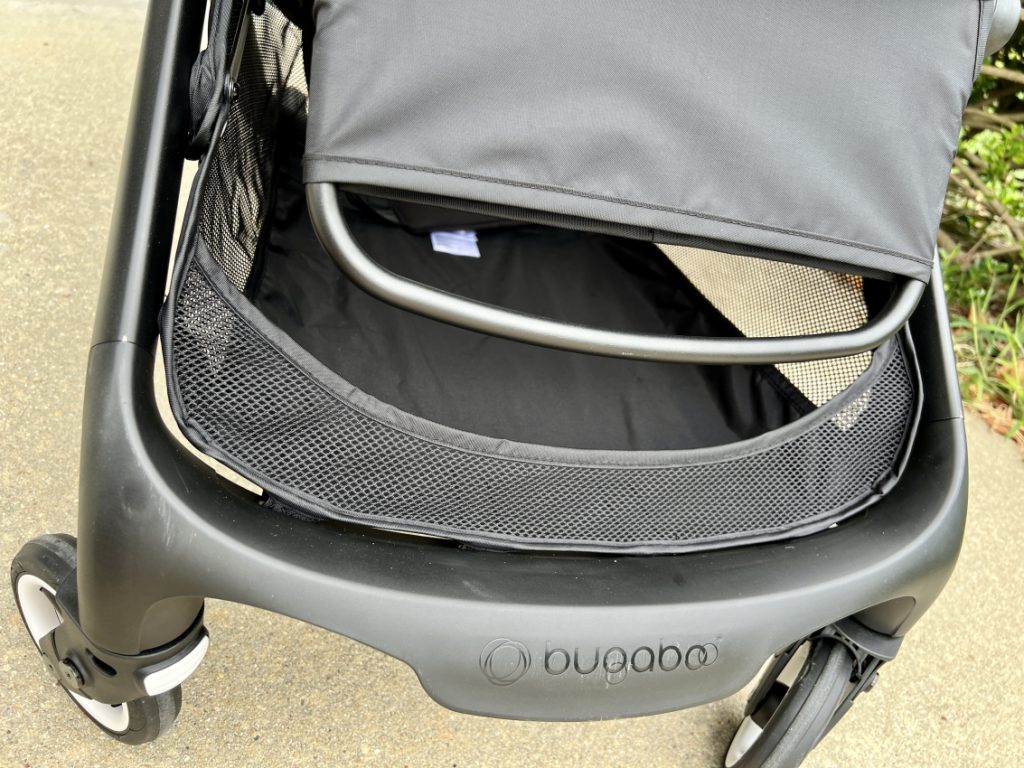 ---
---
Bugaboo Butterfly Features:
Seat Compartment
The seat might look weird at first glance, but this is because it's easily removable and washable. It's nice that the insert of the fabric goes all the way to the sides because I must admit – finding pieces of half-eaten Goldfish in our Babyzen Yoyo in between the fabric and seat is a common occurrence.
But, an extra fabric that's on the thicker side, adds certain challenges because it feels like it's almost too easy to remove when a child wiggles. It seems like the cushion is too big for the seat because it sticks out a lot.
Plus, I felt like the fabric was of low quality but didn't even mention it at first, as I thought it might be just my impression. It wasn't until I went to see other reviews on Bugaboo's own website that most people complained that the material started peeling like crazy after not even a month.
One of the main and always advertised advantages of Bugaboo Butterfly is the seat back height. At 24.8″ it makes one of the tallest seats on the market (for comparison, Babyzen Yoyo seat is 17″). In theory, this would mean that the stroller can serve better for older kids, but I must be honest… it's not.
The Bugaboo Butterfly has less space for older and taller kids than Uppababy Minu for example, despite the taller seat back, as the backrest is connected to the canopy which limits the headspace.
My older son is currently 40″ and in over 90th percentile for 3-year-olds and basically hits the top of the seat and the space between the top of his head and canopy is pretty much the same as on Babyzen Yoyo and ironically, even lower than on Joolz Aer.
However, he complained that the top shoulder straps of Butterfly are uncomfortable for him, and with a harness adjusted fully to the top and reaching maximum capacity they are short – considering the fact that my son is super skinny and basically off the chart for weight, I don't see the strap working out for a child in 60th or more percentile for the weight over 36 inches honestly.
He fits just fine in shorter seats on other travel strollers, so while a taller seat seems cool it's not going to last you longer.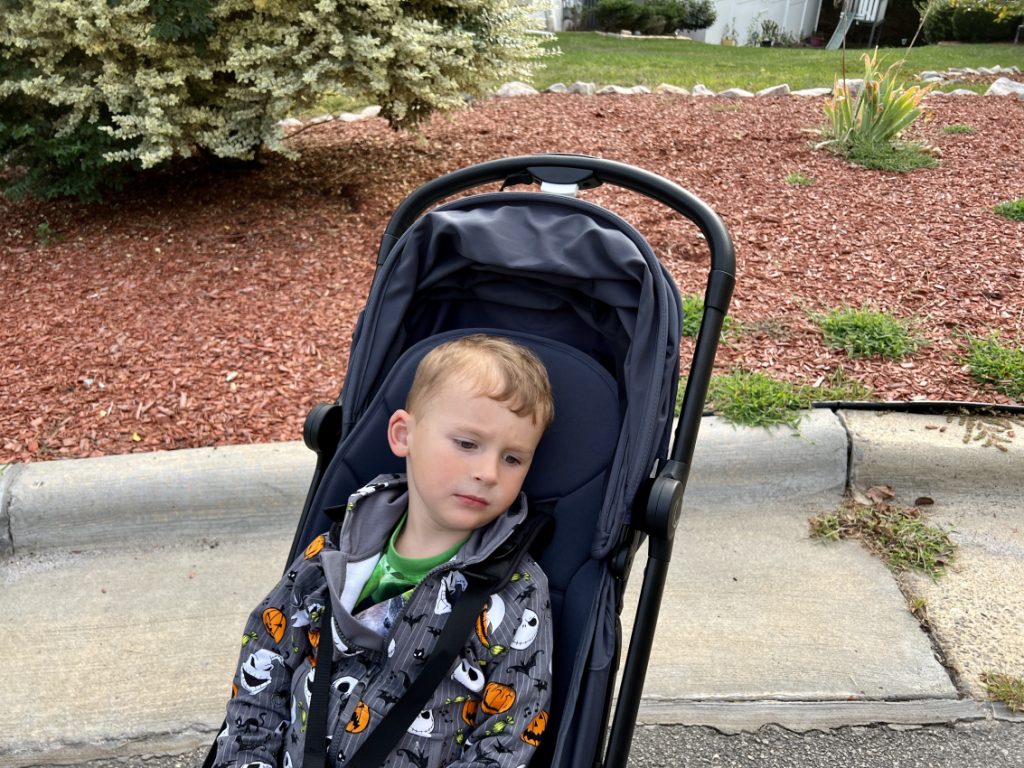 Recline
I was a bit surprised when I discovered the recline of Bugaboo Butterly isn't great. The stroller reclines visibly less than Babyzen Yoyo and slightly less than Joolz Aer. It's crazy, because so many retailers claimed Butterfly has a lower recline but in reality, it's not the case.
While it's super easy to do it by just unclipping a button, due to the height of the seat after reclining it I had to push the seat material down with my hand to make it go all the way to maximum. My older son can do it himself, but a baby will need some help.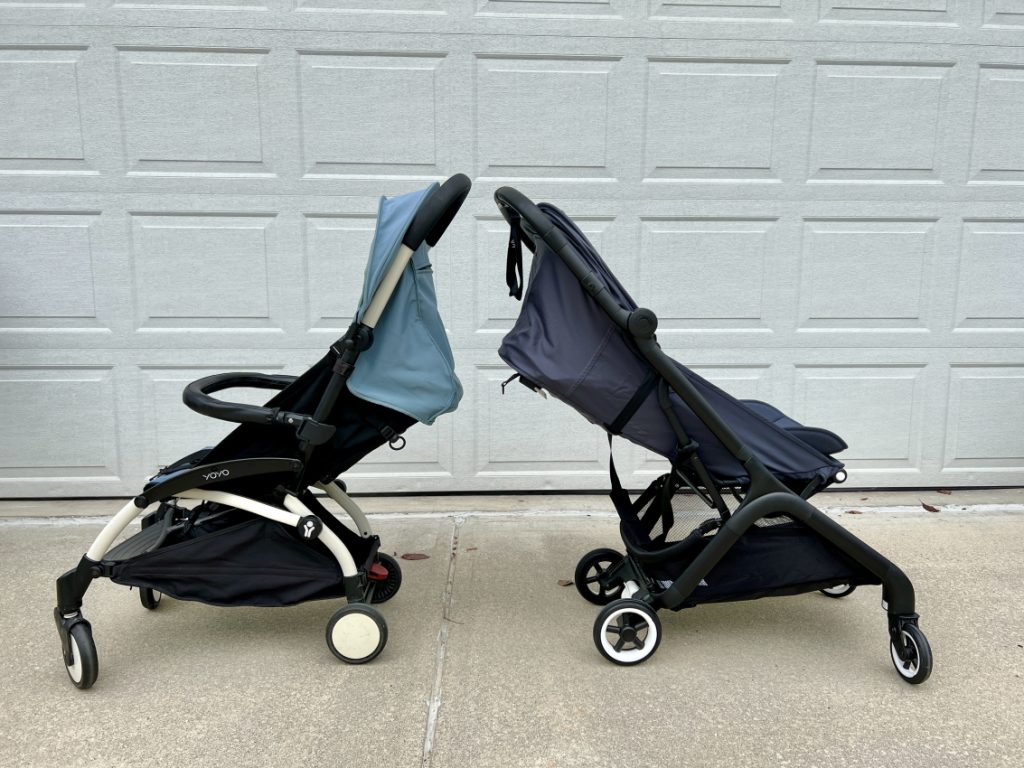 Canopy
On the brighter side, the canopy is one of the biggest advantages of Bugaboo Butterfly because it's huge, zippable, breezy and covers the child almost completely. It doesn't wobble like on some other strollers, it's a well-designed and stable canopy.
When I showed my son the mesh part he yelled: "this is awesome, I can see you mommy!" This is great for him, but if your child wants to be covered completely to take a nap and can easily be interrupted (my younger child is that way), then bring a shawl or something to cover the mesh part because it's basically transparent. Something to consider.
If you follow us on Instagram or read my other stroller reviews you know that for my kids a bumper bar is essential. The good news is that Bugaboo Butterfly offers a bumper bar as an extra accessory for just $30ish. What's even better news is that unlike other luxury brands of strollers such as Joolz Aer or Cybex Libelle or Orfeo, the stroller folds with the bumper bar so you don't have to worry about losing the bar in transit.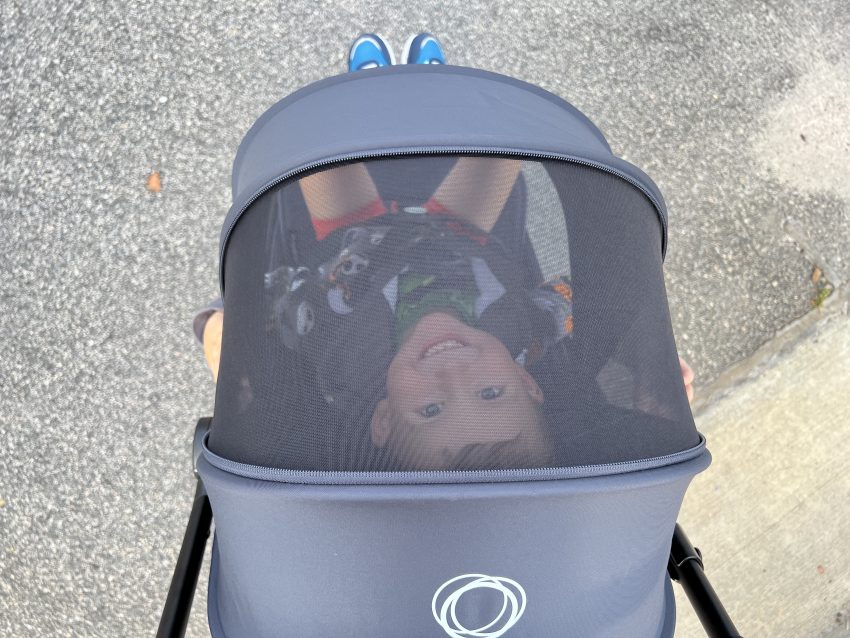 ---
Footrest
Bugaboo Butterfly has an in-built footrest. Some parents and kids love them, especially babies, as it helps their feet rest during naps.
Both of my kids have always hated footrests and will do anything to keep their feet off them at all costs, so I wish that this option was removable, but in this case, I must say that the footrest is pretty useless because it's only a little bit of a material and a hole.
My other concerns with this stroller are the footrest that is harder to adjust (the material covering it seems tight, especially when the stroller is folded already) and smaller kids can get their feet caught in it, due to the space between fabric and material.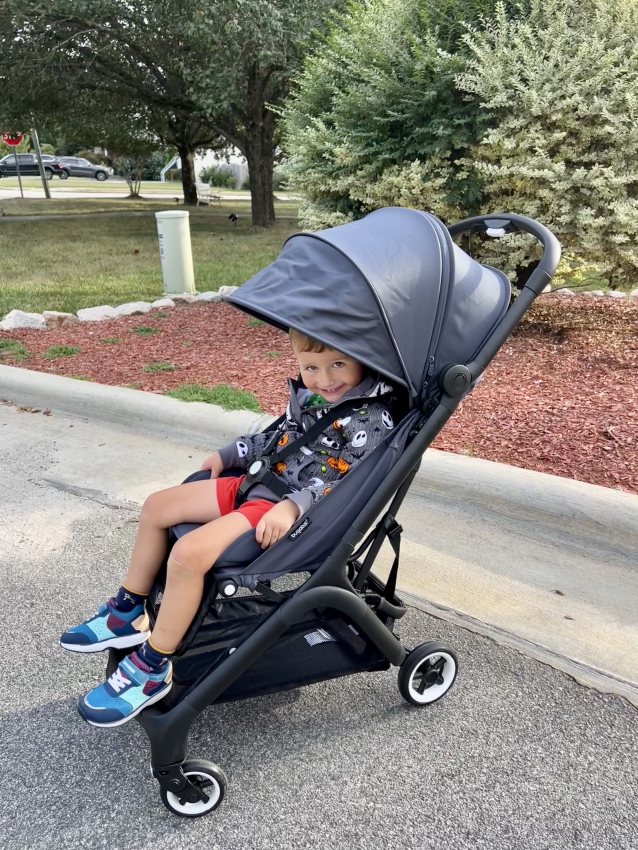 ---
Folding and Unfolding of Bugaboo Butterfly
Unfolding of Bugaboo Butterfly is super easy as it expands smoothly. With a bit of a push from your arm, the stroller will expand. After a few tries, the stroller will usually expand smoothly.
To fold the Bugaboo Butterfly, press the white button within the handlebar and lower the stroller until it's locked and standing. Press the same button to unlock the stroller and spring it back into place (with a little push with another hand – you can actually even see it in store videos if you look carefully, it's not a fully 1000% one-hand unfold and fold-like Joolz Aer or Nuna TRVL).
It folds but you need a little push at the end and the carry strap gets lost in the stroller. Once folded, you can carry the stroller using a shoulder strap or by using a footrest handle.
Another thing to consider is folding it in the winter. Bugaboo Butterfly doesn't fold with the footmuff attached to it. You need to remove the footmuff to fold it, which honestly defeats the purpose. For comparison, Babyzen Yoyo does fold with the footmuff attached.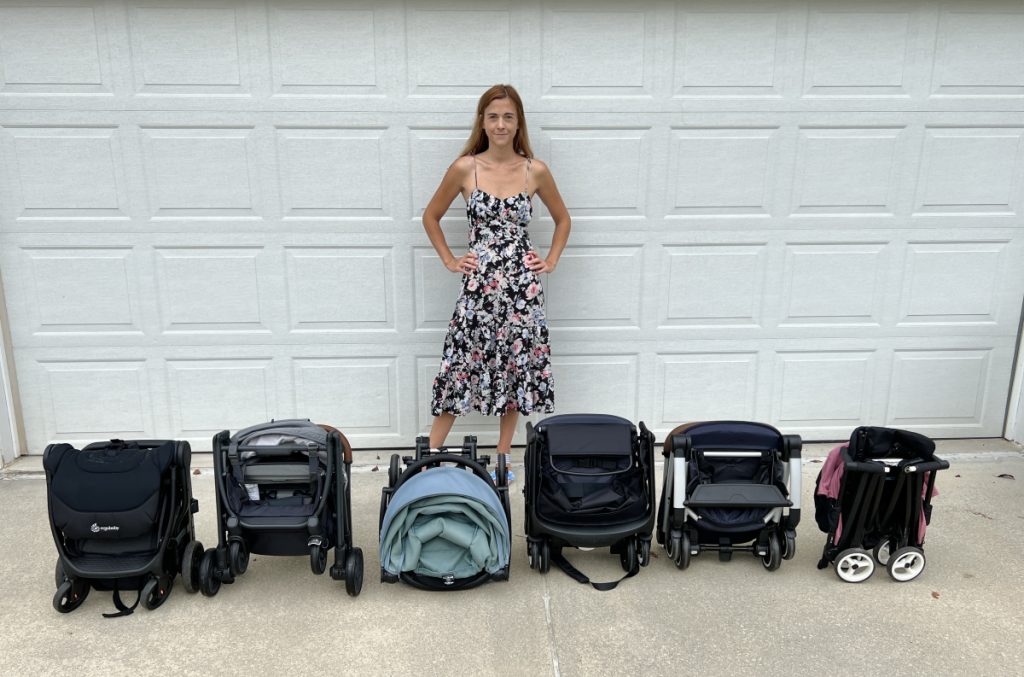 ---
Storage Spaces
The basket is incredible. I rarely say that something is incredible, but Bugaboo achieved the best possible design of the under-the-seat basket capabilities. It's spacious but also has a spring-loaded basket that's easy to load and unload things (like those bigger diaper bags!).
The only thing Bugaboo Butterfly doesn't offer and I personally find super handy, is a zipper pocket somewhere in the stroller – like on the back of the seat or in the basket underneath. I didn't realize how much I needed it until I had to put my phone underneath the stroller which always got me worried that it fell out.
Keep in mind that while the basket itself is awesome, if you have an older child the dirt from their shoes will get into the basket… I only noticed it when my son sat in the stroller, I folded the footrest back and realized that Bugaboo Butterfly lacks a step-like footrest at the bottom. There's only a lightly extended part of plastic that basically connects with the basket mesh.
Is Bugaboo Butterfly Suitable for a Newborn?
Yes and no. Bugaboo Butterfly offers only a seat that's suitable for around 6 months and up. There's currently no option for a full recline or a bassinet insert or a newborn pack.
The only way Bugaboo Butterfly would be suitable from birth is by using car seat adapters. The car seat adapter for the Bugaboo Butterfly fits these car seats:
Bugaboo Turtle One and Turtle Air by Nuna
Clek Liing
Cybex Aton and Cloud series
Maxi-Cosi Mico series
Nuna PIPA series
It's not a great solution for longer trips when you're out and about, as newborns shouldn't be stuffed in car seats at all times. However, it's a fine solution for short escapades and if you think about it – most parents don't usually take full-on trips with an infant until they're about 3 months old or older, so the window of car seat usage is short. And, if your baby is just as eager as my firstborn who was sitting at 4 months you might be fine using Bugaboo Butterfly fully recline slightly earlier than 6 months of baby's age.
Quality for the Price
I feel like everything described above can work or not work for some families, but there wasn't the ultimate reason why I wouldn't recommend the stroller. It was the quality that put me off… especially considering the fact that Bugaboo Butterfly isn't particularly cheap.
I test all the strollers with a child or two before making an opinion. My husband and I often laugh that we abuse the strollers because we travel a lot, kids eat in them, and strollers and wheels drive on every wobbly, wet, or dirty terrain and uneven. Bugaboo Butterfly frame looked the worst of all our other strollers after just short 5 minutes of inspecting it.
Unfortunately, in the case of Bugaboo Butterfly the quality issues were visible straight away and I didn't even have to go far with the stroller. I pulled it out of the box, on a vinyl floor, and opened it. The stroller literally "barely scratched" the surface of a smooth indoor floor while unfolding and the black coating of a frame already chirped and you could see marks on the plastic.
I was honestly in shock… because I couldn't imagine how badly the stroller would look after actually being used regularly for a month. This is why Bugaboo Butterfly doesn't get a huge seal of approval from me.
---
For my family, Bugaboo Butterfly isn't going to replace Babyzen Yoyo, as our lifestyle involves flying very often and as it's slightly bigger it won't fit on all airplanes or trunks which is a deal breaker for me personally.