Cybex is one of the leading luxury brands when it comes to full-size strollers and car seats. I'm a huge fan of their Priam and e-Priam strollers and Cybex Cloud Q is the best newborn car seat out there as it reclines.
But, when it comes to compact lightweight strollers Cybex wasn't hitting it quite right. We were fine with Cybex Libelle stroller as a secondary stroller, but I felt like I wanted more from such a reputable brand. I got my hands on Cybex Orfeo stroller as soon as it came out as I wanted to see whether it was going to be a great travel stroller.
After selling our Joolz Aer+ as we encountered too many issues with airlines allowing it on board or even it fitting in the overhead, I loved Orfeo at first but after using it in Europe for a month I decided that it was honestly just okay and overpriced for what it offered.
Full disclosure: I bought this stroller myself. I wasn't paid and this isn't in any way influenced or curated by the stroller company, so this review is as objective as can be. Feel free to ask any questions in the comments.
Age Range – newborn to 48 pounds (22kg)
Stroller Weight – 13.8 pounds (6.3kg)
Folded Size – 20.5 x 17 x 7 inches (52 x 43 x 17cm)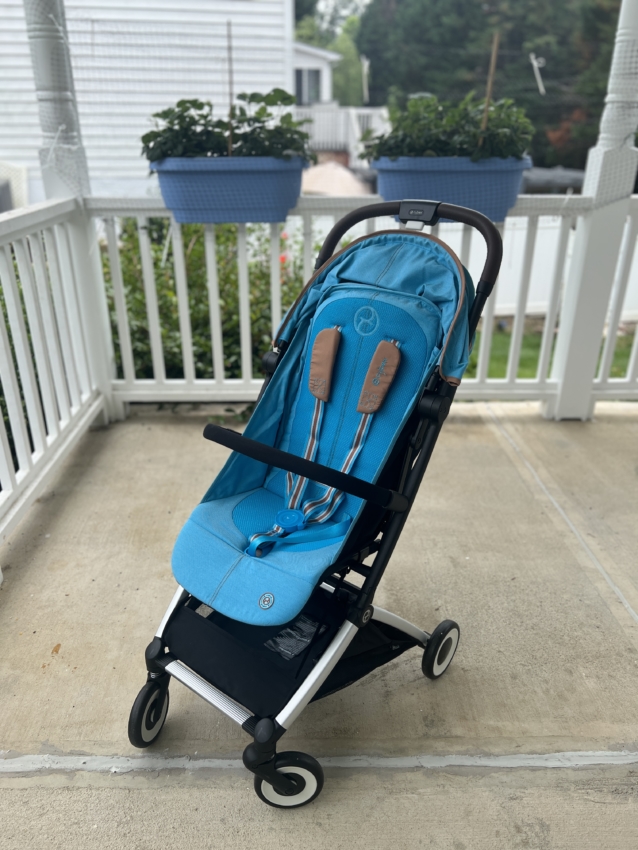 Cybex Orfeo stroller is a Cybex Gold series stroller and one of the newest additions. It's pretty much similar to Joolz Aer, but folds much smaller which is a hug plus since Joolz might or might not fit in the overhead depending on the airline.
It came with a bumper bar and rain cover that fits the stroller perfectly, which I think is a nice gesture.
Maneuverability & Design
Orfeo stroller drives smoothly and easily and the wheels are small but mighty. It definitely feels like an improvement from Libelle in that aspect, but once again – the wheels on Orfeo struggled more than those on our Yoyo (we had both strollers so could compare).
The storage compartment is small but big enough for basic necessities (we fit kid's backpack there) and easily accessible. I can stuff out the entire diaper backpack underneath without any issues.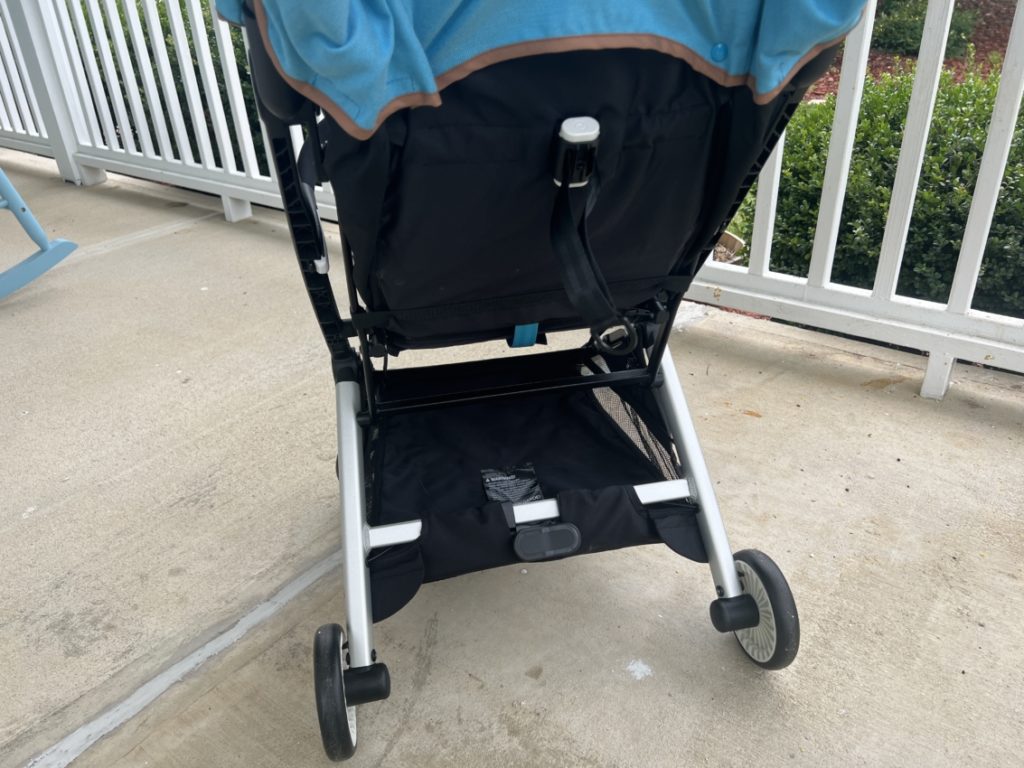 ---
Cybex Orfeo vs Cybex Coya
Cybex Coya belongs to the Platinum line of Cybex strollers which, according to the brand itself, represents the ultimate in high-performance and iconic design. You won't find fancy rose gold frames or designs in their Gold everyday line which Cybex Orfeo belongs to.
Both strollers are similar in terms of functions, but the core difference is that the padding on Coya is promoted as removable and also has mesh backrest and mesh canopy inserts, while on Orfeo has no mesh but the covers are also washable and removable, just require slightly more undoing (but honestly, how often you need to wash them truly?).
Orfeo folds in one single movement, while Coya requires a few weird steps and it's not as effortless as in their advertisement.
Orfeo handle is slightly lower than Coya, but I'm 5'7 and I don't find it uncomfortable. Joolz Aer+ parental handle is way higher and I don't see a huge difference in pushing it.
The underneath basket under Orfeo is more spacious as it's wider and the break is located higher, while it's extremely low on Coya causing more chances to accidentally hit it when walking.
While Cybex Coya might look more luxurious the biggest con and why I prefer Orfeo is that the seat is more reclined even in the most upright position. Kids hate it and parents find their kids slouching a lot, so sitting more upright is a key factor for me.
Ultimately, Orfeo is much more practical than Coya.
---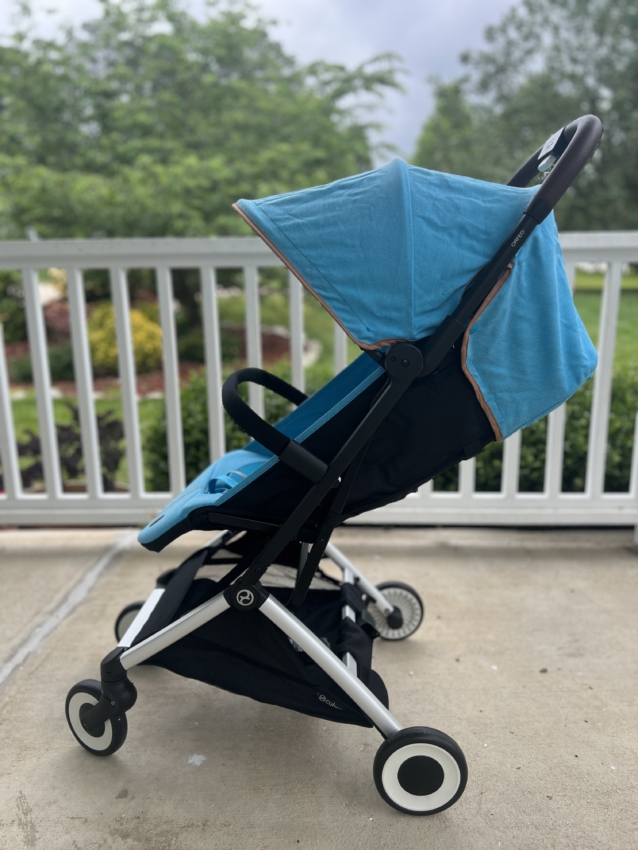 ---
---
Folding and Unfolding of Cybex Orfeo Stroller
Cybex Orfeo offers a truly one hand fold and unfold. While it doesn't unfold as smoothly as Babyzen Yoyo it's smooth enough and doesn't require an aggressive push, which is nice.
As Orfeo fold super small it's not a problem to fit it in the overhead bin of the plane. The only downside is that Orfeo has the same bumper bar as Libelle, which means the stroller doesn't fold with it. It's not hard to unclip, roll and put in your purse, but it's an extra step.
Once you fold the stroller you might feel that the part of it (canopy) sticks out, because you have to clip it in with a velcro. Technically you don't have to clip it in and it doesn't affect anything and when you carry the stroller on your shoulder it doesn't matter, but you can clip this part in so the stroller is completely flat.
Wish this step wasn't there as it was slightly annoying but we figured we could attach the loose bumper bar to it that way.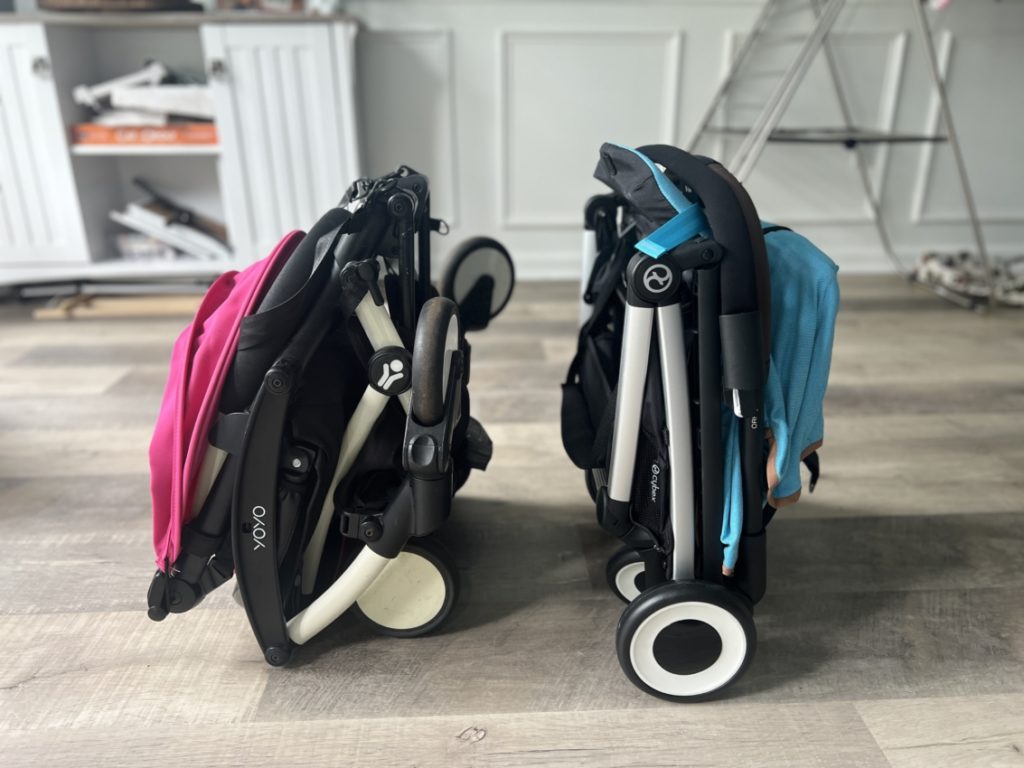 ---
Seat Compartment, Recline & Canopy
The seat on Cybex Orfeo is very tall, surprisingly tall I'd say. I tried it with my son who's 4 years old and tall for his age (42″) and he fits comfortably even when reclined.
The seat isn't weirdly angled backward, so my son had to sit upright without any effort and actually recline when he wants to. Ironically, being able to sit upright is a feature that's disappearing from most strollers as manufacturers think kids want to sit in a weird position.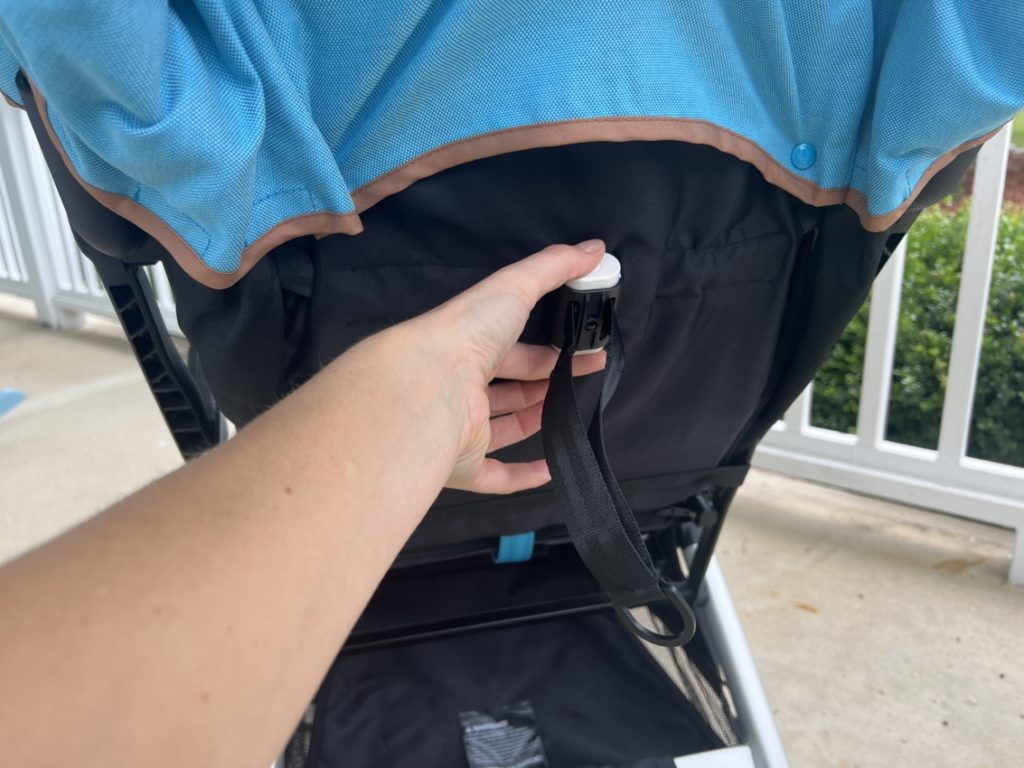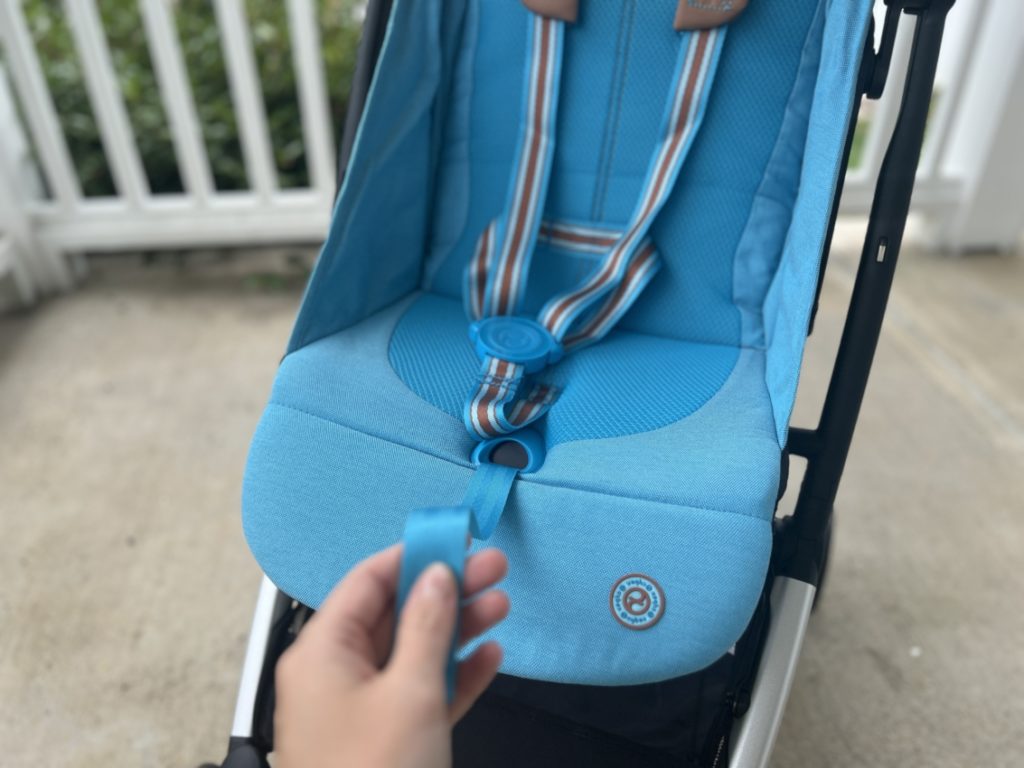 The recline isn't incredibly deep or close to flat, but enough for a child to relax and the sides are protective.
If you buy Cybex Orfeo in Europe the recline will be close to flat. While it's tempting, the stroller construction makes things prone to tipping when fully reclined, so be careful with it.
However, after a few weeks the seat bent slightly already and became sort of an umbrella stroller with the middle part hanging like a swing. My son didn't care, but it visually looks bad and why I wouldn't recommend it for a child younger than 12 months old.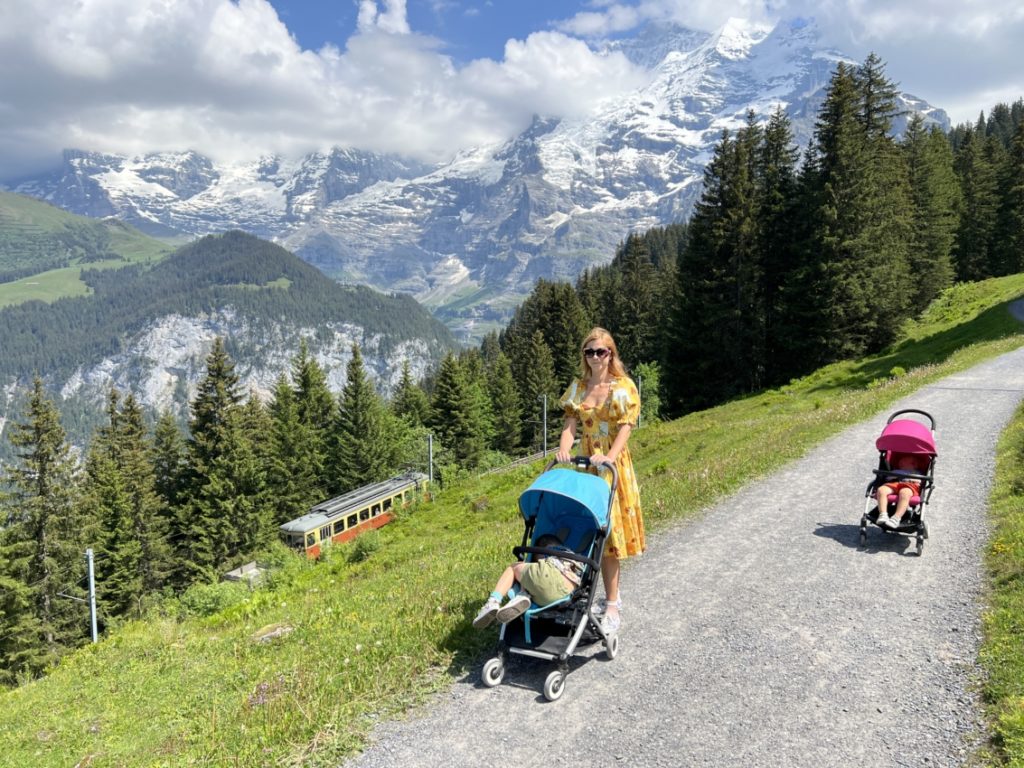 Now, the harness is a great game-changer. I owned Cybex strollers before, but this year they introduced a new pullout function of the straps. It's so easy to strap the child in, as it loosens like car seat straps.
There is an adjustable footrest. It's soft on the inside, but not too soft like it used to be on Libelle.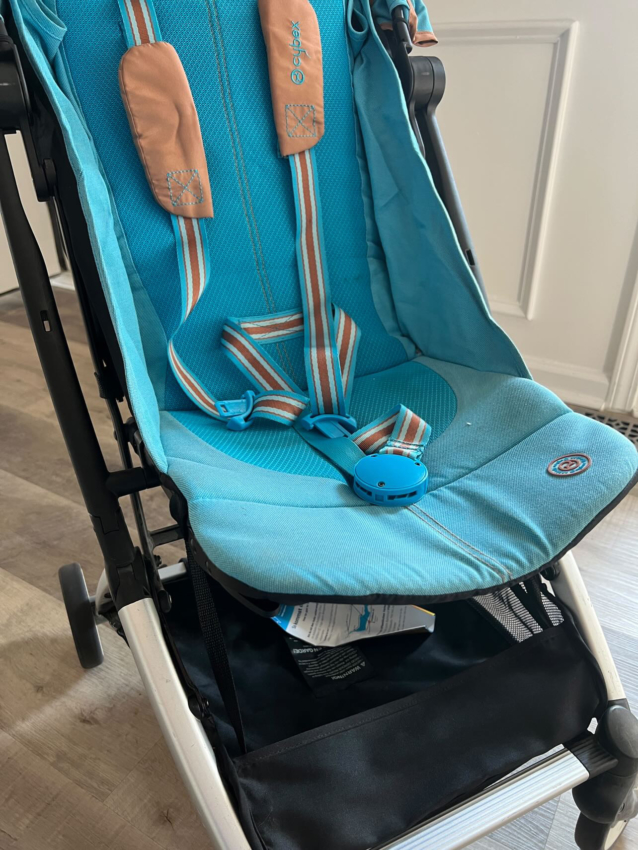 ---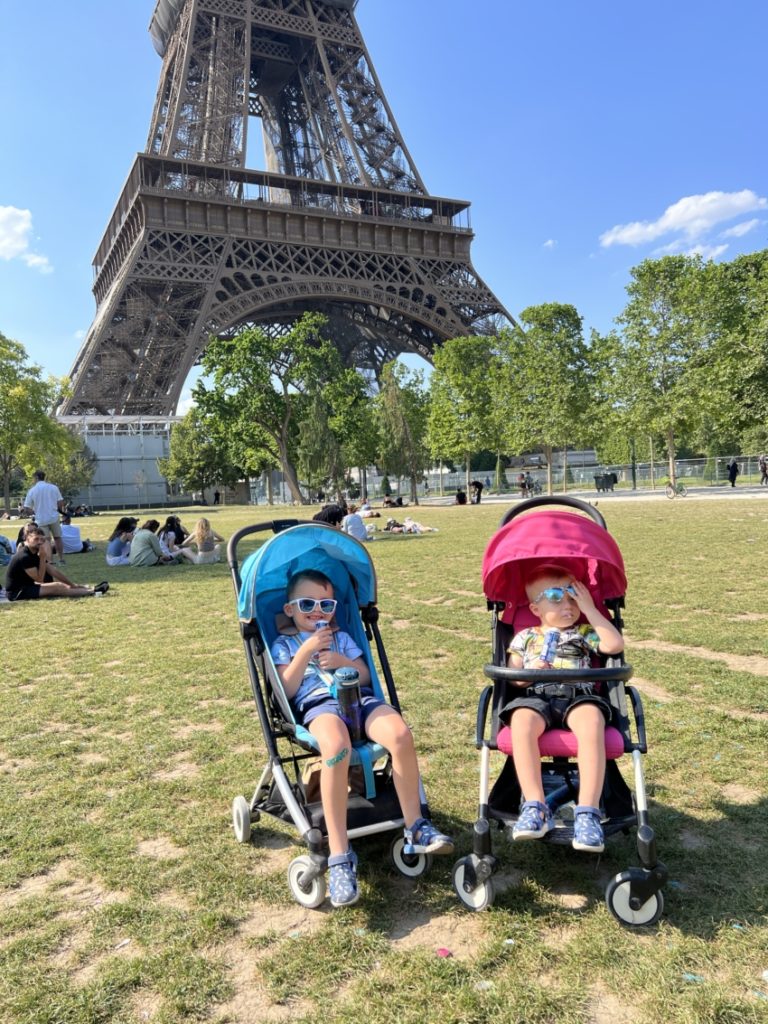 Final Verdict of Cybex Orfeo stroller
Cybex Orfeo stroller is an okay lightweight travel stroller. We used it as a secondary stroller when we explore all day long and our older son gets tired. Would I get it again? Probably yes but only if it was about 1/3 of its current price, but ultimately handling our Babyzen Yoyo was easier than this.
The only thing I wish was different was compatibility with a buggy board with a seat and this is the reason why strollers like Babyzen Yoyo or Joolz Aer keep winning. While Cybex offers a buggy board it's not yet compatible with Orfeo and even if it was their board doesn't offer a seat. It's an important function for us as we've been using a buggy board with a seat ever since our older son turned 3 years old for shorter trips.