I tested pretty much every single travel stroller on the market, and both I and my husband agree that we like Babyzen Yoyo the best. The stroller isn't ideal, as no stroller is ever ideal, and it has some drawbacks but it offers various unique features that other strollers are lacking when you consider Babyzen Yoyo accessories as well.
We've used the Babyzen Yoyo in 15 countries and our stroller is still in excellent condition, despite being thrown around. We've used it in airports, trains, metros, buses and drove through cobblestones, dirty paths, beaches – you name it! Some of its best and unique features are:
1. Partial Folding
How can I love the partial folding?! Let me tell you that while most people are complaining that Yoyo stroller cannot be folded one-handed in one single step, I can tell you that it's actually the big advantage of this stroller.
The only step of folding Babyzen Yoyo stroller that requires two hands is folding the canopy backward by lightly pressing two buttons on both sides. You can do it when the baby is still sitting in the stroller and then fold it one handed when you take the baby out.
However, the fact that the canopy can be folded backward is a HUGE advantage of the Yoyo2 stroller that no other travel stroller offers and we love it so much!
Imagine going to a restaurant with a baby who's too small for a baby chair or the restaurant simply doesn't have a baby chair. One can say that you can bring a portable high chair, but it's an extra item to carry around. Small restaurants don't have space to leave the baby in the stroller because they take too much space, but when you fold the canopy of the Yoyo it's basically an extra chair.
We used this function so many times at restaurants or crowded trams and trains.
2. Option of Hanging Things from It
Some people say that Yoyo stroller doesn't look elegant and might look weird. Others complain about the basket being blocked by two bars, but it's not some crazy design idea – it's there for a reason.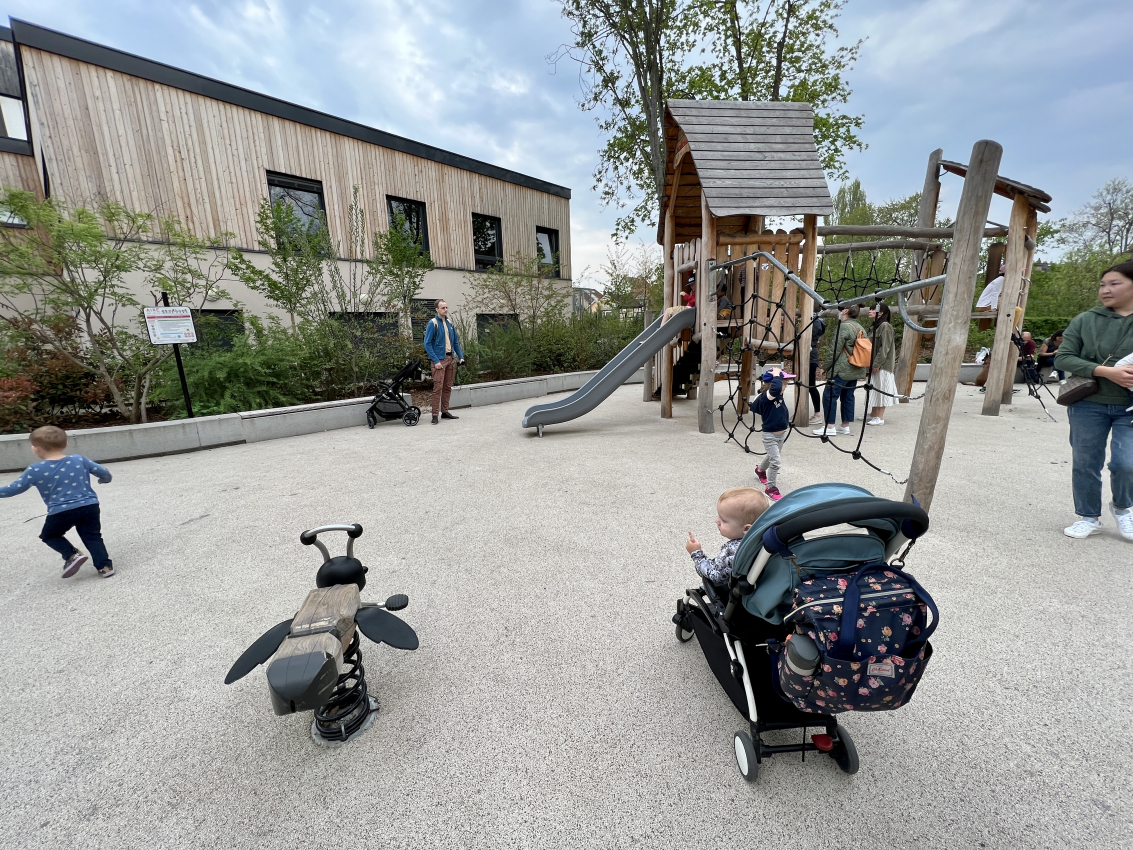 I never paid attention to it when we first got our Yoyo, but an option to hang your purse, grocery bag, even WayB car seat, or another Yoyo stroller from the parental bar is a game changer. The stroller won't trip even when the child isn't sitting in it!
I had so many issues with our Joolz Aer and Cybex Orfeo tripping backwards and sideways when a child was mad and wiggling or simply looking around. Not with the Yoyo.
3. Option of Refreshing the Stroller
We've had our Yoyo stroller for over 4 years now and to be real: we're truly abusing it. Dragging it through the aisles of planes, dropping (accidentally) off the airplane stairs, rolling it on gravel roads and weird cobblestones… our stroller has seen two kids and been with us to over 15 countries.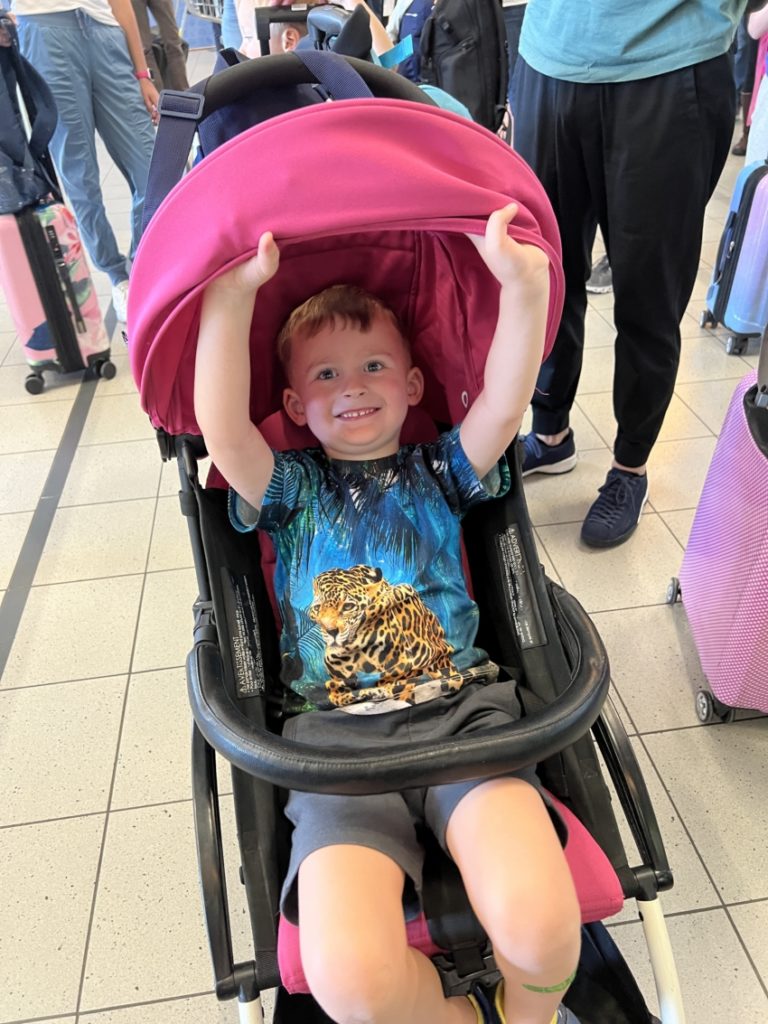 Naturally, the canopy and seat gets dirty and while it's machine washable, after 4 years it can get old. For just $40 I was able to get a new color pack for the canopy and seat and we're on our 3rd color. Partially because of simply hedonistic reasons of wanting a slight change of color, but also to refresh it a bit.
I had people asking me if I bought a new Yoyo, but nope – it's the same old Yoyo with a little color upgrade.
4. It Folds with Accessories
Sounds like a no-brainer but you'd be surprised how many strollers don't fold with accessories. While the bumper bar is off-brand our Yoyo folds just fine with it, while strollers like Cybex compact strollers, first version of Joolz Aer wouldn't which was incredibly annoying.
We had the footmuff from the very beginning and even used the Yoyo one on our other strollers without any issues. I'm yet to find a stroller that folds just as small with a footmuff attached and offers as many color options at the same time.
---
Babyzen Yoyo Stroller Accessories:
1. Bumper Bar
Yoyo doesn't have an official bumper bar, but there's an off-brand one that everyone keeps asking me about.
It's this one and it works great and the stroller CAN FOLD with it just fine, but it's just an extra you want to add – for us, it's a must! I cannot imagine life without it, because both kids hate being strapped in and with this bar, I can just let them sit there and crawl in themselves.
2. Stroller Fan
A stroller fan is a must when you're out and about all day in very hot places. And, by hot places, I mean 90F and above which is 32C.
Babyzen doesn't sell a stroller fan that's branded, but we have this one and it worked great when attached to either bumper bar or lower side parental handle.
3. Skis
Skis for a stroller might sound like a ridiculous accessory, but it can be a crucial one if you live in the Nordic countries or in Canada or the mid-West when winters are long and snowy. Your Yoyo will ride smoothly on snowy roads and you can even use it around ski resorts if you have older kids learning.
It's not a must-have for everyone, but a super cool practical option for some.
4. Buggy Board
If you have two kids this one is a life saver, because it lets you bring only one stroller vs heavy doubles or two separate strollers on your travels. Many buggy boards or piggyback boards don't offer seats which don't really work for kids under 4, but Yoyo does.
We used our buggy board ever since our older son was 2.5 years old. It took some getting used to, but it's been practical.
5. Leg Rest
This add-on for the 6+ pack will make it significantly easier for your child to nap in. It's small and why I originally bought an off-brand version, but the brand version is the best as it folds better.
Which Babyzen Yoyo Accessories to Skip Potentially Skip?
Umbrella – unless you want to make everyone angry and poke your own or others' eyes out with it. Something to skip when you're buying Babyzen Yoyo accessories.
Insect Shield – There are two versions of the insect shield (for the newborn bassinet and the 6+. We had them and while they work, we never used it apart from a small outing to lavender fields in France.
Yoyo Backpack – I don't understand the purpose as you can easily carry the stroller on your shoulder. Putting it in a backpack adds an extra step and time and it's the last thing you want to do with kids.