Flying with a car seat is a pain. They're large, and heavy and as airlines don't really treat most items well and keep breaking strollers, many parents understandably don't want to check their car seats.
With infant car seat it's easy – you can take it with you on board if there's an empty seat (although personally, I don't like doing that).
Renting a car seat at the destination is an option, but it's costly and you can never know what you're getting – or if it's even very clean.
In some places, you legally cannot take your baby or toddler on a short Uber ride without a car seat and if you're roaming the city you don't want to drag a giant car seat with you. On the other hand, if you plan on dragging your US or Canadian car seat to Europe don't even bother, because they're illegal there (and vice versa).
As frequent travelers, we struggled with the idea of having to bring a car seat. While we considered Doona, ultimately we decided it's not worth the price and it's not so great for the baby (a story for another time).
For older kids things are easier as there are so many options for foldable booster seats (eg. Mifold). But, for toddlers there are none. Cosco Scenera Next is a lightweight and cheap car seat many parents opt for, but it doesn't fold so it's not like I can carry it with me here or there (also, it doesn't work everywhere – read more under adaptability).
Once our older son Dylan was old and tall enough to hop into a standard car seat we got recommended WayB Pico foldable car seat. We've been using it for 1.5 years now.
Is this car seat ideal? Absolutely not, but it does the job for us. Below it's my honest review of Wayb Pico car seat and whether it's worth the price tag.
Disclaimer: This review is NOT sponsored in any way. I didn't receive this product for free in exchange for this review. All opinions are entirely my own (well, and my husband's).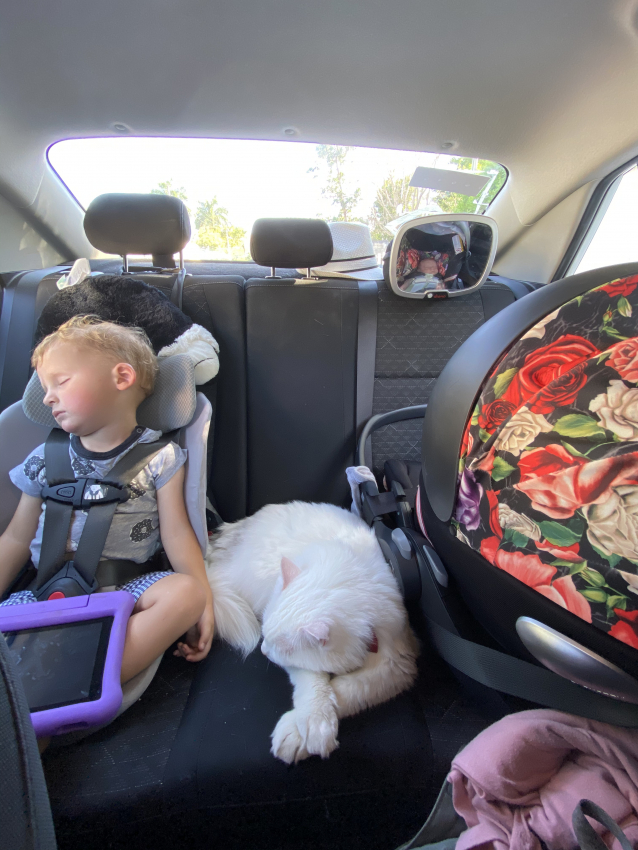 ---
Wayb Pico Car Seat Review
WAYB PICO HIGHLIGHTS
Forward-facing only
For children 1 and older (WAYB recommends you wait until age 2); 22-50 pounds, 30-45 inches
Seat is made with ASTROKNIT™ mesh, which takes the place of foam
Pico is eco-friendly, with the majority of the seat being recyclable and made of aerospace-grade aluminum
Width of seat: 14.75 inches at the widest point (middle of the torso)
Height of seat with headrest in lowest position: 22.75 inches
Height of seat headrest fully extended: 27.75 inches
Depth of seat: 15.25 inches
Harness (torso) height: 16.5 inches
Weight of seat: 8 pound
Pros
Easy install
Lightweight
Portable
Works everywhere
Cons
Where to buy WayB Pico car seat?
Wayb Pico carseat is on the American Academy of Pediatrics' 2020 list of approved forward-facing car seats, and works in a front-facing mode for kids between 22 and 50 pounds, who are 30 to 45 inches tall.
Which, in the case of my big child – made him eligible for it as early as 13 months if I remember his dimensions correctly (official minimum age is 1, the recommendation is 2). Our cousins also used it from about 15 months as they fly stand-by where it's impossible to get regular car seats checked and dragging 2 full-size car seats through the airport on top of the 2 toddlers is simply impossible.
We encourage you to check your state's laws. Some states, such as California, require children to remain rear-facing in most cases until age 2.
Pico is also FAA approved for in-flight use, so if you wish to keep your child contained on board you can bring it with you.
Important reminded here (as many aren't aware) – car seats on board can only be placed on a window seat, so make sure you book a window seat if you wish to install it for your flight.
---
Pros of Wayb Pico Carseat
Size and portability
The Pico will fit just pretty much anywhere you could put it in terms of width and height. It's that small you can just bring it on the plane and put it in the overhead or under the seat. You can keep it under the stroller. It folds in seconds.
When you buy it comes with a travel bag, but my husband lost it instantly so can't talk about the bag in much detail because I never got to see it, haha 😀
---
Easy installation
The LATCH system and the top rope on either side make it easier for you to strap and place the car seat into the motor vehicle. The seat belt installation is also possible; however, the process is a little more complex. But, by no means long or complicated.
Unlike in full-size car seats, on Pico you don't have to pull on a single strap between your kiddos' legs when you place them in.
While I didn't get a chance to install the Pico on a plane, because we're not fans of using car seats on planes for both babies and toddlers (kids aren't fans either), from what I heard it's not hard.
Adaptability
Many parents will tell you that they used their car seats all around the world. While I say that you CAN you might need to take some things into consideration. Europe is problematic.
I mentioned before that standard US car seats are illegal in Europe and vice versa because they have a chest clip. While you can technically bring it, if you get stopped and the police know the laws they might fine you and if (knock on wood) you get into an accident insurance has the right to refuse the payout if you don't have the correct car seat.
In most other places you should be just fine. Many countries don't require kids to be rear facing for long (eg. Australia only does for the first 6 months, but in most countries, by 12 months they can be front-facing).
You can use it in Africa or Asia as it has a LATCH system, but it can be used without it. And the fact that it doesn't require the top tether though. Carseats like Cosco Scenera wouldn't be possible to use in cars without the top tether (and if you even traveled to South America or Africa you know that most older cars are lacking it).
---
Breathability
This seat seems to allow the airflow that our other car seats lack. It was super handy in Mexico in high temperatures, because Dylan was never sweaty.
WAYB recommends spot cleaning whenever possible, with a mild, wool-safe detergent, but you can remove the fabric and hand wash everything with warm water and wool-safe detergent.
---
Cons of Wayb Pico Carseat
Like I said before, Wayb Pico is great overall, but it does have some flaws. I don't think any stroller, crib, or other baby item is ideal without flaws. Everyone should weigh pros and cons and decide what's important for them and for their child.
Price
The biggest real con of this car seat is naturally its price as it's not a cheap seat. If you travel a lot or live in the city where you need occasional cab rides, it's worth it in my opinion.
Especially if you have multiple kids, when Dylan outgrows it when he reaches 45″ (which for most kids is 5, but in his case might be 3.5 or 4), he can pass it to his younger brother.
Crotch Buckle is short
The crotch buckle is a bit short, and shorter than on other car seats. The crotch buckle sits approximately 4.5 inches from the back of the seat.
Dylan is a skinny dude, so he has no issues, but I wouldn't be so sure how would it work on a chunkier child.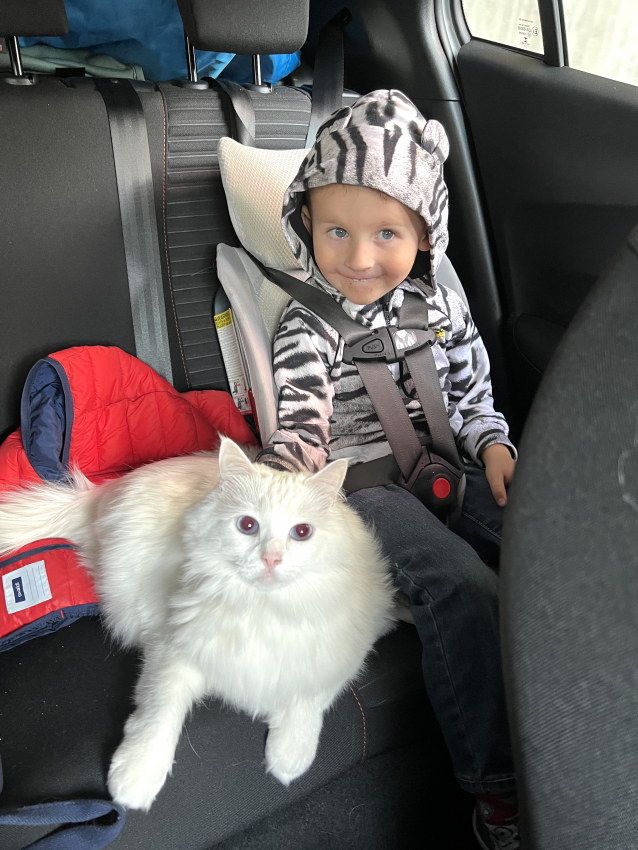 Not great for naps
As Pico is meant for older kids, it's not an ideal car seat for road trips or during nap times. The head support is more upright than a regular car seat though, so if your toddler falls asleep in the car his head will be sort of hanging.
Dylan doesn't mind, if he wants to sleep he sleeps but some parents might get upset by this. We tried to adjust it with a neck pillow, but he's not a fan of it.
Straps are not as soft
Apparently some kids might complain that the padded straps irritate their necks as they're not that soft. Dylan removes them within seconds and prefers to ride without them for some reason. He does it on his other car seat (Graco) as well, so I guess he just doesn't like the padding at all, but some other kiddos might not find it great.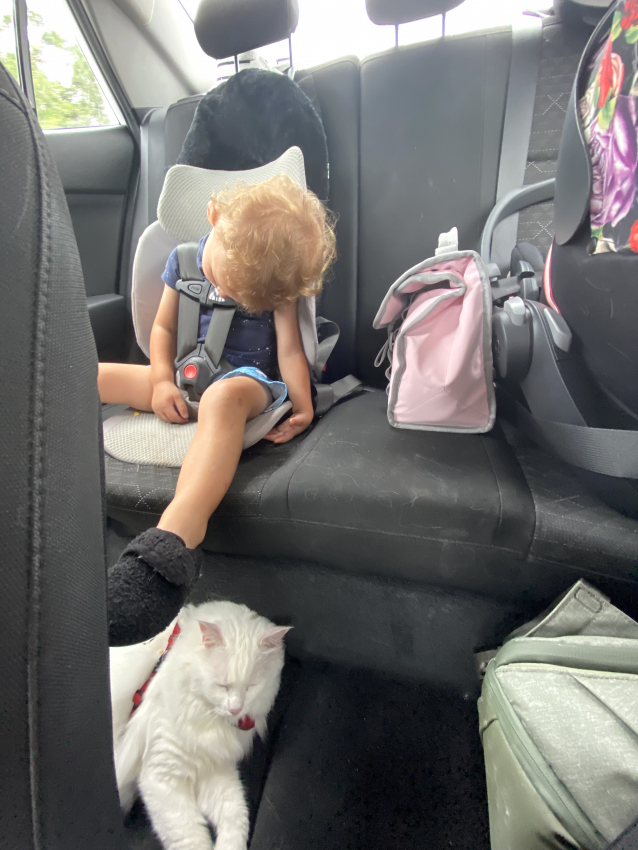 ---
WayB Pico FAQ & Other Things to Know
Why there are no crash tests? Is Wayb car seat safe?
The Pico meets all U. S. federal safety standards and crash test requirements for forward-facing harnessed safety seats for use in passenger vehicles and the FAA requirements for use on commercial airplanes.
Unfortunately, there are no comprehensive crash test ratings for car seats like there are for new vehicles. Manufacturers generally self-certify to the minimum required government crash test standard,