When I first heard of a single stroller wagon from Wonderfold I admit that I was slightly puzzled, especially as we already had the Wonderfold W4 Elite. I decided to give it a try and honestly, even my very skeptical husband said that he thinks for our needs we'll probably be using the single M1 stroller wagon over our W4 – despite having multiple kids.
Wonderfold M1 single stroller is a perfect blend of a traditional stroller and a stroller wagon. Honestly, it's pretty awesome. While I might not be using it for my everyday adventures (mostly because I'm a minimalist) I'll be using M1 stroller wagon for adventures like outdoor museums, farm trips, beach time and anywhere where bringing stuff is basically essential.
Age Range – birth (with accessory) to 60 pounds (27kg) seat & 200 lbs for wagon space (90kg)
Stroller Weight – 50 pounds (22.6kg)
Folded Size – 43 x 21 x 19 inches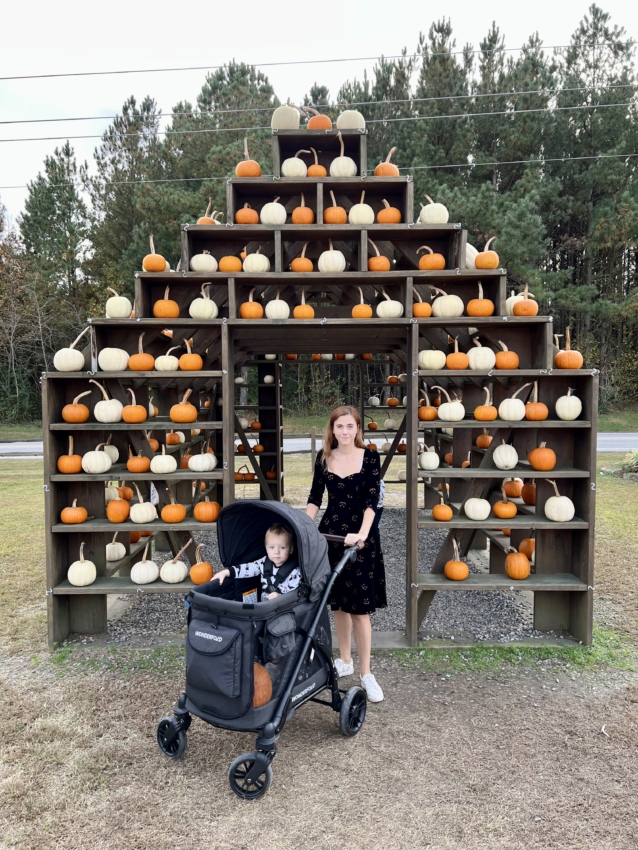 Maneuverability & Practicalities
Wonderfold M1 is slightly different than the Wonderfold stroller wagons as the retractable canopy looks like it is on a regular stroller. It comes with many accessories already included.
There's no need to buy a special bug net or rain cover. It's all in the box and in fact, the mesh canopy bug net is zippable to the canopy. The canopy itself has a peekaboo window so you can see your child and they can see you!
The only thing I wish would be different is the placement of the zipper on the canopy, because my curious two kiddos are unzipping the canopy for fun… and it's not fun for mommy.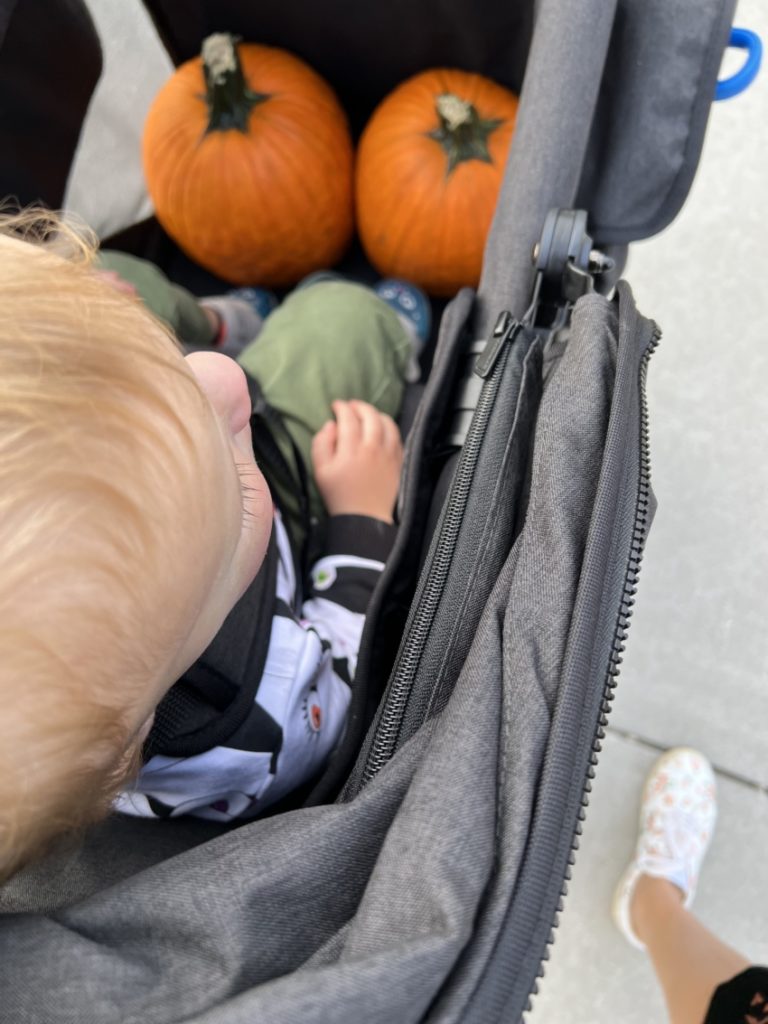 More importantly, and it's something I didn't realize before reading up on it… the seat is reversible! If your child wants to face you, for whatever reason, you can unclip the seat and clip it on the other side. I love it!
M1 has all the features of bigger wagons, all the pockets you found useful for either yourself or a child (like an inside pouch that works great as a cupholder!) are there.
I feel like due to its slightly more narrow and shorter length is easier to maneuver M1 than W4, which seems obvious but might be important for parents who don't own any yet.
My older son often refuses to walk and wants to ride in a stroller or wagon, but it makes no sense to bring another seat for him anymore. While M1 is a one-seater there's space for two kids if one is willing to sit on the floor or hold on. While the brand marks it for 1 person, technically speaking 2 kids will fit just fine due to a high weight limit.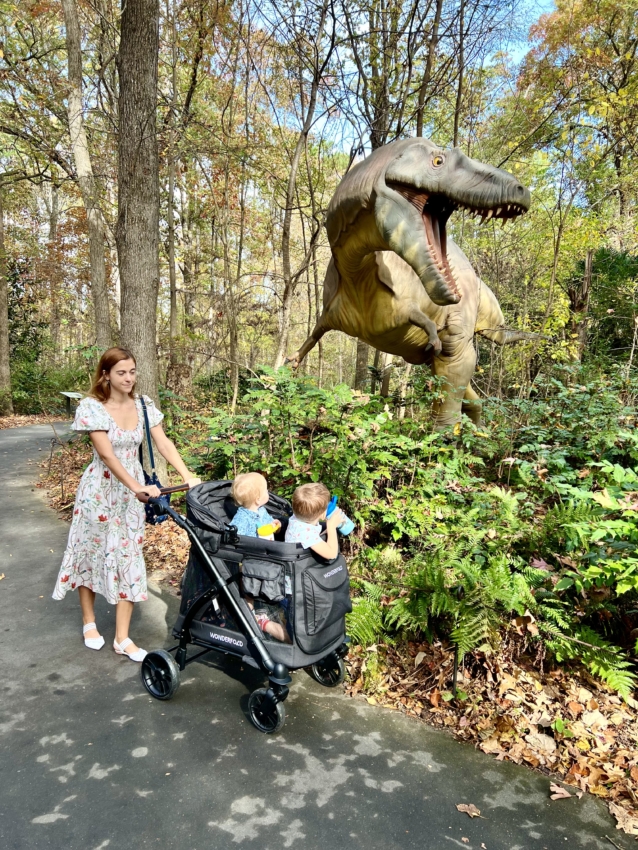 Storage Spaces
While M1 is more of a stroller rather than a wagon, it has space like a wagon. There are spots underneath the seat. There is plenty of space for next to the seat. Multiple pockets and pouches on the outer side that can fit my entire purse!
Seriously, if you're going shopping to multiple stores, visiting a pumpkin patch, or spending a day at a big park the Wonderfold M1 will do its job of carrying things for you. My autocorrect first wrote "or you" and it's not a lie, because while the seat can carry up to 60 lbs the entire wagon has a weight limit of 200 lbs – which means it could carry you!
I actually see some moms sitting in their wagons breastfeeding in parks, and it's a wonderful option to have. The seat is also fully removable so you can use a wagon for stuff when kids are walking around.
It also includes a hidden pet ramp and a removable pet leash, so your furry friend to tag along! My cat approves as he has a spot to hide underneath the child's seat without getting squished. If you have a bigger dog, they can fit comfortably as well – the wagon can hold up to 200 lbs to even a Saint Bernard can take a ride!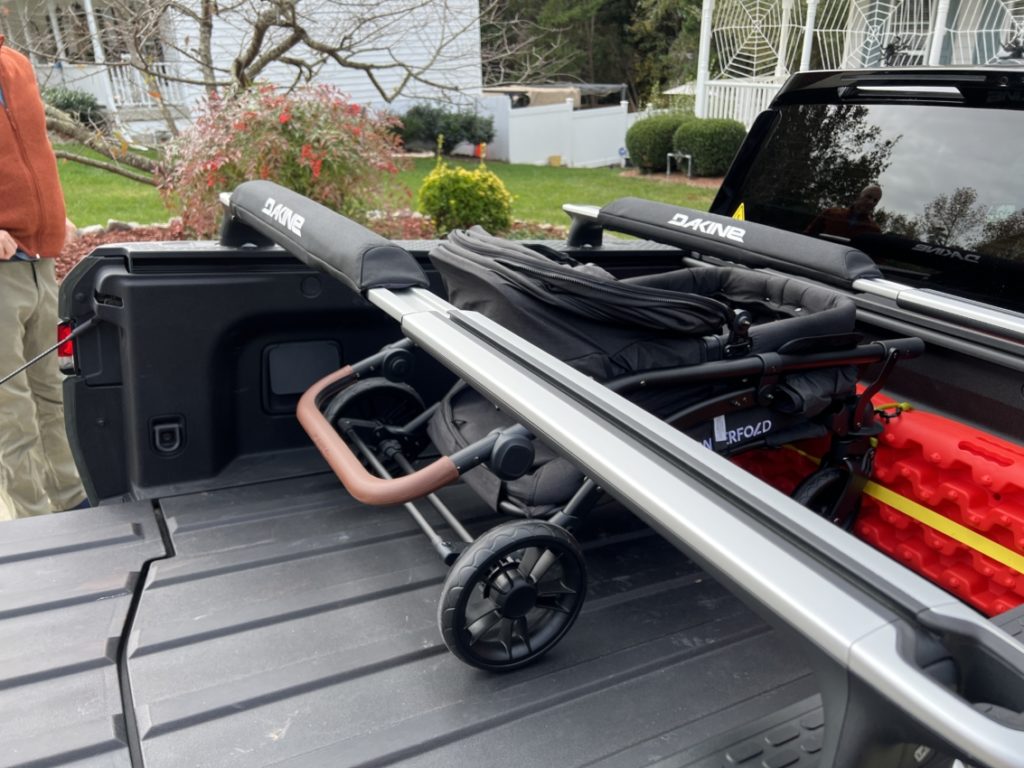 ---
Weight & Size
Is Wonderfold M1 much smaller than its siblings W2 and W4? It's naturally slightly more narrow and shorter in length, but it's not a huge difference. It's still on the biggest side, especially if you take into account that it has all-terrain tires that stick out due to balancing (no matter how loaded Wonderfold never wobbles!).
Folding it is super easy, just like any other Wonderfold wagon or full-size stroller (M1 folds in a similar movement as BabyJogger). The wagon is heavy, it weighs 50 lbs so it takes an effort to put it in the truck.
Is it allowed at Disney since it's just a one-seater with features like a stroller? That's a great question!
Can you put an infant in a Wonderfold M1 wagon?
Yes, you can. Wonderfold bassinet now solves the issue of having to wait until the baby can sit on its own. It's an extra accessory that can also be bought for their W2 and W4 versions, but
Do you have any other questions about Wonderfold single stroller wagon? Let me know!