White elephant gift exchanges can be so stressful! Between finding a random gift and then buying all your other holiday gifts, these gift exchanges can start to feel like more work than fun.
If you are looking for the perfect gift ideas that you can get on a tight budget, I've got you covered! Here are the best white elephant gift ideas under $15.
Scroll for:
Useful White Elephant Gifts
Serious White Elephant Gifts
Funny White Elephant Gifts
What are White Elephant Gifts?
White elephant gifts are basically Secret Santa gifts. Everyone picks a number or draws a card with a number and gives a gift to another person.
The purpose it to entertain, not to give someone a meaningful gift based on person's personality (since you don't know who's hiding under which number).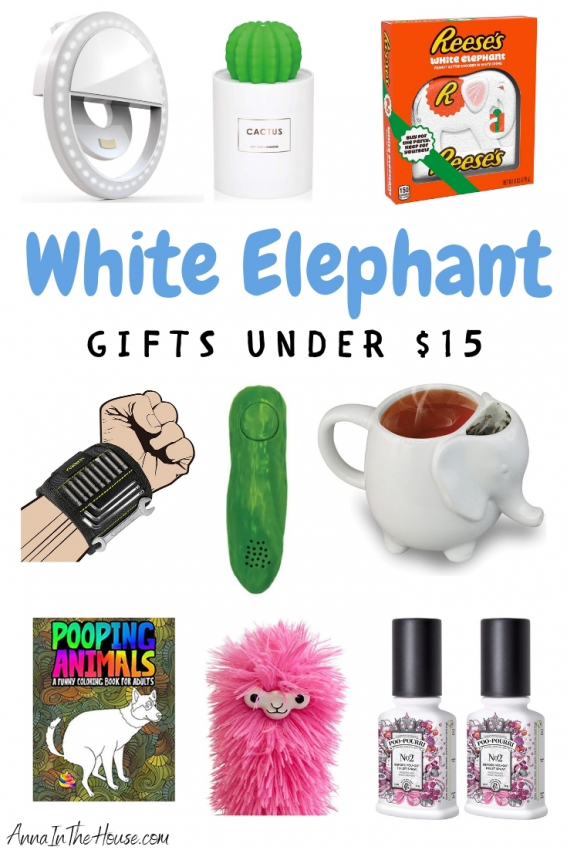 ---
Best White Elephant Gifts Under $15
Useful White Elephant Gifts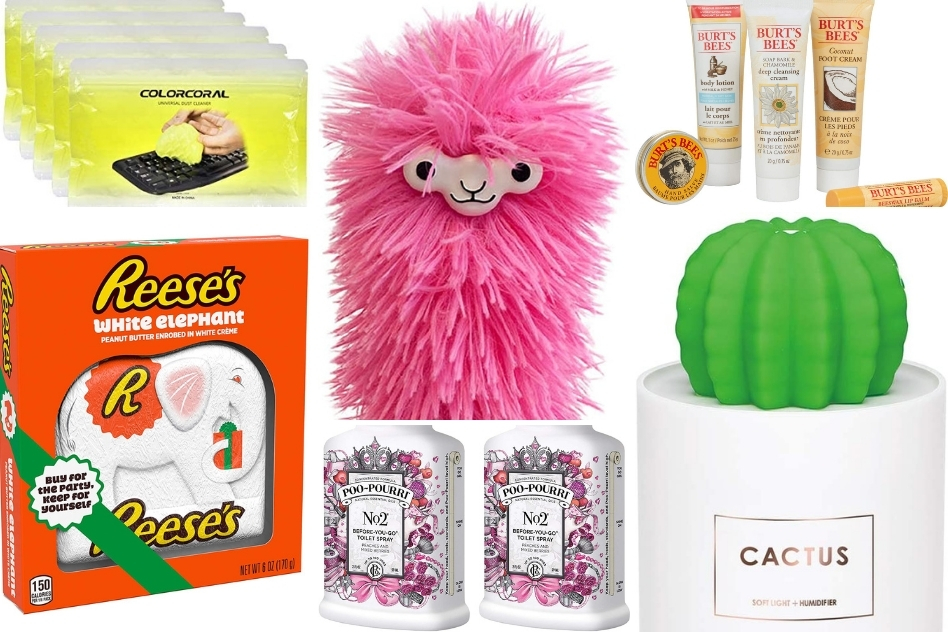 Why not take the term white elephant literally! This delicious white chocolate white elephant is a fun gag gift anyone would love to receive.
P.S. Before anyone debates it – chocolate IS very useful!
Add a little moisture into the air no matter where you are with this cute cactus humidifier. This is the perfect gift for stuffy cold weather when the air is dry.
If you're unfamiliar with good old Poo-Pourri, do it now. It's a before-you-go toilet spray that actually works. It's super useful, but at the same time will give everyone a smile.
This Burt's Bees gift set has everything you could need to pamper your gift receiver.
Even if you don't drink wine, you can still drink soda or even just water out of this fantastic wine glass tumbler.
Cleaning doesn't have to be a bad time when you have this handy fuzzy pink llama duster to help get the job done.
Clean your keyboard or any other surface where dust tends to form with this handy dust cleaner!
---
Serious White Elephant Gifts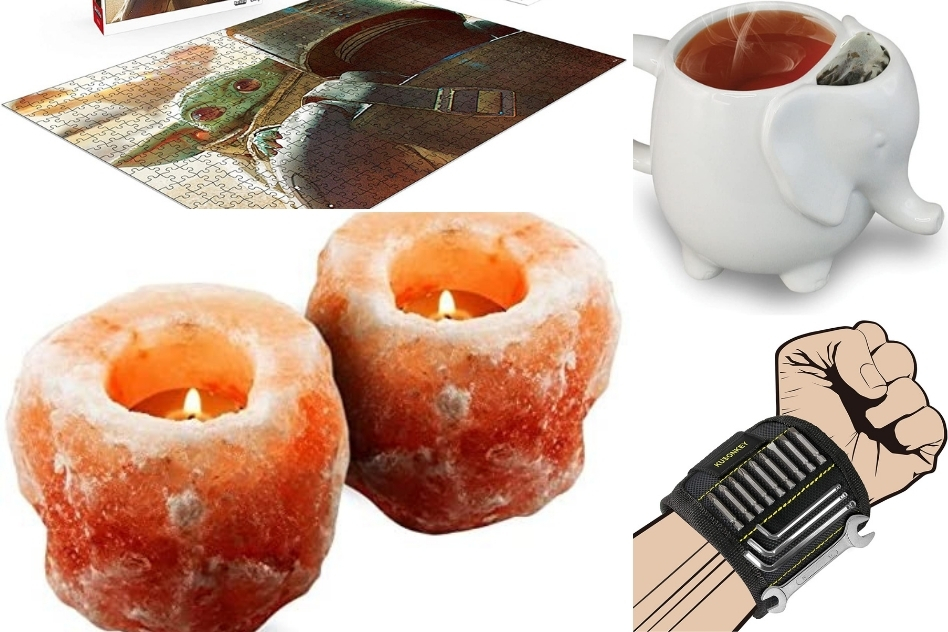 If you're looking for an elegant tea light holder, you've got to try these himalayan salt candle holders! They're so pretty, you won't even know they're under $15.
Who doesn't love baby yoda? This puzzle is not only a great way to pass the time, but an adorable gift everyone will love doing.
What could be a more perfect white elephant gift than a white elephant mug!
Sounds ridiculous by the title, but it's actually a pretty serious book written in a funny way. My husband got it for Xmas last year and loved it.
Perfect gadget for lovers of DIY. Holds screws, bolts, nails, whatever you want really.
---
Funny White Elephant Gifts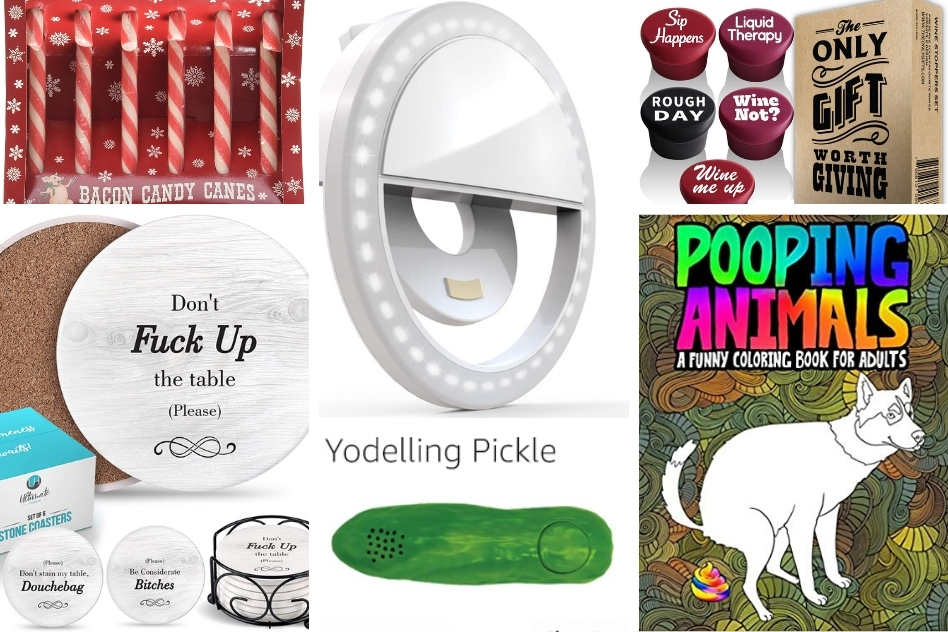 These savory candy canes are the perfect white elephant gift for any bacon lover!
Take your love for ugly sweaters to a whole different level with this adorable coloring book! It's perfect for any animal lover with a sense of humor.
Gifting to a crowd with a sense of humor? They will love these hilarious coasters to inspire people to use a coaster.
Is there anything more ridiculous then this? Provides hours of mindless entertainment.
Airpods are a hot gift item this year, so make sure you add this case cover to help dress up those new headphones.
Crank your selfie game to the next level with this amazing ring light! You can take better selfies no matter what your device.
Any wine lover will love this adorable wine stopper gift box! The sayings are so cute, and it's the perfect way to keep your wine fresh.
No matter what your white elephant gift exchange situation, these gifts will have you covered! These gifts are perfect for anyone on a tight budget, but you don't have to worry about being the one giving a crappy gift this year!