One thing I wanted to remodel pretty much immediately after buying a house was kids' bathroom upstairs. While it was a perfectly functional bathroom, it lacked a soul.
I didn't want to spend a ton of money on it, so I dug into DIY bathroom remodel projects. To be clear: I've NEVER remodeled a bathroom before, only painted walls once before and couldn't lift much at the time either. Yet, I've managed!
Some Photos from Before: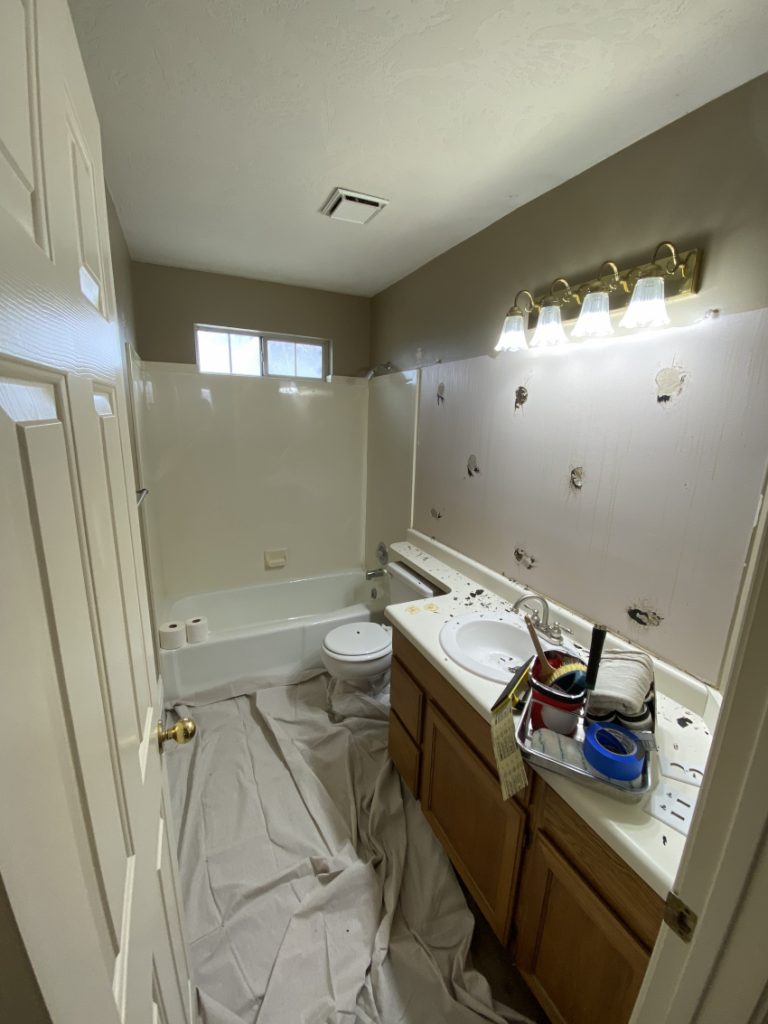 ---
How Much Does a Bathroom Remodel Cost?
The cost of bathroom remodeling will really depend on you. I didn't change a bathtub, sink or floors as I felt it's still good enough.
Depending on what do you want to and the products you use the cost will vary. To remodel my bathroom I spent about $400.
This included everything starting from brushes and protective floor coverings, tapes, paint thinners and other things you might already have at home. I also admit I got way too much colorful paint – I could have gotten away with $50 less.
---
Inspiration for Kids Bathroom Remodel
I followed the rule have fun, but don't get too wild. I didn't want things to look too busy, left room for trial and error and decorated for the moment.
I didn't want to go all crazy, as I still remember my parents were really proud of my childhood room. While my carpet (was indeed cool when I was 4 or even 10, it became slightly embarrassing when I was 14. This is why I concentrated on decor I can change easily later, like paint, towels, cupboards and curtains.
I originally had two designs in mind (below), but quickly realized that I had to adjust my expectations to the type of cupboards I already had. They weren't flat.
The location of storage spaces, bathtub and utilities was also an important thing to consider.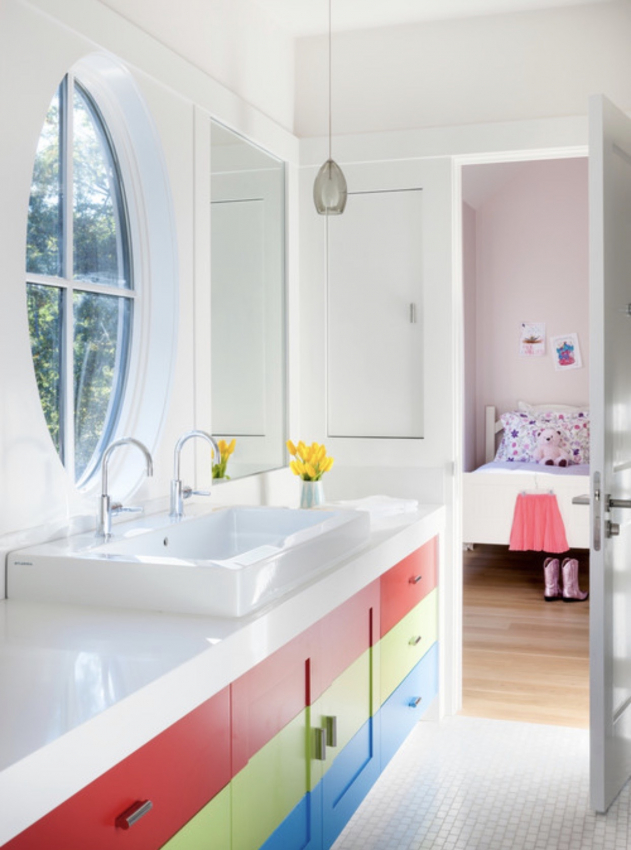 ---
My Essential Tools and Supplies for a DIY Bathroom Remodel:
Safety mask
Gloves
Tape measure
Power drill
Bucket
Flathead screwdriver
Hacksaw
Utility knife
Painters tape
Paint protection for floors
Hair paint protections
Pain thinner
Paint Roller
Paint Brushes
White paint (for walls & ceiling)
Red, blue, green, yellow paint samples (1 of each color)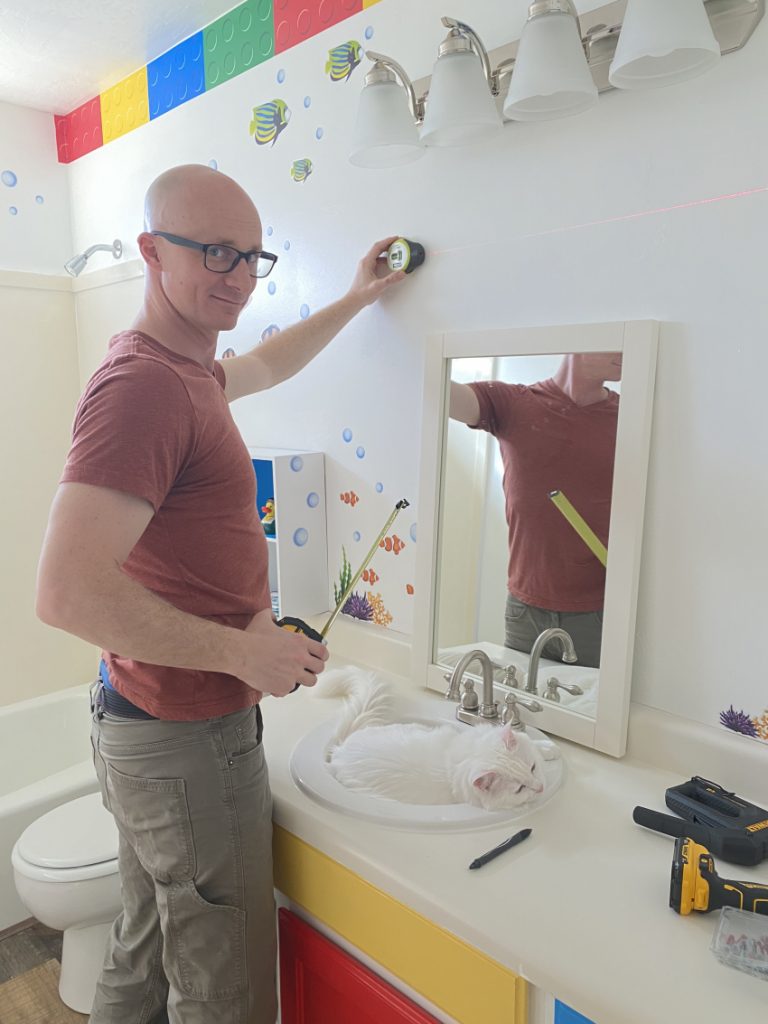 ---
Decor I used for this bathroom:

---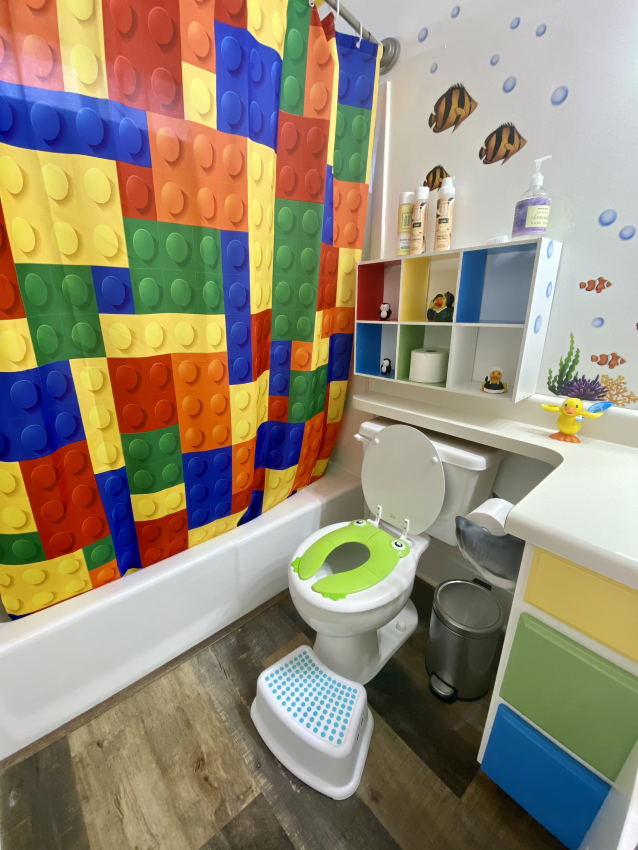 Final Product: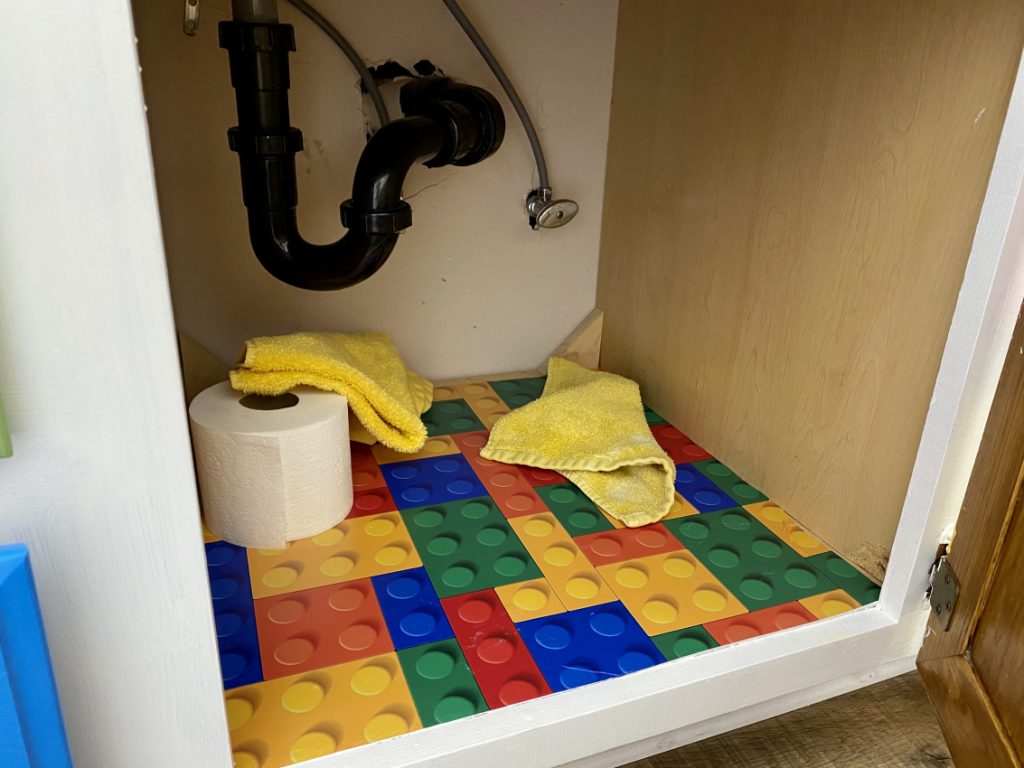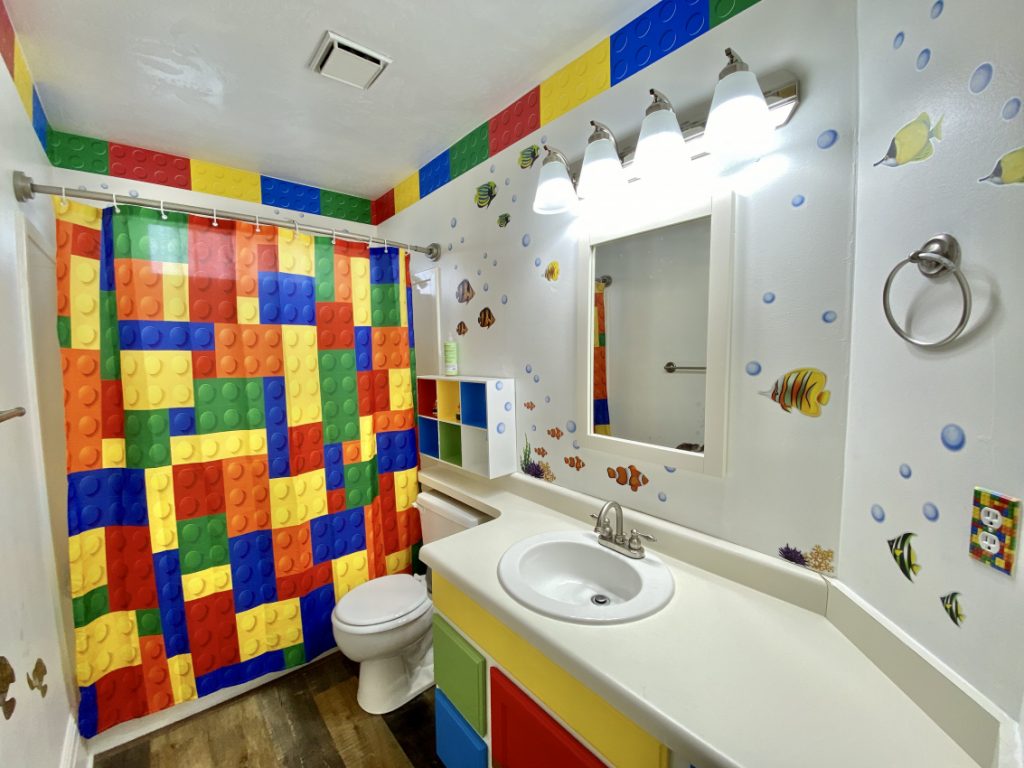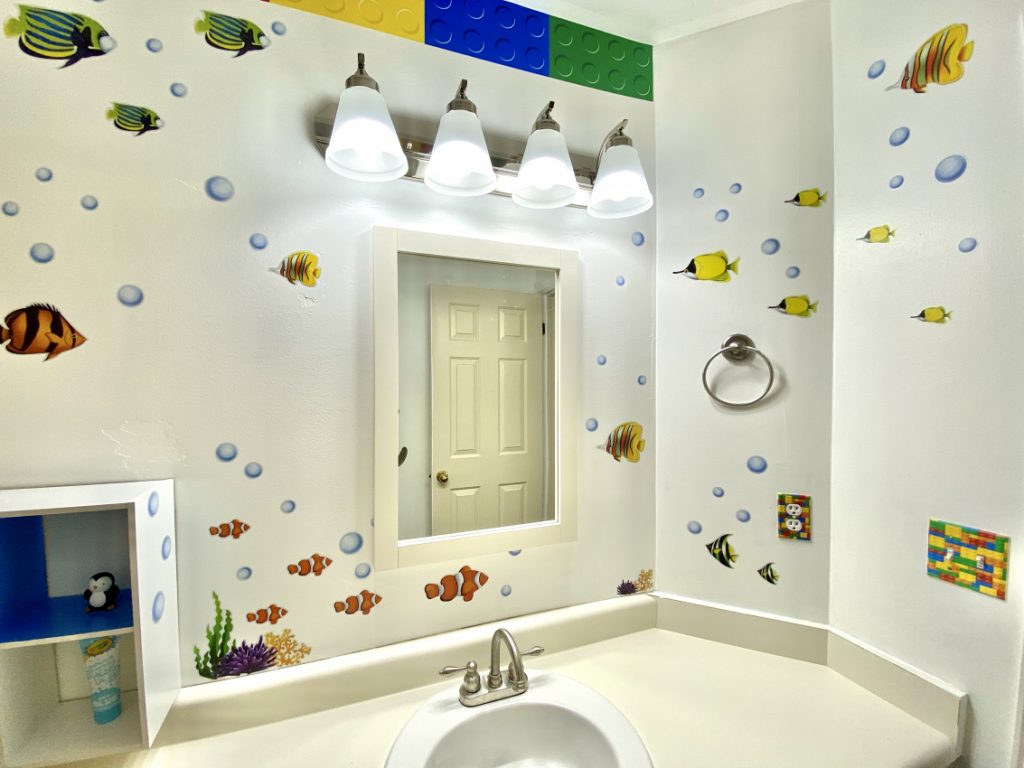 After renovation I also added a learning tower, so my little one can just come in and brush his teeth on his own. If you're looking for a good learning tower, that's the one I have.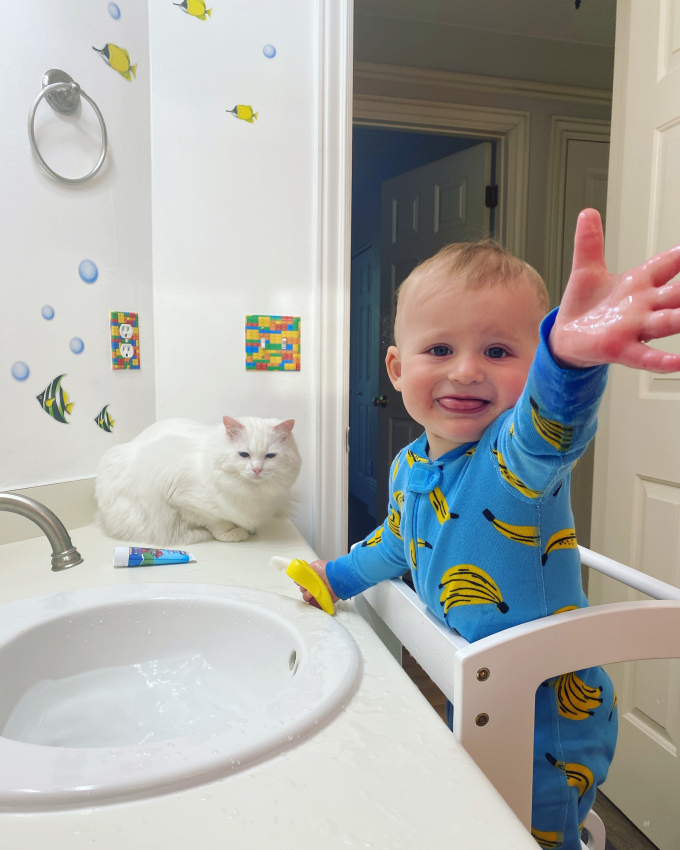 Pin this for later!