Whether or not your little one already likes to play house, teaching them cleaning skills in a fun way is never a bad idea.
With countless toy vacuums on the market these days, it can be hard to decide which is the best kid's vacuum for your child. Whether they simply love imitating their moms or dads, or they are beginning to learn how to help out around the house, there are a number of things to think about when picking out their toy.
If you have looked at the pictures already you might be surprised to learn that everyone on this list is a toy! Each of these toy vacuums is designed to look like the real thing and many of them even function as a real vacuum, while colorful balls, lights, and sounds make it more fun for toddlers and younger kids.
What Age is a Toy Vacuum For?
There is a range of different toy vacuums you can choose from to suit toddlers of any age, but the kids who will love these toys most are generally from around age 3 to 8 years old making it a great toy for toddlers.
While small, light, and nonfunctioning toy vacuums are available for even younger kids, many children will lack the hand-eye coordination and fine motor skills to really enjoy playing with them at this age.
On the other hand, kids over 8 years old are probably ready for the real deal!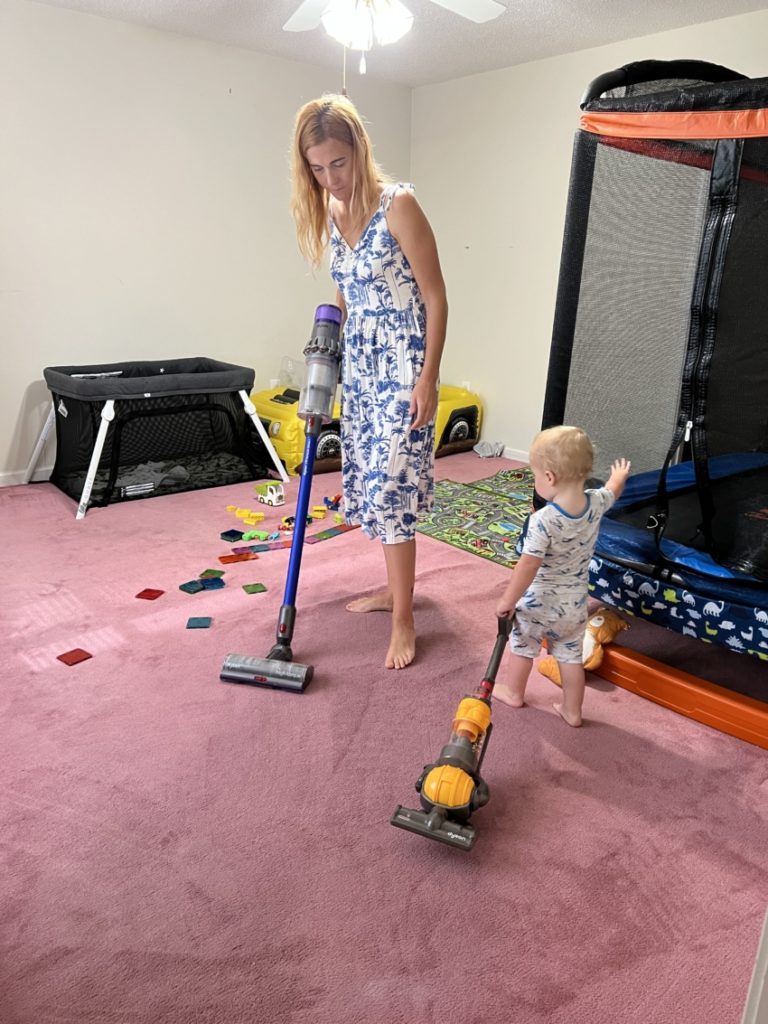 Real Vacuum vs Toy Vacuum
You may be thinking that if all of these toy vacuums work, why not just let them use the real vacuum (or buy them one of their own)? The main difference between a toy and a real vacuum is the weight and size. Real vacuums are too heavy for young children to hold and maneuver, which is why toy vacuums exist!
The size and weight of a toy vacuum are much more suited to children, allowing them to play with it for longer without getting too tired.
Similarly to Montessori real-life items, toy vacuums are designed to naturally introduce kids to everyday skills they will need when they grow older. It's never too early to start developing life skills in little ones.
Best Toy Vacuumes for Kids
Just like the real deal, this iconic cordless Dyson little helper vacuum has two modes with a short and long neck.
Designed to look exactly like the real thing, it's no surprise that one of the most functional toy vacuums out there is based on one of the best real vacuums on the market.
The size is perfect for little ones of all ages as it can be adjusted to suit their age and height, plus the debris tray is easy to remove so cleaning it out isn't too much of an issue either.
Best Toy Vacuum for Toddlers – Dyson
Another option is, especially if you are a Dyson household and want an alternative toy vacuum design to match your own.
This replica Casdon Dyson Ball vacuum also functions the same as its grown-up counterpart but features fun colorful balls which wiz around the chamber as your toddler cleans.
Weighing just under 1 kg and 64 cm tall, it's the perfect size for busy toddlers and doesn't require a long, annoying cord to work.
While it does pick up dust, many people say that the suction isn't strong enough to actually clean all the floors.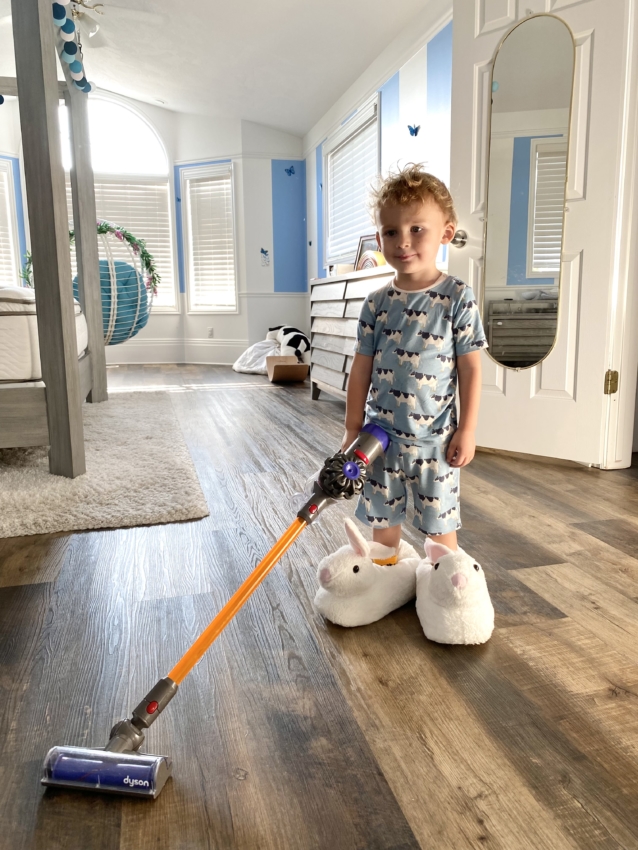 ---
The next iconic vacuum that certainly deserves its time to shine is the Henry Hoover. Of course, little Henry is a complete replica of the original but functions in the same way while wearing his iconic smile.
All of the extra bits such as the hose, detachable neck, and vacuum head all fit inside the body for easy storage.
Another thing that makes Little Henry stand out amongst the others on this list is sturdiness. Thanks to its compact design and fewer moving parts, this one is less likely to break than other plastic toy vacuums out there.
If you're not too concerned about having a life-like or functional toy vacuum, the Spark Create Imagine Vacuum is the perfect budget play toy.
This plastic toy comes with an imitation stick vacuum, multiple different attachments, and a stand for easy storage.
People love that this vacuum still has colorful balls and interactive buttons to make playtime fun, but creates way less noise than some of the more accurate replicas on this list.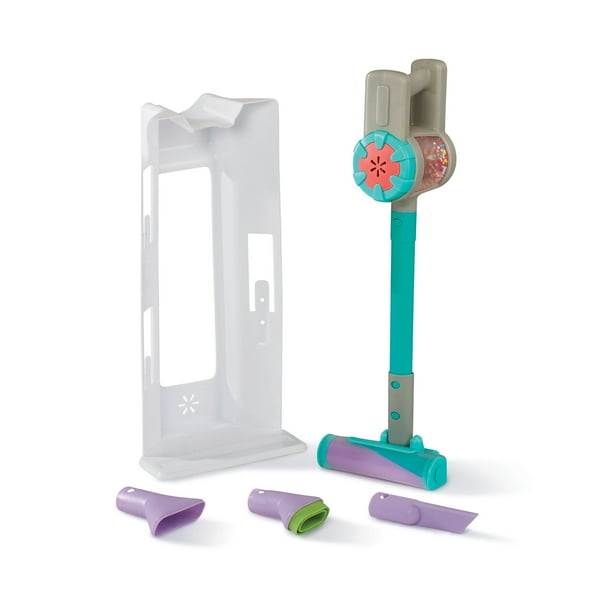 If your kids are a little bit older and big enough to handle a proper vacuum, the Bissel Stick Vacuum is a great, lightweight, and small vacuum that actually works.
While it's not designed to be a toy, this is the perfect starter vacuum if you are looking for something that your kids can use to actually clean their rooms without struggling under the weight and size of your full-size one.
It has many different attachments so your kids can learn how to efficiently clean many different surfaces and can also be used as a hand vacuum for smaller spaces.