With health becoming a primary concern, more moms are starting to pack their kids lunches. At first, the best lunches for kids seem to be healthier options, but as the grind of the school year takes its toll, those school lunch ideas start to become more random and less healthy.
Many summer camps don't offer heating facilities, so kids lunches must be eaten cold or at room temperature. One problem is that kids tend to be quite fickle with their food choices. What they proclaim is the best meal ever can become the most grotesque thing they've ever laid their eyes on within a span of 24 hours.
Tips for Packing Cold Toddler Lunches
The key is to swap things up and throw unique choices at them. That way, their mind is always occupied by something new and exciting.
Here's how to pack the best cold lunch for kids. Sandwiches are still an option so don't be afraid to include them from time to time.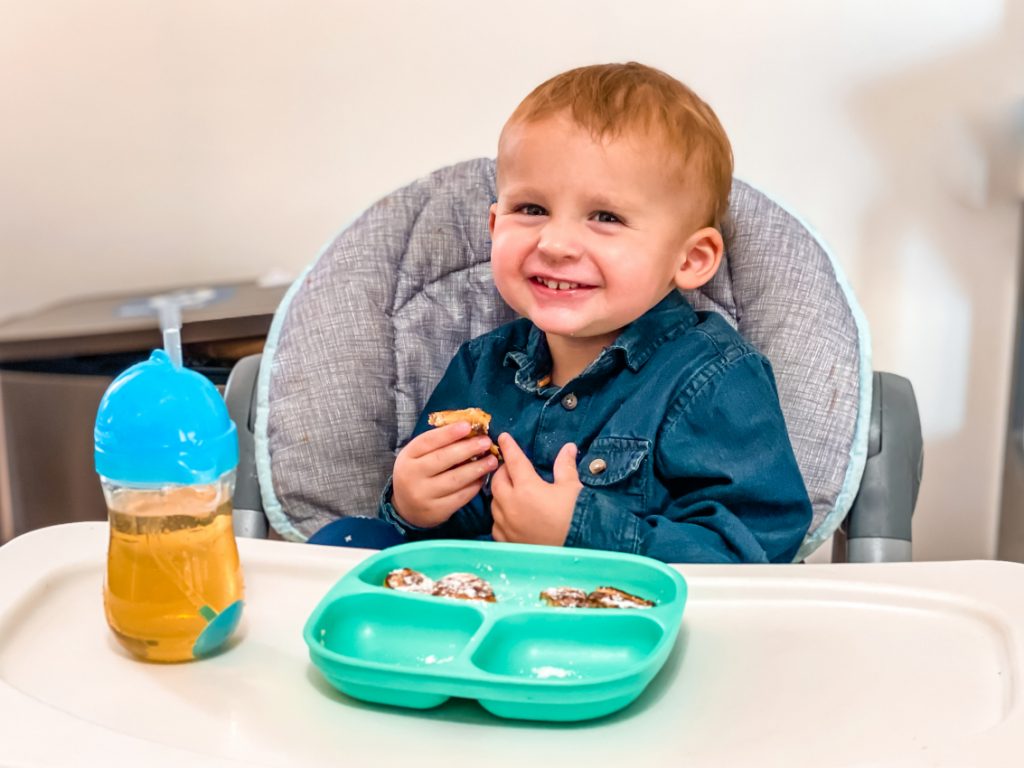 ---
Best Cold Lunch Ideas for Kids and Toddlers
Stuffed Peppers
Hollow out a few peppers and stuff them with cream cheese and meat like turkey or ham. This adds nutrients to your kid's lunch in a fun, appetizing way. Again, make sure you include a side of fruit to round out the meal.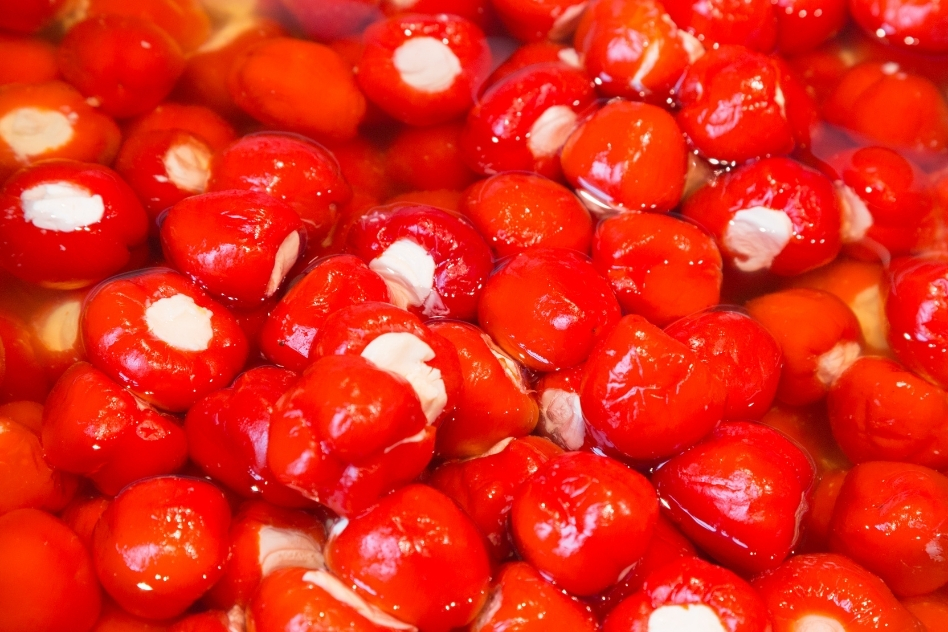 ---
Pasta Salad
There are several options here so it will depend on your kid's preferences so feel free to be creative. I'll list an example so you get the idea. The example we'll use is a broccoli pasta salad. Just mix together cooked pasta, broccoli, and a few almonds for crunch. You can even throw in fruits to add sweetness.
Note: Use colored pasta to add visual appeal to the lunch. Kids love visually appealing foods.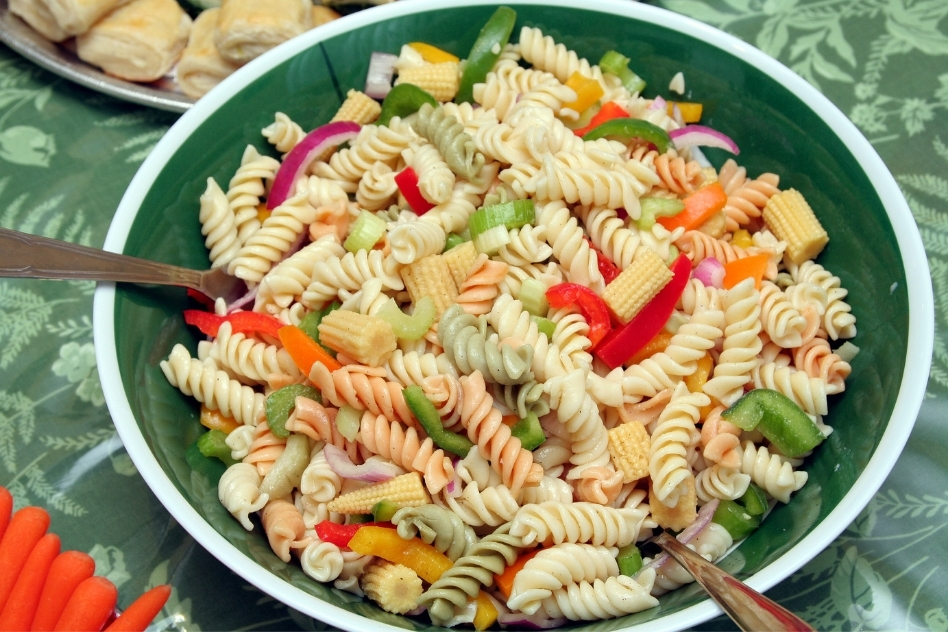 ---
Hummus with Fun
Hummus is another kid favorite so why not give your kids a treat in their lunchbox?
Pack it in a separate container so that it doesn't get too messy and add in some dipping sides like salami sticks, carrots, and even fruit
Get the recipe for authentic Lebanese hummus here.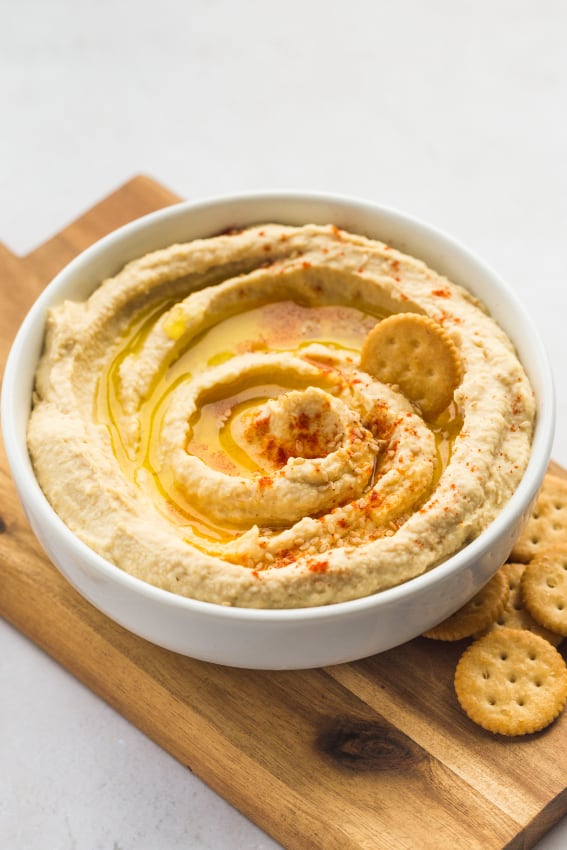 ---
Tortilla Wraps
This lunch idea uses the same concept as the previous lunch, wrap veggie wraps with stuffing to create a fun meal.
Hummus, falafel, or even simple cheese is an option.
The veggies you can use for the side can include carrots, green peppers, small tomatos and even cucumbers. Stuff it with some cream cheese dip to add that creamy taste that kids love so much.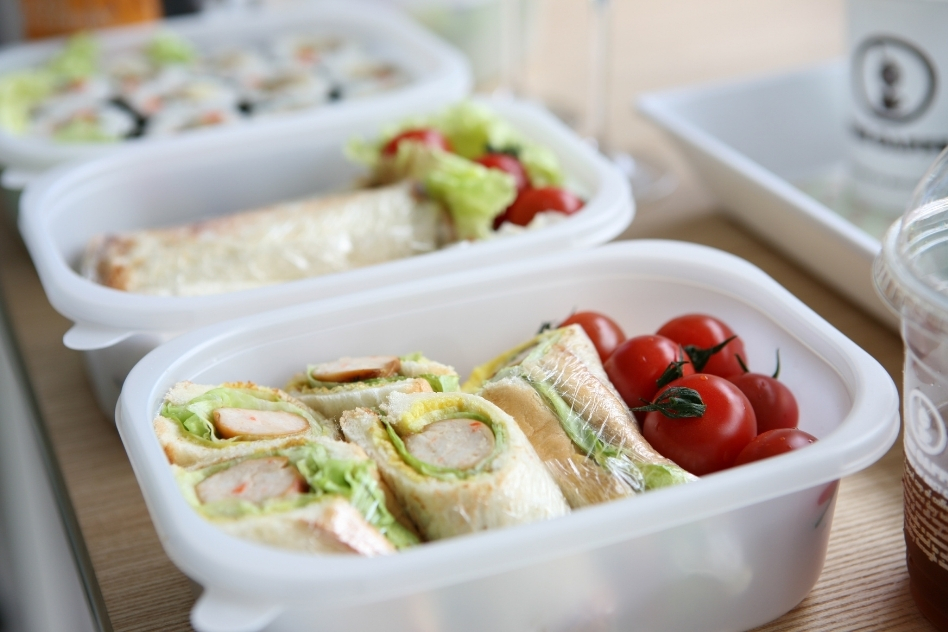 ---
Apple Pancake Bites (Racuchy)
Racuchy is a great invention that hides apples in a recipe – even my husband doesn't realize they're there. It's a very simple Polish dish that can be eaten warm or cold.
Get the recipe for apple pancakes here.
---
---
Fun Bento Box
Bento box is a classic that never goes out of style. Dice a rice into shape together with seaweed and mix with some vegetables.
You can make penguins, cats, bears, even some fun emoji balls – depending on the mold you own.
Add a sprinkle of lemon juice for perfection. Don't forget to pack this lunch with a cooling pack so that it stays fresh until lunchtime!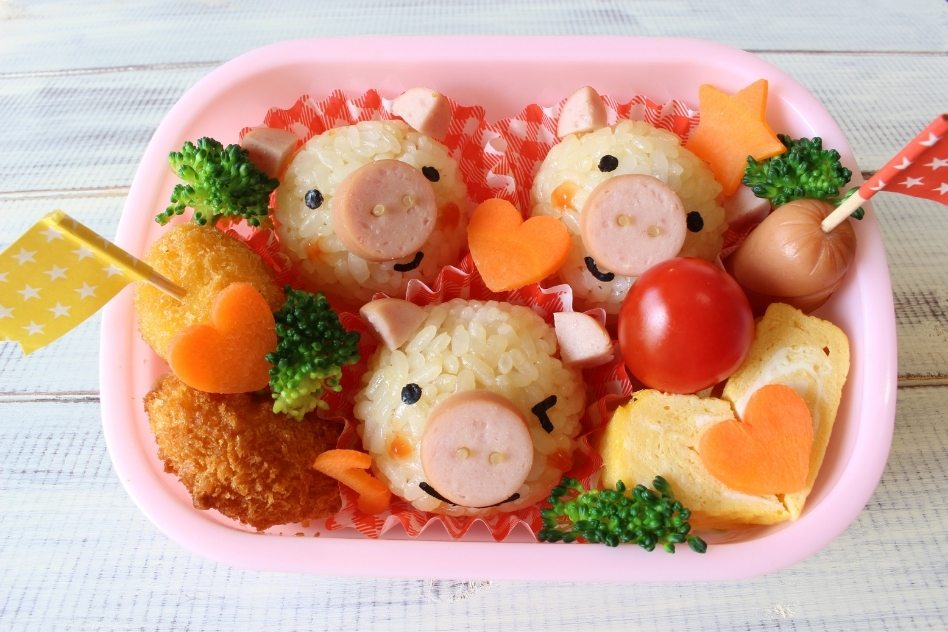 ---
Anything on a Stick
Kids love food on a stick so there are a lot of fun options to choose from here. Chicken, beef, and sausage mixed in with some fruits and veggies will ensure that your children are getting all of their nutrition.
Plus, it's a fun way of getting them to eat healthier foods rather than sitting them to the side.
Important Note: Do not use sharp skewers. Make sure the tips are rounded off!
---
Quinoa Salad
Mix some quinoa, meat, cheese, and vegetables together in a bowl and put that into your kid's lunchbox. Make sure you dress it so that it's not bland. Pack with a side of the whole fruit.
---
Homemade Lunchables
Processed Lunchable packages are not very healthy but kids seem to love their visual layout and appeal. So you can make them at home instead!
Just add in a few crackers, meats, veggies, and whole fruit to a small compartmental container. This is not only a healthier option, but much cheaper than buying it pre-packaged!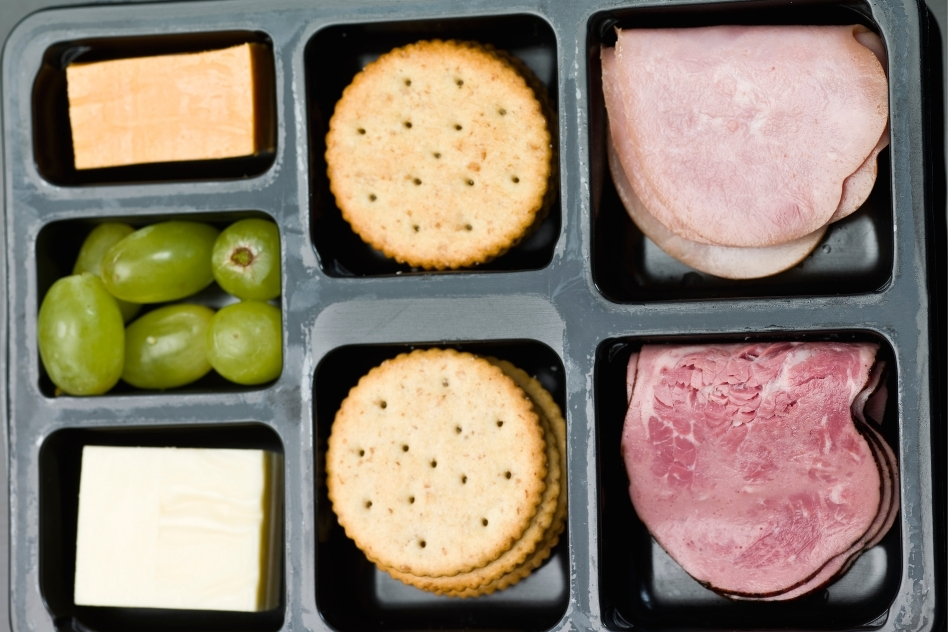 ---
Fried Rice Salad
If your kid loves rice as much as mine does this will be a hit. You can throw a ton of healthy vegetables in the fried rice, cheese or meat – whatever you have and your little one likes.
Get a sample recipe here.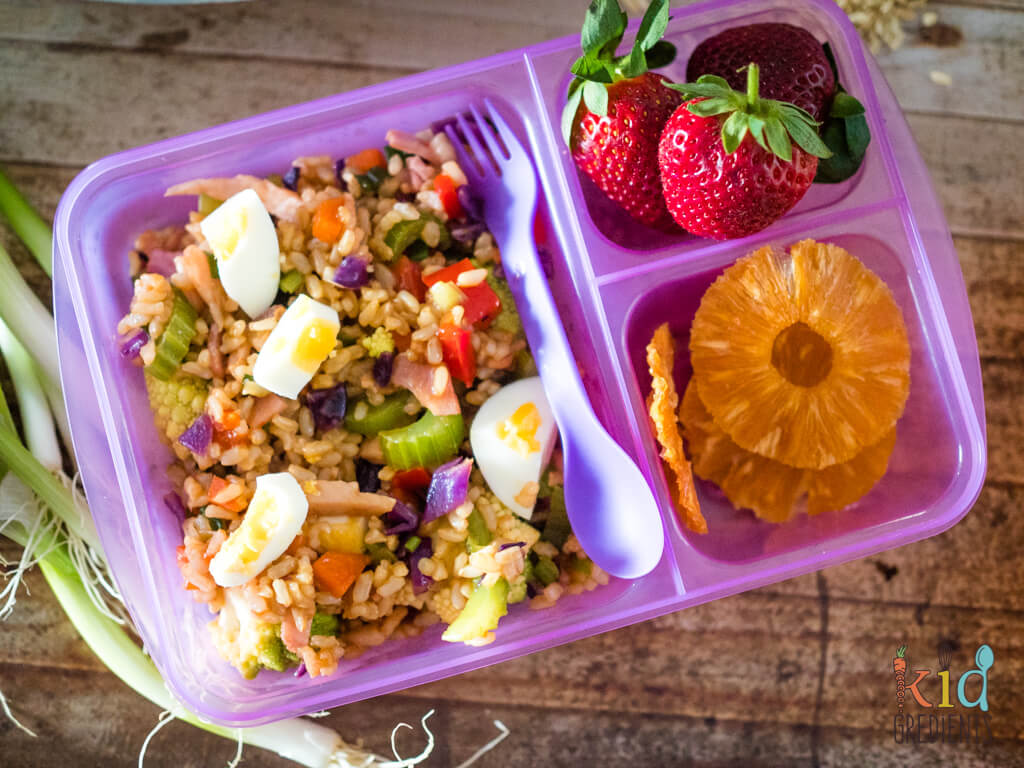 ---